We're back with Happy Half Hour! Once again, we're taping from Eppig Brewing's Waterfront Biergarten in Point Loma and seriously, guys, if you haven't checked it out yet, the views (and brews) are worth the trip.
This week is a special one, for we have the one and only Peter Halmay, also known as the "Urchin King" of San Diego, as our guest. Peter is a local fisherman who has been diving for uni for over 30 years, and he is the president of the San Diego Fishermen's Working Group, a coalition of local fishermen that he started. Peter updated us on the $3 billion dollar waterfront redevelopment at the Port of San Diego and shared his ideas on how he believes the commercial fishing industry can thrive in the future. We loved his choice for Two People, $50—Five Guys at Liberty Station. The staff's picks this week included Cowboy Star (although the $50 limit was a little questionable), The Red Door, and Tiger! Tiger!
That brings us to Hot Plates, where we welcomed Original 40 Brewing Company to North Park. Check it out—Troy got the first look at the aesthetically-pleasing brewpub. If you haven't heard, the landmark restaurant Old Trieste shut its doors after more than 50 years of serving fancy Italian fare in Bay Park. The Tomicich family was ready to retire. But, when one door closes, another one opens—Babycakes has returned to Hillcrest with a pop-up shop. Last but not least, for those in East County, there's a new farmers' market in town! You can now get fresh produce every Wednesday at Grossmont Center from 2 to 6 p.m.
For our Hot Topic, we're talking about a protein that according to the Washington Post, is going to go mainstream year: collagen. Collagen-infused drinks and powders claim to add a youthful, smoother look to skin, but evidence of whether the products actually work is limited.
The Best of San Diego Party is coming up quick! Taste samples from more than 80 restaurants at the most delicious evening of the year. It's on August 16 at Liberty Station. This event sells out every year, so don't wait to get your tickets. Insiders get a special discount on tickets and front of the line entry.
Thanks for listening, and we'd love to hear from you! Call us at 619-744-0535 and leave a message. Or if you're too shy to call, you can email [email protected]. You can give us your recommendations for Two People, $50, tell us about any news happening in San Diego's culinary world, or let us know who you'd like to hear featured as a guest on the podcast.
Subscribe to the Happy Half Hour on Spotify, iTunes or Google Play, or listen below.
>
Recent Episodes
For all previous episodes, click here.
Would you like to sponsor a podcast episode at your restaurant or bar? Email David, our producer and digital media director.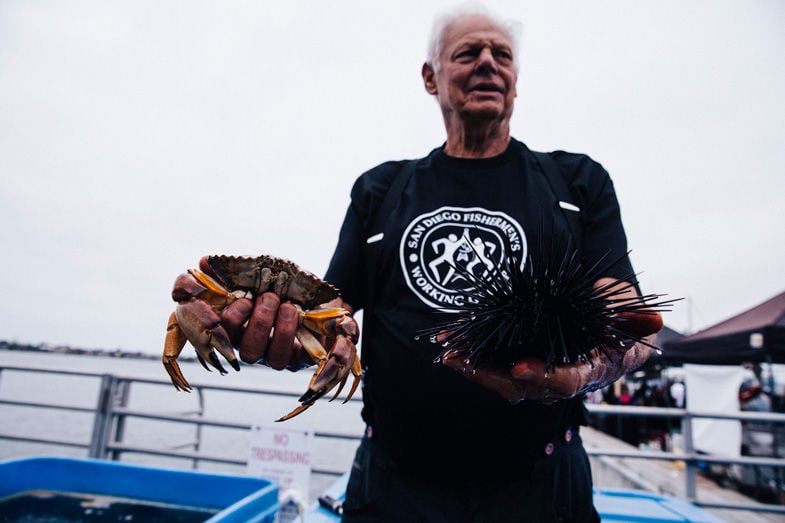 Peter Halmay | Photo: Dewey Keithley