Petco Park is known for having some of the best food in baseball. They were even one of the first stadiums in the nation to bring in iconic and emerging local restaurants, craft beers, wine, and cocktails for a more upscale experience (we still love a good, classic hot dog).
On this episode of Happy Half Hour, co-hosts Troy and David get the inside scoop on the ballpark's food and drink scene at Alesmith's 394 bar inside of Petco. With a stadium that holds nearly 50,000 visitors, vice president of hospitality Josh Momberg says that the most challenging obstacle is serving fresh food.
It's no joke feeding nearly 3M people each year, especially when not every visitor is there to actually watch the game. How do you keep your aunt entertained who only began watching the Padres once they started winning last year? A beautiful stadium, perfect weather, craft cocktails, and bacon-wrapped jalapenos that will immediately turn anyone into a sports fan.
Ask any attendee and you'll likely start an argument over which restaurant inside the ballpark is the best. Hodad's, a local favorite, often tops the list, but then again, you can't forget about the juicy, tender Cardiff crack tri-tip nachos at Seaside Market. They're wrong, though, it's anything at Grand Ole BBQ y Asado.
"When we went into this mission of creating this local program, we wanted to get the best of everything so that if you only came to one place in San Diego, had three hours to watch a ballgame, you got to sample something that's uniquely a slice of San Diego here," Josh shares.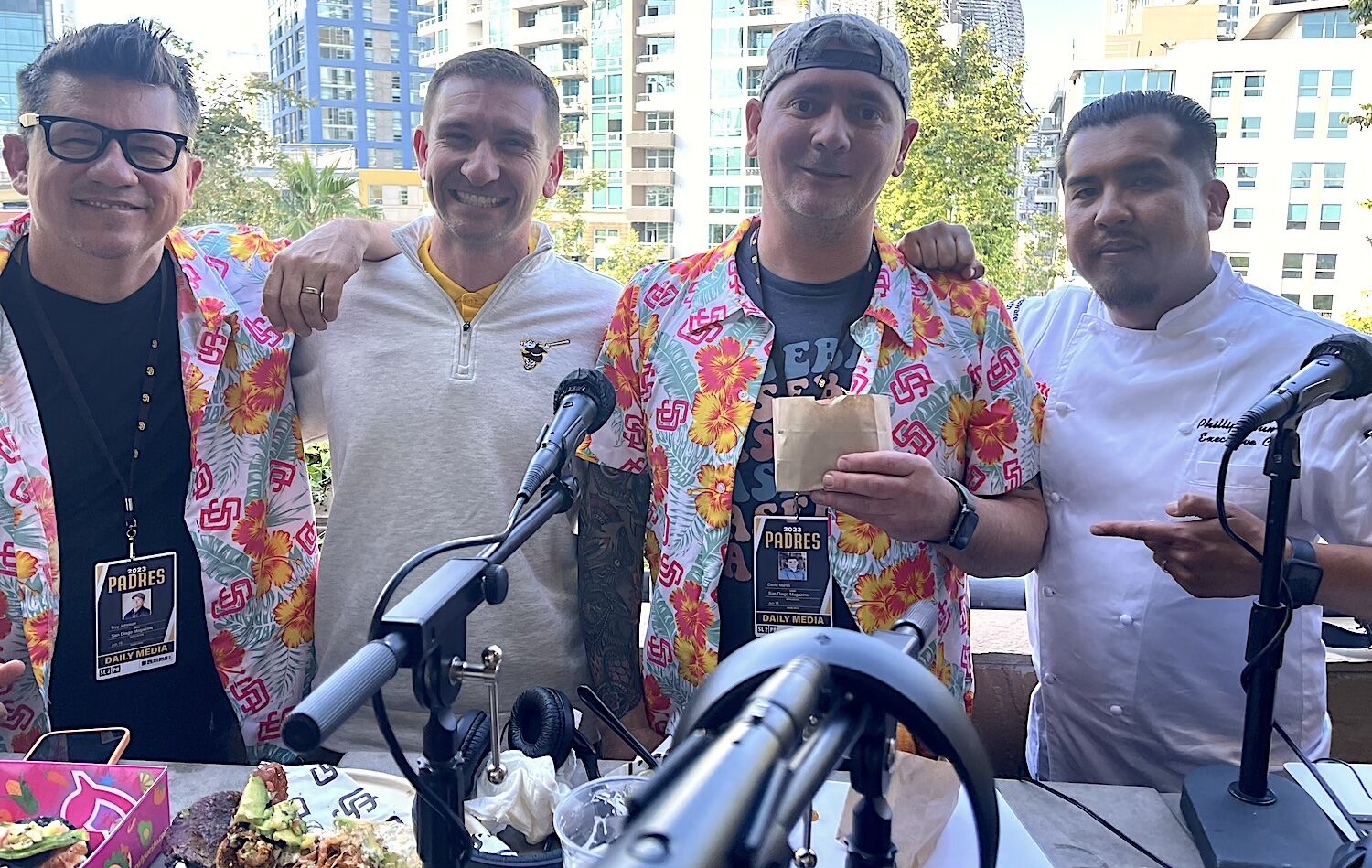 So, what's new this year? Plenty. Some standouts include Mexican street corn made with chiles, fuego sauce, lime crema, and a Tajin pop rock; and fresh Blue Water Seafood's fish tacos. Although technically introduced in 2022, Troy and David gush over Hot Hens with Petco's executive chef Phil Dumlao. The fried chicken sandwich comes in a mini food truck carrier decked out in City Connect colors—because, why not?
In food news, David forgets where he lives as he brings up the upcoming Falafel Heights opening in North Park from owner Lialie Ibrahim. A Palestinian and first-generation American, Ibrahim spent more than a decade perfecting her falafel recipe and now hopes to bring those authentic Middle Eastern flavors to San Diego.
Barn Brewing closes in North Park, Young Cluck opens in Normal Heights, Jeni's Splendid Ice Creams comes to North Park with an everything bagel scoop that David says "kind of tastes like garlic ice cream."
In "Two People, Fifty Bucks," Josh shouts out The Belly of the Beast ramen at Underbelly Ramen, Phil tips his hat to the burger at The Friendly, Troy picks the vegetarian tasting menu at Ambrogio by Acquerello, and David goes for the motherclucker at Hillcrest's Sunnyboy Biscuit Company.