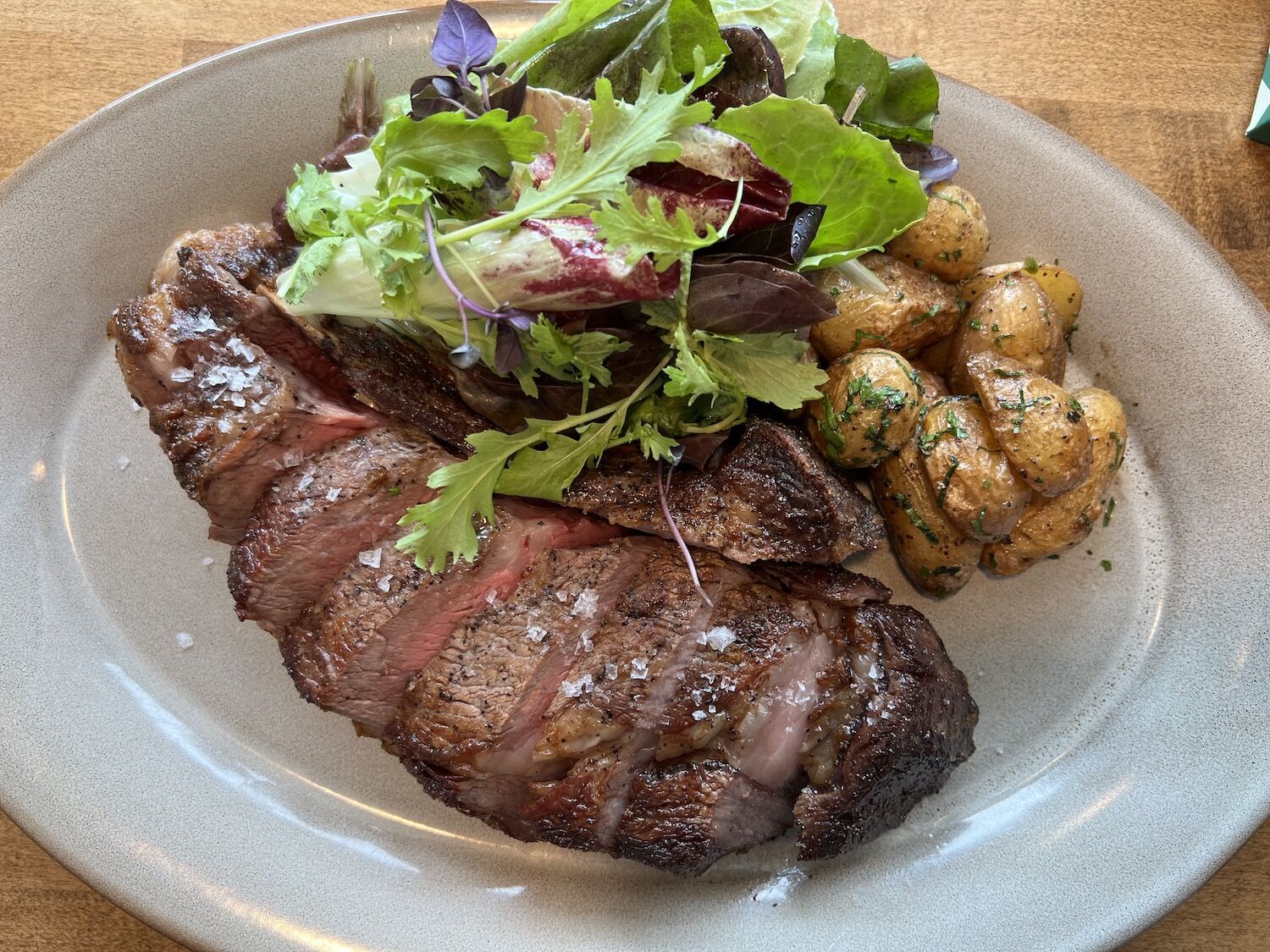 Troy Johnson
This meat looks geological. Like lovely, delicious geodes. In the refrigerated case, huge racks of Brandt Beef just lay there at Ranch45—have been laying for a while (40 days, says one tag). When meat is dry-aged like this, it begins to look prehistoric and unlocks a whole new universe of flavors. Excess moisture is drawn out of the meat over time, breaking down the protein, tenderizing it and concentrating its steakness. It works the same way as when you "reduce" a stock or a soup to crank up the flavor.
In the cooler next to it, Ranch45 chef Aaron Schwartz is aging bone marrow. That's right. Ranch45 is dry-aging bone marrow. At the performance kitchen in the middle of the butcher shop/deli/restaurant/gourmet general store in Solana Beach, Schwartz roasts one of them; serves it simply on a plate with salt, pepper, chives, microgreens; and a dash of oil.
As a marrow adherent (it is meat butter), it's the first dry-aged marrow I've had. And it's that much better.
"Any meat has to age at least a bit to be any good," says Schwartz, who was born and raised in the area and lives with his family (including wife and business partner, Pamela) in nearby Carmel Valley. "That's why in the butcher shop you'll see it on hooks."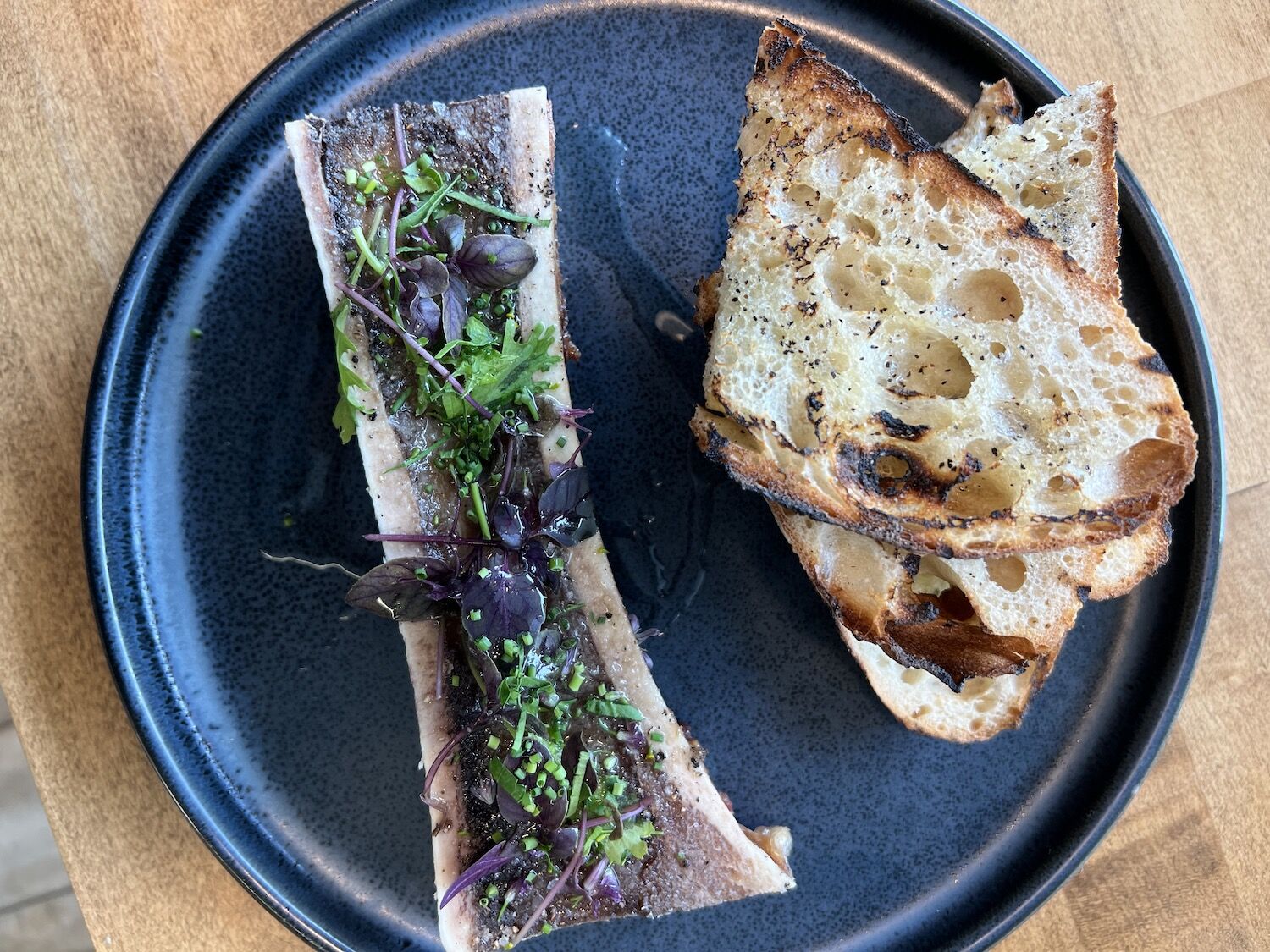 Troy Johnson
Next to the dry-aging marrow and meat is soap. Bone marrow soap.
"We just hand-packaged them last night," says Schwartz. "It's about using every part of the animal. Wasting as little as possible. We're getting back to the way things used to be in butcher shops. Where you knew your butcher and trusted them. That's why we use Brandt Beef. I've known Eric Brandt and his family for 20 years and I'm still using them for a reason."
Del Mar has something special in Ranch45. As a chef at Marriott Marquis, Schwartz made a name for himself by convincing a large multinational hotel group to invest in local food. Under his watch, Marquis was one of the city's largest purchasers of local farm goods. When the pandemic hit, he was furloughed. He spent time at home with his kids. Then Pamela convinced him to join Ranch45, which she'd managed for three years (she's an accomplished chef and wine person herself, having spent years overseeing nearby Pamplemousse Grille and the once-mighty Arterra).
Now they're expanding, taking over the space next door and putting in a real butcher shop. The idea is to be the supplier for all of the local top restaurants, and for the locals who want to know where their meat comes from.
For this podcast we sit and talk with Schwartz about the ideas of simple food sourced from a place you know. About bringing small purveyors and general stores back to a community.
In "Hot Plates," we break the news that The Joint in O.B. is working on a ramen joint on Newport Avenue down the street from their original location, as well as opening two restaurants in Hawaii; Indian standout Charminar is opening the upscale Dosa Studio next door; and Ballast Point has a new culinary director in Tommy Dimella (who also spent years at Pamplemousse).
For "Two People, Fifty Bucks" Aaron points to Juanita's taco shop in Leucadia, where he takes his family after a surf; Troy raves about Starfish Filipino Eatery in O.B. (get the sisig); and David gives a shout out to the pop-up submarine tiki bar experience, Acey Deucey Club.
See ya next week.