In this week's Hot Plates, we talked about the huge remodel ($260 million!) at Sycuan Casino, which is having its grand opening today. Troy got the First Look at the renovation and Bull & Bourbon, the resort's new signature steakhouse. Also new in town is Louisiana Purchase, a New Orleans-themed restaurant in North Park, and Hess Brewing had the soft opening for its new tasting room in Imperial Beach. We can't believe it's already been three years since Trust opened in Hillcrest—in honor of the restaurant's anniversary, Pastry Chef Jeremy Harville is bringing back a selection of the most popular desserts for a limited time. Lastly, we learned that Carnitas' Snack Shack is now known as the Porchetta Shack. Founders Hanis Cavin and Sara Stroud have rebranded their popular pork-centric eatery in North Park, and are no longer affiliated with the location that's on the waterfront.
In the guest seat this week is Ted Smith, the new executive chef at Born & Raised, the fancy steakhouse in Little Italy from Consortium Holdings. Ted was formerly the executive chef of Craft & Commerce, and he was also the Chef de Cuisine at Bankers Hill Bar + Restaurant. He also spent time in the kitchen at The Four Seasons Resort in Vail, Colorado. Ted shared with us how he's going to refresh the menu at Born & Raised (we got the scoop on what dish could be taken off the menu) and the table numbers for the best seats in the house. His pick for Two People, $50, was Izakaya Masa in Mission Hills, and SDM staff liked Cesarina, Nolita Hall and Stone Brewing World Bistro and Gardens Liberty Station.
The Hot Topic is a new bill introduced in the California Assembly that could create stricter rules for third-party food delivery services like Uber Eats and DoorDash. AB 1360 would require drivers to get a food handler's permit, and a section of the bill would define the drivers as "contract labor" — which means that restaurants could be liable for drivers.
We have a phone number for this podcast now! We're going to end each podcast with a question for our listeners, and you can call us at 619-744-0535 and leave us a message. You can give us your recommendations for Two People, $50.
Our sponsor for this episode is Brooklyn Brewery. Californians and transplanted New Yorkers asked, and Brooklyn Brewery listened. Now you can track down their famous Brooklyn Lager, heroically hopped Defender IPA, and tart, breezy Bel Air Sour right here in the Golden State. Visit the website to see who's pouring Brooklyn in your neighborhood.
For more San Diego Food News, visit Troy's blog.
Subscribe to the Happy Half Hour on Spotify, iTunes or Google Play, or listen below.
Recent Episodes
For all previous episodes, click here.
Would you like to sponsor a podcast episode at your restaurant or bar? Email David, our producer and digital media director.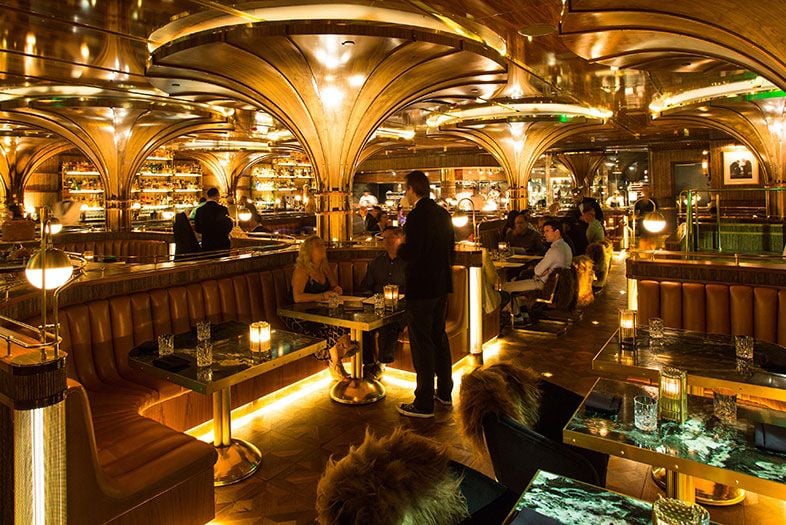 Born & Raised | Photo: Sam Wells