You may have noticed that the sign at Carnitas' Snack Shack on University Avenue now says The Porchetta Shack. We asked our guest this week, chef and owner Hanis Cavin (who has been called San Diego's "King of Pork"), why he changed the concept for his popular North Park restaurant after eight successful years. Hanis also shared that he's no longer affiliated with the Carnitas' location at the Embarcadero, and his pick for Two People, $50 is Fernside in South Park.
This week in Hot Plates, we learned that chef Matt Gordon (who recently closed Urban Solace and Solace & The Moonlight Lounge) is now the vice president of operations for Blue Bridge Hospitality—the company behind Liberty Public Market and Stake Chophouse. Neighborhood, the craft beer and burger joint that's been in East Village for 12 years, isn't closed: the shutdown is just temporary for a remodel. The Florence is now open in Sabre Springs (Troy got the First Look at the space and the menu), and the tenth annual Eat.Drink.Read fundraiser for the San Diego Council on Literacy is coming up at the San Diego Air & Space Museum.
The Hot Topic this week is the James Beard Awards and the fact that San Diego chefs and restaurants were excluded, again, from making the cut as finalists. Troy took a closer look at how many San Diego chefs have been nominated for a James Beard Award in recent years compared to chefs in LA and San Francisco (and finds a huge disparity), and shares what it would take to get San Diego included in the "Oscars of Food."
We have a phone number for this podcast now! We're going to end each podcast with a question for our listeners, and you can call us at 619-744-0535 and leave us a message. You can give us your recommendations for Two People, $50.
Did you get your tickets yet to Best of North County? You don't want to miss this party at the Park Hyatt Aviara on April 14, where you get unlimited bites and sips from all the new and noteworthy spots in North County.
Our sponsors for this episode are the North Park Main Street Association and the San Diego Padres. Enter to win two tickets in a VIP suite for a live recording of the Happy Half Hour on May 6th! sdmag.com/padrespodcast – get tickets at padres.com
For more San Diego Food News, visit Troy's blog.
Subscribe to the Happy Half Hour on Spotify, iTunes or Google Play, or listen below.
Recent Episodes
For all previous episodes, click here.
Would you like to sponsor a podcast episode at your restaurant or bar? Email David, our producer and digital media director.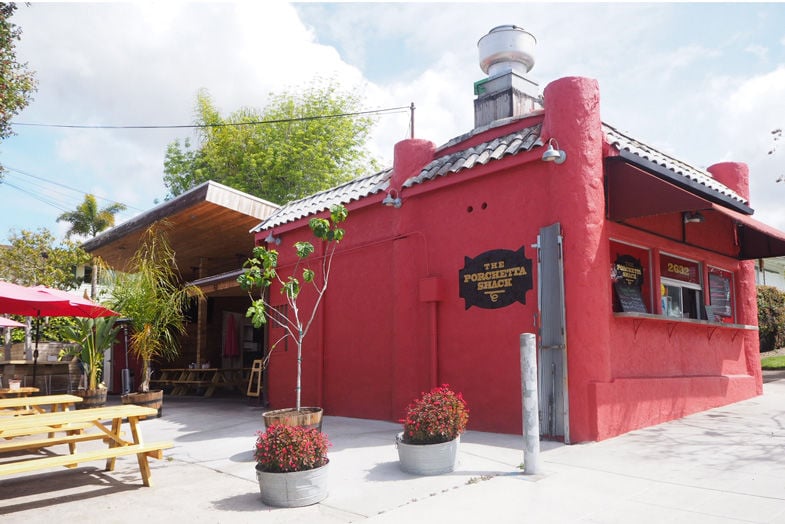 The Porchetta Shack | Photo: Lauren Winget