In the guest seat this week is Jason O'Bryan, bar manager at The Lion's Share. Jason also recently joined Service Animals, a new beverage consulting company and developed the drink menu for The Florence in Poway. Jason talked about how The Lion's Share has remained successful despite its hard-to-find location and upcoming changes on the menu, as well as what it was like opening a bar in suburbia. He also talked about Tortoise, an underground fine-dining pop-up restaurant he founded with his wife (who was a sommelier at Addison) that has only 16 seats available for its monthly event. Jason's pick for Two People, $50 was Cantina Mayahuel, while the staff's picks this week were The Taco Stand, Wayfarer Bread and The Smoking Goat.
This week in Hot Plates, we talked about the impending closure of Paesano in North Park—an Italian restaurant that's been in the neighborhood for 50 years—and what's going in its place. Kensington is getting a new South American restaurant, Pachamama, which promises to have a menu that's 100 percent organic. Consortium Holdings is working on opening another restaurant downtown while it renovates Neighborhood, J & Tony's Discount Cured Meats and Negroni Warehouse. Cucina Urbana has a new executive chef, Tim Kolanko, who was the founding chef at A.R. Valentien at The Lodge at Torrey Pines.
The Hot Topic again is restaurant surcharges, which were recently back in the news: Paradise Point Resort in Mission Bay agreed to pay almost $35,000 to the City of San Diego in fines over its surcharges to customers.
We have a phone number for this podcast now! We're going to end each podcast with a question for our listeners, and you can call us at 619-744-0535 and leave us a message. You can also email us at [email protected]. You can give us your recommendations for Two People, $50.
It's your last chance to join us at the Best of North County party, happening this Sunday! You don't want to miss this party at the Park Hyatt Aviara where you get unlimited bites and sips from all the new and noteworthy spots in North County.
Our sponsors for this episode are the North Park Main Street and the San Diego Padres—get tickets at padres.com
Subscribe to the Happy Half Hour on Spotify, iTunes or Google Play, or listen below.
Recent Episodes
For all previous episodes, click here.
Would you like to sponsor a podcast episode at your restaurant or bar? Email David, our producer and digital media director.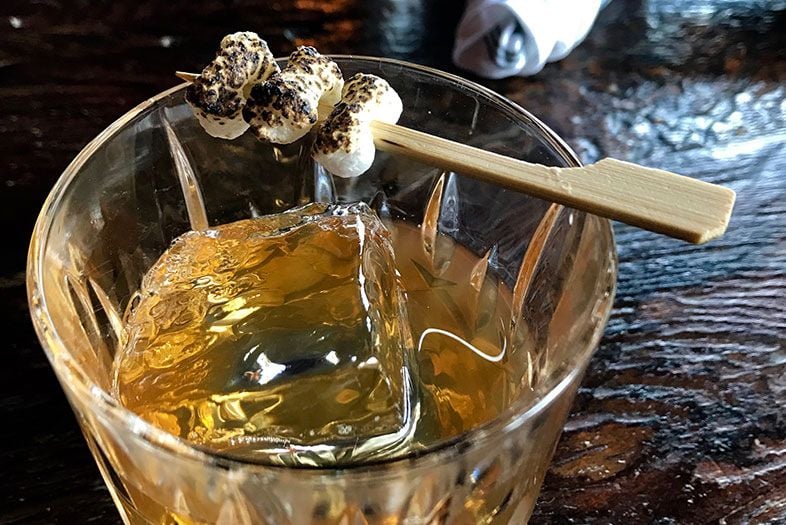 Lion Share's Mr. Peanut Butter cocktail. | Photo: Jason O'Bryan