Welcome back to the Happy Half Hour! Our guest this week is Nino Camilo, founder of the I Love Poke Festival. The festival is an annual celebration of Hawaii's beloved raw seafood dish, and this year is its tenth anniversary with 15 chefs competing to see who makes the best poke in San Diego. Nino talks about what's changed since he started the festival in 2009 and how he tries his best to represent Hawaii's culture in a thoughtful way, especially since poke has become trendy in recent years and a proliferation of "fake poke" shops have since opened across the country. Nino gave us two picks for Two People, $50: Panca Peruvian Cuisine & Rotisserie and Fish 101.
In Hot Plates, we talked about Consortium Holding's long-awaited brunch restaurant in Little Italy, Morning Glory, which is set to open April 21 in the Piazza della Famiglia, and debated whether San Diego is good brunch town (Troy says no). We also learned Cucina Enoteca is expanding with a new location in Scripps Ranch, and chef Steve Brown, who runs the fine-dining pop-up Cosecha SD, recently moved back to San Diego with plans to open a tasting-room only restaurant.
Our new segment in the podcast is David's 60-Second Beer Review. He kicked the series off with Fall Brewing Company's Mix Tape Hazy IPA.
The Hot Topic was Heinz's latest invention in time for Easter: A Cadbury Crème Egg-flavored mayonnaise. What do you think about this condiment mash-up? David said he was intrigued (but we weren't able to find it in time for the podcast taping to make him try it).
We want to hear from our listeners! Call us at 619-744-0535 and leave a message or email [email protected]. You can give us your recommendations for Two People, $50, or tell us about any news happening in San Diego's culinary world.
Our sponsors for this episode are Donovan's in the Gaslamp and the San Diego Padres—get tickets at padres.com
Subscribe to the Happy Half Hour on Spotify, iTunes or Google Play, or listen below.
Recent Episodes
For all previous episodes, click here.
Would you like to sponsor a podcast episode at your restaurant or bar? Email David, our producer and digital media director.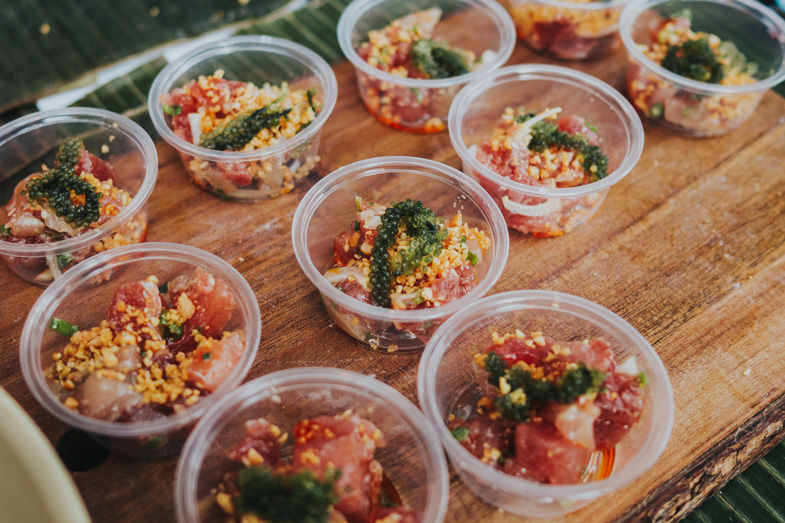 Nino Camilo