On today's Happy Half Hour, hosts Erin Chambers Smith and Troy Johnson along with producer Archana Ram are talking restaurant news, including the opening of Officine Buona Forchetta in Liberty Station, North Park's new Holy Matcha café, and the return of OB's Ranchos Cocina as Hugo's Cocina.
Then Jacqueline Coulon, co-owner of OB's Little Lion drops by to talk about running a tiny, charming, and ingredients-driven bistro by Sunset Cliffs with her sisters. Being a local culinary royalty—her grandparents owned The Belgian Lion, her aunt is Michele Coulon of Michele Coulon Dessertier, and her cousin Nathan Coulon is the culinary manager of Fox Restaurant Concepts, which owns True Food Kitchen—Jacqueline shares stories of growing up in a food-loving family, eating foie gras with cornichons as a kid, and what family dinners mean at the Coulon household. She also drops a secret about Little Lion waffles, a favorite of Troy's.
We also talk Small Bites, including where to get a great meal for two for under $50, like Ironside Fish & Oyster.
Subscribe to the Happy Half Hour on iTunes or Google Play, or listen below.
Recent Episodes
For all previous episodes, click here.
---
Would you like to sponsor a podcast episode at your restaurant or bar? Email David, our producer and digital media director.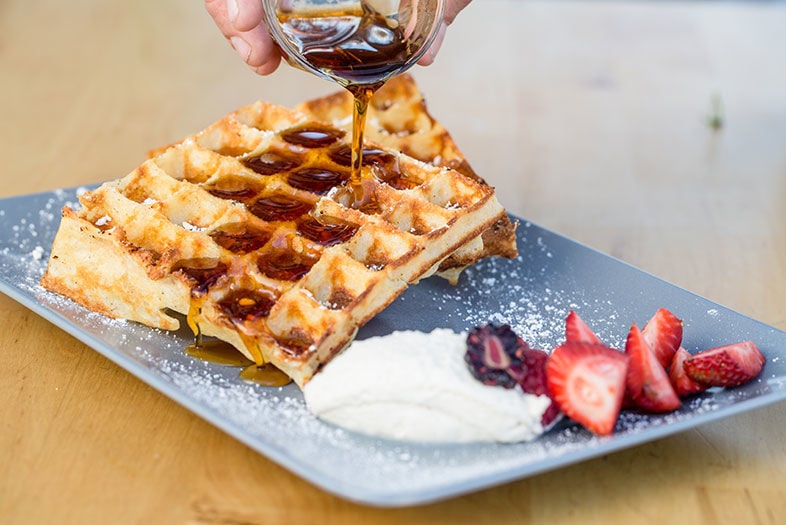 Little Lion's Belgian waffles, served with berries, cream, and syrup. | Photo: Sam Wells