In today's HHH, hosts Erin Chambers Smith, Troy Johnson, and producer Archana Ram talk about the buzziest dining news—including Bracero's switchover to become Romesco Mexiterranean Cucina and Tamarindo's debut in North Park.
Today's special guest is Trey Foshee, chef-partner of George's at the Cove and Galaxy Taco. He chats with us about his Food & Wine award, how he got his start in La Jolla, and what led him to open Galaxy Taco.
He chimes in for our conversation about the string of high-end restaurants closing in New York City.
And we end with recommendations for Two People/$50, including Herb & Eatery, Cantina Mayahuel, Moto Deli, and Chris' Liquor & Deli in Ocean Beach.
Subscribe to the Happy Half Hour on iTunes or Google Play, or listen below.
This episode is brought to you by KAABOO Del Mar. Enjoy world class music from Red Hot Chili Peppers, P!nk, Tom Petty, Muse, and many more — plus comedy, contemporary art, gourmet cuisine, and more. Get more info and passes at KAABOODelmar.com.
Recent Episodes
For all previous episodes, click here.
---
Would you like to sponsor a podcast episode at your restaurant or bar? Email David, our producer and digital media director.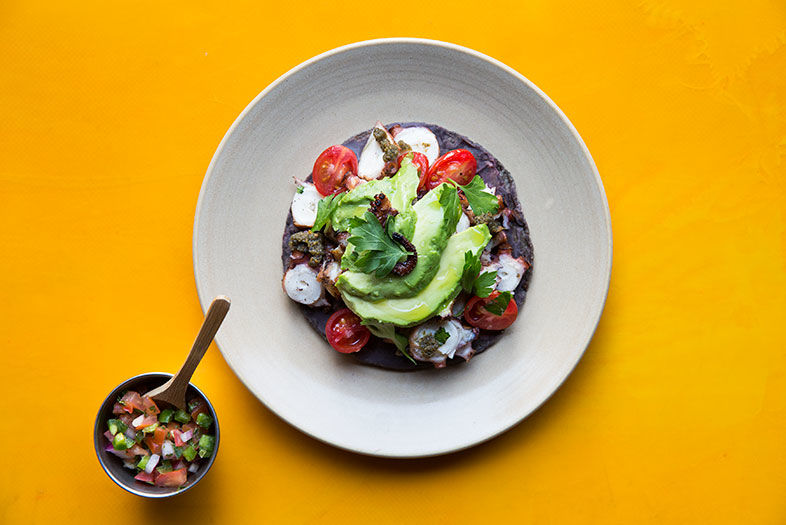 Octopus tostada at Galaxy Taco | Photo: Luis Garcia