In today's episode of the Happy Half Hour podcast, hosts Erin Chambers Smith, Troy Johnson, and producer Archana Ram discuss local dining news, including the opening of Cutwater Spirits, a new lunch menu at Officine Buona Forchetta, Liberty Station's new farmers market, and the upcoming Wolf in the Woods restaurant headed to Mission Hills later this year.
Today's special guest is Mia Vaughnes, founder of Good Neighbor Gardens, an urban sharecrop program that farms yards in San Diego homes and schools. They deliver locally grown, pesticide-free produce through a unique CSA model and are currently farming in 84 gardens, as far south as National City and as far north as Encinitas. She talks about the top crops of the season and supporting school garden education. Plus, a cool hack for growing avocados.
Speaking of the green fruit, we also chat about a variety of avocados that may grow year-round in California, how hipsters driving up the cost of certain foods, the Aunt Jemima recall (check your freezer!), and a study about who eats the most fast food. It's not who you think.
We end the show with recommendations for Two People/$50, including Barbusa, TJ Oyster Bar, Tajima, and Moncai Vegan.
Subscribe to the Happy Half Hour on iTunes or Google Play, or listen below.
This episode is brought to you by KAABOO Del Mar. Enjoy world class music from Red Hot Chili Peppers, P!nk, Tom Petty, Muse, and many more — plus comedy, contemporary art, gourmet cuisine, and more. Get more info and passes at KAABOODelmar.com.
Recent Episodes
For all previous episodes, click here.
---
Would you like to sponsor a podcast episode at your restaurant or bar? Email David, our producer and digital media director.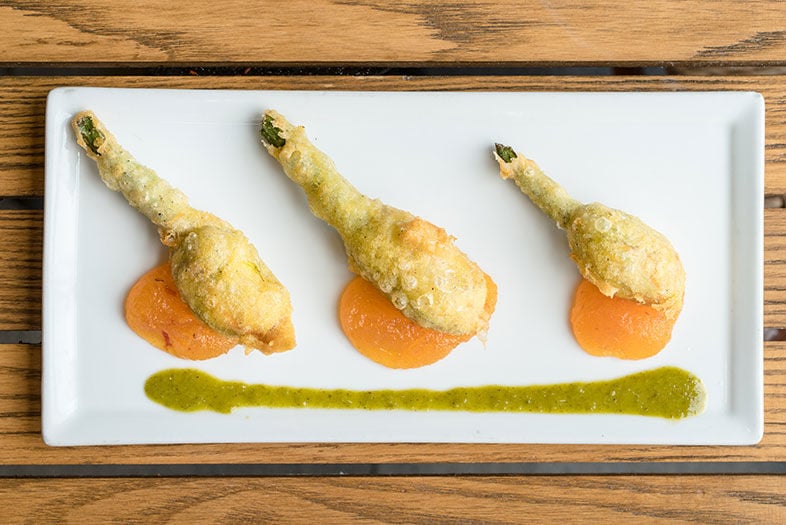 Barbusa's cheese stuffed tempura squash blossoms. | Photo: Sam Wells