In today's episode of the Happy Half Hour, hosts Erin Chambers Smith and Troy Johnson, along with producer Archana Ram are coming at you live from Petco's headquarters in Rancho Bernardo.
We're talking the latest local restaurant news, like the new Carruth Cellars Wine Garden in Little Italy and the opening of a new burger spot on the SDSU campus (and yes, they have whiskey at this location, too).
Our guest is chef Steve Brown, an Imperial Beach native. He's a big part of the South Bay uprising, with his dinner pop-up series Cosecha, Temp° in Chula Vista opening next month and Bar Logan debuting in Barrio Logan by the end of the year. As if he weren't busy enough, he also has plans for a two-story eatery in Imperial Beach.
Plus, we're talking about the rising trend of cannabis-infused dinners. Brown tells us why it's not as simple as "throwing in weed butter and calling it a day."
And we share our recommendations for Two People/$50, including Pali Wine Co., Surati Farsan, Karina's Seafood, and Solare.
Subscribe to the Happy Half Hour on iTunes or Google Play, or listen below.
Recent Episodes
For all previous episodes, click here.
---
Would you like to sponsor a podcast episode at your restaurant or bar? Email David, our producer and digital media director.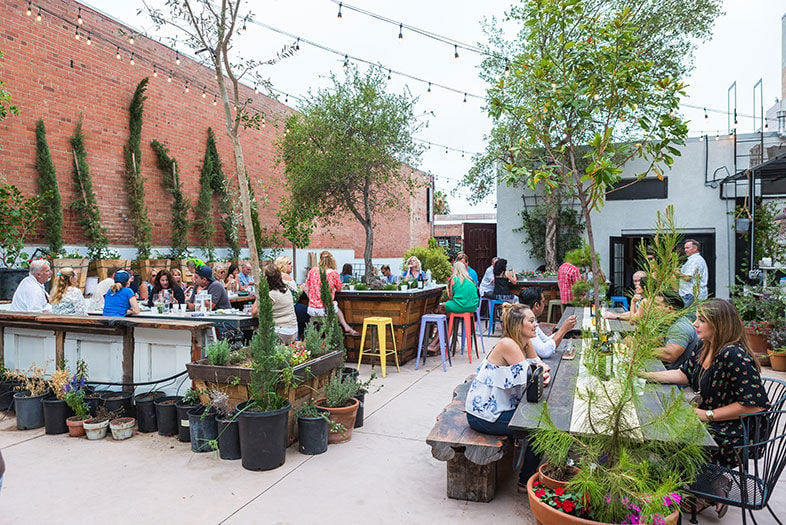 Carruth Cellars Wine Garden in Little Italy. | Photo: Kevin Connors