We're thrilled to announce that San Diego Magazine's Happy Half Hour has won a national Folio Award for Best Podcast in the consumer/city & regional division, beating out Inc. Magazine, Scholastic Reads, Red Bull Media, the Harvard Business Review, and D Magazine. We'll cheers to that!
In today's episode of the Happy Half Hour, hosts Erin Chambers Smith and Troy Johnson, along with producer Archana Ram, are talking about the latest restaurant news, including the closing of Romesco and Hard Rock Café, and the opening of Cross Street Chicken and Beer in Kearny Mesa. Plus, you can now own a share of Mission Brewery.
Joining us is Chris Puffer, longtime Brian Malarkey collaborator and general manager behind Herb & Wood, Searsucker, Farmer & the Seahorse, and other eateries. He talks about delving into design for the first time with Herb & Wood (like H&W's super-cool server uniforms), the Little Italy renaissance, and what he's learned from his experience in opening 16 restaurants from coast to coast. Plus, he shares the secret menu item at Herb & Wood.
In hot topics, we're chatting about the Great American Beer Festival, where Pizza Port, Bagby Beer Company, and other local breweries picked up awards.
And we share our recommendations for Two People/$50, including Masala Street, Cantina Mayahuel, and the Hillcrest Farmers Market.
Subscribe to the Happy Half Hour on iTunes or Google Play, or listen below.
Recent Episodes
For all previous episodes, click here.
---
Would you like to sponsor a podcast episode at your restaurant or bar? Email David, our producer and digital media director.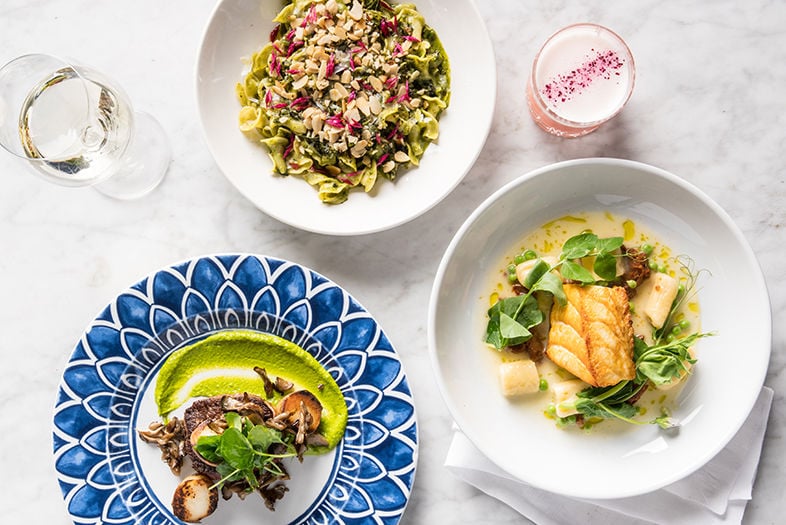 Herb & Wood | Photo: Sam Wells