In today's episode, hosts Erin Chambers Smith and Troy Johnson along with producer Archana Ram are talking about restaurant news, like two Hillcrest openings—Better Buzz Coffee and Copper Top Coffee & Donuts (did you know donuts are the Instagram subject?). Plus Troy has the First Look on Bivouc Ciderworks in North Park and Little Italy's Cloak & Petal.
Today's sponsor is Torrey Holistics, a city-approved medical marijuana facility in Sorrento Valley. Christine Bordenave, the company's director of purchasing and compliance, joins us to explain the different between THC and CBD, how they're capping dosage in edibles, and the launch of childproof packaging. (You can also read all about San Diego's huge leap into the cannabis industry in our February issue.)
Joining us in the guest seat is Richard Blais, Top Chef All-Star, chef-partner of Juniper & Ivy and The Crack Shack, podcaster at Starving for Attention, cookbook author of So Good—the list goes on. He tells us why he moved to San Diego, how he got to star in a cat food commercial, and what it's like to work with Troy on Guy's Grocery Games.
In Hot Topics, we discuss dining trends for 2018. Less dinner Instagramming, more chilled red wine.
We end with Two People/$50, including Village North, and Richard's two picks, the Sea Señorita at Crack Shack and­—wait for it—the shredded beef from Trader Joe's.
Subscribe to the Happy Half Hour on iTunes or Google Play, or listen below.
Recent Episodes
For all previous episodes, click here.
---
Would you like to sponsor a podcast episode at your restaurant or bar? Email David, our producer and digital media director.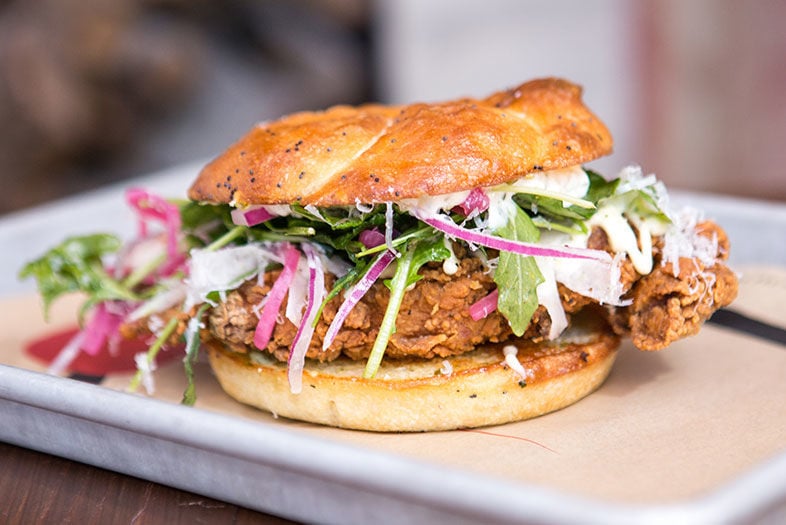 Crack Shack | Photo: Monica Hoover