In today's episode, hosts Erin Chambers Smith and Troy Johnson, along with producer Archana Ram are talking about restaurant news, including a new Taco Stand, a new brewpub, and a big barbecue spot headed to San Diego.
Today's sponsor is Torrey Holistics, a city-approved medical marijuana facility in Sorrento Valley. Ruthie Edelson, the company's marketing director and graphic designer, joins us to talk about changing the stigma of marijuana, why it shouldn't be called a "drug," and more. (You can also read all about San Diego's huge leap into the cannabis industry in our February issue.)
Joining us in the guest seat is Gary John Collins, founder of Air Conditioned Lounge and its new adjacent event space, The Glampisphere. He explains why business was easier in the past and shares his secrets to longevity in San Diego's restaurant-bar scene.
In Hot Topics, we discuss the new AmazonGo store in Seattle.
We end with Two People/$50, including Café Chloe, The Coffee Cup, Salt & Straw, and Cantina Mayahuel.
Subscribe to the Happy Half Hour on iTunes or Google Play, or listen below.
Recent Episodes
For all previous episodes, click here.
---
Would you like to sponsor a podcast episode at your restaurant or bar? Email David, our producer and digital media director.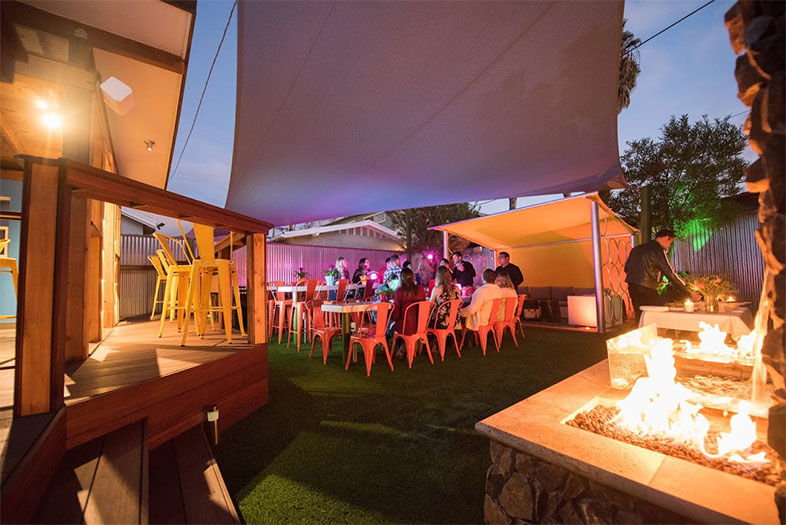 The Glampisphere | Photo: Walter Wilson