We're kicking off December with a small announcement: After a good run, we're retiring the column VIT (Very Important Taco) as we head into 2020 and are redesigning San Diego Magazine. We're adding new departments and columns throughout the magazine, including the food section, as we're about to unveil a brand new look. Don't worry, we still plan on writing about tacos, but we're making room to feature other dishes in the Mexican food canon along with more cuisines from around the world.
This week's podcast features our last, but not least, VIT: the pork birria and funghi ranchero tacos at Dos Tierras. In the studio with us today is Dos Tierras' founder, Sergio Garcia Manriquez, and he talks about how his mobile catering business brings a taste of Mexico that isn't commonly found in San Diego—cooking techniques from Michoacan, Mexico's countryside—to various pop-up events and locations throughout the county. Sergio shares his journey with us, from growing up cooking with his grandmother to working in corporate America, and then shifting his career to focus on the culinary arts and eventually starting his own business. This month, Sergio is opening a vegan Mexican eatery, OleriCultura, in the food court at Grossmont Center.
In Hot Plates, we talked about Blue Ocean Sushi and Harumama bringing Japanese food and adorable buns shaped like animals to La Jolla, Bottle Rocket Rocket Bar and Grill opening in the former Monkey Paw space in East Village, and that Jarrod Moiles, former executive chef of the Patio Group, has landed at Decoy Dockside in San Marcos. We also asked why J & Tony's Discount Cured Meats and Negroni Warehouse took a popular sandwich (made with prosciutto and French butter) off their menu after being open for just a few months—because we all loved it!
David's pick for the 60 Second Beer Review this week is White Labs Brewing Company's Brut Saison.
We wrap up with Two People, $50: Sergio had two picks, TJ Oyster Bar and the gumbo at Bud & Rob's New Orleans Bistro. Troy liked the xiao long bao at Dumpling Inn and maintains they're the best soup dumplings in San Diego. David gave us his pick for the week, the bone marrow appetizer at Starlite, which comes with the option of a whiskey luge—the bone marrow shot isn't written on the menu, so be sure to ask for it.
What's your pick for Two People, $50? Is there a local chef or restaurant owner that you want us to interview on the show? Or do you want to ask Troy a question about what it's like to be a restaurant critic? Feel free to reach out to us! You can call us at 619-744-0535 or email us at [email protected] if you're too shy to leave a voicemail.
Subscribe to the Happy Half Hour on Spotify, iTunes or Google Play, or listen below.
Recent Episodes
For all previous episodes, click here.
Would you like to sponsor a podcast episode at your restaurant or bar? Email David, our producer and digital media director.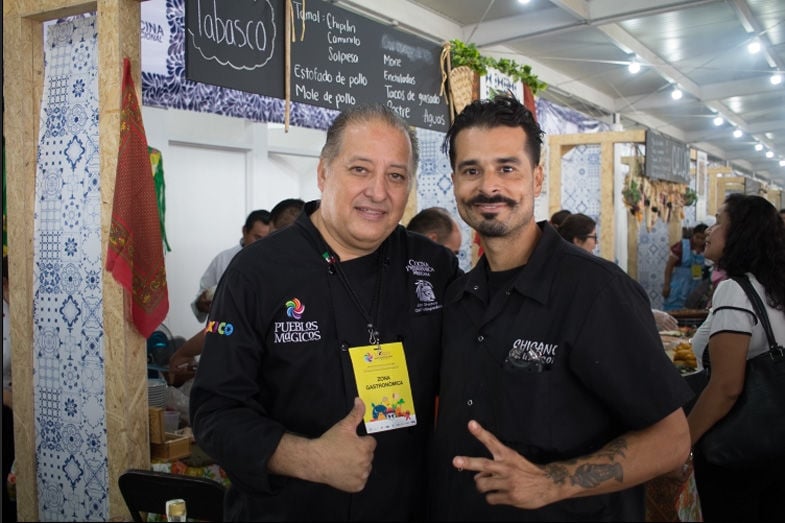 Sergio Garcia Manriquez (right), owner of Dos Tierras, with Chef Jorge Orozco, Mexico's Ambassador of Pre-Hispanic Cuisine | Photo courtesy of Sergio Garcia Manriquez