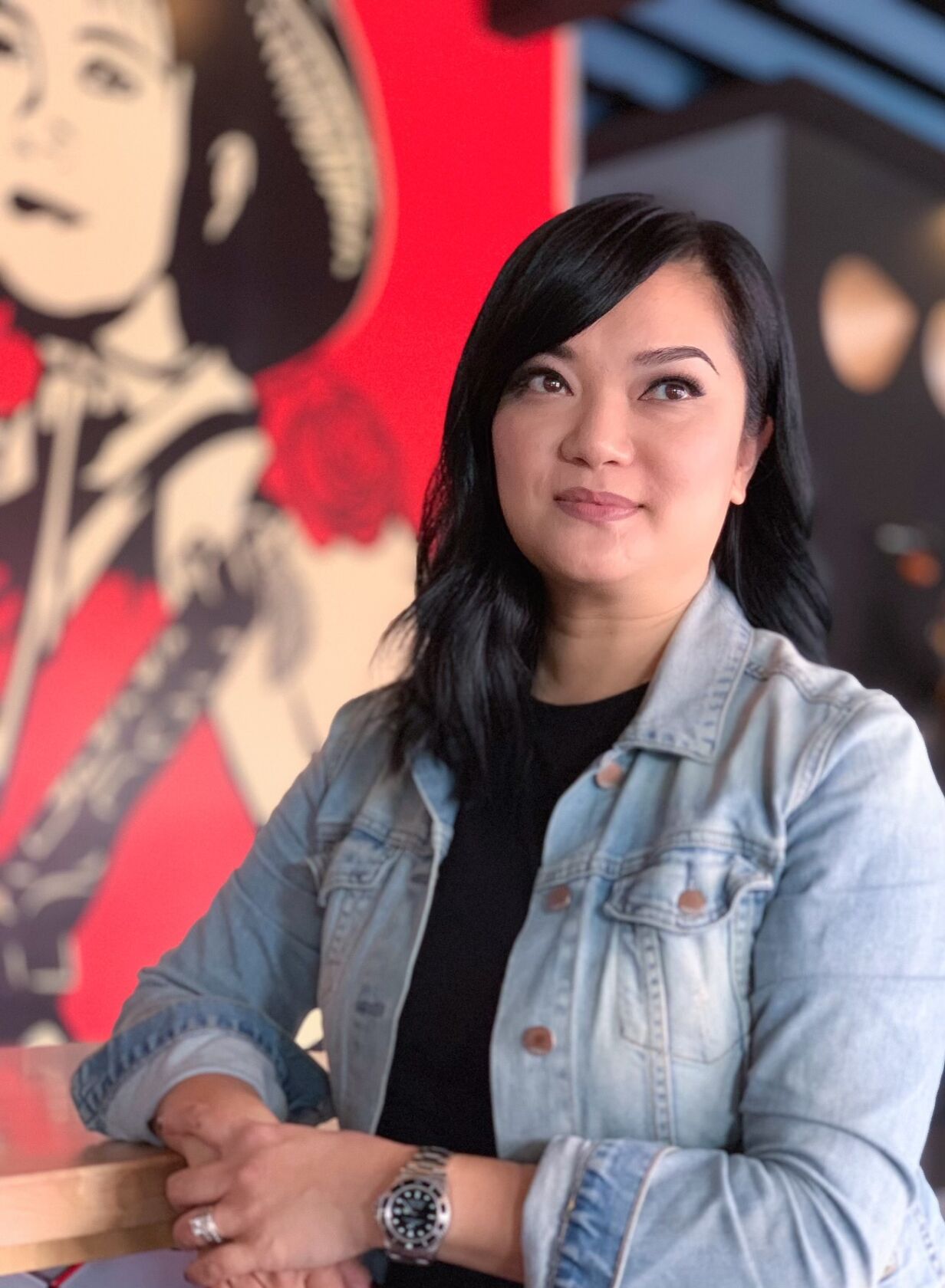 Not sure how many San Diego restaurants have a real, bonafide Shepard Fairey art piece—sanctioned by the artist, famous for his propaganda art like the Obey (Andre the Giant) and Hope (Obama) series—but Shank & Bone in North Park is one of them. So technically the Vietnamese restaurant is a pretty notable art gallery. Their pho sure is some art. So are their fish sauce chicken wings, salty and sweet.
In our June "Best Restaurants" issue, Shank was named readers' choice for Best Vietnamese and my pick for Best Pho. And on today's podcast Han Tran comes on to share her story—how her parents came over as refugees from Vietnam. She grew up in City Heights, where her mom ran a bakery and cafe.
"It was known for the strongest Vietnamese coffee in town," she says. "Just rocket fuel. In our culture, the cafe scene is mostly men. Women walk in and the needle on the record scratches. But mom ran it. She's tough. Cafes are really popular in the Vietnamese community, but ours was different because we had good food."
Han was raised in this food culture, saw how much her parents worked. Nonstop. The restaurant was their life, their stable place in a new world. And so the daughter went to UCSD with not less than zero interest in running a restaurant, but running very fast the other way.
And then her and her husband, Jay Choy, bought a sushi joint, Ebisu Sushi. "We had no idea how to run it," she says. And yet they did, for 16 years. They opened Shank & Bone because they wanted to take the Vietnamese food Han grew up with, but crank it up, use better ingredients, bring the modern better-food ethos to dishes of her youth.
And, well, she took some flak. Some in the Viet community went after her because of the Fairey artwork, which shows a Viet girl holding a gun with a flower in the end of it. "Vietnamese immigrants are all obviously anti-communism—so there was a rumor going around that some communist had come to North Park and opened this restaurant," she laughs. "And the funny thing is, the image of the woman looks almost identical to a picture of my mom from the refugee camp."
She and her husband also took flak for the price of their pho—$17 when they opened, $20 now. The reason? They invested in better ingredients, and they crammed their broth with two, three times the amount of bones to ratchet up the flavor (thus why the pho is so good). They invested in artwork and a storefront right on University Ave. All things that cost money.
Shank's done just fine now. People showed up, keep showing up.
In "Hot Plates," we talk about the impending sale of Stone Brewing to Sapporo U.S.A.; how the city is now starting to enforce permits for the parklets restaurants built during the pandemic, and how very few restaurants have even bothered to apply; and the arrival of Northern California's white-hot Filipino bakery chain, Starbread. For "Two People, Fifty Bucks," David goes to a classic in North Park (Lucky's Golden Phoenix), Han professes her love for Mongolian Hot Pot; and I defend the honor of chain restaurants by naming one of my favorites for healthy meals (Tender Greens, run by San Diego chef Pete Balistreri).
Go eat some pho. Noodles on the side (so they don't soak up too much of that broth, which is gold).