Welcome back and happy holidays! We are wrapping up 2019 with two year-end episodes to discuss the best food, the coolest trends, the biggest headlines, and the saddest goodbyes that we featured on the show this year.
In part two, the team discusses some of the food predictions that national studies and media said would be big in 2019, including: cannabis and CBD infused everything, hard seltzers like White Claw, Taiwanese cheese tea, plant-based eating, and mushrooms. We look at the past year to see if any of these trends made their way over to San Diego. Plant-based meals definitely had a huge impact at San Diego Magazine, as we dedicated our entire upcoming January 2020 issue to healthy eating and finding new vegetarian and vegan restaurants around the city. We also wanted to provide the update that we did find a place in San Diego that serves cheese tea, Happy Lemon in Kearny Mesa and Eastlake.
The team also talks about what trends they saw appear in San Diego's dining scene in 2019, as well as what they are predicting for 2020. Some things to look out for are craft sake, more comfortable chairs and carpeted restaurants, and the decline of the hazy IPA.
Also in this episode, we take a look at our most downloaded episodes. What episode do you think it was? The team plus David casts their votes for their favorite guests of the year including Steven Yeng of OB Noodle House, the "Urchin King," Peter Halmay, Brandon Zanavich from The Friendly, and more.
Lastly, everyone provides their own Holiday Survival Guide to getting the most out of the festive season in San Diego, with tips like hitting up Miracle on 30th Street, a Christmas pop-up bar hosted by Polite Provisions, or checking out the cheesy holiday lighting competition between Fall Brewing Co. and Beerfish.
Thanks for listening, and we'd love to hear from you! Call us at 619-744-0535 and leave a message. Or if you're too shy to call, you can email [email protected]. You can give us your recommendations for Two People, $50, let us know who you'd like to hear featured as a guest on the podcast, or ask Troy a question.
Subscribe to the Happy Half Hour on Spotify, iTunes, or Google Play. We're also on iHeartRadio now! Or you can listen below. Come back next for Part 2 of our end-of-year wrap up.
Recent Episodes
For all previous episodes, click here.
Would you like to sponsor a podcast episode at your restaurant or bar? Email David, our producer and digital media director.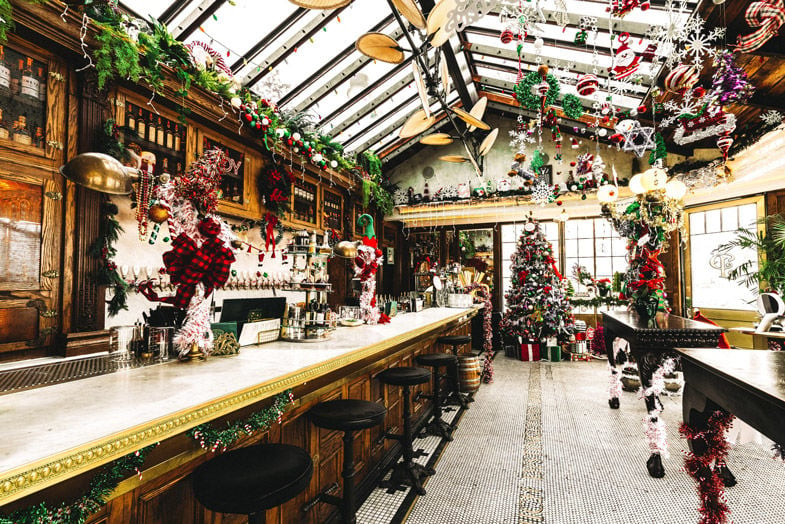 Polite Provisions' Miracle on 30th Pop-Up | Photo by James Tran and Olivia Beal