Welcome back to the Happy Half Hour podcast! Our sponsor this week is the SoNo Fest and Chili Cook-Off, and with us today is long-time chili competitor and beer donor, Lee Chase from Automatic Brewing, Tiger! Tiger!, Blind Lady Ale House and Panama 66. SoNo Fest is now one of the largest festivals in the North and South Park neighborhoods and is celebrating its tenth anniversary this year on December 1.
This week's special guest is Tommy Gomes, also known as Tommy the Fishmonger. Tommy joined us on the podcast in 2017, but is back to talk about his new consulting and advocacy work under his new brand, Tommy the Fishmonger. Tommy has a long history in San Diego working for Catalina Offshore Products, helping them open the Seafood Education and Nutrition Center. Tommy also founded Collaboration Kitchen, a nonprofit dinner series focused on seafood education, and you can also find him on YouTube cooking up some great seafood recipes. Tommy's work helped Catalina Offshore receive a grant in 2019 to help expand the demand for underutilized species. We featured Tommy in our latest issue's Food Lovers' Guide, where he gave us tips on how to buy the best seafood.
For Two People, $50, Tommy chose Volare on Midway because he says their pasta with red sauce is the most authentic in San Diego. He also chose Fiddlers Green because you can get a steak with a baked potato and a salad for just $12. Lauren chose Brian Malarkey and Chris Puffer's new restaurant, Herb and Sea. Troy liked the garlic chicken wrap at Mama's Bakery and Lebanese Deli.
In Hot Plates, it was all about restaurant openings: the new Puffer Malarkey Collective, Herb and Sea, the new Hillcrest steakhouse, Rare Society, and a new Southern restaurant in Hillcrest, Sunnyboy Biscuit Company. We also talked about Daniela Martinez, the pastry chef at Il Dandy—she just won the Sweets Showdown on the Food Network show Chopped. Daniela competed against the chefs from Milk Bar in New York and Broken Spanish in LA, and won $50,000!
This week's Hot Topic is about what to do when you're a huge foodie, but you have a kid who is a picky eater. Troy wrote a heartfelt essay for the November issue and shared that while he's a restaurant critic and an adventurous eater for a living, his daughter has a long list of things that she will not eat.
Thanks for listening, and we'd love to hear from you! Call us at 619-744-0535 and leave a message. Or if you're too shy to call, you can email [email protected]. You can give us your recommendations for Two People, $50, tell us about any news happening in San Diego's culinary world, or let us know who you'd like to hear featured as a guest on the podcast.
Subscribe to the Happy Half Hour on Spotify, iTunes or Google Play, or listen below.
Recent Episodes
For all previous episodes, click here.
Would you like to sponsor a podcast episode at your restaurant or bar? Email David, our producer and digital media director.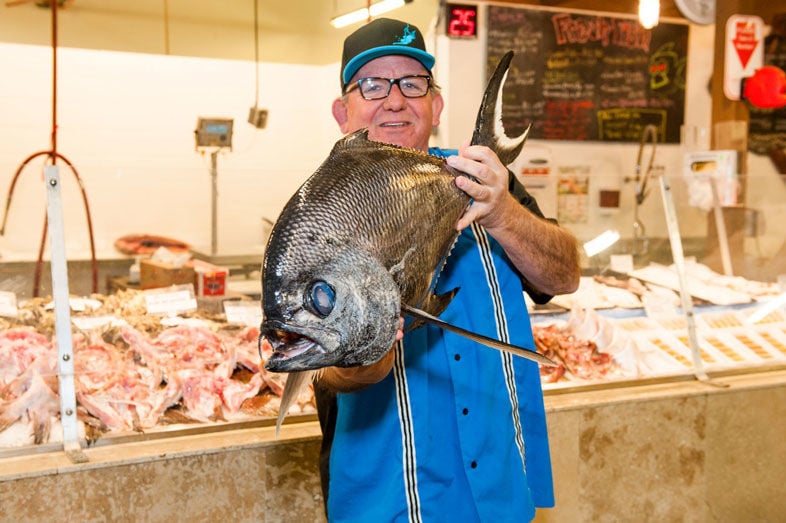 Photo courtesy of Catalina Offshore Products