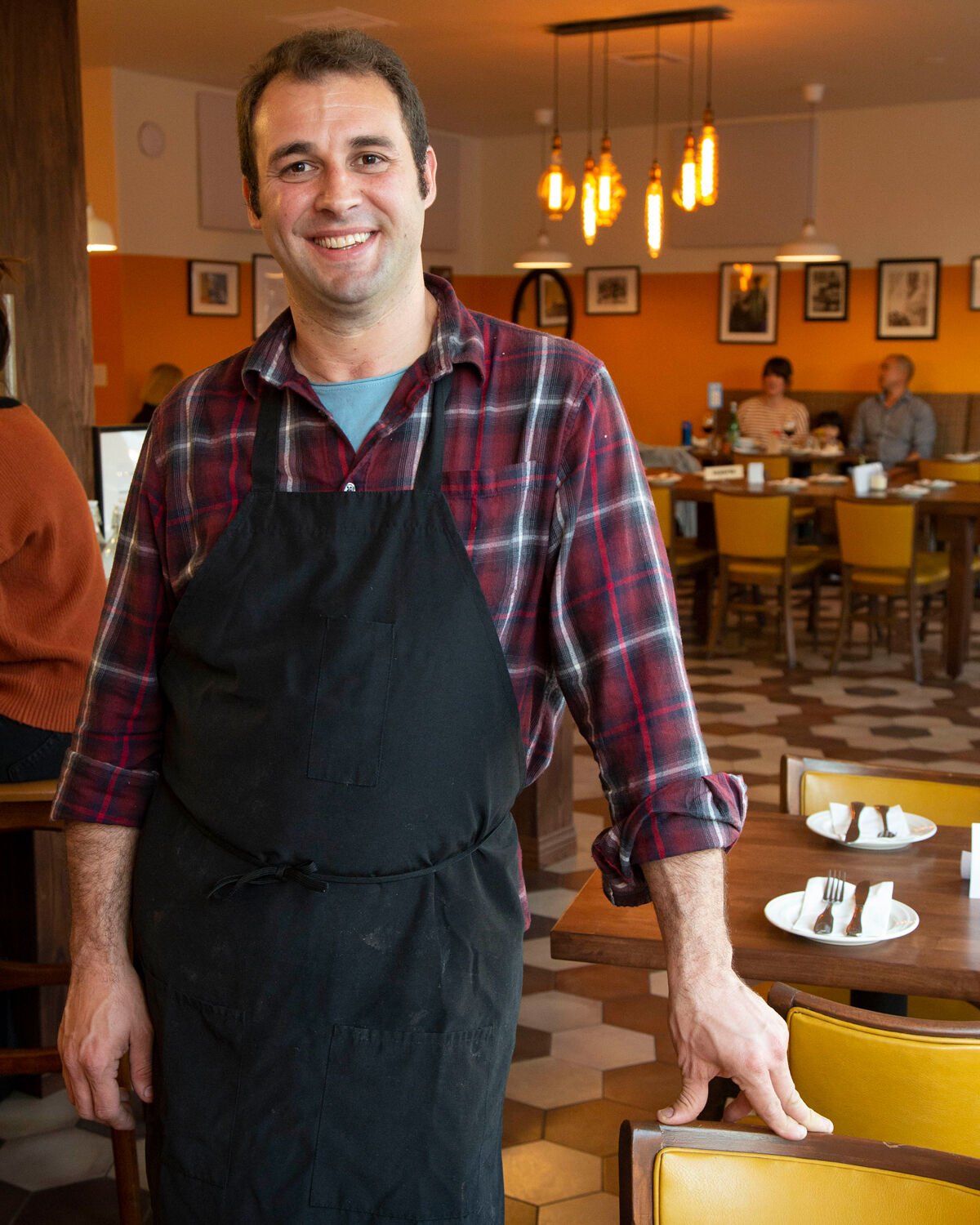 Welcome back to another Happy Half Hour episode! Today's special guest is Accursio Lota, chef and owner of Cori Pastificio in North Park. Before opening Cori Pastificio, he was the head chef at Liberty Station's Solare Ristorante for seven years. During his time there, he was presented with the prestigious Tre Gamberi by Gambero Rosso, an Italian award similar to the Michelin star system. Just one year prior, he won the Barilla World Pasta Championships. He's originally from Menfi, Sicily, and now resides in North Park.
Accursio talks to us about his journey opening Cori Pastificio and shares that when you work in the restaurant industry, the final dream is to have your own place. He was set on a North Park location within one mile of his house, which is what business owners in his small town in Sicily do, and says opening a restaurant anywhere else would've been unnatural. The opportunity presented itself, and Cori took over where Cardamom Café was.
Cori Pastificio opened in mid-December 2019, and barely three months later, the pandemic hit. The first week was the hardest for him, and he was afraid they would have to close down permanently—being open for only three months meant they didn't have regular customers to rely on. But Accursio says that from day one, there was huge engagement from the community trying to help them and other businesses survive. He's made several adjustments since the spring, such as downsizing the menu and occasionally changing it, and selling housemade dry pasta as more people are cooking at home. In the next few months, he hopes to sell Cori's pasta at small groceries and markets.
To wrap up our time with Accursio, we wanted to end on a good note, so we shared the exciting news: In our annual Best Restaurants issue, Cori Pastificio won the critic's pick for Best of the Best Casual and the readers' pick for both Best New Restaurant and Best Chef! You can find them and the rest of the winners in the December issue, and to check out their menu, visit their website and Instagram.
We taped this episode well before Thanksgiving, so this Hot Plates segment won't be news by the time you hear it, but we still wanted to catch you up on the latest headlines. Small Bar in University Heights closed. Amarin Thai, which has been in Hillcrest for over 20 years, announced that it permanently closed. The owners have a sister restaurant, Siam Nara in Mira Mesa, that is open with outdoor dining and takeout, which you can support. A fire at Hamiltons Tavern in South Park caused an estimated $1 million in damage to the business. On to the good news: Maya's Cookies just opened its first retail store in Grantville. Priscilla Curiel, who owns Tuétano Taqueria, one of our favorite taco shops, is opening a new café, Mujer Divina, in National City.
In Two People for Takeout/Two People for $50, Marie's pick is khinkali (Georgian beef soup dumplings) from Pomegranate, a Russian-Georgian restaurant in North Park. Featured earlier in Hot Plates, Troy goes with Siam Nara in Mira Mesa, where he recommends their drunken noodles with duck and mango sticky rice. For a good glass of wine and some tapas, Accursio picks De Nada Kitchen and Market in University Heights, and David recommends the mole y huevos at WestBrew in Del Mar, as well as their IPAs and seltzers.
Thank you for listening! As always, we want to hear from our listeners. Do you have a question for Troy? Need a recommendation for takeout? Is there a guest you want us to book on the show? Let us know! You can call us at 619-744-0535 and leave a voicemail, or if you're too shy, you can email us at [email protected]. And if there's another patio you think we should record on, let us know.