This week's special guest is Brandon Zanavich, owner of The Friendly in North Park. The Friendly is known for its New York-style pizza and "dirty flat top cheeseburgers." Customers aren't allowed to modify anything on the burgers, so what you order is what you get: butter-braised onions, American cheese, and garlic aioli all piled on top of a grilled burger patty.
Brandon recently teamed up with Hanis Cavin of the Porchetta Shack to open a second location, The Friendly Tavern, in the Shack's former walk-up space on University Avenue. The stand has only been open for a few weeks, and so far, business has been good, Brandon says. For Two People, $50, Brandon chose Dumpling Inn on Convoy Street. Lauren's pick this week was Zinqué, a new French restaurant where Troy had the First Look when it opened in September. And Troy's pick this week was Born and Raised, where he thoroughly enjoyed the bone marrow escargot.
In Hot Plates, we talked about the owner of Pokirrito closing both the Little Italy and Convoy locations, and converting them into Japanese vegan restaurants. A crew of retired woodworkers opened up a new coffee shop in the industrial part of Morena, Claro Coffee. There will be a special winemakers dinner at Rancho Valencia, "The Soul of Baja," featuring wineries and chefs from the Valle de Guadalupe, like David Castro Hussong of Fauna and Viviana Martinez of Mixtura, who will be cooking a family-style dinner. There will be wines available from five different vineyards, and you can meet the winemakers, too.
This week's Hot Topic is celebrity-owned liquor brands. It's not a new concept, but several new celebrity-backed liquors have been launched recently. A recent story in Business Insider said that ever since George Clooney sold Casamigos Tequila for $1 billion, more celebrities seem to be jumping on this train—even Ryan Reynolds bought a gin company, Aviation Gin, in 2018.
Thanks for listening, and we'd love to hear from you! Call us at 619-744-0535 and leave a message. Or if you're too shy to call, you can email [email protected]. You can give us your recommendations for Two People, $50, tell us about any news happening in San Diego's culinary world, or let us know who you'd like to hear featured as a guest on the podcast.
Subscribe to the Happy Half Hour on Spotify, iTunes or Google Play, or listen below.
Recent Episodes
For all previous episodes, click here.
Would you like to sponsor a podcast episode at your restaurant or bar? Email David, our producer and digital media director.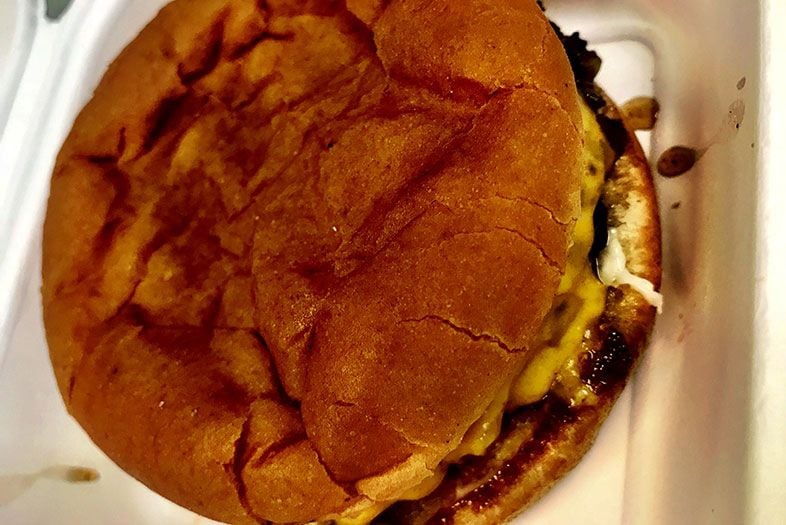 The Dirty Flat Top Cheeseburger | Photo by Troy Johnson