Social distancing and a ban on large gatherings hit San Diego's thriving theater industry hard. Every single one of the county's 25 active professional or preprofessional companies either canceled their traditional shows through the summer or postponed them to next year. But a ton of our local talent is adapting and finding creative new ways to put their art out into the world—some through individual songs, monologues, or interviews, and others with complete plays! So if you want to re-create a bit of that theater experience at home, just put on your fancy clothes, dim the lights, silence your cell phone, and check out these upcoming live or time-limited streaming productions.
The Dazzle and Tarrytown
Available to stream any time June 26–28 (this Friday through Sunday) | Tickets $20 per householdThe Dazzle is a quixotic, "almost true" story of two brothers (Francis Gercke and Tom Zohar) living in 1920s Harlem whose lives are suddenly turned upside down by an eccentric socialite (Jessica John). It was part of Backyard Renaissance's regular season schedule, and the cast, crew, and director Rosina Reynolds soldiered on with it despite the lockdown, conducting production meetings and rehearsals over Zoom, and set design in solo shifts. They used a multi-camera setup to film a socially distanced performance reading, then edited it together into a cohesive production available to stream this weekend only.Plus, make it a double feature with a filmed production of their 2017 San Diego Critics Circle Best New Musical winner, Tarrytown. This modern interpretation of the Legend of Sleepy Hollow stars Bryan Banville, Kay Marian McNellen, and Tom Zohar, directed by Francis Gercke and Anthony Methvin. Gerke says, "We had very limited seating, so very few people got to see it. But those who did come, ended up coming back multiple times. We've had a lot of people tell us that they wish they had been able to see it. We couldn't think of a more perfect show to remind people what artists can do, in the midst of some pretty incredible challenges."
Blackademics
Streaming live on June 27 (this Saturday), 7 p.m. | Tickets free (donations welcome)Trinity artists are holding live play readings via Zoom every other Saturday, and this week it's Blackademics by Idris Goodwin, directed by Kandace Crystal. It's a satire about two friends meeting for dinner at a trendy new restaurant to commiserate on their experiences as black women in academia, all while their meal service becomes increasingly surreal. Starring Emily Candia, Jaeonnie Davis-Crawford, and Ashley Graham.
Human Error
Available to stream anytime through June 29 (this Monday) | Tickets $10This West Coast premiere by Eric Pfeffinger was originally planned to be fully staged in the regular season; instead, North Coast Rep has undertaken their first digital production using advanced Zoom editing technology. It's a comedy about a liberal couple and a conservative couple who have to strike an unlikely friendship after a medical mixup forces them together. Artistic director David Ellenstein says that "audiences will be experiencing a professionally produced piece, and not simply a staged reading." Directed by Jane Page, starring Allison Spratt Pearce, Terrell Donnell Sledge, Max Macke, Jacque Wilke, and Martin Kildare.
Beachtown Live
Streaming live every Wednesday through July 29 at 7 p.m. (next show July 1) | Tickets freeThe fictional Southern California community of Beachtown is facing a pandemic, and you, a resident, are invited to attend a live Zoom meeting of the city's Road to the Future Task Force as they debate when and how to begin opening back up for business. The "meetings" are free to join, and participation is welcome (but not mandatory). This immersive, interactive, one-of-a-kind experience has been running for a few weeks now, and every week is different, so citizens are encouraged to attend more than once. The project is the brainchild of SD Rep's very funny playwright-in-residence, Herbert Siguenza, who plays a senator. Sandra Ruiz, Salomon Maya, Mondis Vakili, and Marci Anne Wuebben also star, as various chairpeople, medical experts, and lobbyists who all have their own agendas at work.
Digital Without Walls Festival
Some programs available now, with more to come in July and August | Tickets range from free to $25The playhouse's annual celebration of nontraditional and site-specific performance art is a natural fit for going digital, and they're rolling out groundbreaking new work to experience in a variety of ways all summer long.Closing July 12 is Binge, by far the most intimate of all the play-enjoying methods on this list: a one-on-one performance "tailor-made to fit the life of each individual audience member," where your very own artist companion prescribes which television shows to watch. For something a little less personal, check out Ancient, a video installation meditating on the beauty of the routine. If you need to stretch your legs, take a walk around your neighborhood while listening to Blindspot Collective's Walks of Life, each episode of which imagines what drama might be unfolding inside the houses you pass by. Or, if you can't get enough Herbert Siguenza, join him, Richard Montoya, and Ricardo Salinas (aka the nation's premier Latino performance trio) for The Totally Fake Latino News with Culture Clash, ten-minute snippets of social satire; the first of six episodes is available now.
The Boy Who Danced on Air
Available to stream any time July 6–19 | Tickets $15–35 per householdDiversionary was in the middle of rehearsals for their regular-season production of Plot Points in Our Sexual Development when California's stay-at-home order hit back in March, but rather than call the whole thing off, they filmed their last rehearsal and released it for home viewing for a limited time. It went over so well that for two weeks in July, they're bringing back an archived recording of their 2016 Craig Noel Award–winning, world premiere musical The Boy Who Danced on Air. It tells the story of two young men caught up in the illicit Afghan trade of Bacha Bazi, in which poor boys are purchased by wealthy older men and forced to dress as women and dance at parties. The Union-Tribune hailed it as "solid, subtle, sad, and often inspiring work that's smartly staged by director Tony Speciale with a first-rate cast." Tickets are available on a sliding scale, with discounts for families who've been financially affected by the pandemic.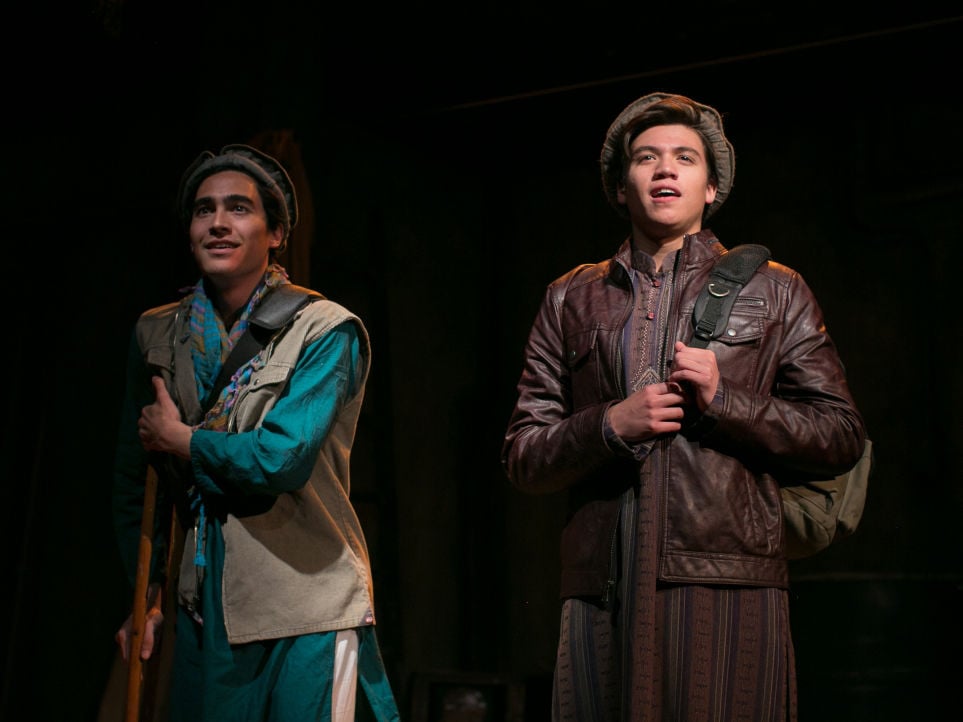 Simpatika