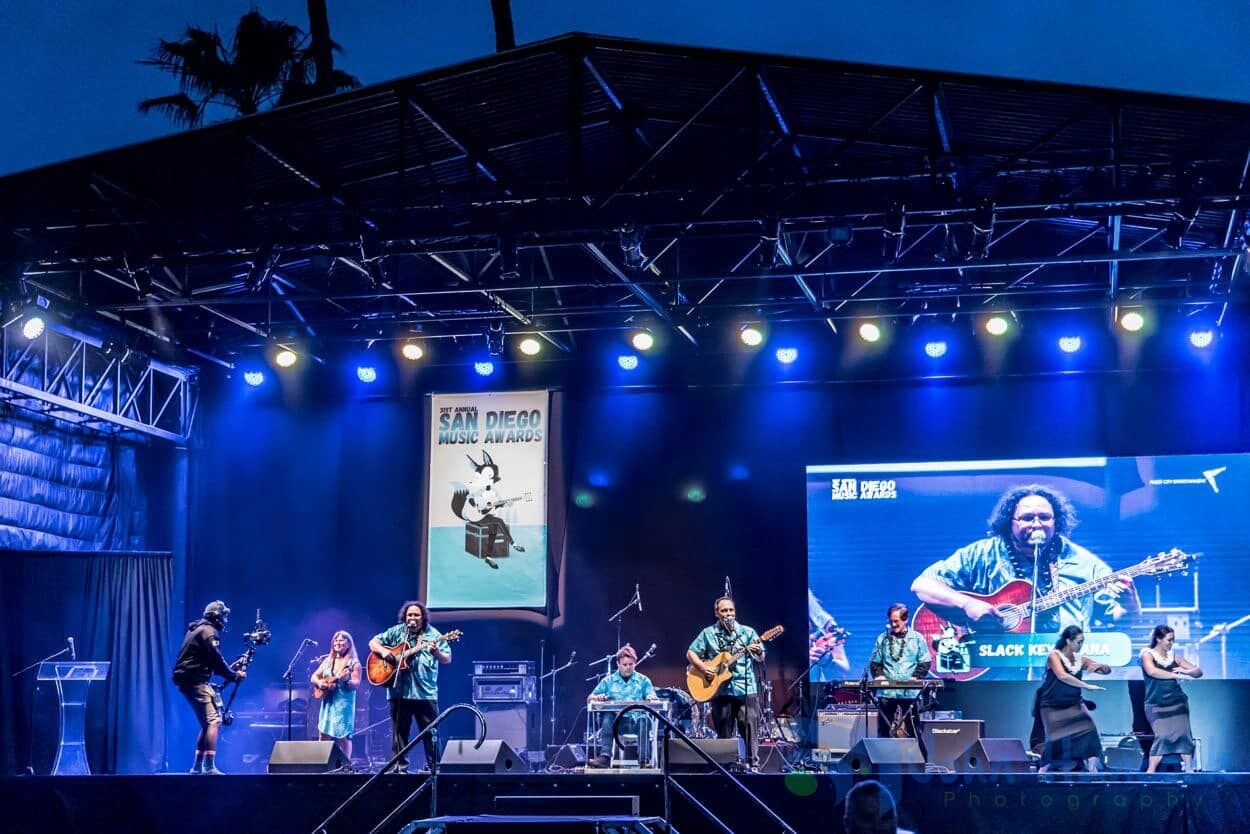 Photo Courtesy of The San Diego Music Awards
Awards shows are as much about the spectacle as the talent, and anyone who's attended The San Diego Music Awards over the years can attest to its ability to bring out the showmanship and hamminess alike in our local music community.Memorable performances, kooky stunts, oddball acceptance speeches, and even occasionally an appearance via satellite by a local celebrity while on tour—just because it hasn't been hijacked by Nathaniel Hornblower or Soy Bomb doesn't diminish the SDMAs' own highlights reel.Ahead of this year's San Diego Music Awards, taking place on April 25 at Humphreys by the Bay, I've assembled some of the bands to keep your eyes and ears on. There's no shortage of ringers lining the list of nominees, including Thee Sacred Souls—who we recently profiled—as well as Gilbert Castellanos, Swami John Reis, Switchfoot, and Plosivs, featuring members of Pinback and Rocket from the Crypt.But as always, there's gold to be found among the underdogs and lesser known names on the nominees list, from psychedelic rock to synth-laden soul and a rocksteady/ska collective.I'd also like to reiterate that this list in no way comprises any actual predictions about who will win. I've never been a gambling man, and I'm not about to start, but I do know everyone featured here deserves to take home an award.
Strange Bouquets
Nominated for Best New Artist
Strange Bouquets is the new project from Rory Morrison, a member of Drug Hunt (formerly known as Bad Vibes). That group's psychedelic aesthetic is definitely a part of Strange Bouquets' curious brew, but the handful of songs Morrison has released thus far go even wilder than that, incorporating elements of disco, post-punk and the weirdest depths of King Crimson's 1970s-era prog-rock. It's a heavy, heady odyssey for sure, and I'm thrilled to hear what comes next.
Julianna Zachariou
Nominated for Best Pop Album
I recently wrote about Julianna Zachariou after she released her new album Hero of Your Heart, a sharp, witty and personal album in which she performed every instrument. That alone merits an award in my book. Though she's one of the best singer/songwriters based in San Diego right now, with any luck, listeners outside of our fair city will catch on to her stunning songcraft as well. She's by no means a newcomer, but I feel like we're only just beginning to hear what she's capable of.
Maya Rosenbaum
Nominated for Best Folk or Acoustic Song
Singer/songwriter Maya Rosenbaum has previously been nominated for a San Diego Music Award, which is pretty impressive given that she was only 17 years old at the time. The young artist is up for another award this year for her song "Letter from Space," which is a gentle and gorgeous ballad that's at once soothing and charged with feeling. Stunning stuff from a songwriter with a bright future ahead of her.
Kahlil Nash
Nominated for Best R&B, Funk, or Soul Album
Kahlil Nash is a previous San Diego Music Award winner, which means he's already something of a ringer, even in a category that includes heavy hitters Thee Sacred Souls, Rebecca Jade and Sure Fire Soul Ensemble. The young artist released his debut EP just as we were beginning to yawn and flinch our way out of lockdown, so if you happened to miss that one, now's a chance to get caught up. Nash plays an eclectic and vibrant take on soul and R&B that balances the smoky and sultry vibes of Maxwell with the contemporary groove of Steve Lacy and a touch of Prince's '80s-era synth-funk—complete with a purplish tint.
The Plagues
Nominated for Best New Artist
I'm as eclectic as the next guy—wait, I'm being modest, my listening habits would give most people whiplash. But I love a great no-nonsense punk band, and The Plagues are just that kind of band. Loud, intense, rowdy, but above all fun, The Plagues are exactly the kind of band you want to hear when you're over-caffeinated, frustrated and in need of some reckless fun. Not that San Diego's ever wanted for punk bands, but if they sound anything like The Plagues, we'll definitely take more.
Bishop Snow
Nominated for Best Hip-Hop/Rap Album
Bishop Snow already has a pretty sizable Instagram following and a good number of views on YouTube, so this is by no means a ground-floor recommendation. But that being said, I'm still more than enthusiastic about lending my endorsement to this Oceanside emcee, whose sound is both old-school and slaps pretty much nonstop, whether in a g-funk groove on "Judgment Day" or on a grittier, hardcore hip-hop banger like "Loyal to the Game."
Spice Pistols
Best Indie/Alternative Album
If the Spice Pistols sound familiar, it might be that you saw them on America's Got Talent, or perhaps just that you've always thought a band combining the punk attitude of the Sex Pistols with the pop hooks of the Spice Girls was a great idea. And it is! In the Best Indie/Alternative Album category, the kitschy group is up against some pretty fierce competition, but it's hard not to root for a group that's committed to a cheeky good time. I'd also like to echo the sentiments of our editor Troy Johnson by saying I am 100 percent going on record in support of a group that can rock this hard in minidresses and platform boots.
Smoke + Mirrors Sound System
Nominated for Best World Music Album
Smoke + Mirrors Sound System is a sprawling and ever-evolving collective of different artists and collaborators as much as it is a proper band, with familiar names like SDMA veterans Gilbert Castellanos and Rebecca Jade. Their sound is a blend of ska, rocksteady, roots reggae, soul and jazz, and this year they're nominated for their covers album, Undercover. (Their take on Tom Petty's "You Got Lucky" also has a very cool stop-motion video.) They also have a pretty impressive YouTube archive worth diving into, including some great dub versions of their songs.