Matthew Murphy
La Jolla Playhouse is a hitmaker, no doubt about it. The Who's Tommy, Jersey Boys, and Memphis were all developed in our jewel by the sea and went on to Broadway and nationwide acclaim. The latest to join their ranks is Come from Away, the true story of 7,000 airline passengers who were diverted to the tiny town of Gander, Newfoundland, on September 11, 2001. It was nominated for seven Tony Awards, including Best Musical, and won Best Direction for La Jolla Playhouse Artistic Director Christopher Ashley.
Ashley and choreographer Kelly Devine have stayed with the show from its original run, to Broadway, to the national tour that's at the Civic Theatre for one short week. If readers don't have tickets yet, stop reading and buy them now (trust me)—there's only five performances left.
The live show is a can't-miss experience, even if you've already seen the filmed performance, which was released on Apple TV last year while most of Broadway was still shut down due to COVID. I had seen it—yet I forgot how much comedy there is in the show. Maybe because September 11 is surpassed only by cancer in its ability to thud a story to a sudden halt. I've seen too many plays where references to the attacks are simply dropped in, nuance-free—even as a surprise—for (one assumes) an easy emotional reaction.
This is not one of those plays. It's woven through with loss without becoming a play about trauma, in part because its ensemble has so many individual stories to tell. The whole cast takes on at least dual roles (often triple or more), switching on a dime between heavy Newfinese accents and those from all over the world. As the residents of Gander, they scramble to prepare for a sudden doubling of their town's population; and as those who've "come from away," they wait for answers—about whether their family in New York are okay, about when they'll be able to leave, or simply about just what the hell is becoming of the world.
It's a tremendous credit to the director, choreographer, lighting designer (Howell Binkley), and dialect coach (Joel Goldes) that these transitions are never anything but crystal clear: No matter how many scenes and personas we swap through, you always know exactly where you are and who's talking to whom.
Come from Away could also be a Canadian tourism ad, for how much it shores up the country's reputation for being kind and welcoming. Across language and cultural barriers, the locals open up their homes and businesses to feed and house the stranded, culminating in the show's best musical number, "Screech In," when those strangers are officially inducted as Newfoundlanders in a rousing bar celebration led by Gander's mayor (the ebullient Kevin Carolan).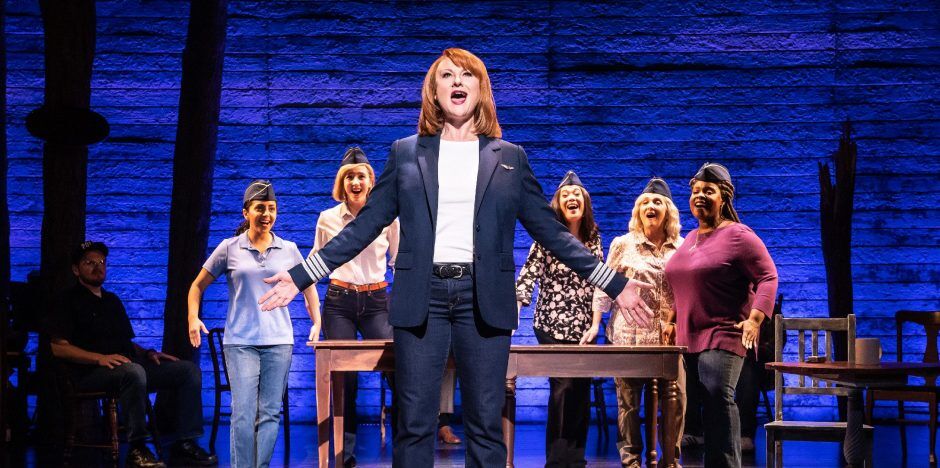 Matthew Murph
While "Screech In" has that familiar building-toward-intermission energy, it instead leads directly into the second-best number (your SkyMiles may vary), "Me and the Sky." Marika Aubrey is fantastic as the real-life Beverley Bass. Her solo is what the entire movie Captain Marvel was trying to be (sorry not sorry). Taking a nearly three-act journey in itself, it tells her life story of overcoming discrimination to become American Airlines' first female captain: Your heart will soar with her, then plummet at the line "Suddenly I'm flying Paris to Dallas / across the Atlantic and feeling calm / when suddenly…"—as you realize what rhyme is coming for calm.
Be prepared to cry. The play doesn't shy away from the horror of that day. But neither does it dwell in it or staple it on for cheap pathos. Rather, it presents an antidote to the horror in the form of small serendipitous joys, and simple compassion from one stranger to another.
Come from Away runs through the weekend at Civic Theatre; tickets are available at broadwaysd.com.