On the altruistic side, you might go thrifting to fight the landfill perils of fast fashion. On the pragmatic side, you do it to save money. Somewhere between those poles is the sheer indulgence of nabbing a great find that has been flagrantly tossed aside by someone clearly not in their right mind—and on the cheap. Another man's trash is another thrifter's holy grail. From vintage designer duds to off-the-rack hand-me-downs, thrift stores in San Diego offer a thrill-seeking sojourn in personal style.
"It's always such a fun adventure going in there. You know, even if you're not looking for anything, you're like, 'I can find you something and it's gonna be cool,'" says Celeste Shoop-Cohen, who runs an online thrifting sales company, @thift_joyy on Instagram.
A native of Los Angeles County, Shoop-Cohen found her way to San Diego after years spent in Santa Cruz and never looked back. She started selling in 2020 as a way to help donate to Black Lives Matter and it took off; so much so, that she was able to quit her job. Thrift Joy became her full-time gig.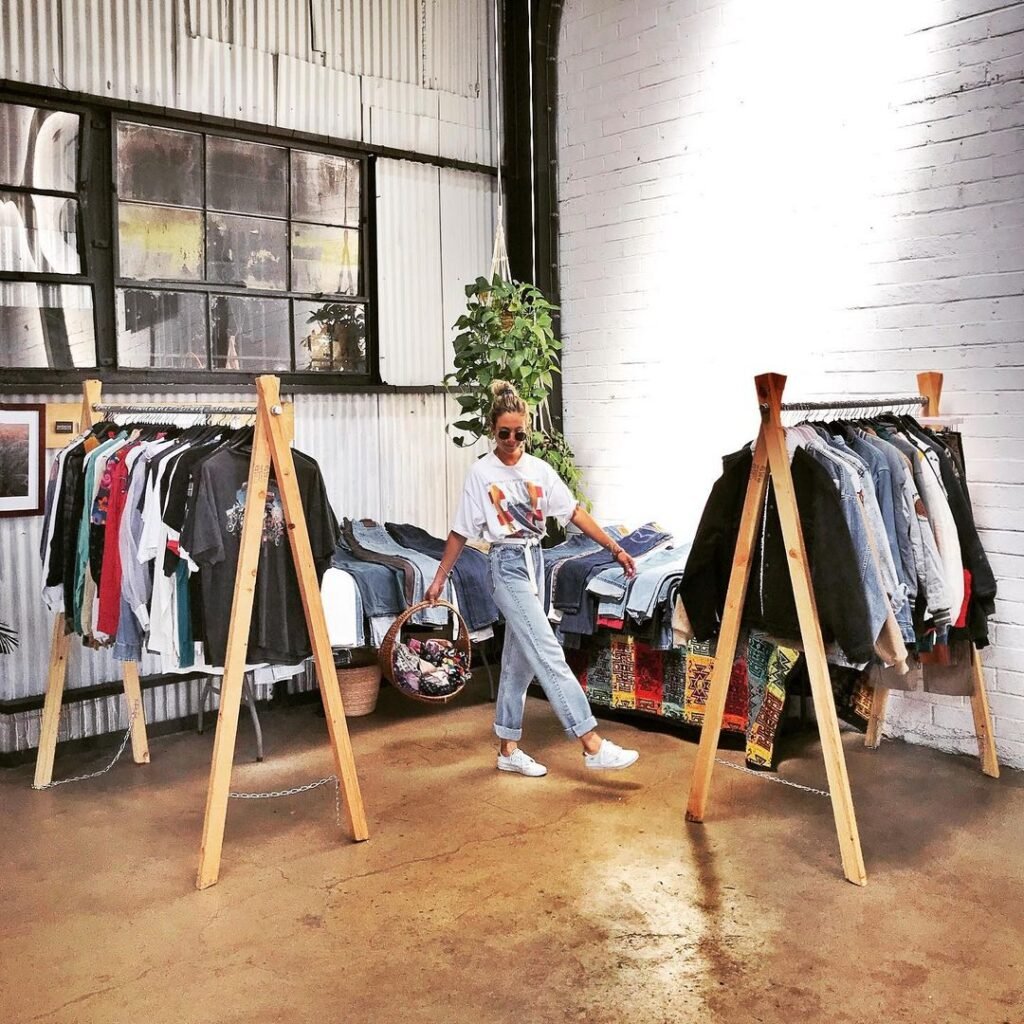 Fellow re-seller Michelle Gonzalez, who owns @percy__vibes and peddles her thrifted garb at Kobey's Swap Meet every Saturday and Sunday, has a similar ethos.
"I don't shop in the mall at all, and I encourage people to not do it either," she says. "It's fun, you know, to go [thrifting] and see what you find—you have a more open mind for developing your style," says Gonzalez. Hailing from Spain and now based in Mission Beach, Gonzalez has a unique blend of European-meets-San Diego style, spanning vintage finds with everyday staples.
At thrift stores, you're the maker of your own sartorial destiny. Zara and its heavy-handed, seasonal trend mandate has no hold on you here.
If you're searching for affordable, pre-loved threads, take advice from these seasoned second-hand specialists for the best tips on where to go, what to look for, and how to get a deal at thrift stores in San Diego.
What To Look For When Thrifting
Trust your intuition but remember what lasts. "I go off just like what catches my eye, but the material matters a lot, like things that are cotton or linen or leather or silk. They're usually made with a little bit better quality," says Shoop-Cohen.
Of course, there are also tricks of the trade that you can learn along the way, such as how to find the perfect vintage tee. "Look for things that are single stitch [on the sleeve]," says Shoop-Cohen. These days, modern shirts have a double stitch on the sleeve. "If it just has one line, there's a good chance it's from the '70s."
Another t-shirt tip? Forget gender. "You have a blank canvas on style right now, and I love that it doesn't matter if it's [labeled] for a woman or a man. It doesn't matter anymore," says Gonzalez. "So that's the beauty of it, for me. People sometimes ask me, 'Oh, is this women's or men's?' And honestly, I'm like, 'Does it look good? Then perfect."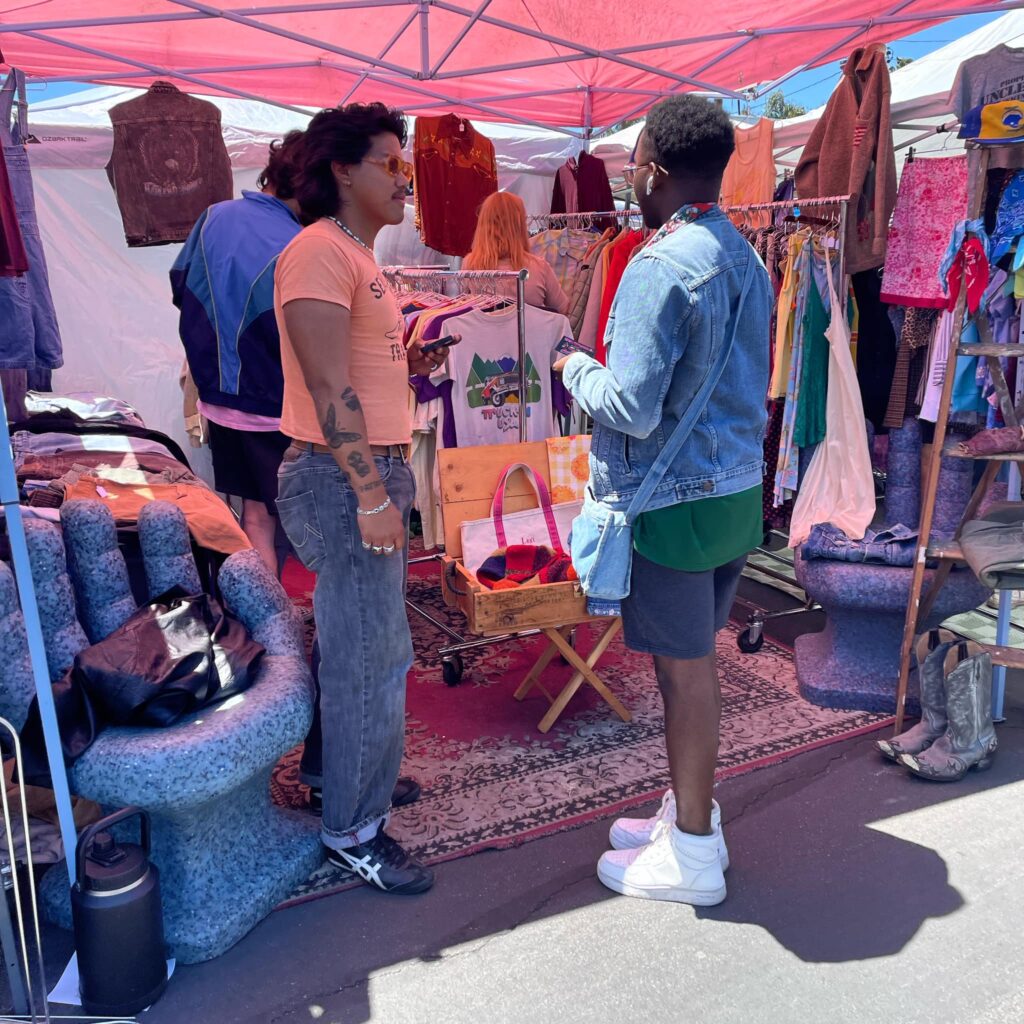 Where To Go Thrifting
Though Gonzalez keeps her thrifting go-to's close to her vest, she does offer up this: be consistent and be early. If you're going to markets like the San Diego Vintage Flea Market or Kobey's Swap Meet, get there early and make a connection with the sellers you like. Oftentimes they'll keep return customers in mind when on their shopping outings.
Also, these sellers always want the product to be new, so they'll give deep discounts on the items that have hung around a bit too long. Gonzales says, "They do a lot of piles of sometimes they don't sell something in a couple of weeks. They're like, 'Oh, $5 or $10.' They just have to keep [the inventory] moving."
She will also tell you where not to spend your time. "I don't go to Goodwills anymore because they became super expensive, and they already are picking out the best vintage."
Don't write off Goodwill just yet, though. Shoop-Cohen digs deep. Literally. The Goodwill Outlet in Escondido is Shoop-Cohen's top shopping destination—and where she found her best vintage find (a handmade velvet patchwork vest).
"It's open from, like, 8 or 9 a.m. until 5 p.m. And people go really early and they wait in line. Then it's just these ginormous bins that you dig through. Nothing is hung up. But everything is $2, no matter what it is." Patience is a virtue and a pay-off in thrifting.
Shoop-Cohen has some other hot takes around the city. "I really like Plato's closet. There's one in Claremont. There's one in Chula Vista and there's one in Escondido," says Shoop-Cohen. She offers that they'll often have 50-90 percent off sales that many don't know about.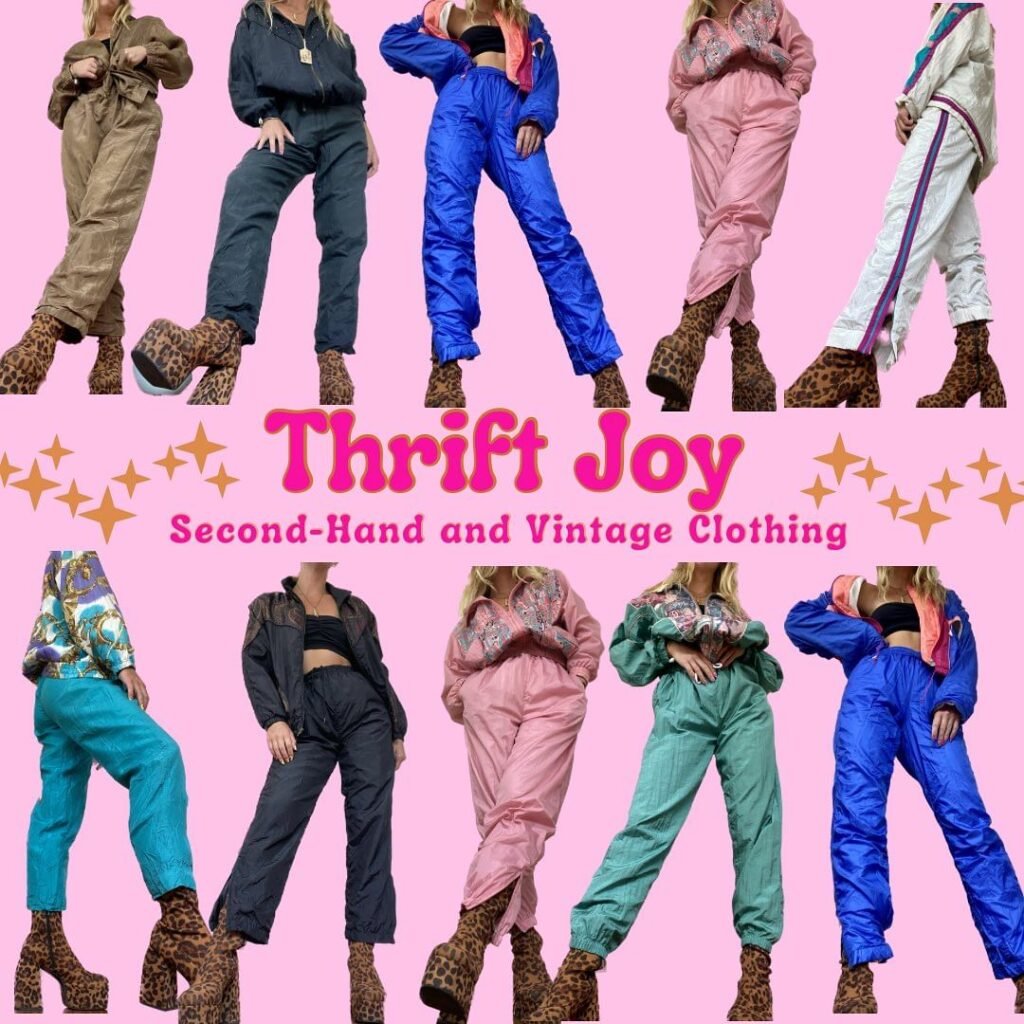 What To Wear While Thrifting
Thrifting can mean you find yourself at a garage sale, an estate sale at someone's home, or at a second-hand store with no dressing rooms. So, planning your shopping outfit strategically is a must. And comfort is king when searching in bins and piles.
"I often wear leggings or biking shorts [with] a tank top… something comfy. Something that you could try a shirt on over, like [wearing] a camisole underneath," Shoop-Cohen says. "And biker shorts so you can just slip a skirt on, slip pants on, or slip a dress over."
"I always say if you wear leggings or leggings shorts, it's worth it because you can try [items] right there," says Gonzalez.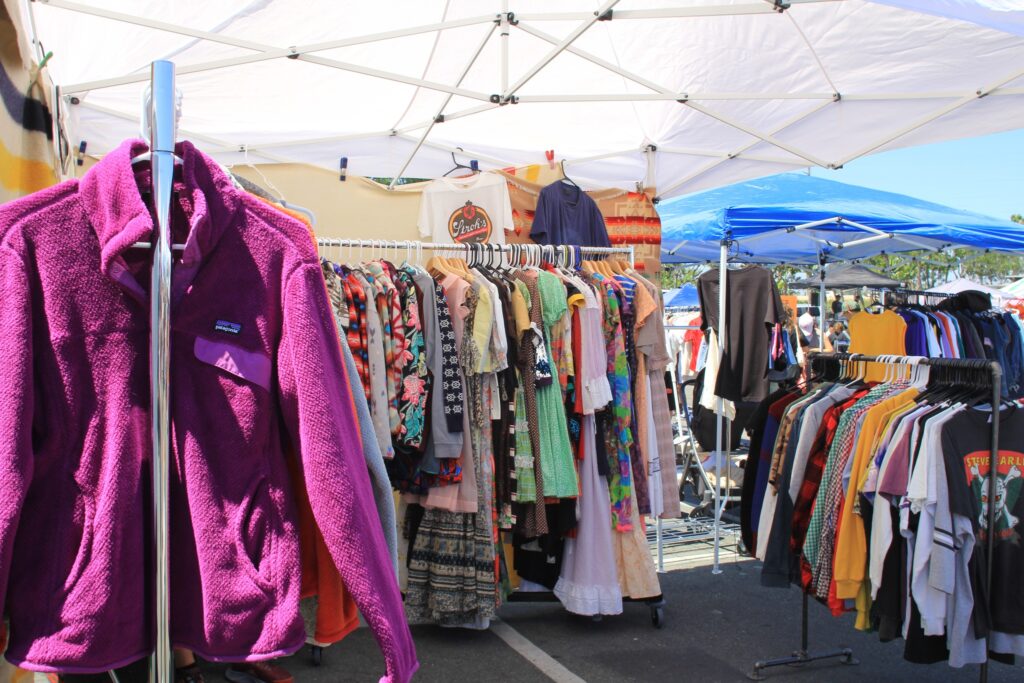 Why You Should Thrift
As of August 2023, Earth.org reports that, "The average US consumer throws away 81.5 lbs of clothes every year. In America alone, an estimated 11.3 million tons of textile waste—equivalent to 85 percent of all textiles—ends up in landfills on a yearly basis."
Thrifting allows you to circumvent this consumerism by shopping sustainably. With fast-fashion retailers like H&M selling more than three billion garments a year, there is plenty of fashion to go around, on the clothing's second time around, which is why both sustainable shopping–or, thrifting–and donating are key. But don't think you're only getting Shein cast-offs. Racks of thrift stores are a mash-up of quickly-made goods as well as vintage finds from a bygone era where craftsmanship was one's calling card.
Going thrift shopping is an easy way to help minimize the burden of discarded clothing and goods, where you can build a wardrobe with timeless pieces (coats and the occasional designer find), basics, and funky, on-era trends.
"Clothing will last so long if you just wear it. And I understand that something might not be your style anymore, but you don't need to throw it away," says Shoop-cohen. "Somebody else will wear it."
Bonus Tips
Cleanlines is next to thriftiness. A cardinal rule of thrifting? Wash your clothes after you buy them. Shoop-Cohen says, "I always wash them immediately. Even if they look really new because you don't know who belong to or like how long it's been there. Even if I buy something new I like to wash it."
Don't judge a hanger by its lack of curb appeal. "If you pass through a booth or something at a swap meet, even if you think that there's not going to be anything there, just do it. You will be surprised."
Buy in bulk. "If you buy multiple [items], they make you bundles," says Gonzalez. Bundles usually mean they'll take a few dollars off the asking price for each individual item.
Enjoy the ride. "You just have to dig—for a long time," says Shoop-Cohen. But there's a solution to the beta-mode boredom that can come from continued browsing. Shoop-Cohen suggests to "put some cool music on or call somebody while you're there. It can be a really fun experience."