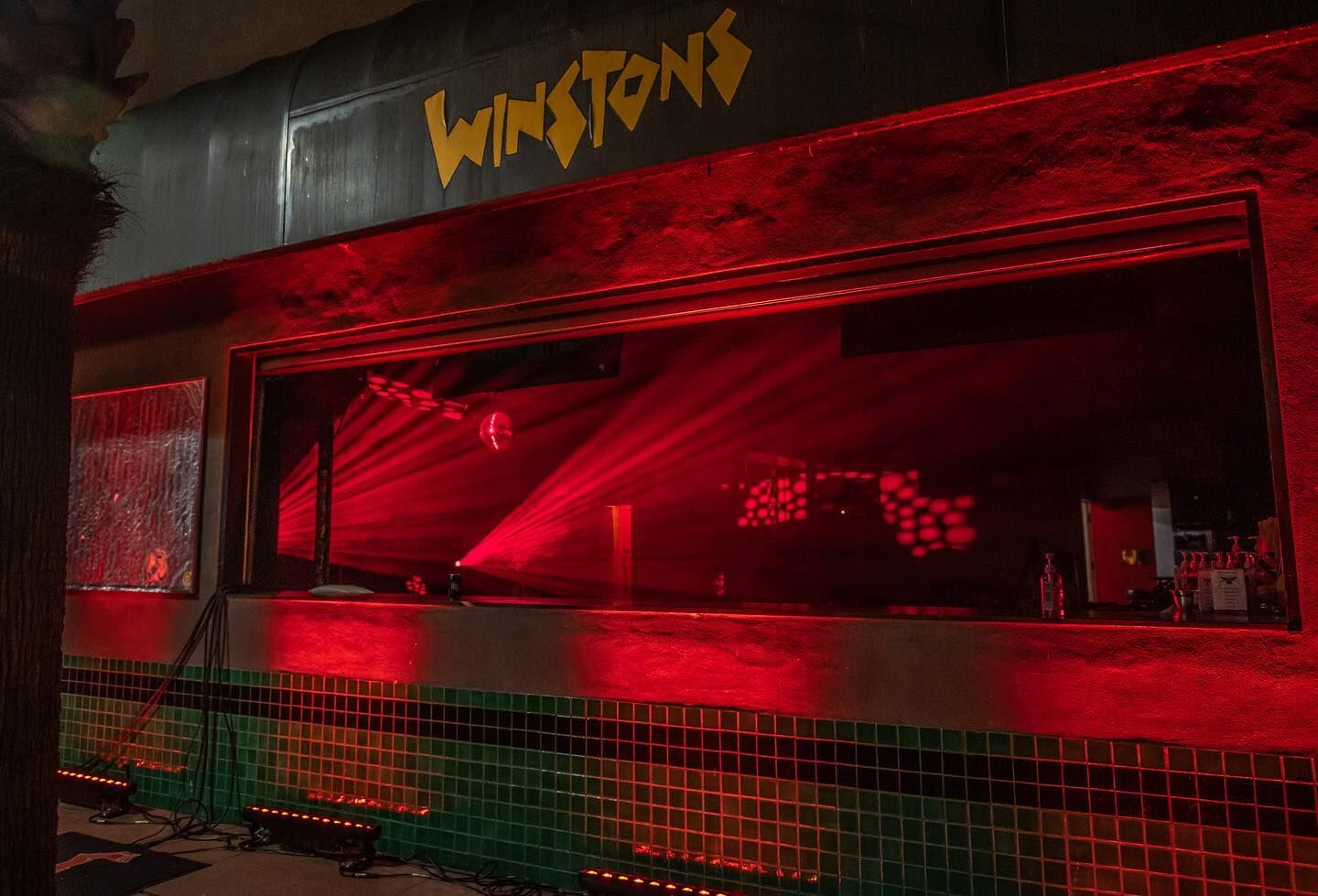 Courtesy of Winstons Beach Club
The formerly windowless, '80s-era, stucco-and-tile façade of Winstons Beach Club in Ocean Beach has always held a deep mystique. As a kid roaming the streets of OB, I curiously pondered what made it so alluring. Now, a wiser (drinking-age) adult, I know that beyond that door lies an iconic cornerstone, incubator, and community hub of the San Diego music scene.But Winstons almost didn't make it through Covid. "We were going to fucking close," owner and talent buyer of 23 years, Ted Wigler, says. Only by the grace of their landlord/partner was the venue able to stay afloat during the long 15-month, city-mandated closure. Once the world opened back up, it was an SVOG grant that helped get them back on their feet financially.A nearly 40-year institution on the corner of Bacon and Newport Avenue, the dive bar is as much a part of OB's fabric as the hoards of parrots that make their home there every autumn. To those who live nearby, the beachside watering hole is more than just cheap drinks and late-night shenanigans.Since opening its doors in 1987, the dive bar and venue has hosted everyone from Rebelution, Stick Figure, Iration, Pepper and Slightly Stoopid in their early days to Electric Waste Band, the longest-running Grateful Dead cover band in existence (this week's show puts them at more than 1,600 performances).It's also home to Club Culture, the 15-year-old weekly Wednesday night reggae party formerly known as Club Kingston (it was renamed in homage to the late, great DJ Carlos Culture, a founder and pillar of the San Diego reggae scene).This is what makes Winstons so cool: It's the soundtrack of OB. Browse any year's calendar of shows and you'll get a sense of what was going on in the neighborhood at the time.One pandemic and some (much-needed) windows later, the bar is still inviting its neighbors to come check out local artists thanks to Wigler's keen ears and ability to spot the type of new artists you'll soon be playing on repeat.So when I needed some updated music recs, I went straight to Wigler to recommend a few local bands that I should be listening to (and perhaps catch for a live show).Here are his top picks:
Boostive
Genre: World Beats/Hip-Hop/Reggae
"Boostive is a super funky-funk band. They're all over the board. They always have this crazy conglomeration of cool music … with [their] staple tunes played differently at different times," Wigler says.
Originally hailing from Ocean Beach, founding musicians Nathan Kocevar, Seiji Komo, and Dylan Webber formed Boostive in Santa Cruz circa 2010, adding and subtracting members along the way. Back in OB since 2016—and most recently supporting Thievery Corporation on a national tour—the musical collective blends reggae, dub, and Afro-Latin beats with essences of everything from cumbia to jazz, employing generous use of horns and singer Divina Jasso's Selena-esque vocals to create an intoxicating sound you can't help but swing your hips to.Percussionist Mitchum Yacoub fronts an Afrobeat/Afro-Latin/soul band, Mitchum Yacoub Soundsystem, that shares many members with Boostive.Listen here, and catch both bands at Same Same but Different Festival at Lake Perris, taking place September 29–October 1.
Band Of Gringos
Genre: Psychedelic Rock
If you like sixties rock 'n roll, you'll probably dig Band Of Gringos. Wigler calls lead vocalist and guitarist Cody Sherman "the shreddiest shredder in OB."
"If you close your eyes, you would think you're listening to Hendrix's Band Of Gypsies. They're old souls in young bodies coming out with some cool music," Wigler says.This band's history traces all the way back to its members' elementary school days. "I went to kindergarten with Cody in Point Loma," says drummer Spence Noble. They began jamming together in high school, and Band of Gringos (formerly known as simply The Gringos) got their start doing covers, playing their first show as a band at Winstons. Now making original music like their lauded 2019 album B.o.G. II, they continue to grace the Winstons stage regularly, selling out nearly every show.Listen here and see Band of Gringos at OB Oktoberfest on October 7.
Half Hour Late
Genre: "We have no idea what genre we are—that's for the people to decide." –Bassist Kasey Dring
Half Hour Late was born in a tiny backyard shack in Ocean Beach after brothers Kasey and Riley Dring and friends David Pozay and Zack Stillwater hunkered down for an entire summer to create their first songs. The result, an album titled Busy Chillin, was nominated for the Best Pop Album of 2022 at the San Diego Music Awards. Half Hour Late recently released "Getting By," which Kasey calls the "anthem of our life in OB," and "Shoulda Coulda Woulda," a single offering major summertime, roll-your-windows-down energy.Adrenaline junkies to their core, the foursome is known to backpack, skydive, paraglide, and surf. "They are adventure-seekers in life and they let their music reflect that," Wigler says. "Their music is a party and they are having a good time … They're a band that gets the party rolling for you."Listen here, and see Half Hour Late at Winstons on September 2.
Skyler Lutes
Genre: Reggae
Skyler Lutes and his band of 10 years (which includes his fiancée and vocalist-slash-keyboardist Veronica Marroquin) released their new album, Never Leaving, in April. The title is presumably a nod to the fierce loyalty he holds for his hometown. The album's heavy guitar riffs punctuate the otherwise breezy, surf rock–reggae sound Lutes is known for—a vibe cultivated over a lifetime of wave-chasing in SD."It's upbeat, it's punchy, it's fun, and it's a good time," Wigler says of Lutes' music. "He's a good showman, a good frontman."Listen here, and check out Skyler Lutes and his band September 2 at Beach House and September 29 at Winstons.
TV Broken 3rd Eye Open
Genre: World Beats/Funk
Out of Joshua Tree comes this woman-fronted, didgeridoo-playing, "crazy, weird desert band that crosses over rock 'n roll and Burning Man," Wigler says. While it's hard to pin down their unique sound, the use of sitars, world percussion, synthesizers, flutes, harmonicas, and banjos paints a sonic picture that seems to pull inspiration from both Indian music and spaghetti westerns.The seven-piece band, led by guitarist and vocalist Katie Skene, has performed at festivals like Electric Forest, Symbiosis, Lightning in a Bottle, and Lucidity, combining their genre-bending music with psychedelic visuals to create a show that can feel like an acid trip without the comedown.Listen here, and find them at Joshua Tree Music Festival on October 6.
MohaviSoul
Genre: Americana/Bluegrass
Formed in 2012 by Randy Hanson and Mark Miller, MohaviSoul has been lauded for spectacular songwriting and storytelling in the bluegrass community and beyond. This six-piece band based out of San Diego boasts three different Berklee College of Music alumni: Jaffe, Orion Boucher (bass/vocals), and John Mailander (fiddle).They are "one of the best San Diego bluegrass bands, hands down," Wigler says. "[Will Jaffe] is a renowned flat-picker, just incredible."Flying under the radar and low-key to a fault, MohaviSoul doesn't self-promote the way most bands do—but the accolades they've accumulated from both the San Diego Music Awards and The Akademia speak for themselves.MohaviSoul most recently appeared at the Summergrass festival in Vista. Listen here.