The last time I visited The Resort at Pelican Hill, my USC sorority sisters threw me a baby shower in a decorated cabana. Five years and two toddlers later, I've returned to escape the very thing we were celebrating.
Pelican Hill is a Five Star, Five Diamond resort in Newport Beach that is just 11 years old, although the 36-hole golf course dates back to the 1980s. I'd never actually stayed there, so I was interested in seeing what level of peace and quiet the 504-acre property could provide—something I didn't quite appreciate the first time around. Everything is bigger in Orange County, and within the complex are 204 bungalows and 128 villas. It's massive. Unlike the San Diego resorts where you enter via long driveway, this one has stoplights. (Driving in, I felt like a hick who had been holed up watching too much Thomas & Friends.) I had but a moment to dwell on those feelings—and the beauty of our bungalow with a fireplace, wood-beam ceilings, and an ocean-view terrace—because, as per uszh, my husband and I were late for our 6-on-a-Friday dinner reservation.
I mention the resort's size not because I'm a one-horse San Diegan. You'll need to budget time to get to dinner. Text the concierge for a shuttle. There are hills, so if you decide to walk, nix the heels.
At Andrea Ristorante, my pappardelle was handmade with ground chestnuts and accompanied by veal cheek. It was pasta gold. Our pizza was simple but just as exquisite. On the pizza menu, there was an option to add 20 grams of Petrossian royal ossetra caviar for $125. We did not.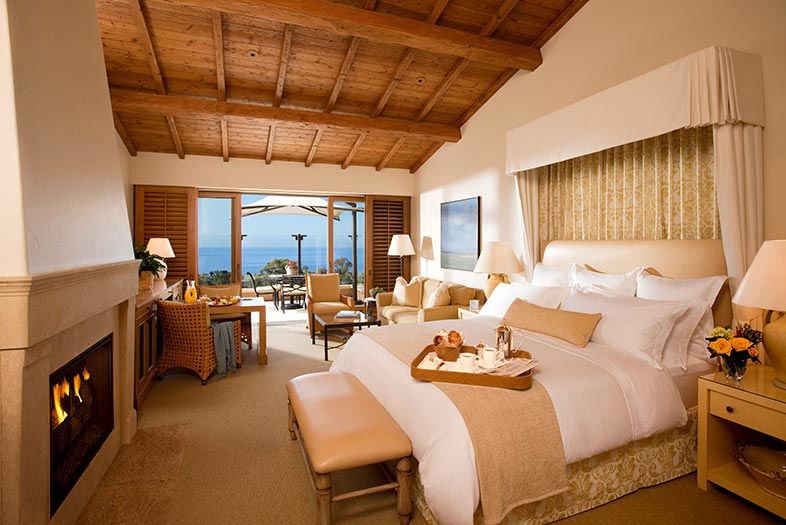 The menu also includes plenty of meaty piatti, but I was really more interested in the wine. When you walk into Andrea, the labels on display are like the who's who of the Grand Cru—Château Margaux, Château Latour… with a Screaming Eagle thrown in here and there. I had fun gawping—there was a single bottle going for $11,700! I definitely recommend the wine over the cocktails. You can try one, three, and five-ounce pours of amazing vintages, but before you get too excited, know these tiny samples cost up to three figures each.
The next morning, without my kids to wake me up at 5:30, I slept in an extra hour and got dressed for the Fitmat Aqua class. But when I got to the pool, I learned that the schedule of classes hadn't been updated. Determined to do something for myself, I went to the 9 a.m. Zumba class instead. Again, I was the only student, but at least there was a teacher. Halfway into my private dance class, I found my smile again. I felt like Billy Crystal in City Slickers.
The resort takes its time waking up and, surprisingly for the OC, the fitness center is not the main draw. The action is at the spa and pool. The spa comprises 22 treatment rooms and 23,000 square feet and there were women in bathrobes everywhere. My deep-tissue massage was top knots—er, top notch.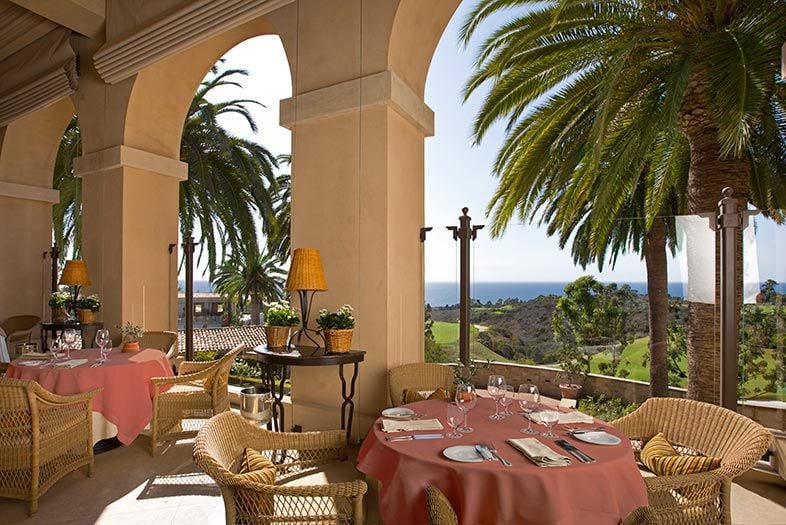 The Coliseum Pool is the world's largest circular hotel pool. Measuring 136 feet in diameter, it never feels crowded. There were kiddos who made me miss mine and small parties of women drinking Champers. We met a nice bachelor from LA who had opted to come to Pelican Hill over his second home in Santa Barbara.
I was really enjoying the scene at this grown-up, kid-friendly resort, but the combo of Zumba, massage, the sun, and my poolside martini kind of dominoed me. Instead of going to the beach or into Newport, I took a two-hour nap in my bungalow. It was a deep, uninterrupted, openmouthed slumber—luxurious, just like the resort.
Next time I'll bring the kids.
The Resort at Pelican Hill, 22701 South Pelican Hill Road, Newport Beach; bungalows from $395