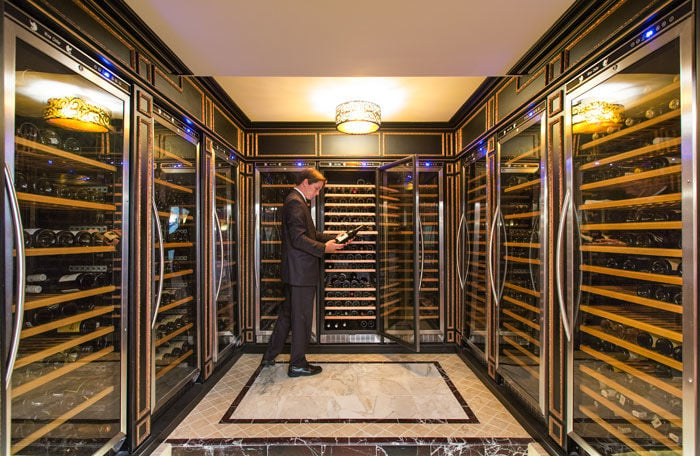 Amaya La Jolla wine cellar
Amaya La Jolla
1205 Prospect St., La Jolla
TROY'S PICKS
Short rib & scallop
Farfalle with Angus tips
Mini cheesecake trio
Got enough marble?" asks my dining companion.
If there is a shortage of expensive rock in the near future, blame Amaya La Jolla. Every inch of the restaurant is sturdy, costly, and perfectly attended to. There is no reclaimed wood, no wall hung with rusty farm tools or animal heads. This is no cheap curtsy to the modern, the trendy, nor the hip. Which explains why there are very few modern, trendy, or hip people here on a Friday night. Or many people of any kind, for that matter.
The lack of crowd is not for lack of investment. Designer Warren Sheets quite artfully decorated this restaurant with the best Italian Renaissance ornatery money could buy. The original Amaya is in the $400 million resort, Grand Del Mar. It's a fine restaurant. Chef Camron Woods spent six years there. The problem? It shares a roof with Addison—the Relais & Chateaux'd, Zagat-ed, and starred apex of fine dining in San Diego. Chef William Bradley casts a mile-wide shadow.
So it's nice to see Woods get a little sun, 10 miles to the southwest. He's a native of Charleston, South Carolina, and his Southern food roots color the menu. You'll find rutabaga and turnips, polenta, quail, butterbeans (limas), and corn muffins. It's not a pot likker joint, but there's a whiff of Mason-Dixon.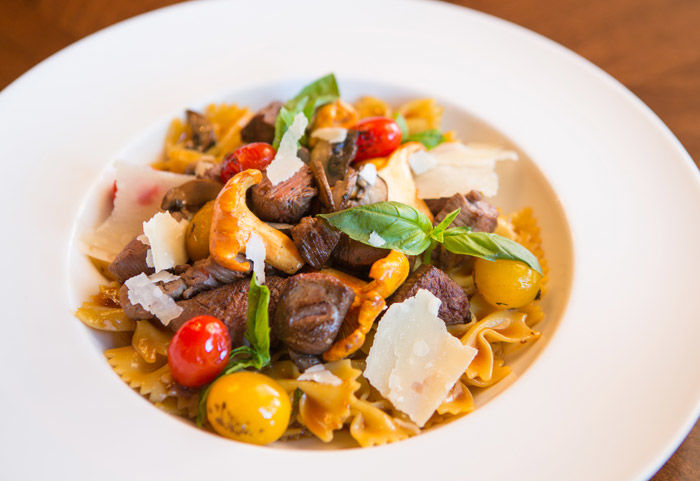 Flavor Parade: Farfalle pasta with Angus beef tips, tomatoes, mushrooms, and basil
As a life pursuit, I'd like to eat nothing but quality bread and butter until some carb-based nutritional ebola knocks me dead. Nothing puts my astrological Jupiter in the doghouse quite like getting a cold, hard, yellow rock of butter. Woods makes a little art of it. His is a room-temp, soft triangle of three butters—garlic-herb, honey-pecan, plain salted sweet cream—served with pretzel rolls, cheddar-herb biscuits, and corn muffins. Eating just bread and butter at Amaya would be shortsighted, gauche, and highly enjoyable.
"The food is mostly excellent. The service is top-notch, as is the wine. Why, then, does it echo in Amaya?"
For dinner, we start with Woods' short rib and scallop—a soft-textured surf-and-turf. Vanilla's a renowned scallop helper, but many chefs get carried away and mistake their seafood for bread pudding. Woods does it right, leaving his vanilla-cauliflower puree unsweetened next to an excellent huckleberry sauce. It's one of those dishes that inspires involuntary, libidinal noises. For another starter, he stuffs a boneless roasted quail with briôche and dried cherry, then rests it on a daring puree made of chicken livers with Sauternes. It's unctuous, gamy, polarizing. I enjoy it because I prefer the taste of parts; my companion mostly gazes at it like someone might look at a worrisome new facial mole.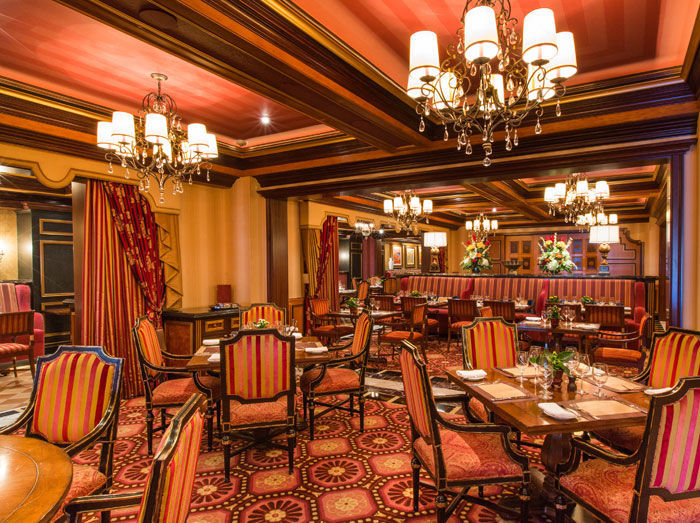 Amaya La Jolla dining room
Being connected to the Grand Del Mar, a sommelier farm of sorts, Amaya's 300-bottle wine list is excellent—all under $100, and 20 by the glass (a Terrassen Gruner Veltliner from Domaine Wachau, a Spanish Tempranillo from Beronia, etc.). Enjoy one in the back room ("Club M")—a supper club of sorts, with neon signage and gray-haired jazz beatniks.
For dinner entrees, we stick to French hunting proteins—duck and rabbit. Both are suggested by our server, who's the sort of fine-dining lifer you're lucky to come across. A real food person you'd like to ask to pull up a chair. All of Amaya's servers are pretty much the same.
The duck is perfect in just about every way, poached with the small cap of fat and crisped skin on each slice. A dried cherry gastrique supplies the necessary acid, while the butterbean puree is some fancification of a classic Southern side-food. The rabbit comes braised in two parts—legs and loin. The legs are a tad dry and bland. Rabbit's a skinny, faint protein that requires some chefly flavor-building. Woods' elemental stock reduction isn't enough. The rutabagas and turnips, too, are served whole with inexpressive seasoning. The tenderloin, however, is treated like pork and wrapped in housemade bacon from Julian's Cook Pigs Ranch (they raise great swine). The combo yields a beautiful, moist bite—especially since the bacon is only lightly smoked, not overwhelming.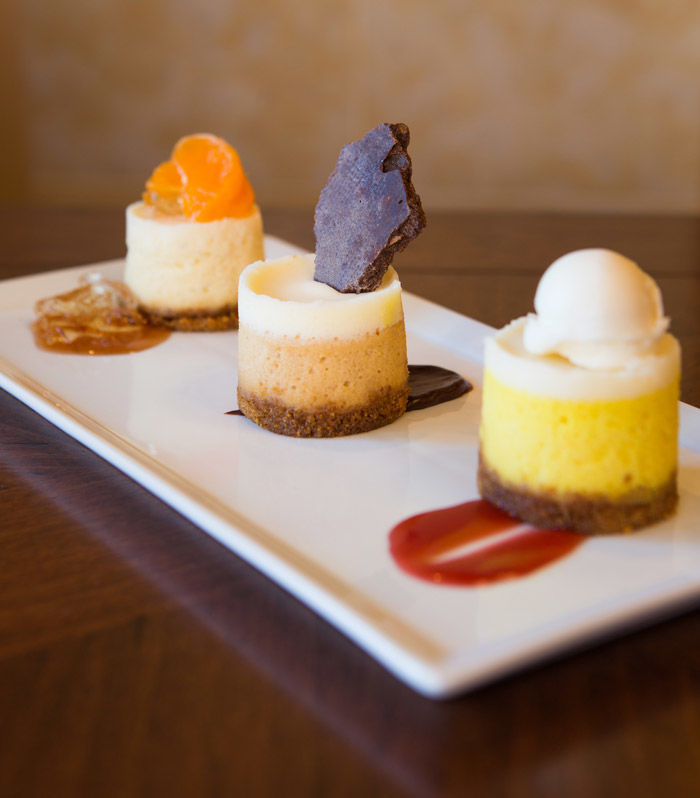 Three Times Good: Mini cheesecake trio of vanilla, hazelnut, and passion fruit
For dessert, we try pastry chef Michael Luna's trio of cheesecake—a vanilla (with white balsamic gastrique and tangerine), hazelnut (with chocolate sauce and praline bark), and passion fruit (with coconut-lime sorbet). All are very good, while the sorbet-topped passion fruit is excellent—a Hawaiian à la mode.
I come back on a Thursday for lunch. The restaurant is all but empty again. I eat more than humans ought to, and there is not a single bad bite. The crab-and-lobster bisque is deep and rich; it smells like tarragon and your good fortune. The daily flatbread with Creminelli salami is thin, crisp, and well-browned, arugula giving it a little food-garden required of SoCal lunches. The panzanella (Italian bread salad) is comically generous, served with lightly smoked and well-seared salmon in a Sherry vinaigrette that's drinkable. Woods also makes a salad-less tuna Niçoise (a fancy way of saying seared ahi with cured olives and chimichurri) and a simple, excellent farfalle with Angus tips, wet with veal jus and topped with fresh basil and Parmigiano-Reggiano.
So the food is mostly excellent. The service is top-notch, as is the wine. Why, then, does it echo in Amaya? If I have to place blame, it's with the room itself. It takes real fortitude to identify an ancient design fetish and really, truly go for it. But in doing so, there's zero white space, zero restraint. Even my companion—an accomplished professional in his late 50s—says it feels too old, baroquely so. It's the equivalent of a woman wearing a mink coat, diamond brooch, pearl earrings, and an emerald gemstone on a headdress—all while carrying a bedazzled Persian cat.
That said, if you find yourself with houseguests from 17th-century Florence, Amaya feels just right.