San Diego's newest food festival is the ice cream-crazed Scoop San Diego, a half-day bonanza of 2-ounce ice cream, gelato, and vegan ice cream samples. Close to two dozen shops from all over San Diego—including the likes of An's Dry Cleaning, Holy Paleta, and Snoice—will be on hand.
The inaugural event takes place on June 23 from 11 a.m. to 4 p.m. at North Park Way between 30th Street and Granada Ave.
Individual tickets ($20) buy 10 samples, while shareable tickets ($35) buy one sample from each vendor and can be shared with an unlimited number of people.
Not only is Scoop San Diego dog-friendly—dog ice cream will be available—but it's for a good cause. The event benefits the Monarch School, whose students will serve an ice cream of their making (overseen by Stella Jean's Ice Cream) created with produce grown in their school garden.
Here are a few of our faves to look for:
Bing Haus
The Southeast Asian-style rolled ice cream takes shape before your eyes as it gets poured onto a cold plate, mixed with toppings like fruit and cookies, then scraped into tight rolls.
Holy Paleta
Angelica Gonzalez trained in Mexico City and Guadalajara before creating the distinctly Mexican flavors (like mango chamoy and avocado mango), as well as frozen takes on some classics (like Key Lime, cookies and cream, and banana Nutella) for her Bonita-based popsicle business.
An's Dry Cleaning
From-scratch gelato in refined flavor combinations like watermelon mint, rice milk cinnamon, and honey blueberry. So good you won't mind if you get a few drops on your freshly laundered clothes.
Stella Jean's
Making their signature Earl Grey citrus tea cake is a two-day process that requires steeping the milk with tea, baking tea cake with Thai butterfly pea flowers (for color), and folding it all together with blueberry compote.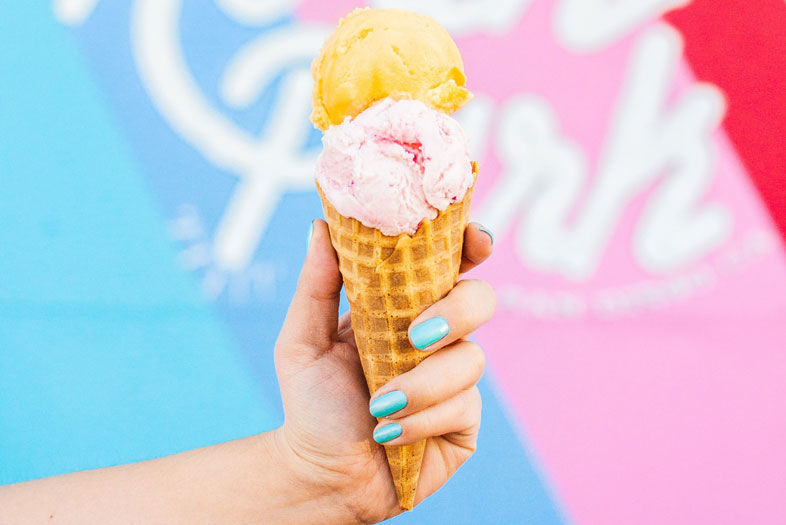 Photo courtesy of Scoop San Diego