The American coffee revolution has been dark and bitter-strong. We like our coffee to taste as if brewed in La Brea Tar Pits, fit for both mouths and Fords.
That's why when Eric Dobbs of Seven Seas Roasting Company first tasted the light, floral flavors of Southeast Asian coffee, the difference hit him hard. In 2017, Seven Seas became the first American company to import specialty coffees from Laos. Now some of the country's biggest coffee brands are following suit. After so many years in the dark, they're betting on the light.
Seven Seas' story started not in Laos, but the Middle East, where Dobbs was deployed in the US Navy for nine years. In Afghanistan, coffee is not poured over. It is not frappéd or unicorned. It is functional. It is a second stringer compared to tea.
"You're not going to find specialty coffee at all," Dobbs explains. "It's purely functional."
But at almost every US military base, there's a Green Beans—where deployed troops can taste the highfalutin coffee that's popping up on every American street corner.
After 16 years of service, Dobbs returned to San Diego. He enrolled in law school. Law school demands coffee, so he'd find himself at indie standouts like Bird Rock Coffee Roasters, James Coffee Co., and Dark Horse. The more he looked into third-wave coffee, the less law made sense.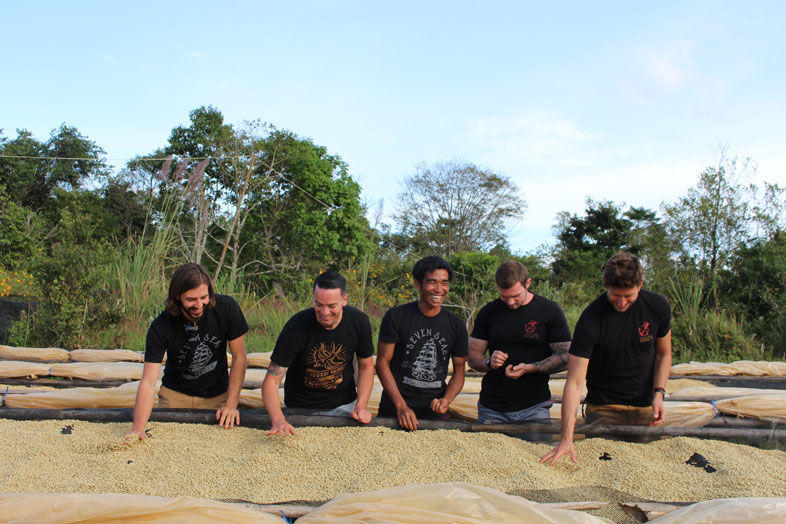 Seven Seas work closely with coffee farmers in southeast Asia in sourcing their beans
He traveled to Northern Thailand and found a man named Sam Choi, who owned a little café and school teaching coffee arts: how to be a barista, select green coffee, and—most crucially—how to roast.
"Initially, I wanted to roast my own to save money," Dobbs explains. "But it gave me a much richer appreciation for coffee—learning how to dial in the profiles. It's like a baker learns the different flavors out of the oven."
He met coffee farmers who were stuck in a cycle of impoverishment, growing low-quality, commodity beans for larger companies. He and his partner—fellow military vet Rob Hempstead—decided to form Seven Seas. The idea would be twofold: bring this lighter, floral specialty coffee of Southeast Asia to the US, and help farmers in that part of the world break out of the commodity market.
"With our first live roasts, we started unlocking all these delicate floral and citrus notes that you don't find at Starbucks," says Dobbs. "Then we spent a year at San Diego farmers' markets finding out what the local palate was. I became a spokesperson for light roasts. People assume the harsher the flavor, just like alcohol, it probably means more caffeine. But that's not the case."
There's no shortage of coffee in San Diego, but no one was doing this. – Mark Guay
They've since added medium and dark roasts to their new South Park location, but really focus on exposing people to the lighter varietals.
In Bangkok, Dobbs and Hempstead found the third part of their business plan in a company called Factory Coffee—the top baristas in Thailand. Factory stands out with elaborate presentations, treating coffee drinks like craft cocktails. The duo partnered with them for their coffee bar program.
"There's no shortage of coffee in San Diego, but no one was doing this. We thought this was something that could really set us apart," explains Mark Guay, another Seven Seas partner. "We have our staple menu like everyone has—espressos and lattes. But our signature drinks are more like mocktails, served in martini glasses, whiskey glasses. We peel the lemon for a spritz. What Factory does is more of a multisensory experience, like culinary school—sight, taste, smell, presentation."
Seven Seas is a young company (their South Park location is their first brick and mortar, and just a couple months old). But they've had an impact on their Southeast Asian coffee farmers. They've flown to spend time with them in their fields and live among them, they've taught them how to grow a higher-quality specialty crop and handpick the ripest cherries—which farmers can sell for more money. During a recent trip to Laos, a farmer who once lived in a one-room tin shack proudly showed them his new home—a concrete home on cinder blocks, which protects his family from floods.
"Our goal is to have a cup of coffee with each of them," says Guay. "You can have fair trade or direct trade, but unless you're there at the origin, you can't be 100 percent sure. There are stories of fair trade co-ops where the organizer is the only one who speaks English very well, and he doesn't equally distribute the wealth. He drives around in a new truck while the others live in poverty. We make sure everyone's getting their fair split."
Seven Seas stays in constant communication with their farmers through Facebook Messenger.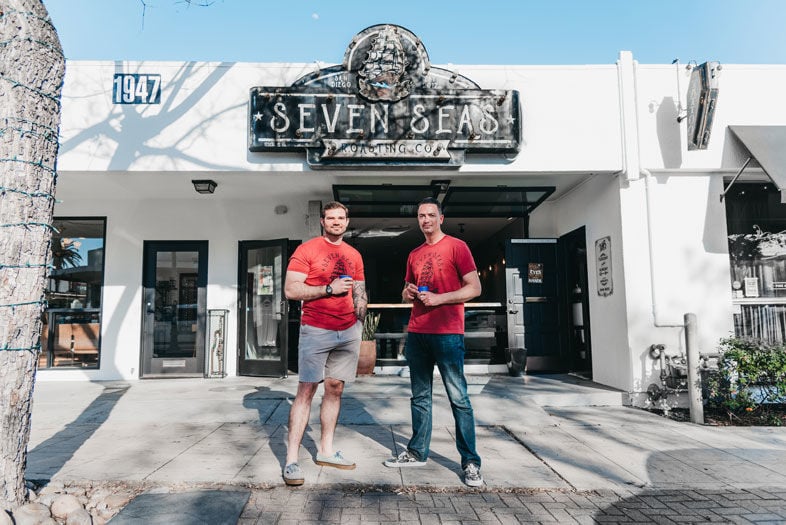 Rob Hempstead and Eric Dobbs opened Seven Seas earlier this year in South Park | Photo: Mark Guay
"It's wild," says Guay. "We're in this remote village and Tam, the village chief, says 'Hey, whenever you want to swing by just send me a message on Facebook.' What's amazing about that is that they can see through our social media who's drinking their coffee. And since we've been in constant communication, we can hold each other accountable."
Recently, one of their growers in Vietnam was suffering. A fire had destroyed much of their crop, and an Australian broker had burned them on a deal. Dobbs, Hempstead, and Guay had been to the farm, had coffee and become friends with the matriarch, Tam.
"They sent over the last of the coffee that survived the fire," says Guay, "and now we're giving them 100 percent of the profits to rebuild their farm and their home."
Seven Seas Roasting, 1947 Fern Street, South Park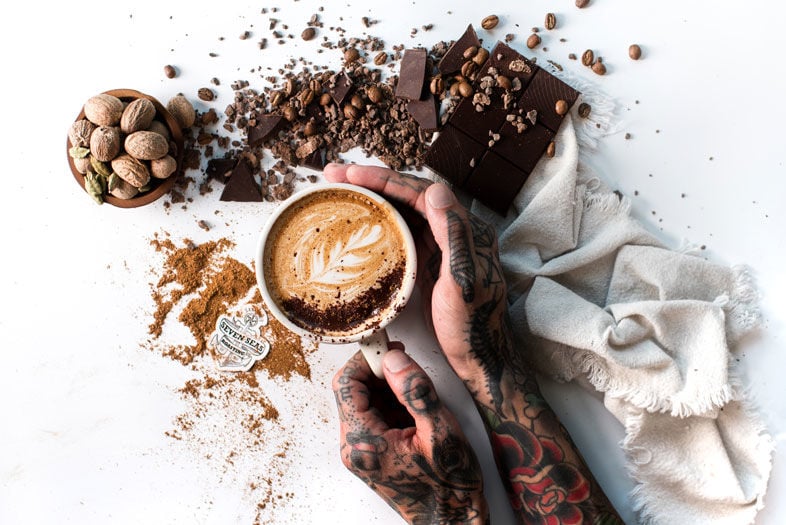 Photo: Katy Veauxx