2201 San Dieguito Drive, Del Mar
I don't cover every single new brewery opening in San Diego individually. To be honest, there are far too many of them, and the majority of new ventures—while they may be producing good, interesting beer—are (for the most part) not remarkable for their location, design, use of space, or other experiential aspects. The ones that do stand out—Stone Liberty Station, Bagby Beer, North Park Beer, Urge Common House, for example—all provide unique settings that add an extra-special layer of enjoyment for visitors. Viewpoint Brewing is also such a place.
As Del Mar's first brewery (grand opened was July 19), Viewpoint felt a good deal of pressure to make a splash and to seize a unique opportunity. The project was in the works for more than two years and was obviously not rushed—it seems that founder (and former chef at Mille Fleurs and Prepkitchen Del Mar) Charles Koll took the time to get it right. And that's a good thing for beer-loving San Diegans.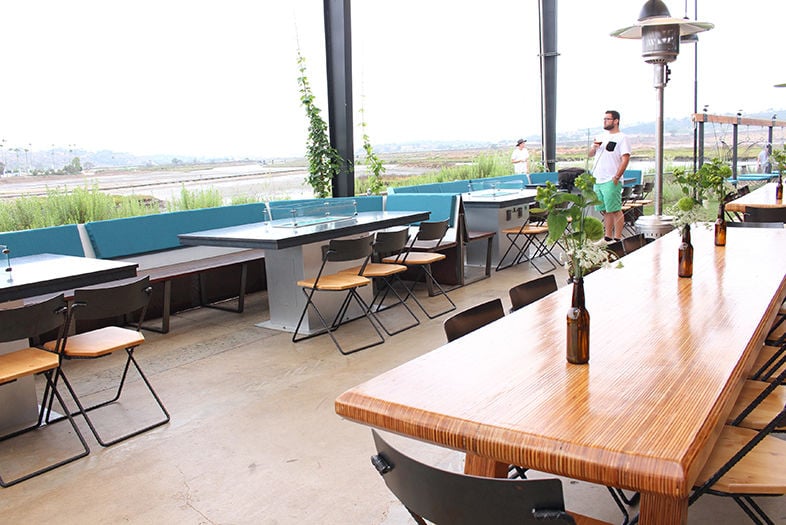 Outdoor space overlooks the San Dieguito Lagoon. | Photo: Bruce Glassman
Poised on a spit of land overlooking the San Dieguito Lagoon (and the Del Mar Fairgrounds), everything about Viewpoint's 7,000-square-foot location suggests care and thoughtfulness for design. The "rustic-modern" interior, which combines elements of wrought iron and rough-hewn wood, opens up to a bright and spacious outdoor area outfitted with long communal tables, and cozier banquettes that each contain tables with individual fire pits. For the youngsters, a grassy area offers a variety of kid-friendly playthings and—for the young at heart—Skee-Ball machines provide additional entertainment.
Also notable at Viewpoint is the inventive and thoughtful food coming out of the kitchen. Chef Gunnar Planter (formerly of Mille Fleurs) has devised a relatively limited menu that substitutes creativity and intriguing ingredients for sheer quantity. "The menu really came together as a group effort," Gunnar says. "We all got together and had a few beers and it sort of happened organically. We're also trying to incorporate all the ingredients of making beer into making food."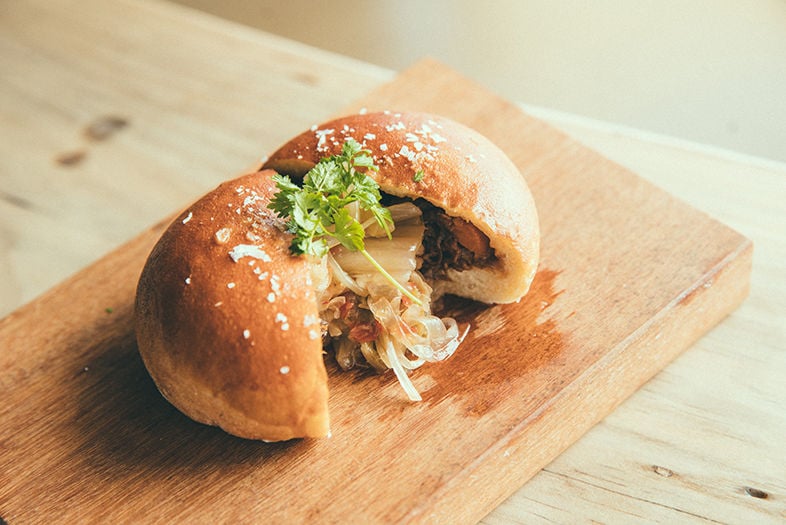 Pretzel bao buns are one of Viewpoint's most interesting menu items. | Photo: William Perls
Oxtail frites, charred broccoli with cured lemon, and watermelon and feta with arugula pesto are just a few dishes that showcase Gunnar's ability to elevate common pub fare to a new level. The pretzel bao buns (available with fillings of either pork belly, oxtail, or salt & pepper shrimp) will surely become one of Viewpoint's signature dishes and should not be missed. Entrees such as Brick Jidori Chicken, Smoked Gouda Macaroni, and Pink Peppercorn Crusted Steak Frites elevate other comfort food standards in a way that makes them fresh and especially beer-friendly. In fact, Gunnar plans to offer special food pairings in the near future, which will include a flight of tasters each paired with specific dishes devised by the chef.
Oh, right. Viewpoint also brews beer. From initial tastings, it's clear that Brewer Moe Katomski (formerly of Bear Roots) and Viewpoint's brewing team have a fondness for hops and know how to use them. "We really want to focus on drinkability," Katomski says of their approach. "We wanted to start with light, simple beers and we really wanted to emphasize the ingredients that we're using. We have a lot of SMASH (single-malt-and-single-hop) beers, for example."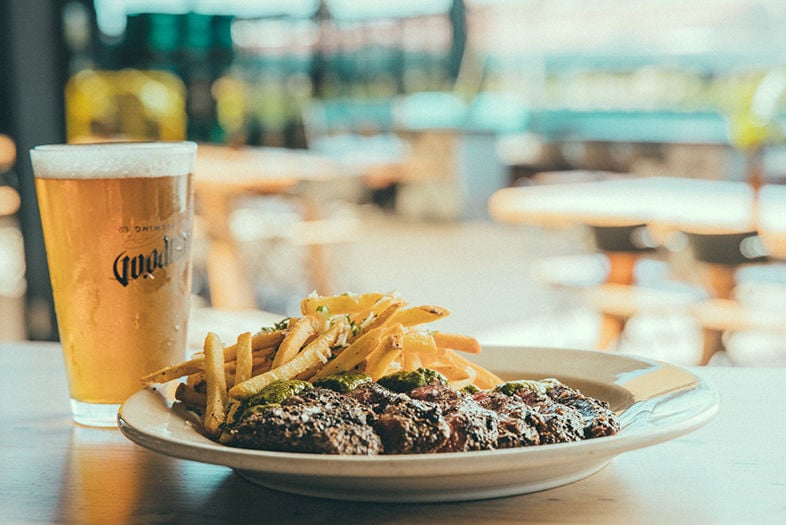 Peppercorn steak frites is one of the many comfort-inspired offerings from the kitchen. | Photo: William Perls
Their red rye IPA, session IPA, Mandarina pale ale, and SMASH Chinook IPA were all big on fresh pine and citrus aromas, round and fruity flavors, and had just the right balance of maltiness and hop bitterness. Experiment A—a pale ale-Kölsch-style hybrid—was notable for its lightness and crispness, but also for its satisfying bready aromas and depth of flavor. My personal favorite was the French SMASH Saison, which had wonderful fruity and spicy esters on the nose, was perfectly balanced, and had a rich, yeasty, umami-laden mouthfeel that set it apart from many of the saisons in town, which are typically lighter and more highly carbonated.
To round things out, a nice selection of guest beers are also available on tap (in addition to wines by the glass or bottle). The opening guest draft lineup featured unique and interesting beers from some of San Diego's best small producers, such as Eppig, Fall, Second Chance, New English, Duck Foot, and Societe.
"Viewpoint is all about building a team of individuals that each bring a different perspective to the table," founder Charles Koll says. "That really allows us to build and create things as a collaborative team. I take pride in the fact that the chef, the brewer, and I actually have different palates and different tastes, and we work together to make a range of styles that can appeal to all of us." That collaboration, from a patron's perspective, provides a fresh and interesting new angle on the art of brewing and the challenge of pairing beer with food.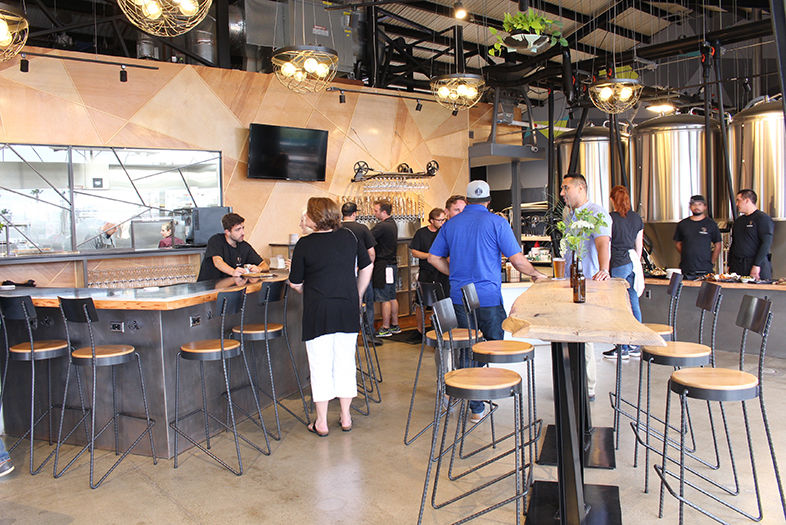 Viewpoint's tasting room. | Photo: Bruce Glassman