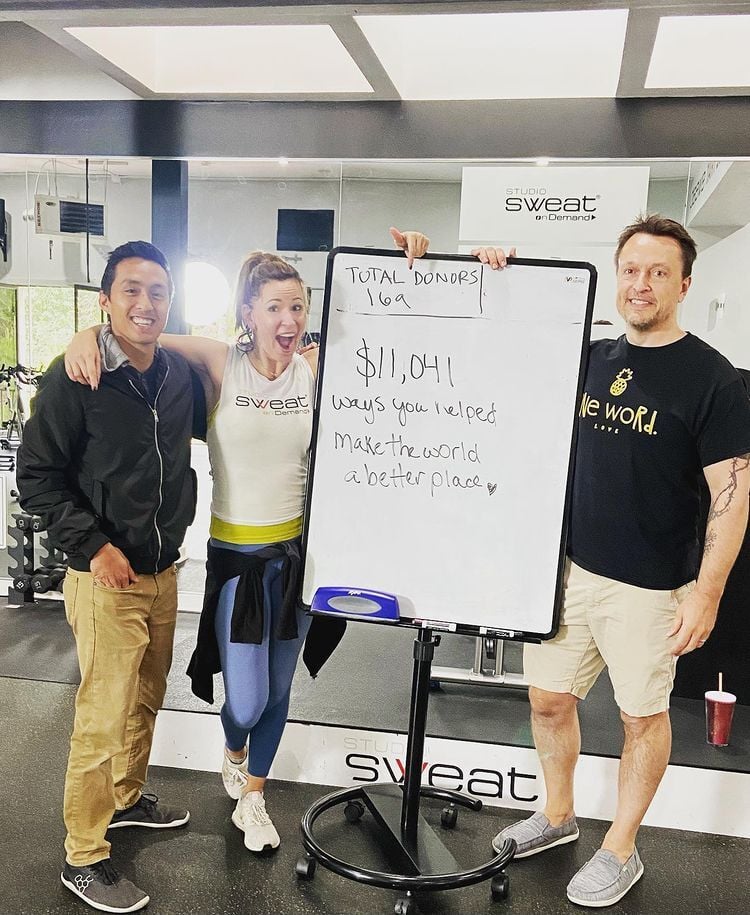 Studio SWEAT onDemand's six-hour spinning fundraiser brought in over $12,000 to help refugees fleeing the war in Ukraine. Riders donated personally and were sponsored by their families and friends to come up with the total, which was more than twice the original goal set for the hybrid SWEAT Gives Back event. The proceeds will benefit the United Nations High Commissioner for Refugees.
"The ongoing catastrophe in Ukraine has affected us all very deeply," said Studio SWEAT onDemand founder and CEO Cat Kom. "With SWEAT Gives Back, we've got an opportunity to improve the lives of those who truly need us."
The National Conflict Resolution Center will celebrate San Diegans making a difference at its 34th annual Peacemaker Awards on Saturday. The in-person outdoor event at the Hilton Bayfront will also raise money to help build stronger communities and disrupt the school-to-prison pipeline. UC San Diego professor and best-selling author Barbara F. Walter will receive the organization's National Award, Voices of Our City Choir will get the Local Award, and Mary Michaletz Benirschke and Rolf Benirschke will be recognized for their philanthropy. 
"Our country has been on a path of increasing polarization for many years now, but the pandemic has accelerated and thrown new light onto those deepening divisions," said National Conflict Resolution Center President Steven Dinkin. "But now is the time to heal, and we all have a role to play in saving our nation's democracy. This year's Peacemaker honorees have made major contributions toward taking our nation on a path forward out of bitterness and bridging what divides us, and we are proud to elevate their unique and groundbreaking achievements."
Soapy Joe's car wash has pledged to donate $15,000 to charity to mark the seventh annual Soapy Joe's Day in the city of San Diego, April 21. The family-owned car wash will also offer free top-of-the-line washes to the members of the community, who can vote on which of three charities—Helen Woodward Animal Center, Support The Enlisted Project, and The Emilio Nares Foundation—takes home the lion's share of the funds. 
"Soapy Joe's Day is something our team looks forward to each and every year," said Lorens Attisha, founder and CEO of Soapy Joe's. "We always say we love our communities, and this year, we want to directly reflect their preferences on where our charitable contributions are going. It's a great way to give a voice to our members and those enjoying the free wash on Soapy Joe's Day."