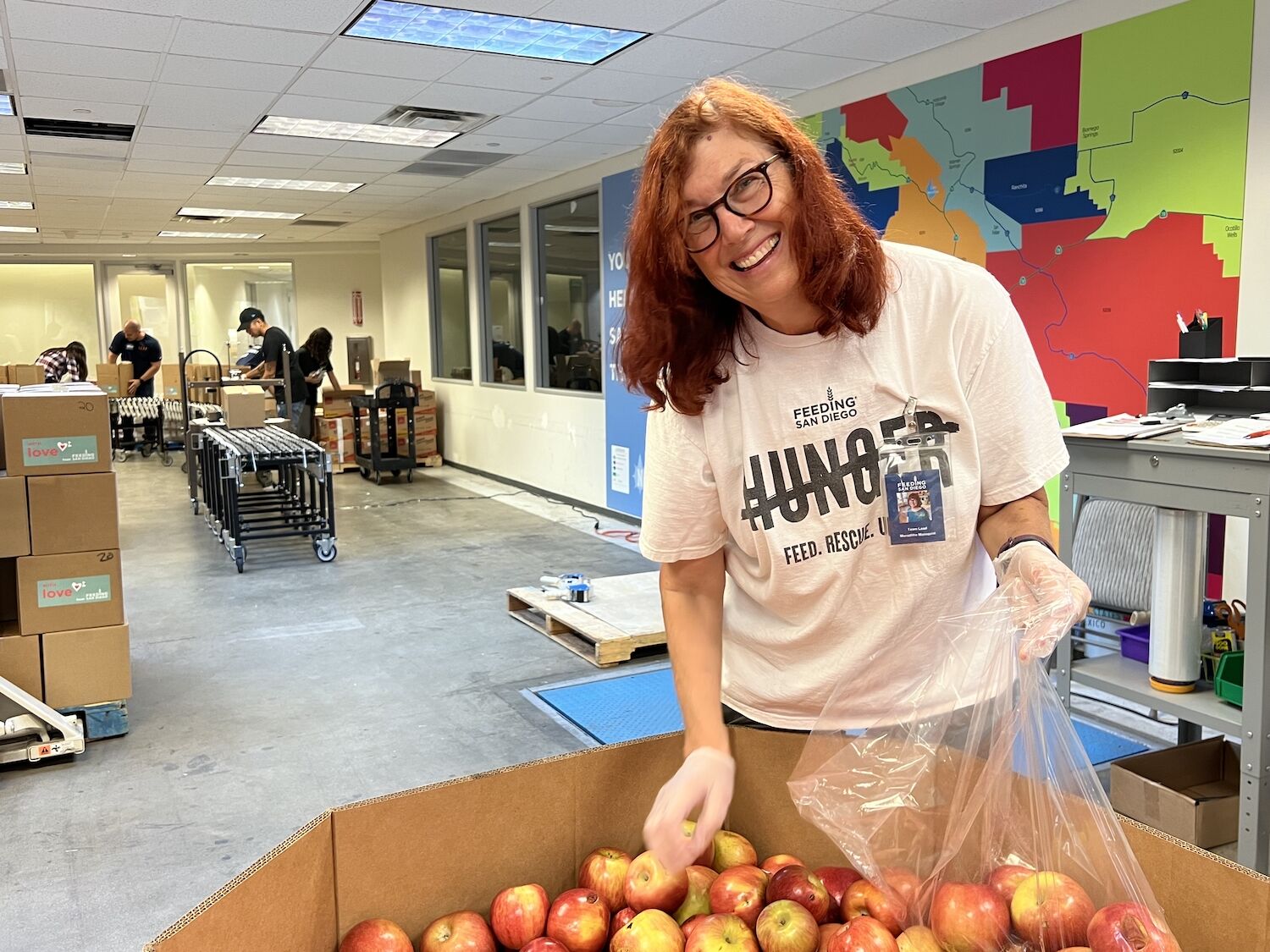 Feeding San Diego
Feeding San Diego is a hunger-relief and food rescue organization in San Diego County, and the only Feeding America affiliate in the region. This year, the non-profit is marking 15 years of service and over 300 million meals distributed to the people of San Diego County. The organization provides much needed food assistance throughout the county through its decentralized network of community partners who help distribute nutritious food at no cost in hunger hot spots.
Food rescue is also a primary focus, working with local grocery stores, farms, food manufacturers, and more to rescue surplus food. At the start of the pandemic, Feeding San Diego activated its emergency response to help the many people negatively impacted. Now, more than two years later, the nonprofit is still seeing an urgent need for food assistance amid record-high inflation.
Feeding San Diego's services would simply not be possible without its volunteer force, who help get food out into the community. Six days a week, four times every day, there are food sorting volunteer shifts at the organization's headquarters in Sorrento Valley. There, volunteers work to sort, glean, and pack food for individual food distributions.
San Diego Magazine: You started at Feeding San Diego as a Community Emergency Response Team (CERT) volunteer for the City in the early days of the pandemic. What was that like?
Meredith Mainquist: I think that time really kindled my awareness of food insecurity. For the first time in my career I wasn't traveling around the country and really got to learn about my community. Early in the pandemic there were much smaller volunteer groups and there was a real sense of urgency to the work. The combination of working in the warehouse and then working with CERT on the early distributions at Qualcomm stadium where we distributed the food brought home the severity of the issues. The smaller teams at the warehouse gave me an opportunity to get to know the staff and to learn about food safety and food rescue. The shifts were longer (4-6 hours) so you not only had a major sense of accomplishment but lots of fun. We had some great times training for various imagined volunteer Olympic events: who could create the highest stack of boxes, who could make the most boxes in an hour, who could wrap the most pallets in a row without getting dizzy, and the favorite: gleaning productivity pounds gleaned versus errors in gleaning with one of the volunteer team members acting as judges.
Why did you decide to keep volunteering at Feeding San Diego after CERT was no longer active at Feeding San Diego?
I believe in the mission and values of Feeding San Diego. I feel that volunteers are truly appreciated and are key to providing the services that Feeding San Diego extends to the community. It also feels good to know that we are making a difference in people's lives. Talking to those we serve makes me very grateful for all I have and gives me the reminder that we can all help.
Why did you decide to pursue becoming a Volunteer Team Leader? What training was required?
I wanted to help more or be able to do more during the shifts, like use the pallet jack and be able to have more interaction with other staff members. I also enjoy leading projects and answering questions from the other volunteers. The training involved some online food safety, a deeper dive into the mission and structure of the organization, practice leading projects, and some on the job training and observation. My favorite part was the pallet jack "obstacle course" after an evening shift where we had to put all the pallets back in the cooler and fit them into tight spaces. The warehouse team is so helpful and supportive, it made the learning fun.
Have you built any meaningful relationships as a Feeding San Diego volunteer? Who with?
I have built fun relationships with several staff members at the Together Tours and at the warehouse. But the deeper relationships have been with some of the other volunteers. I am going to Portugal and Spain this fall with one of the other team leads and I go to coffee regularly with Together Tour volunteers. Now that I'm retired, friendships have become more important for me to develop and finding people with a similar desire to give back has been a huge reason for me to stay involved.
What's your favorite fruit or veggie to glean and pack at the distribution center?
Apples, no question about it.
While food sorting and packing is certainly a popular and essential volunteer opportunity at FSD, there are so many others! What else have you done?
This is probably one of my favorite things about volunteering with FSD. You never know what you will be doing during a shift: gleaning, packing, washing Starbucks bins, organizing closets, checking donated food for safety, building emergency food boxes, stocking the marketplace produce.
Then there are the Together Tour food distributions where we set up mini assembly lines for produce and run Nascar-like pit stops loading vehicles, and every location is different. But the response to the help provided is the same. Drivers receiving the food are so thankful for every bit of help.
I've also met some angels. There is the UPS driver that comes to Faith Chapel on her lunch hour to pick up food for some of the families on her route without cars, there is the young mother that picks up for all the moms in her baby and me class and comes with eight QR codes and names to make checking her in easier. I just started working in the Feeding San Diego marketplace and met two Ukrainian refugees overwhelmed by the choices offered and the ability to choose what they needed and wanted. And finally, I had fun answering phones at the annual Month of a Million Meals telethon and got selfies with Claudia Sandoval, Sam the cooking Guy and Mark Loretta who were there to support the cause.
What's one interesting thing you've learned about Feeding San Diego since you started volunteering?
I have learned more about the partner agencies that work with Feeding San Diego. Organizations like the Lucky Duck Foundation that distributes food to San Diego's unsheltered community, or Starbucks donating all its unsold food as part of the FoodShare program. I've also learned about the impact that Feeding San Diego has on our community partners that run much smaller pantries and food distributions, helping these organizations make a difference to their local community. Connecting these partners to food donors to rescue food has helped so many of these groups find local resources to help their neighbors and reduce land fill.
Feeding San Diego not only helps provide nutritious meals, the organization also helps minimize food waste and keep perfectly good food out of the landfill. How does it feel to know you are helping protect both people and the planet?
It feels good to know that what we do is reducing food waste and has made me more aware of food waste at home. The best part, however, is seeing the looks on the faces of the Girl Scout troops that come in to volunteer when we tell them that the organic waste gets picked up by farmers to feed their pigs.
What advice would you give to someone who has been thinking about volunteering but has yet to take action?
A couple of things: first, just do it and then do it again and again and again. Second, bring a friend or come prepared to make a friend. Very few shifts are the same and there are so many opportunities for volunteers. Feeding San Diego seems to offer something for everyone.
What do you like to do when you're not volunteering at Feeding San Diego?
My father has Alzheimer's, so I try to spend time with him. He was a great example of giving back to his community for so many years and always encouraged me to find the time to figure out ways to give back regardless of the season in my life. Otherwise I love to hike, walk on the beach, read and travel.