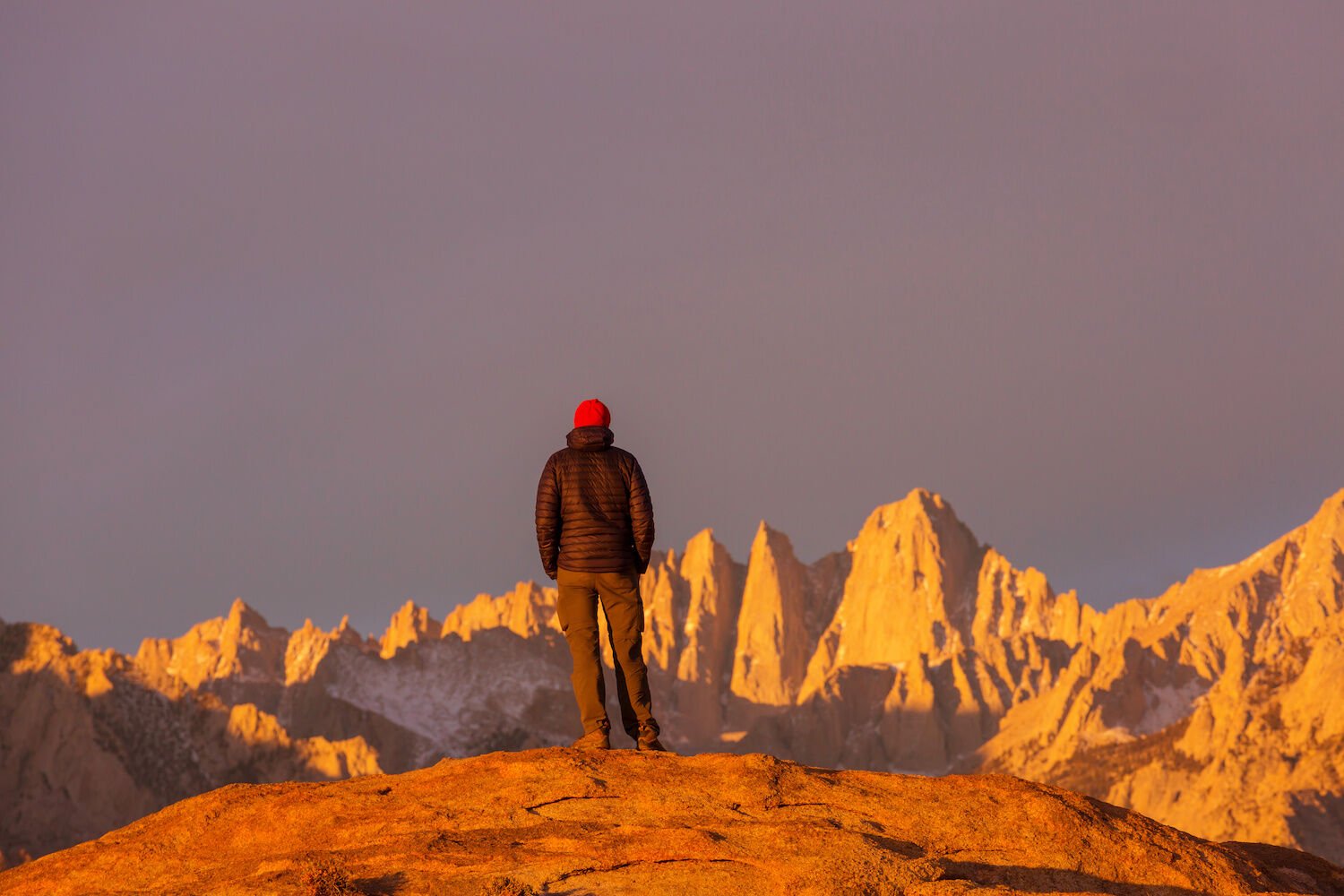 Mt. Whitney is not just the tallest mountain in California–it's actually the highest mountain in the contiguous United States.
And yet, despite its towering 14,505 feet of elevation, it can actually be climbed without technical equipment like ice picks and crampons. This relatively doable status for the hike (and I say "doable" with many caveats), means it's a very popular bucket list item for hikers across the country.
One expert on the hike is Cris Hazzard, who runs the website HikingGuy.com. He's written a very thorough guide to the hike, complete with maps and photos to download so you can check while you're on the trail.
"Mt. Whitney is the perfect bucket-list hike. The scenery is spectacular," Hazzard says. "The route is physically challenging but not dangerous if you prepare correctly. You can complete the hike in a day or as an overnight trip. And of course, it's the highest point in the lower 48. So you get big-time bragging rights if you make it to the top."
But, Hazzard says, there are some big challenges to be prepared for if you attempt the hike. The first is just securing a permit (more on that below). The next is building the fitness to hike 22 miles and climb about 6,600 feet.
"It's a tough day on the trail for even experienced hikers," he says. "But you'd be surprised at all the different types of folks I see. It's doable by almost everyone who prepares."
The last big challenge is what you can't prepare for: altitude sickness and weather. Again, more on that below. But if you prepare properly, the challenges are completely worth it, says Casey Schreiner, editor-in-chief of the Modern Hiker website.
"It's gorgeous. It's a beautiful, beautiful mountain to climb," he says. "The scenery is spectacular. It's a very beautiful trail, and the scenery is spectacular the entire way up."
Inspired? Well, here are the steps you need to take to climb the Mt. Whitney trail.
Getting a Mt. Whitney Permit
As Hazzard says, the biggest obstacle to climbing Mt. Whitney might be getting a permit–in 2022 only 29 percent of the people who applied for a permit got one, he says.
His website has lots of details on how to apply. You pick 16 dates: one main day, and 15 alternates. "When picking a date, ideally you want a full moon in late July, August, or early September," he says. "These months are the best option to avoid snow and ice on the trail. The full moon will be nice for the pre-dawn portion of the hike. These dates are, of course, the hardest to get."
Some tips for getting a desirable date: keep your group size to about four, and pick alternate dates. Schreiner says he also chose mid-week dates that would be less popular.
The lottery opens on Feb. 1, and winners are announced at the end of March. On April 1, you can try to buy an unclaimed spot if there are any, and lottery winners will buy their permits on that date.
"If you didn't win your permit in the lottery, you have another chance at hiking Mt. Whitney," Hazzard says. "On May 1, the parks service releases all of the unclaimed permits for sale. Go to the website and check your date for availability. I've been successful using this method."
Training for Mt. Whitney
Rachel Schnalzer, who writes the travel newsletter for The Los Angeles Times, decided to attempt the Mt. Whitney trail after hiking a lot with her then-boyfriend now-husband during Covid-19. But she waited until she'd secured her permit to start seriously training.
"I consider myself a fairly physically fit person, hiking regularly, probably averaging out on at least one five-mile hike every two weeks and then running maybe every other day just in my neighborhood," she says. "Training hikes to me are essential to do something like Whitney, but it's kind of daily cardio just around your house, around your neighborhood that also makes it, I think, a lot easier. I think I would have struggled more had I not been running, walking every day at least."
But once she had won the permit lottery, her training got far more serious. She wrote up the sequence of increasingly-challenging hikes she did, and recommends being sure you can do those smaller hikes before attempting the Mt. Whitney trail.
Schreiner also wrote up a series of training hikes, including Mount San Jacinto, Mount Wilson, Mount Baldy and backpacking San Gorgonio Mountain.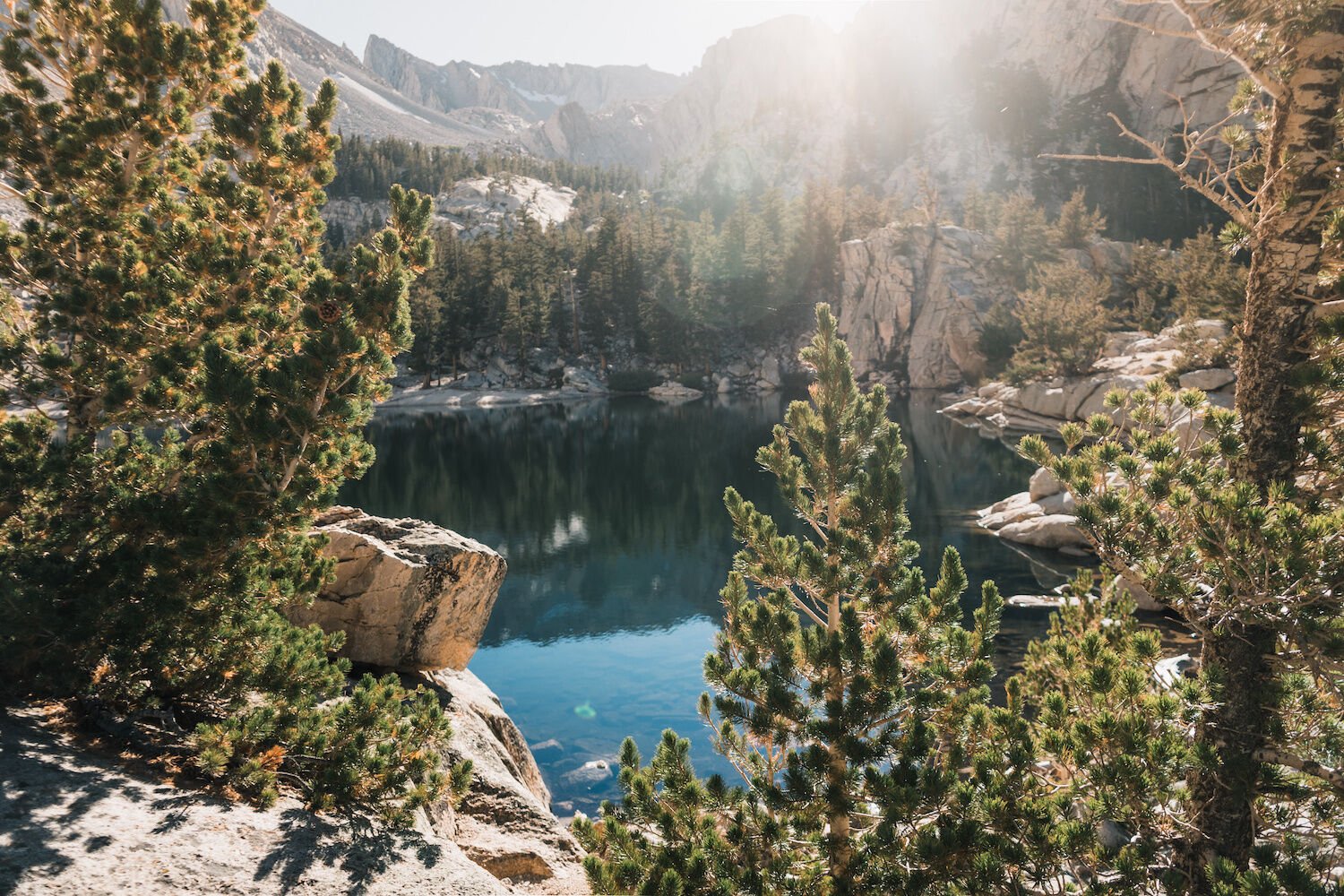 How to Know if You're Ready to Hike Mt. Whitney
Hazzard says the key to training is to build up your mileage and climbing gradually. "Most folks in Southern California start with a hike to Mt. Baldy, then work their way up to bagging San Gorgonio via Vivian Creek," he says. "If you can do San Gorgonio and feel decent at the end, you're ready for Mt. Whitney."
If you live elsewhere, the key is to build your mileage and climb up gradually, by about 1 to 2 miles and 500 to 1,000 feet each week. "I've heard that people who live away from the mountains will do hours on a Stairmaster, although that sounds pretty miserable," Hazzard says.
If you can hike 16 to 18 miles with about 5,000 feet of climbing, you should be ready.
Altitude Sickness and Weather on Mt. Whitney
In rare cases, altitude sickness can be deadly, but for most people, it means a headache, nausea, and the inability to continue safely, Hazzard says. "You can acclimatize and take medications, but its onset can be random," he says.
To avoid it as best you can, he recommends camping at nearby Cottonwood Lakes or Whitney Portal before the hike to give yourself a chance to get acclimated.
The best chance to avoid bath weather is to do the hike in late August or early September when afternoon thunderstorms are waning, and the chances of snow haven't really started, Hazard says.
"While hiking to the top of Mt. Whitney is very doable by almost everyone who prepares, it's important to be conservative regarding your safety on the mountain," he says. "If you feel altitude sickness, stop, reassess, and go down if you don't feel better. If you see thunderstorms forming, turn around. People do die on [this] hike. However, it's usually not something dramatic, but rather a poor decision or two that compounds into something else."
How to Train With Others for Mt. Whitney
To find a hiking group, Hazzard recommends using the Six-Pack of Peaks Challenge. You can find a group also attempting the challenge and hike with them.
Schreiner says he and friends also followed the Mt. Whitney hike message portal for advice and tips, and recommends taking a wilderness travel course, which teaches wilderness and backpacking skills. There, you also will find people who are avid hikers who you can team up with to train and maybe even tackle the top challenge.
---
Frequently Asked Questions
Can I Hike Mt. Whitney Without a Permit?
No, you must obtain a permit to hike Mt. Whitney. Permits are required year-round to visit Mt. Whitney and one-day permits are required to hike the Mt. Whitney trail. They are valid from midnight to midnight. If you go without one and get caught, you may be fined up to $100.
How Much do Permits Cost to Hike Mt. Whitney?
Day passes cost $15 per person or $5 per person depending on where you enter. The former includes entrance from the Mt. Whitney Zone.
How Long Does it Take to Hike Mt. Whitney? 
On average, it takes most hikers around 12 to 14 hours complete the 22-mile hike the Mt. Whitney Trail.
How Hard is it to Hike Mt. Whitney?
Hiking Mt. Whitney is extremely difficult. Most people train for the 22-mile trek which includes about 6,000 feet of elevation gain. However, with the right training, it is very doable and even new hikers can complete it with enough time to prepare.