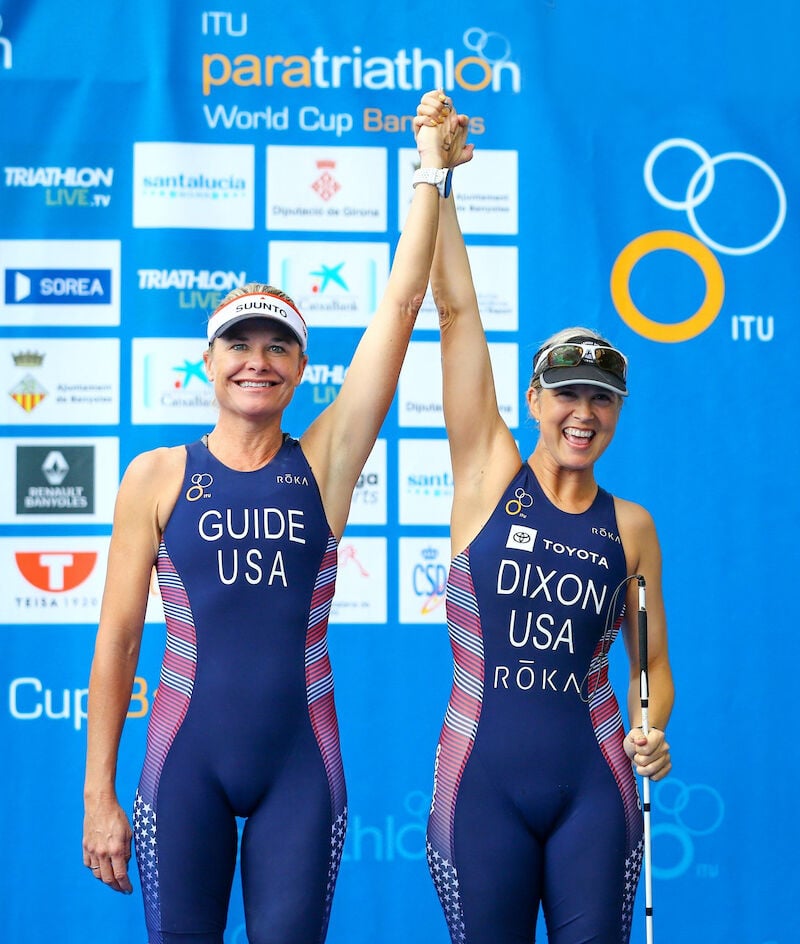 Tommy Zaferes
If you have to put your whole career on hiatus because of a pandemic, Amy Dixon suggests being in San Diego when you do. The Team USA paratriathlete ditched icy
New York winters for a sunny condo in Encinitas four years ago. She'd fallen in love with Southern California while training with the U.S. Paratriathlon National Team at the Olympic Training Center in Chula Vista. (As it happens, the first modern triathlon was also held here—on Fiesta Island in 1974.) But when competing came to a halt last year and gyms closed, Dixon learned that San Diego's natural terrain was just as good a substitute.
"I still train six days a week—some days at the YMCA and others at home on my treadmill," she says. "I also like to go out to Lake Hodges and bike with friends. You get the water, the desert, and the mountains all in one place."
For a visually impaired athlete, training with a buddy is vital. Dixon says it can be unsafe to run on her own, and given the mental hardships the past year has brought, the training has been a much-needed source of connection and normalcy.
Growing up, Dixon always had one foot in some athletic endeavor. Her family had horses, which led her to pursue equestrian sports, and when she wasn't in the stables, she was in the pool. She joined the swim team when she was only six years old and stuck with it all the way through high school. But when she was 22, things changed.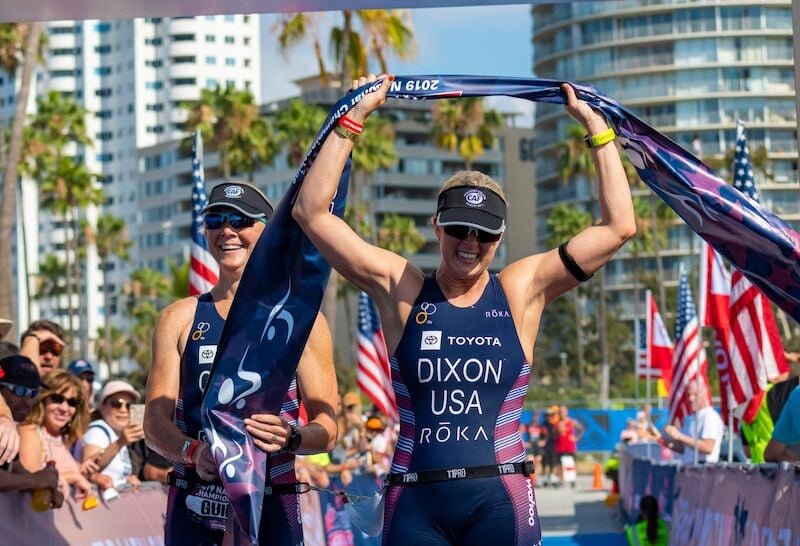 Rich Cruse
She was diagnosed with a rare autoimmune disease that quickly attacked her eyesight. Ten years later, she'd be 98 percent blind.
It was a lot to process. Sports were put on hold. Tears were shed. Dixon had to relearn the basic motions of everyday life. But it wasn't too long before she got the itch to get moving once more.
"Someone brought up triathlons and suggested that I compete," she says. If she were to do it, she'd need to complete the race with a guide who would essentially be her eyes and help direct her through each step. They'd ride a tandem bike, run side by side, and swim while tethered together.
Dixon was in.
She found her guide, got a tandem bike, started training, and finished her first triathlon in June 2013.
"When I crossed the finish line, my guide told me, 'You're a triathlete now,'" she says. "It was something I didn't identify with. I identified as a blind person. I identified as somebody with an autoimmune disease. It was the first time I had an athletic identity in a very long time. And that felt really, really good."
Since then, Dixon has gone on to become a seven-time International Triathlon Union gold medalist, a national champion in both US para cycling and para triathlon, and an aquathlon world champion.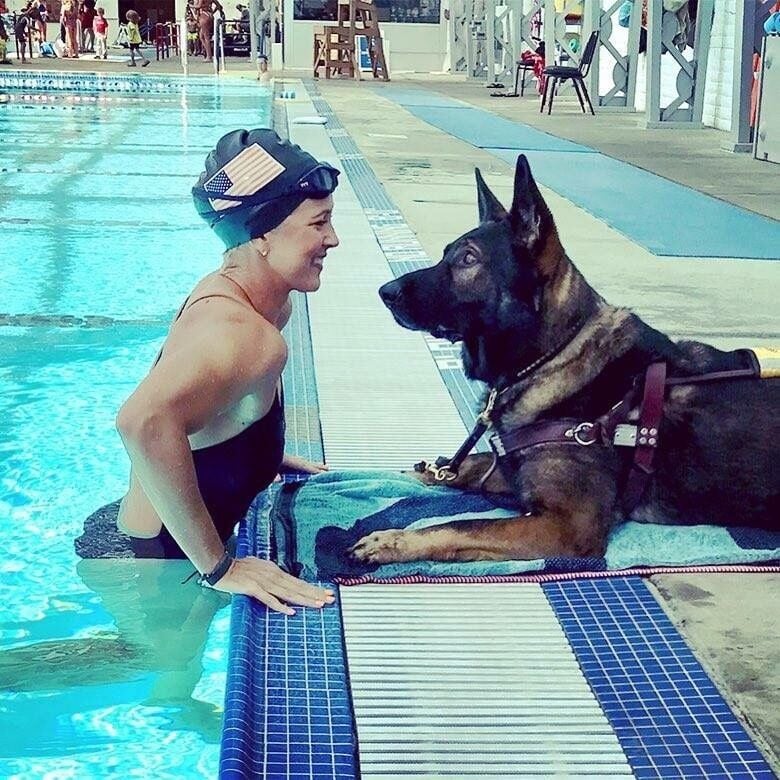 The past year has brought Dixon additional hardships beyond the pandemic: She also dealt with shoulder surgery, a pulmonary embolism, and uterine surgery all within a short time frame. But in spite of these setbacks, she kept moving forward.
"I realized that the only limits were in my head, not in my body," she says. "That really opened my eyes to what the possibilities are."
Her goals extend beyond competing. In 2017, she started an annual camp called No Sight No Limits, which provides hands-on training to athletes like herself with visual impairment or hearing loss. She recently received the Visionary Award from the Glaucoma Research Foundation for her work assisting the visually impaired community. Oh, and did we mention that she's now training for the 2020 Tokyo Paralympics (rescheduled for August of this year)?
Currently, she's sixth in the Paralympics international rankings, which are based on the athletes' top three races over a 12-month period—only the top nine contenders in each category are invited to the Paralympics. Until then, Dixon will continue her training here in San Diego, compete in races to defend her ranking, and start planning what finish line she'll cross next.