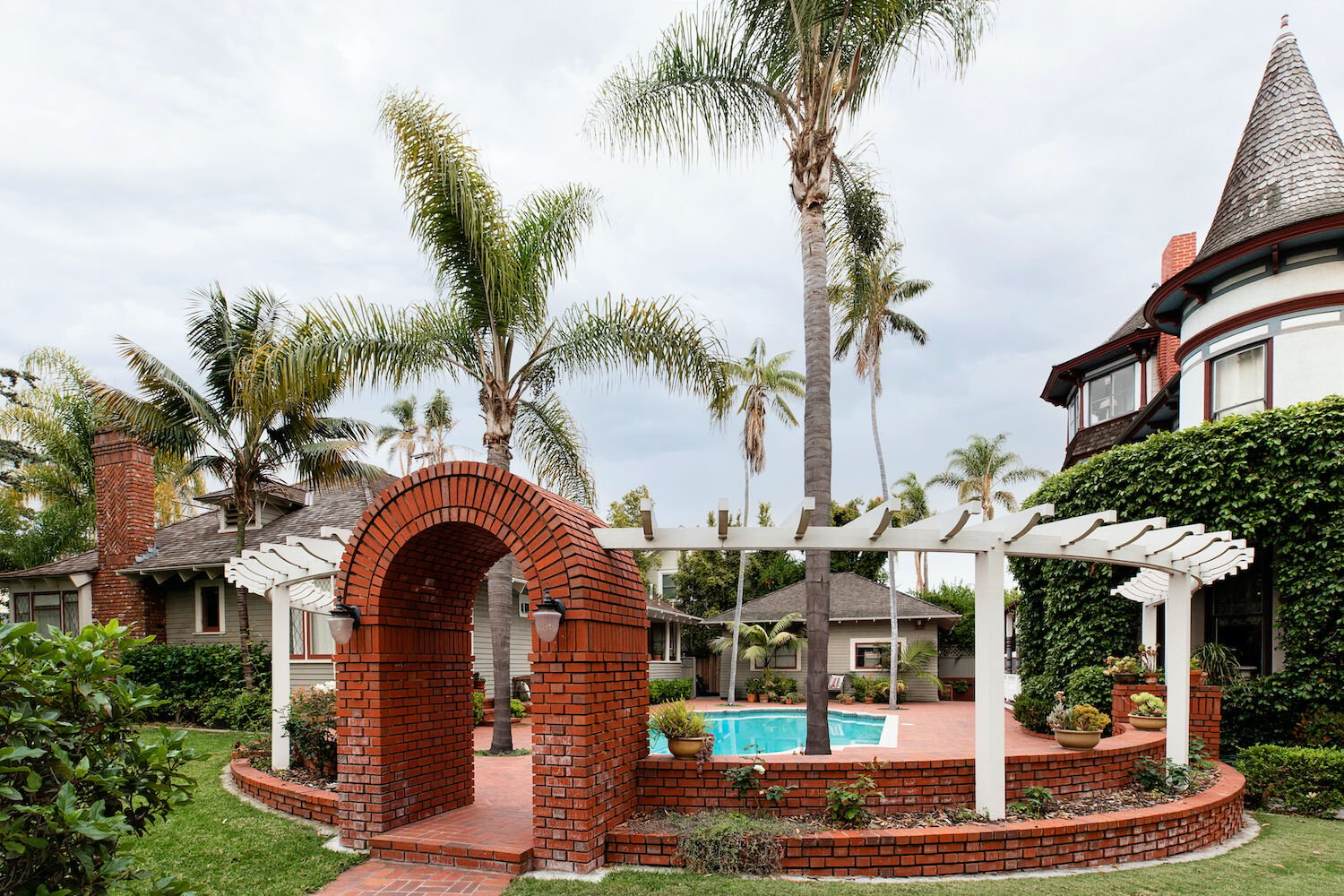 Interior designer Jennifer Riley can recount how she acquired nearly every object in her 1909 Craftsman home.
The ostrich egg she has nestled in a glass bowl on her coffee table, for example, was something she coveted on Instagram. "I follow this designer, and she shared a story about an ostrich egg, and I was like, 'I want an ostrich egg,' and I happened upon this one a few days later at a consignment shop in Temecula," says Riley, who owns Hohm, a full-service interior design firm and online shop.
Another favorite: The Victorian silver tray with hunting scenes around the edges, which she keeps on her mantel. She found it at an antique mall in a paperweight booth, where it was hidden beneath a pile of random objects."I cleared off the top and saw these seals, hunters, and ocean scenes. I had never seen anything like it and I had to have it."
So it goes for nearly every item in her three- bedroom Hillcrest abode. With the exception of a few accent furnishings and decorative items, everything is antique, vintage, or an otherwise unique find from a consignment shop, thrift store, flea market, or estate sale.
"I'm drawn to the aesthetics of these pieces, but I also love the historical part, the sustainability aspect, and the price that is typically so affordable," she says.
Riley grew up in a Victorian Queen Anne home, built in 1892 (it's actually next door to her current home). Her parents—both antiquing hobbyists—filled the home with ornate, period-specific furnishings, and put historical Bradbury & Bradbury wallpaper on every wall, including the ceilings.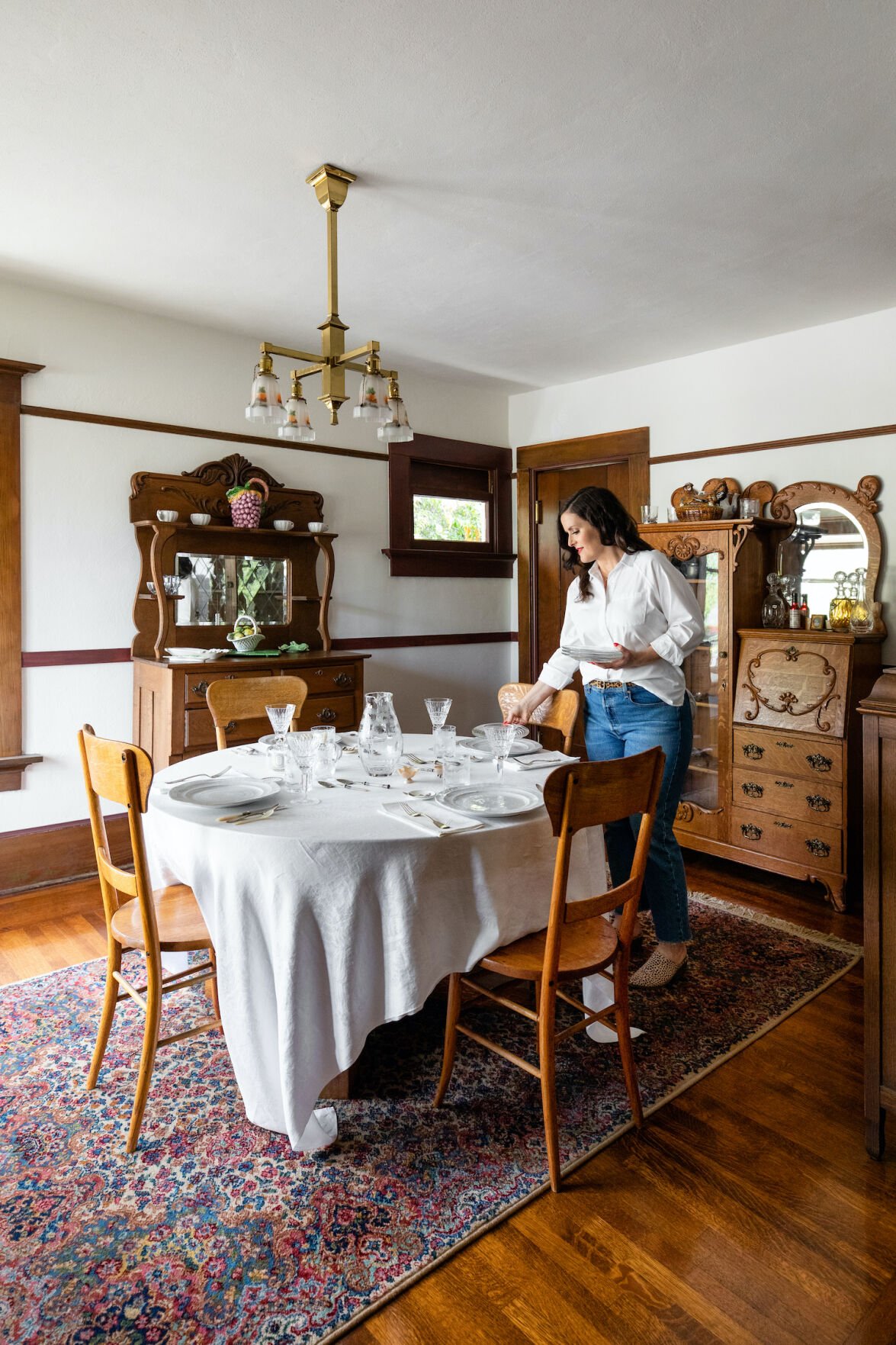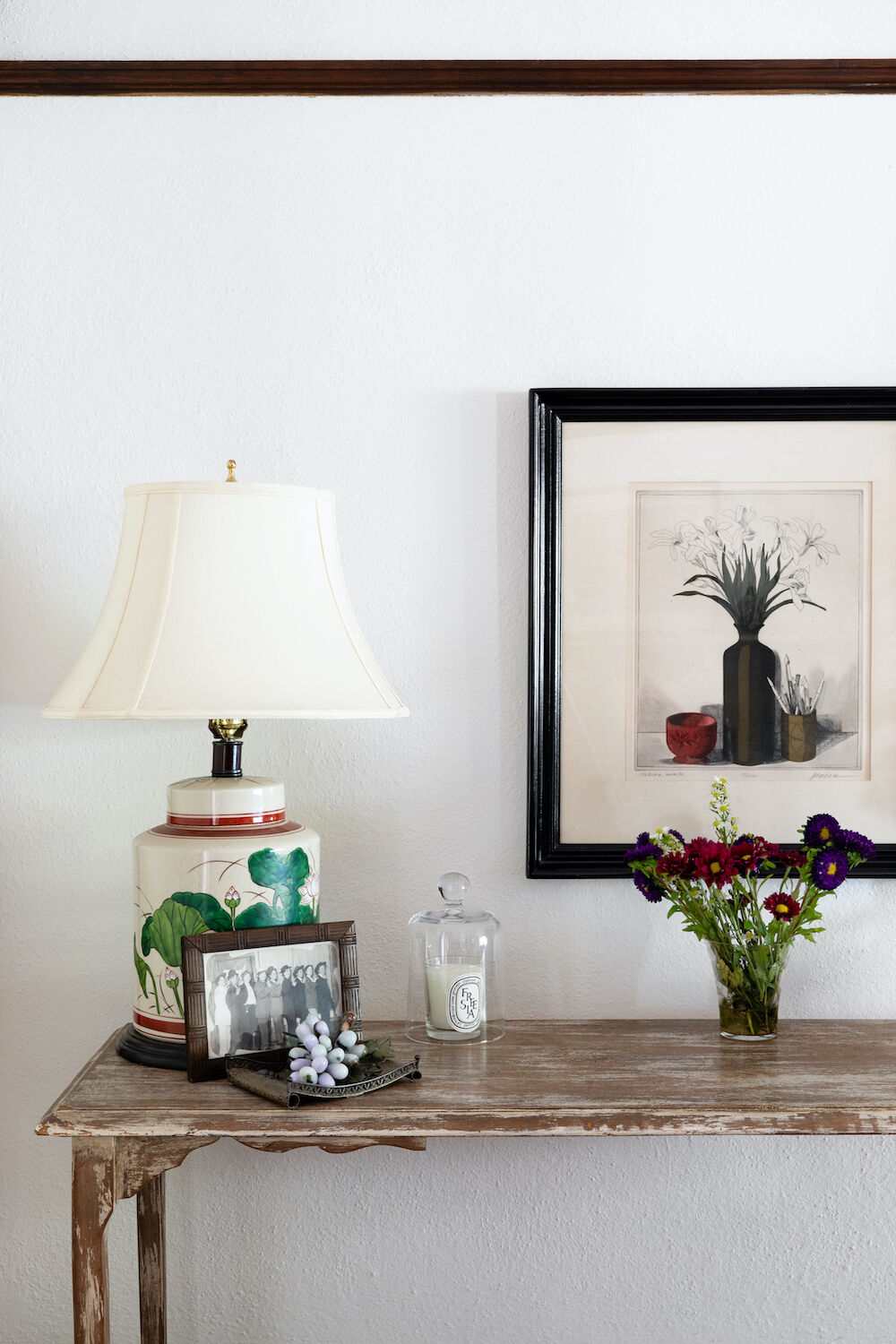 "I have a natural affinity for old, historical homes and things,"she says. "The craftsmanship and attention to detail is unparalleled. It's all I've ever known."
It's an upbringing that fostered her passion for—and eventual career in—treasure hunting.
In 1984, Riley's parents purchased the house next door to their Victorian, where she resides now. They bought it for her grandparents, but didn't begin the slow, 40-year-long restoration until after Riley's oma and opa both passed away. After that,
she spent her teenage afternoons and weekends working on the Craftsman home.
"At some point, a previous owner painted all the doors white," she says, cringing. The interior doors are all original—and redwood—so Riley and her mother spent long hours stripping and refinishing each of them. They also patched the original lath-and-plaster walls where necessary. Then in the early 1990s, Riley's parents had the kitchen in the Craftsman completely rebuilt, but all of the cabinetry was done to mimic what it would have looked like in 1909. Following that major redo, not much was done to the home until she moved in, in 2003.
Back from Los Angeles with a refocused desire to pursue something she loved (she had been working as a screenwriter), Riley opened an antique shop on Adams Avenue. The brick-and- mortar location was short lived, but she has always maintained her antique-dealing business, renting booths in local antique malls and selling at weekend flea markets throughout Southern California. Most recently, however, she's moved the business exclusively online. She visits secondhand shops, antique malls, and swap meets regularly, always seeking out the truly unique, the signed, or the total bargain. Some of it she'll resell; other items find the perfect place in her home.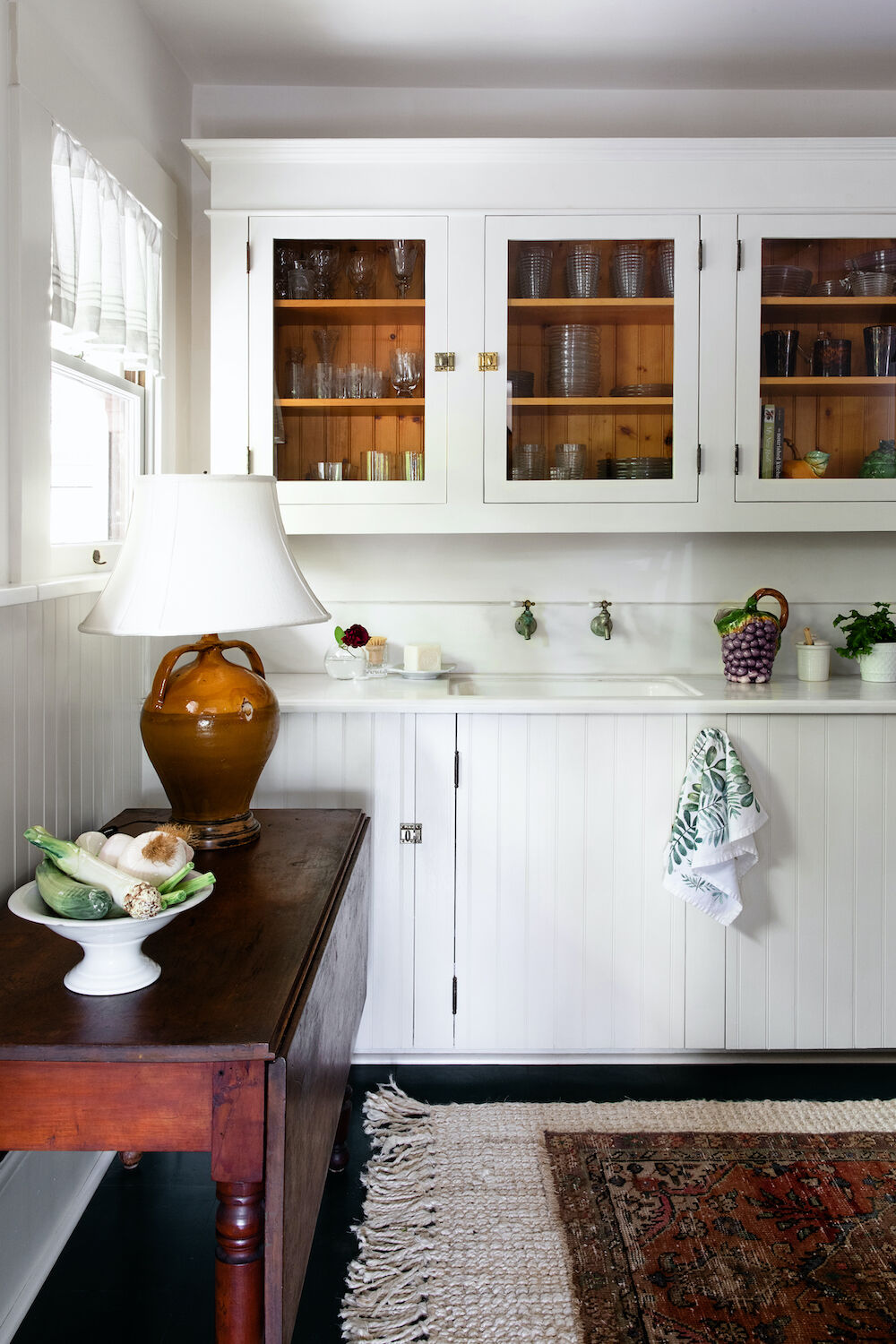 "The hunt is like an aphrodisiac," Riley explains. "It takes patience, but the thrill of finding something that gives me a visceral reaction, something rare, beautiful, and something I love for, like, 20 dollars is such a rush."
What she loves has changed over the years. She's collected and displayed Asian artifacts, done the shabby-chic thing, and even dabbled in eclectic boho accessories. But through her phases, Riley's stayed true to her mantra, which happens to be printed on the coir mat just outside her front door. It reads, "home: (hohm) n., the place in which one's domestic affections are centered."
To be sure, she's updated. She and her father spent the better part of 2020 repainting everything, including the insides of the closets. They started with the walls. Riley selected Benjamin Moore's Swiss Coffee in a flat finish for every room except her own, where she used Sherwin-Willliams's Jasper Stone. All the trim got a fresh coat of Swiss Coffee in a semigloss finish. Then they hired someone to restore the original redwood and fir floors. Finally, she and her dad ripped out and completely redid the full bathroom in the hall.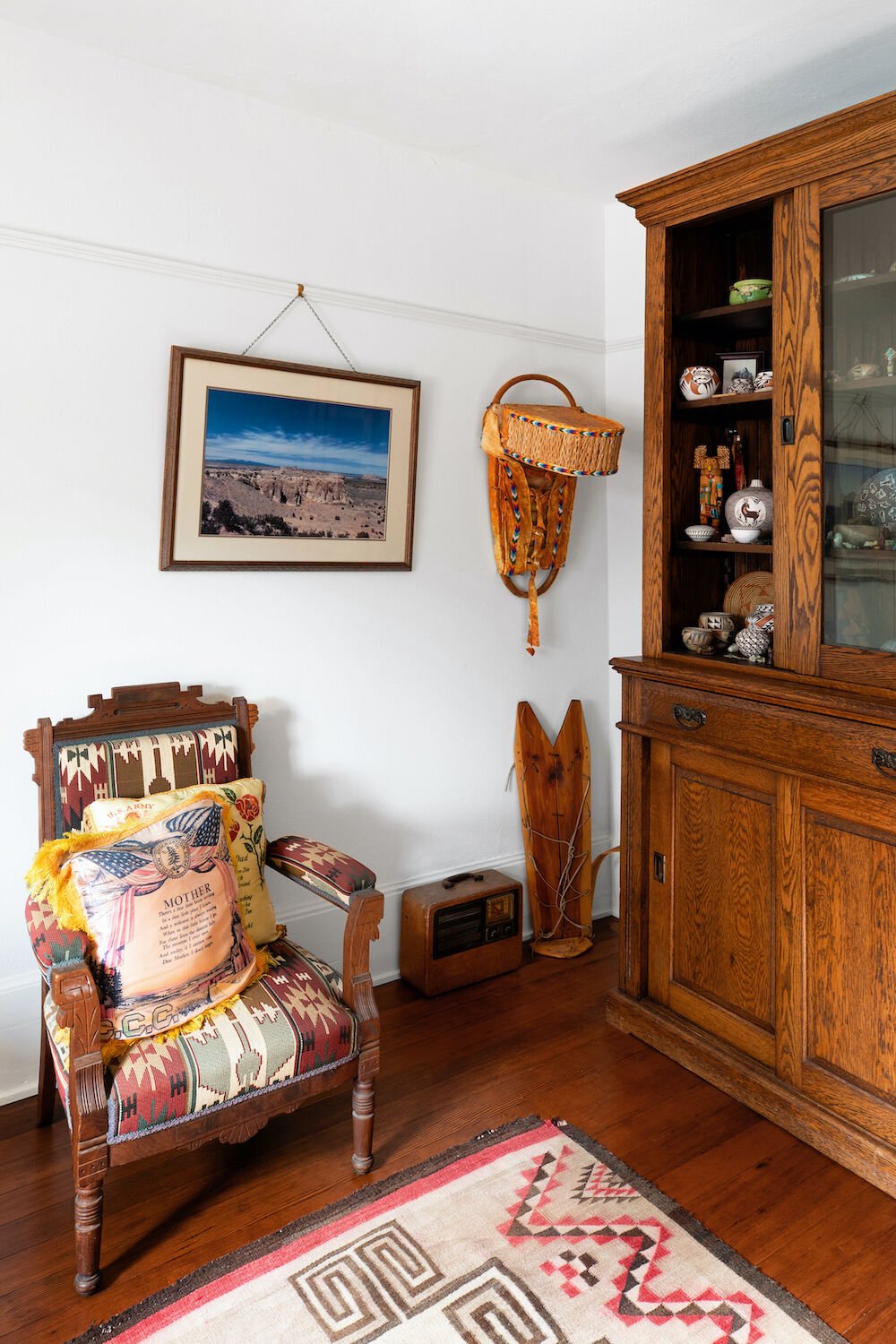 "The floor was totally rotted," she says, "so we had to rebuild it, installing new joists next to the rotted ones and then putting a new subfloor on top of that."
The culprit? An original cast-iron tub with a leak that the pair smashed with a sledgehammer, removed, and replaced with a walk-in shower. The change is modern, yes, but Riley was considering the possibility that her parents might one day leave their three-story house across the yard to live in this one-story. To be fair, it doesn't look out of place in her 112-year-old home. She successfully sourced a black-and-white basket-weave marble tile for the floors and a black  subway-and-bullnose tile for the baseboards. It's nearly identical to the tile in her parents' original Victorian bathroom next door.
"I would never drastically alter the footprint of an old home or knock down walls," Riley admits. "I watch HGTV, and I see these shows where people save these old homes, but then they rip them apart, and to me, that's a total disconnect. I want the inner architecture to shine."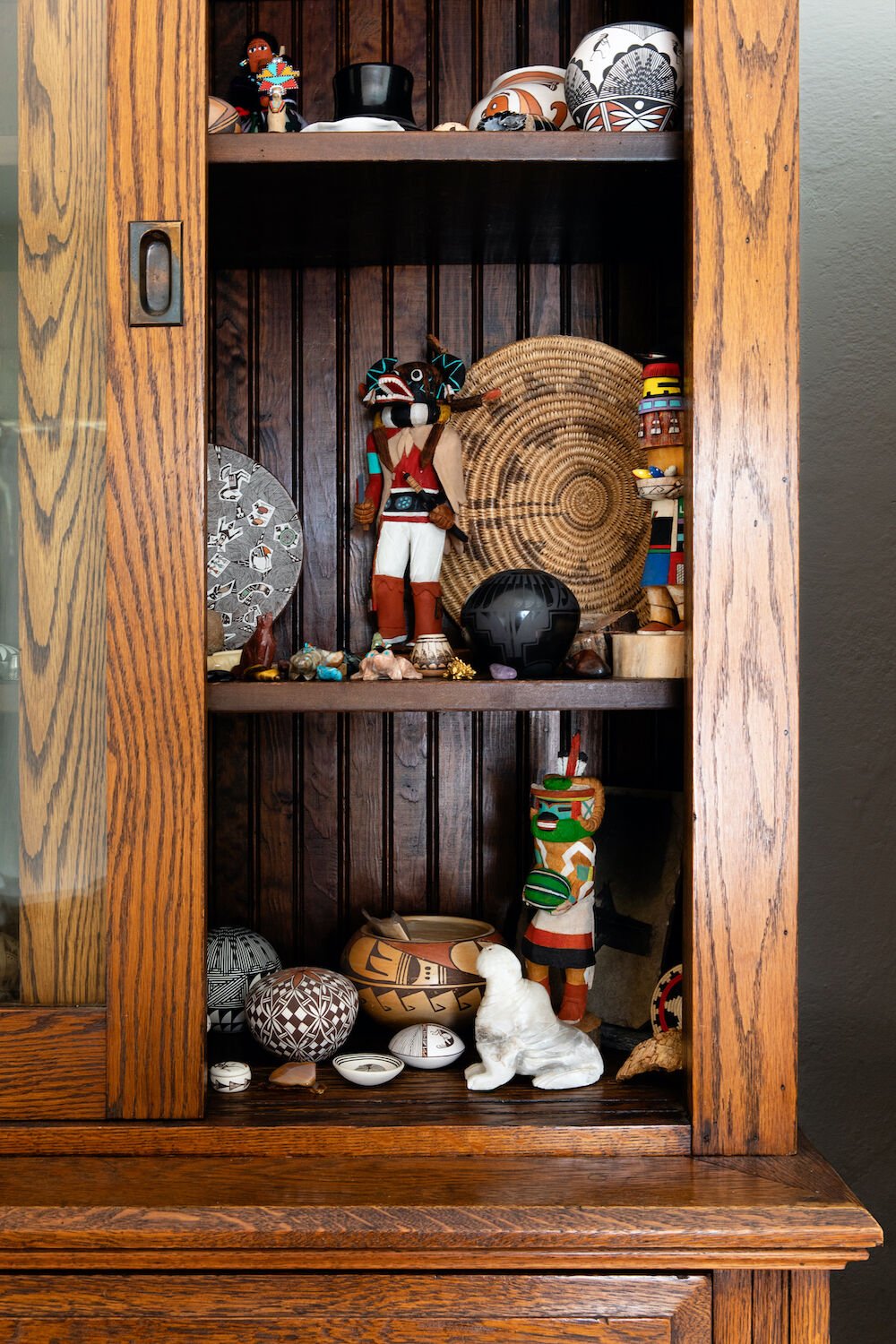 In her living room, Riley's furniture centers around the original fireplace, constructed of clinker bricks, which are denser, heavier, and more irregular than standard bricks. "They're uneven and imperfect but so beautiful," she says.
She's filled the rest of the room with secondhand goodies, family heirlooms, and some new items, too. She refers to her current design direction as "antiques with a modern flair." On either side of her orange sofa, an estate sale score, sit round tables from Wayfair. The stools behind the couch came from Target, and the gauzy, linen-like curtains hanging above the windows were bought at Ikea.
Art throughout the home comes in the form of landscape paintings, portraits, vintage photos of her family's favorite places, transferware plates, and mementos of her grandparents, like the collection of her grandmother's copper pots that hang in the kitchen above the 1930s stove. And in every room, there are always fresh flowers, which Riley considers "life-giving." She fills pretty vintage vessels with whatever's blooming in her cutting garden or something from the flower market.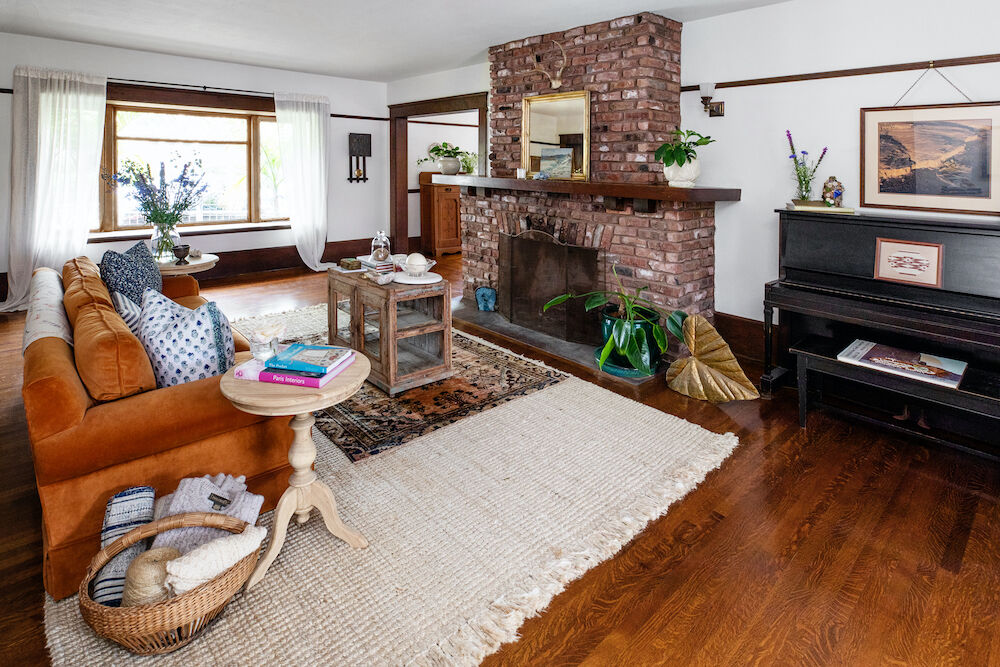 "In my bedroom, I've gone with a very spare, eclectic European look," Riley explains. After repainting the room, she cut some of the furnishings and tchotchkes. "My hobby and my business allow me to redecorate my home when the mood strikes, edit often, and resell what doesn't work in my space anymore."
For instance, she most recently repurposed the room where her brother stayed when he lived with her a couple of years ago. She turned it into a home office, and in the closet she initially created a mini mudroom, where she could sort mail, store bags, and put on her shoes. When it wasn't being used, she changed it into a place to display some of her prettiest vintage fashions and accessories.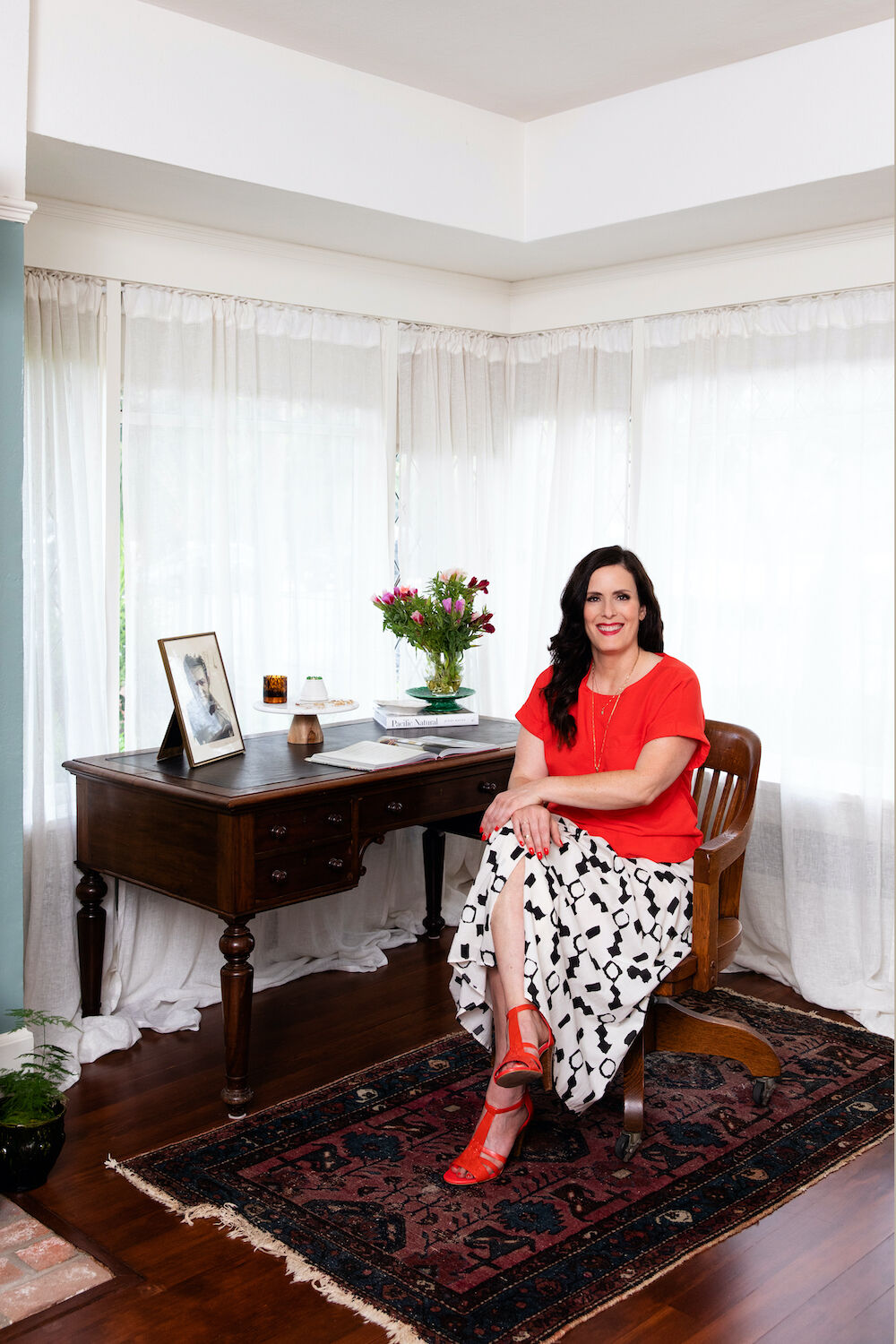 "My design process is constantly evolving," Riley explains. "The way I approach design in my home and in my clients' homes makes each project singular and different from anyone else's, and that's what is truly enchanting to me about what I do."
---