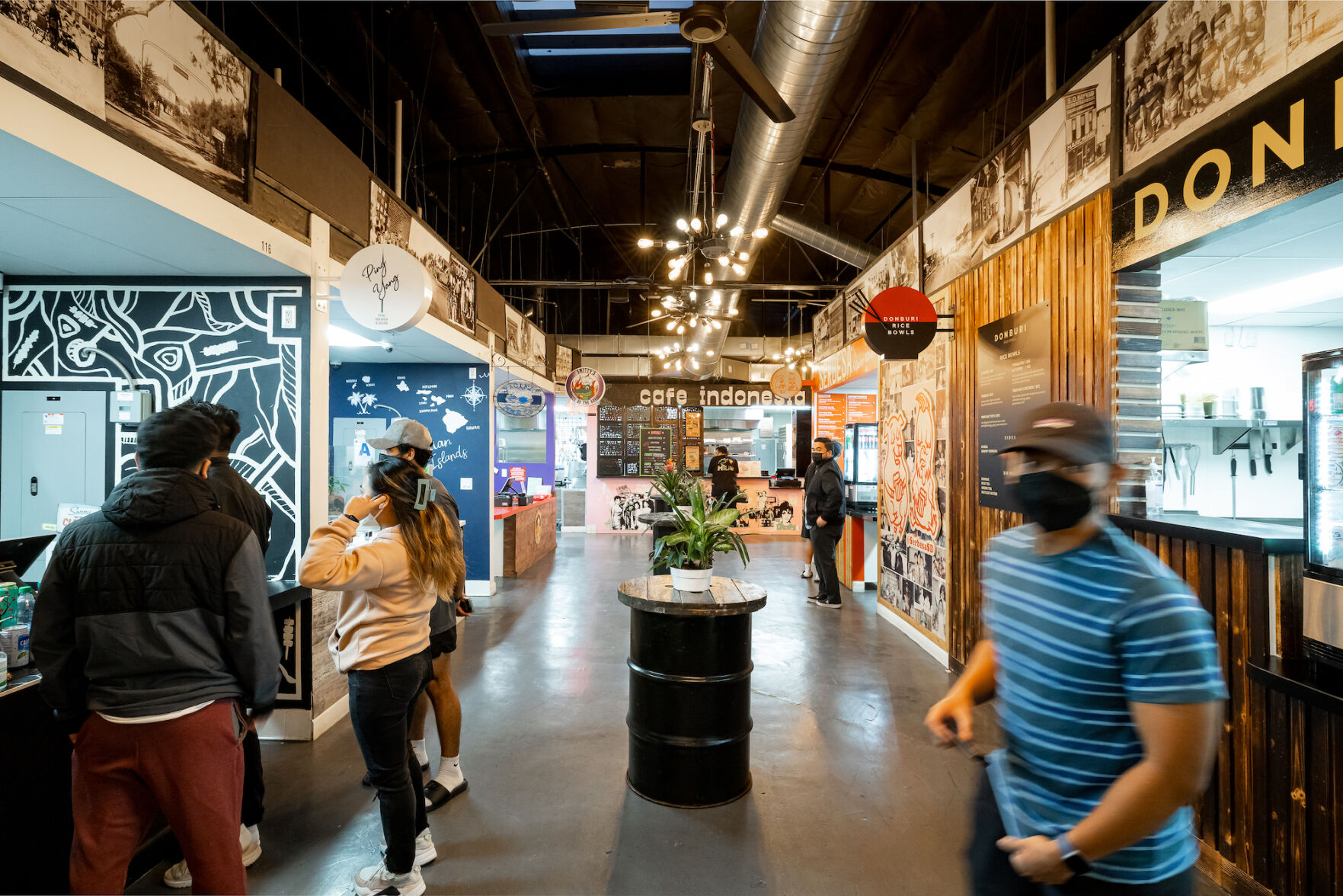 A major street in this South Bay city is buzzing with pedestrians. On weekday afternoons, tables at a new food hall are filled with students and remote workers, busily typing away on their laptops as they refuel with coffee, commingling with military personnel in uniform, shipyard workers, and city employees on their lunch break. On weekends, families enjoy an ice cream cone at sidewalk bistro tables, while grandparents, aunties, and twentysomethings sip beers and chat in a cozy patio garden at sunset. Young people have signed leases to live in a hip apartment complex fashioned with floor-to-ceiling windows and murals, and a graphic design firm has plans to move into the building's office space.
The pedestrians on East Eighth Street in National City, the neighborhood's downtown, are a new and welcome sight. While the area has a rich history spanning nearly two centuries, one thing it hasn't been is walkable. It's known as a city of industry, housing the largest naval base on the West Coast, a busy port, and a section of National City Boulevard famously known as the Mile of Cars with row upon row of car dealerships. It has one of the county's most diverse and treasured cultural and food scenes, thanks to the generations of Mexican and Filipino American families who settled here and opened cafés, restaurants, and shops.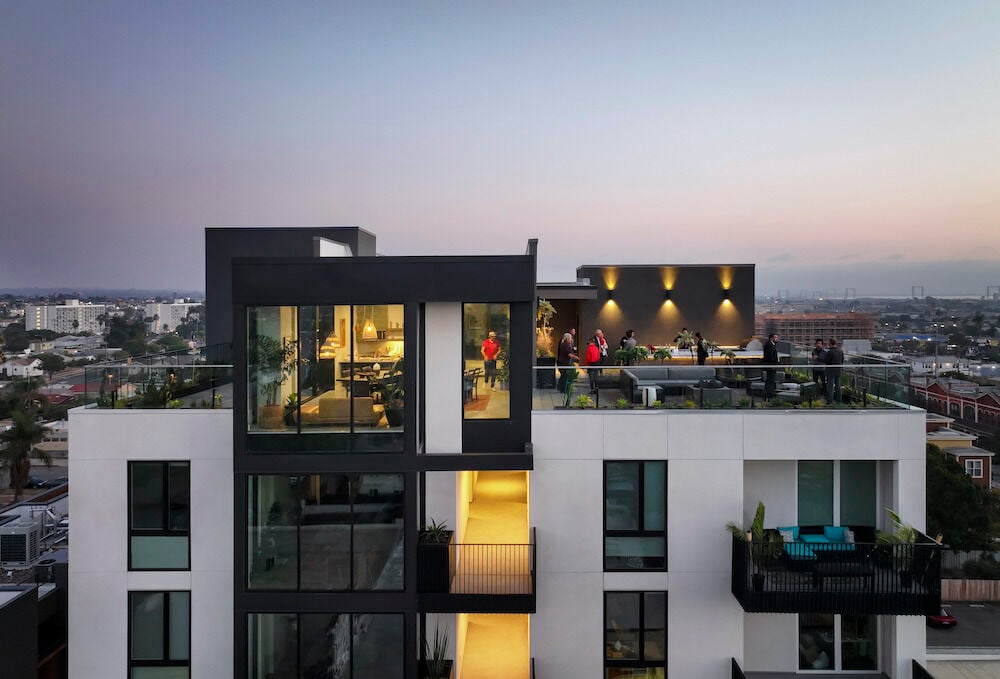 Courtesy of Miller Hull
East Eighth has had all the potential to be a thriving main street, but in recent years, older businesses and warehouses closed and buildings went vacant, causing foot traffic to come to a near standstill. Now that is changing. Over the past year, an old furniture store became the popular food hall Market on 8th, which has a beer garden, café, and about a dozen locally owned food stands. An empty parking lot and the former H&M Goodies Family Auction House transformed into Common at Parco, a 30,000-square-foot, eight-story mixed-use apartment complex.
Traffic-calming measures that started in 2014, such as reducing lanes for cars, adding medians, and installing new lighting and crosswalks, took advantage of the wide sidewalks and made it safer for a stroll. New businesses have opened along the artery, such as Mujer Divina, a café and burrito shop from acclaimed cross-border chef Priscilla Curiel.
It took years of planning, foresight from developers, the support of city government, and the entrepreneurial spirit of local business owners to spark new life into this revived main street.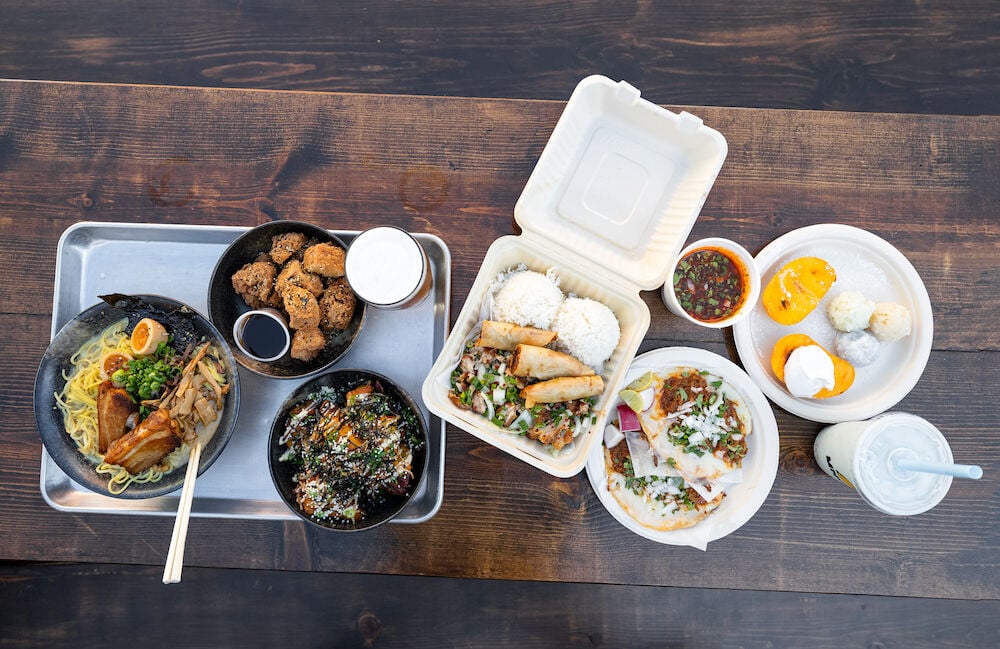 To Market, To Market
Joel Tubao, a second-generation Filipino American, is one of those entrepreneurs who believes in National City and encourages others to invest in it. Tubao's father was in the Navy, his mother a nurse at Paradise Valley Hospital—they moved to San Diego in the 1950s and started a real estate business together in the 1960s.
Tubao calls South Bay home: He grew up mainly in Chula Vista, went on to earn a law degree, joined the family's real estate business, and cofounded Novo Brazil Brewing in Eastlake. He says he always felt that East Eighth Street was missing a community space. So when that old furniture store went up for sale five years ago, he jumped at the opportunity.
"People would come to this neighborhood specifically to take care of a job or an errand, and that's it," he says. "Across the 5 and the bay is Coronado, and we're sandwiched between downtown and Chula Vista. Downtown had its revival and is still changing. So is Chula Vista, which has its bayfront. So why not National City? South Bay deserves it."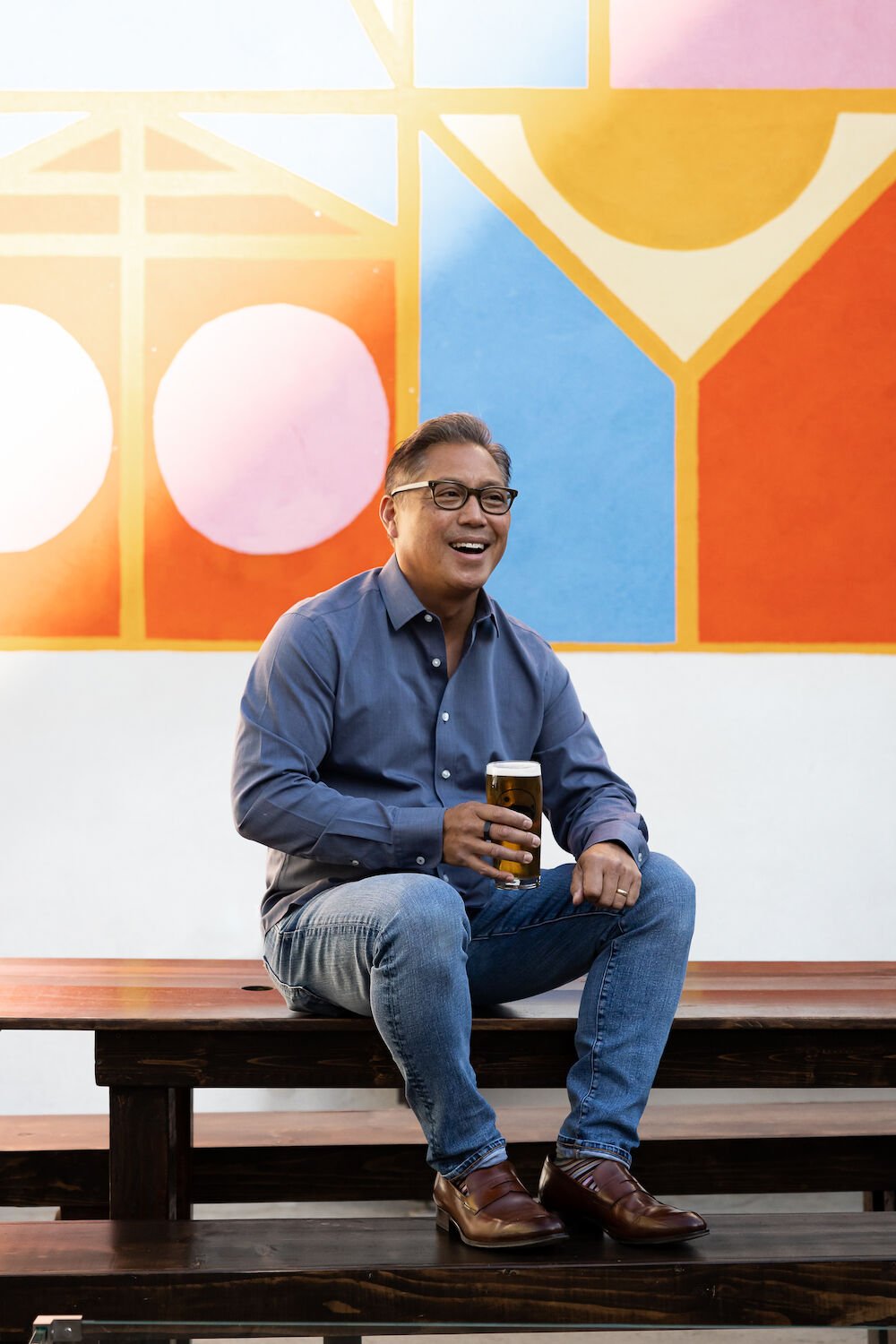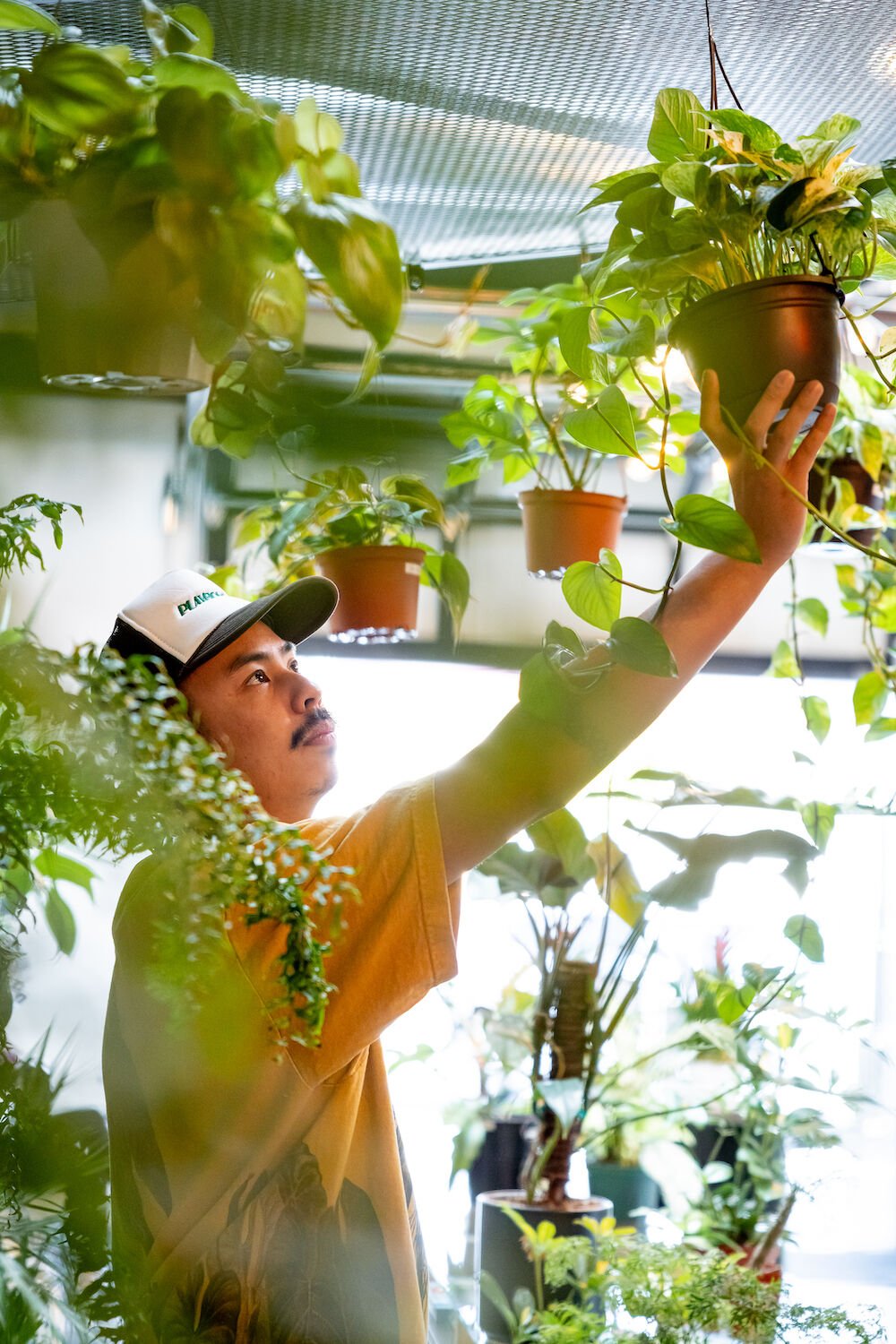 This need became even more evident when Tubao met with his family to discuss remaking the 11,000-square-foot building. "We were trying to find a place to have our meetings, and there wasn't a place to go," he says. That became the framework for Market on 8th. Tubao was also inspired by the food halls he'd seen while backpacking through Europe.
After breaking ground in 2019 and overcoming a series of pandemic-related construction delays, Market on 8th finally opened its doors last fall. Tubao says the reception has been overwhelmingly positive: "I think the community is starting to embrace it as a place to come and enjoy the neighborhood, and to meet their neighbors."
The space is anchored by a café from Moe Coffee and a tasting room by Novo Brazil, which specializes in tropical lagers, ales, and kombucha. It's filled with long tables and benches, and has a lively outdoor beer garden. Inside, a dozen food stands (most of which are owned by people of color) serve the foods that South Bay is known for: Filipino lumpia at Serbesa, Japanese rice bowls at Donburi, birria tacos from La Central, Southern barbecue from Smitty's, mango sticky rice and boba from Mngo. It's the first brick-and-mortar location for several of these eateries, like Pizza Kaiju, which serves square slices with traditional toppings and inventive ones, such as the sisig pizza with Filipino-style roasted pork belly and a cream sauce with calamansi (a tart citrus fruit).
Businesses can sign for a lease ranging from one to three years, giving a variety of new restaurant owners and chefs a chance to have a storefront of their own someday, or try out a new menu or concept.
One thing you won't find in the market is ice cream, and this is deliberate. Market on 8th is adjacent to Niederfrank's, an ice cream shop that's been a cornerstone of the city for nearly 70 years, and Tubao says he didn't want to take any business away from them. Instead, visitors to the market often venture over to Niederfrank's walk-up window to get a cone for dessert.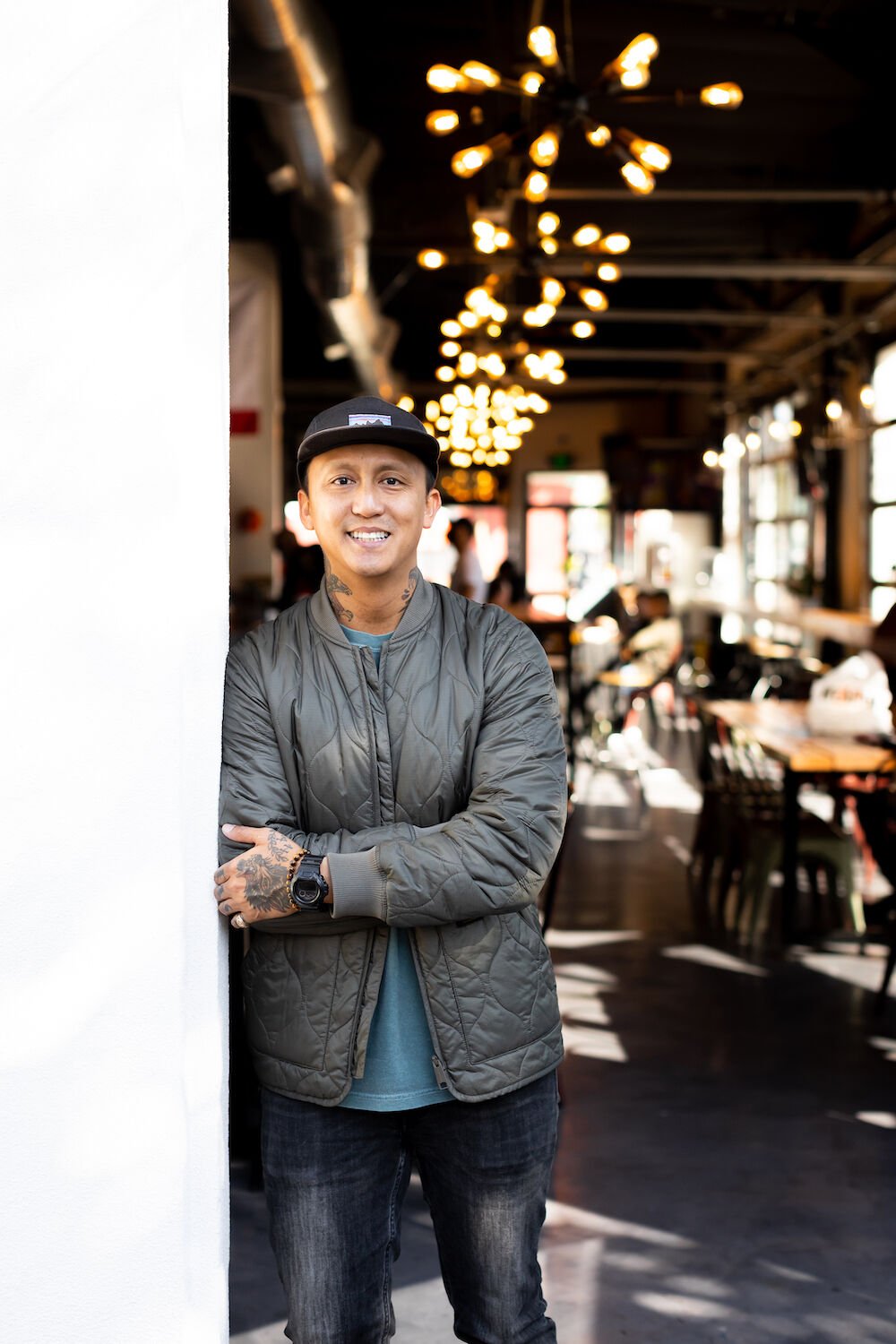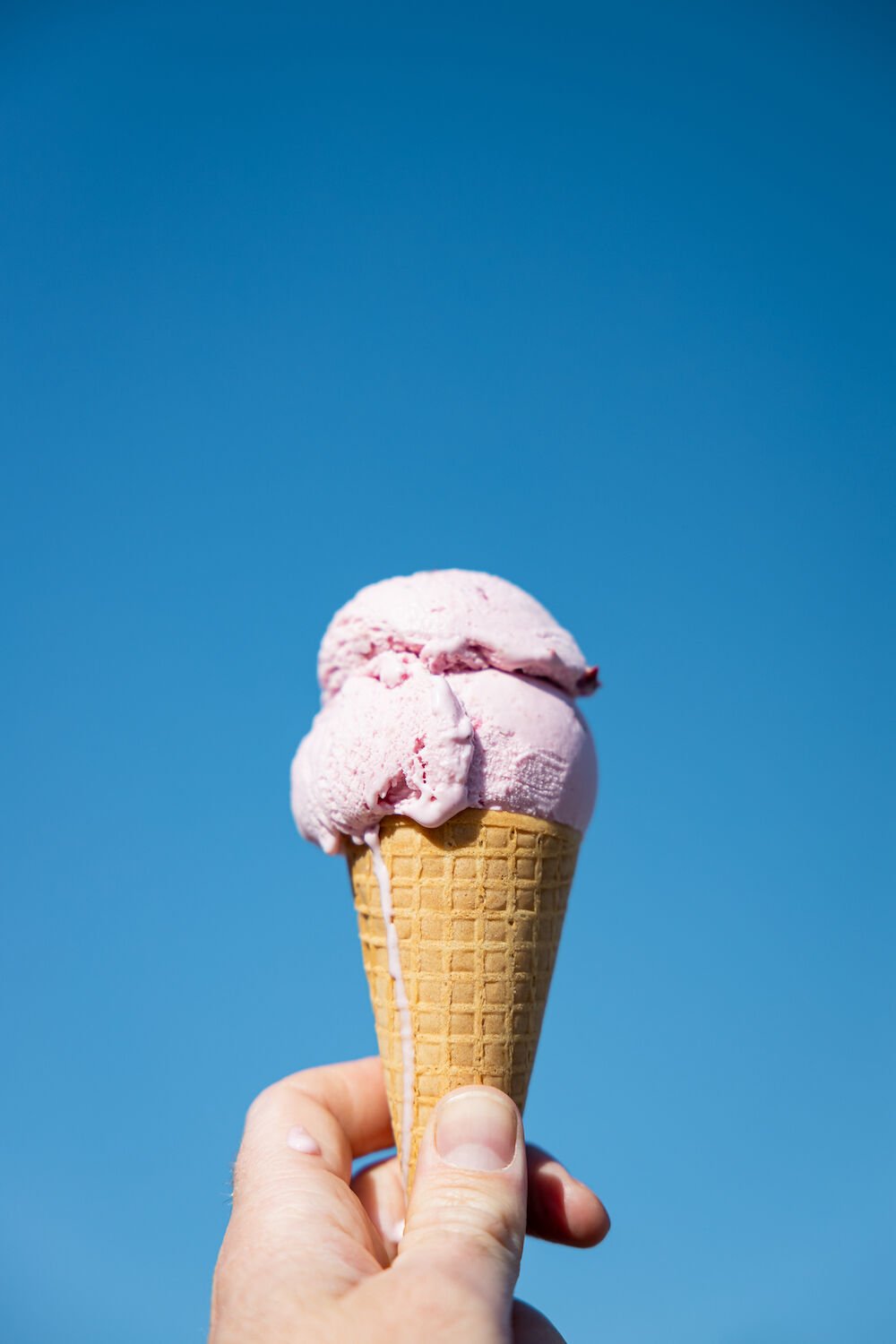 Being able to assist businesses owned by people of color and hire students and residents who live nearby is close to Tubao's heart. He also has a deep respect for the city's mom-and-pops: iconic places for Filipino, Mexican, and Chinese food, such as Tita's Kitchenette, Menuderia Don Vicente, and Royal Mandarin (famous for their salt–and-pepper chicken wings) have been in town for decades. He sees the market and its vendors as complementing what those shops already offer, not competing with them. "We're just adding to the value of what's already here," he says. "And the timing couldn't be better—Filipino food, for example, is being recognized nationally. People are proud of their heritage."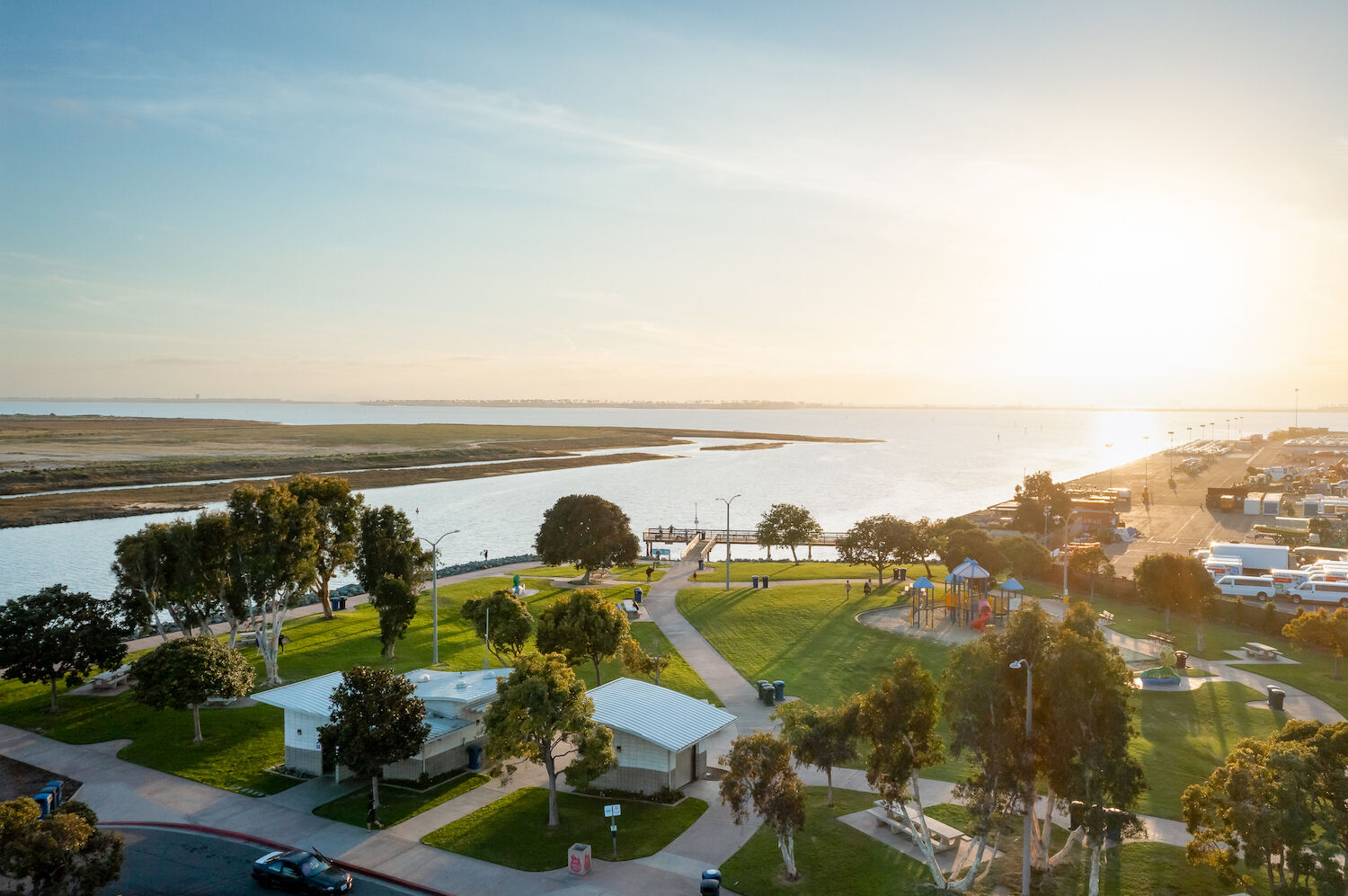 A Sense of Place
Chef Phillip Esteban never imagined a space like this would exist in his hometown. He's a Filipino American who grew up in both National City and Paradise Hills, and he's arguably one of the most well-known chefs from the area today. He's been lauded for preparing and delivering tens of thousands of rice bowls to hospital workers in 2020, appeared on the TV show Chopped, and garnered a following for the new ventures he's opened in just the past two years: Weapon Ramen and Wordsmith, a culinary shop, in Market on 8th; and White Rice, which specializes in Filipino rice bowls, at Liberty Station and soon to come in Normal Heights. His career has taken him to New York City, but he returned home, working at CH Projects before eventually striking out on his own.
He says his childhood memories are filled with ice cream from Niederfrank's (golden pistachio is his favorite flavor), playing at Kimball Park, and getting sandwiches from Napoleone's Pizza House. He's watched people leave National City over the years—off to bigger cities, or to Eastlake when they started having kids. Today he lives within walking distance of the market. Not only has returning to the community been a homecoming for him, but the market itself has become a second home.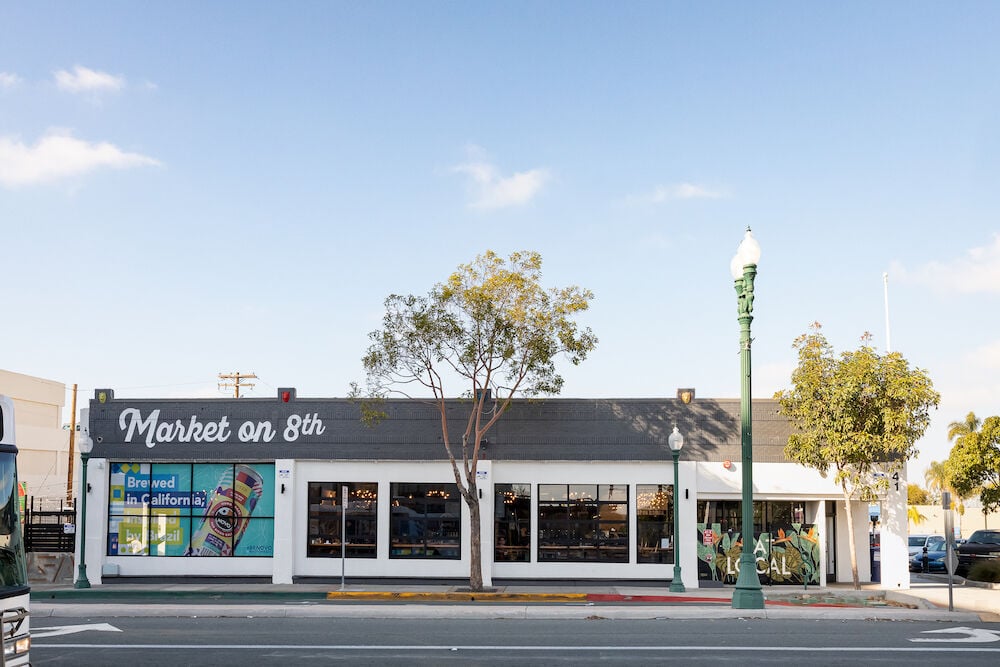 "Almost every day, I bump into someone I haven't seen since high school," he says, laughing. "They're ecstatic to have something like this in their neighborhood."
Esteban says the market, and the new apartment complex are just the beginning of this neighborhood's revival. "We're laying down the blueprint. I'm hoping that over the next two years new and potential business owners say, 'Hey, I'm spending my time in National City. I want to open up my store here."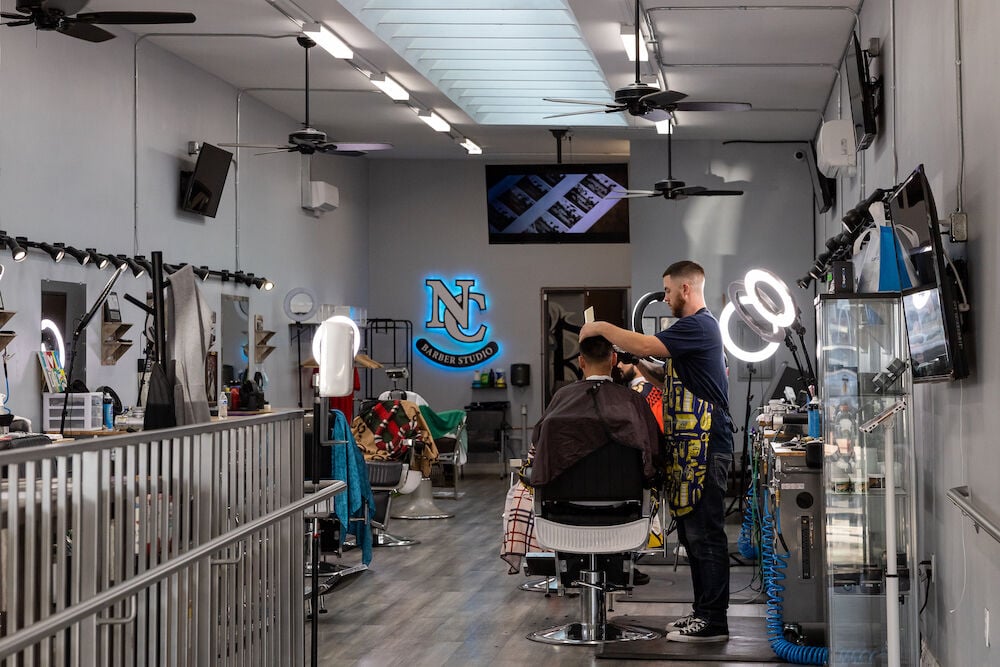 Build It and They Will Come
An important part of a city's revitalization plan is to create more housing, and that's what the National City City Manager's Office sought when it put out a request for proposal in 2017 for a developer to bring affordable housing to East Eighth Street and B Avenue. Andrew Malick, founder of Malick Infill Development and one of the first developers to revitalize North Park, and Ben Dalton, an architect and partner at Miller Hull, answered the call with plans for Common at Parco.
"National City wanted a catalyst project. What you need for a successful urban area is for people to live there," Malick says. "And when we first came in, there wasn't enough 'there' there."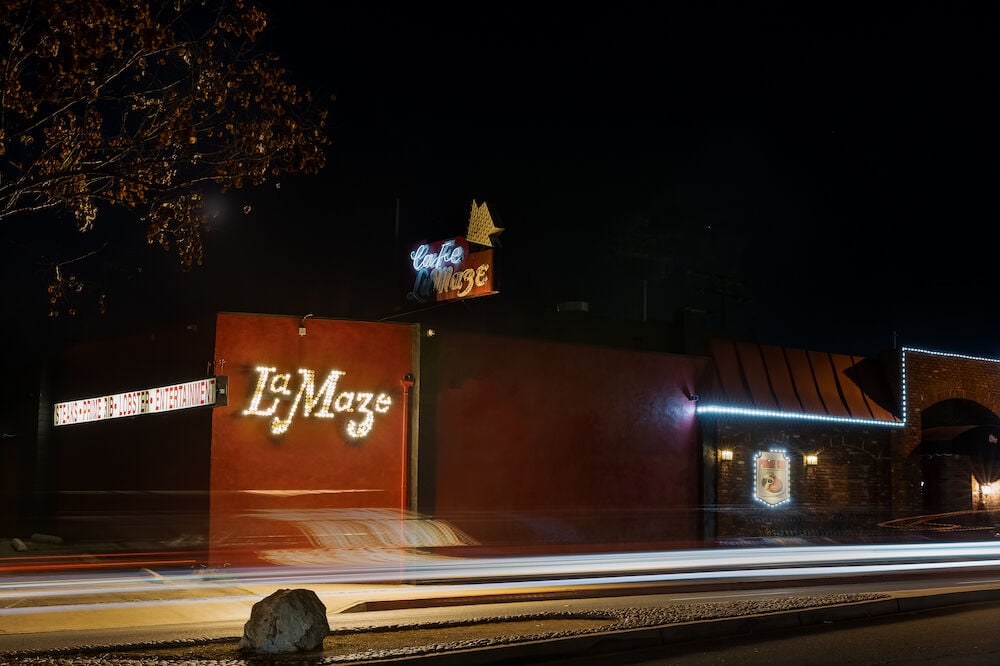 He says the city already had a good foundation for a thriving urban area: a great park and street grid, and an incredible established culture and diversity. Malick and Dalton both mention an architectural gem just a block away from where Parco stands: Heritage Square, a cul-de-sac of Victorian and Queen Anne-era homes. One can also find the Frank Kimball Museum (the 19th-century home of the city's founder), and Brick Row, ten row homes dating back to 1887 that look like they were transported right from Philadelphia. Malick calls Parco "a downtown in one building." It's a dense, 30,000-square-foot mixed-use complex that takes up an entire block, with space for 14 retail shops and office spaces, and 127 units including furnished and unfurnished studios, one-, two-, and three-bedroom apartments, row homes, and co-living spaces. They had ten days to prepare the presentation to the city council, and they won the bid.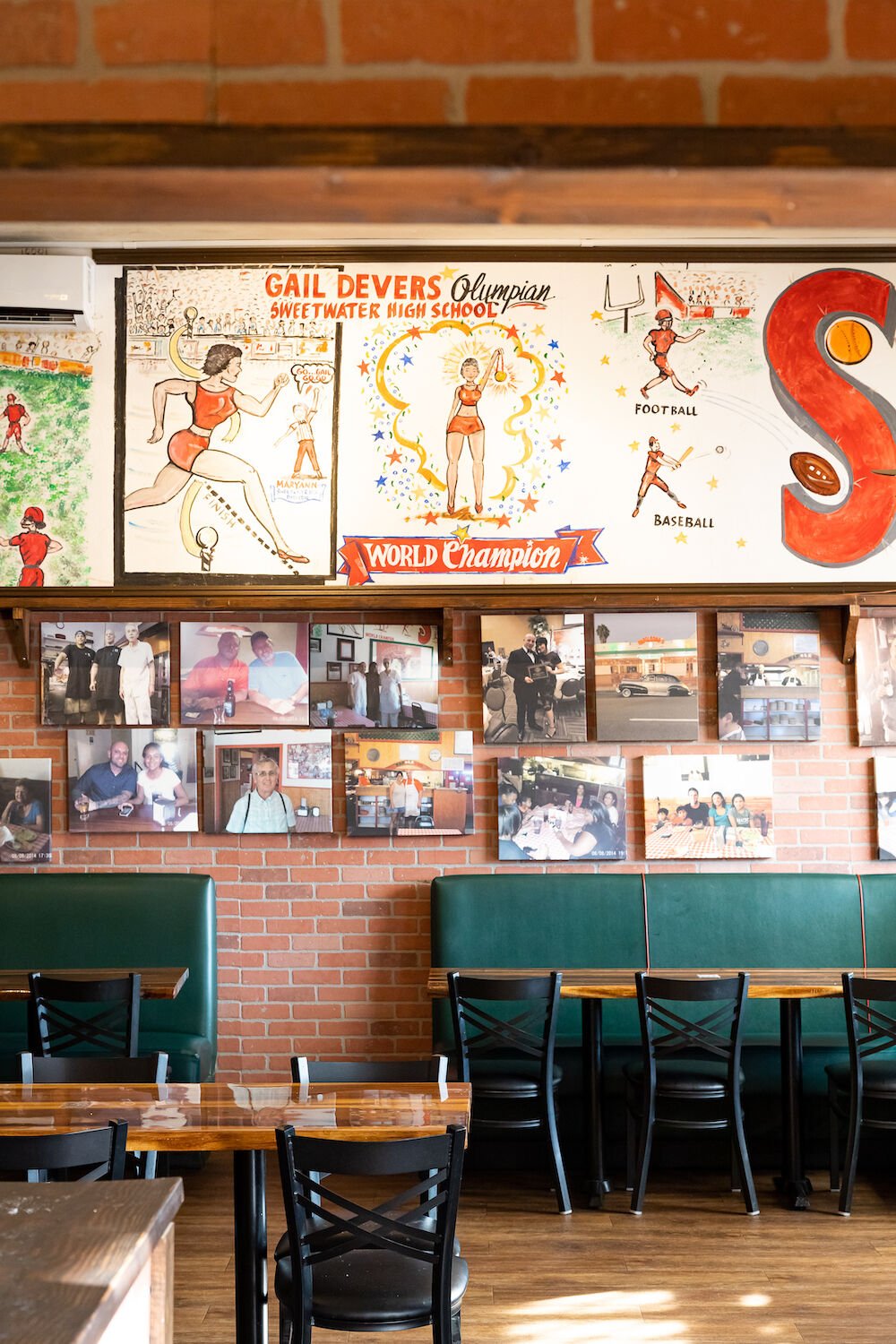 Parco opened its doors to new tenants last summer, and Malick says all the units were leased out in just nine weeks. Dalton says it was important to him that the complex's design respect the local culture and be built with a sustainability mindset. He and Malick commissioned murals and other work from local artists Andrew Alcasid and Matthew Beltrano, as well as the nonprofit ARTS (A Reason to Survive), for the exterior walls and common areas. Units have floor-to-ceiling glass windows. In the evening, the glow from the fire pit on the communal rooftop deck can be seen from the street. "It probably has one of the nicest laundry rooms in San Diego," Dalton adds—it has its own lounge, game area, and another expansive deck with clear views of the cityscape and mountains beyond.
An interesting component of the building are the co-living suites: Two to three tenants each have their own private room and bath, while sharing a kitchen and living area. Dalton says that while this concept isn't new, there aren't many places in San Diego that offer it. The co-living suites have affordable, shorter-term leases, from three months to one year, and are a great option for students, people who just moved to town, or people transitioning from military to civilian life, he says. Housecleaning services are included in the rent, along with staples such as dishwashing soap and toilet paper. "All you have to do is show up." As of press time, rent for a co-living space is less than $1,000 per person, and a studio averages around $1,500 a month.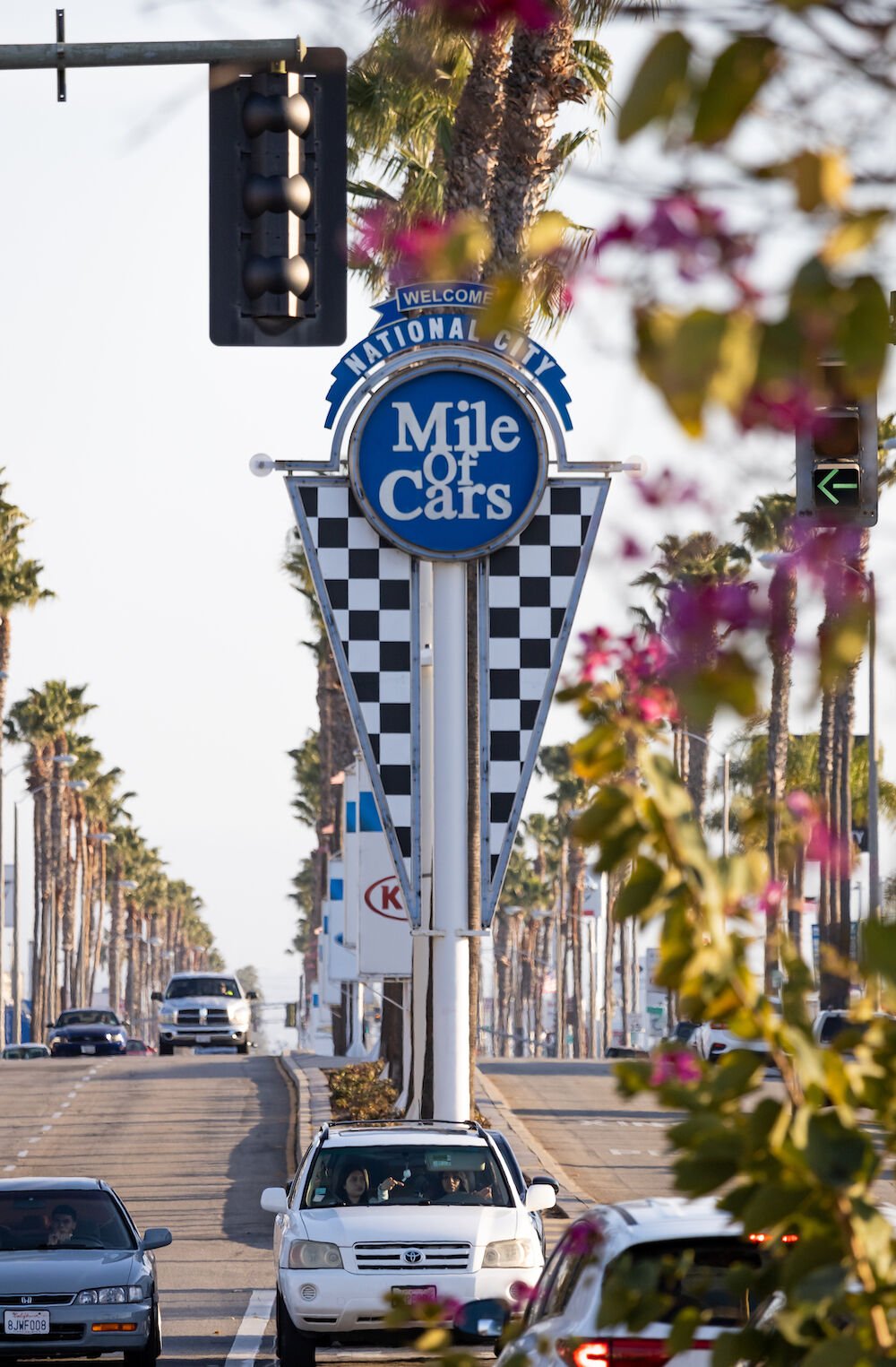 Although the Parco complex has the aesthetic of a new building in Little Italy, it doesn't feel out of place or inaccessible. Dalton says he's proud when he hears from tenants about how they enjoy living here, and that the price point has helped them.
Malick says that so far a graphic design company, an accounting firm, and law firms have signed leases for new office spaces, and some upcoming retail tenants at Parco include a poke shop, a tequila tasting room, and a Mozambiquan restaurant. Malick and Dalton both hope that like Market on 8th, new retail shops on the ground floor of Parco will rejuvenate the street.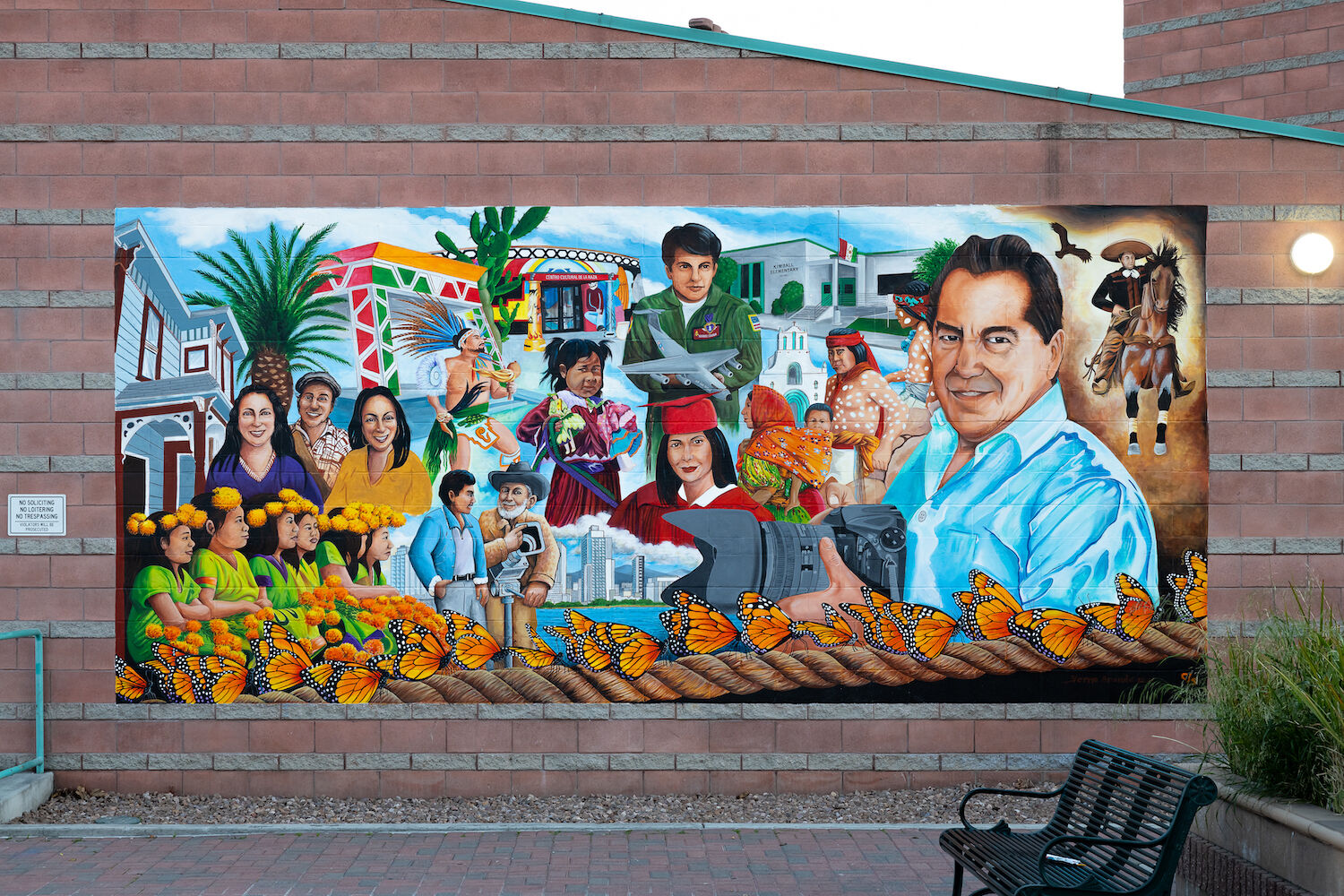 Up and Coming
"This is a stepping stone for Eighth Street," Tubao says. "National City has not always been the safest location in the past. We're hoping to make those changes—we want to create an environment here where people feel proud of raising their families."
Esteban concurs. He mentions that a new coffee shop is opening across from Parco this summer, and envisions that more development will come. He's heard concerns about gentrification, but feels it's too early to tell how things will go.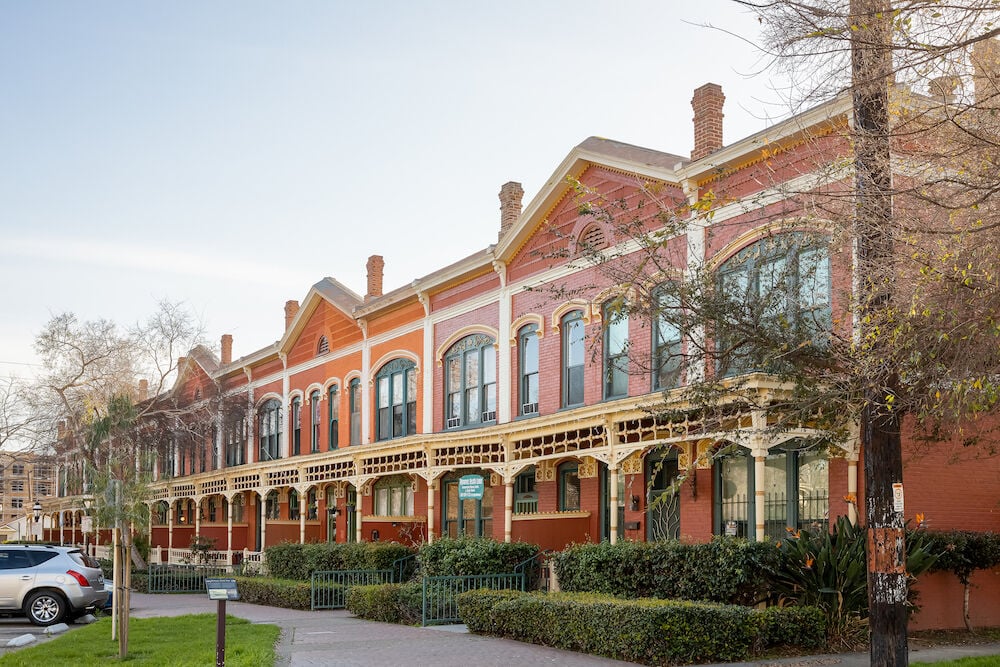 "I think there's a way to grow, and it can follow what happened in Barrio Logan," Esteban says, referring to how the revitalization of the neighborhood's main street, Logan Avenue, was driven by locals. "There's a way to do it without being exclusive. What I hope for Eighth Street's future is that it becomes like Fairfax in LA, where you get a congregation of artists, designers, and local people all in one neighborhood."
---
Ollie Paterson is a San Diego based photographer, originally from New Zealand. He specializes in architecture, real estate and interiors. His work has been featured in LA Times, CB2 and others.