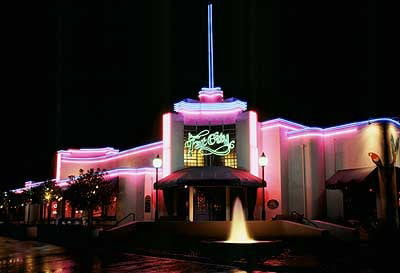 I'm so sad to see the end for this iconic pink Art Deco building, on Pacific Coast Highway. But I'm anxious to see where the neon glow of the Fat City sign will resurface.
I have such fun memories of the Fat City/China Camp Restaurants. Back in the day (and we don't need to discuss how FAR back in the day we are talking about), a small group of local designers, illustrators and artists, donning the name "Art Pals" – used to meet for a "Happy Hour" once a month. (Sometimes more than once.) We would meet to discuss and critique each other's publications, and latest achievements. At least, that was the excuse we would use. It was primarily about spinning the memorable "roulette wheel of cocktails" and enjoying each other's company. Many a birthday and holiday party were celebrated there. With the memory and image of Tom Fat, always in the background making sure everyone was having a good time.
The restaurant first opened in the 1940s as Top's Nightclub, which hosted renowned artists such as Nat King Cole, Shelly Winters, Nelson Eddy, and many more. After Top's was sold, it sat vacant and boarded up for a number of years until Tom Fat came to its rescue. The late Fat family member, Tom Fat, developed the 1941 Top's nightclub, later Miyako's restaurant, into a two-restaurant complex—Fat City and China Camp—in the 1970s. China Camp closed and Fat City became a Denny's restaurant.
http://www.cbs8.com/story/24694937/fat-city-neon-sign-removed