What was it like winning the Boston Marathon?
It was amazing and emotional. I heard the chants of "U-S-A." I remembered what had happened a year ago. I'd left the bombing area five minutes before the explosion. I very easily could have been there, or my family could have been there.
What was your reaction last year when you first heard about the bombing?
It was devastating. I cried. When I ran this year, I had the names of the victims written under my bib.
Do you consider the Boston win a bigger career achievement than the silver medal in the 2004 Olympics or your New York City Marathon win?
Yes. Boston is a legacy. It's the grandfather event. Now I feel like my career is 110 percent fulfilled.
How did it feel to come back to your San Diego High School track and celebrate "Meb Day?"
It was great to come back and see old classmates, teachers, coaches, and family. I wanted to run one more fast lap around the track.
Where do you go for training runs in San Diego?
Mission Bay Park, Rancho Santa Fe, a few different places.
How has the city changed since you came here from Eritrea [bordering Sudan] in 1987, at age 12?
I like the way the city has been built up. Downtown is growing, and Balboa Park, too. I think San Diego is The World's Finest City.
What's your next major goal?
I would love to defend my title in Boston. And I hope to make the Olympic team for the 2016 Games in Rio.
What advice do you have for young runners?
Follow your passion. Stay humble and do your best. Get your high school and college diplomas. Sports definitely helps with academics.
What did President Obama say to you about your win?
He said: "Thank you—you have made America proud, and it couldn't have come at a better time."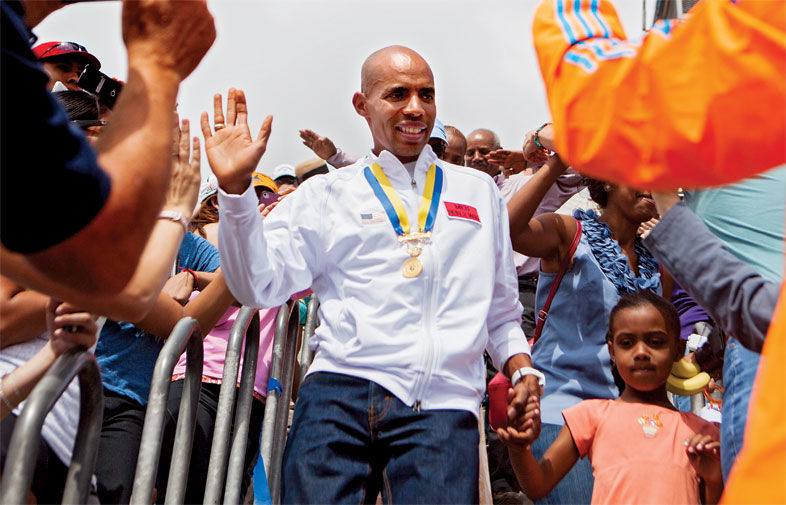 Sam Hodgson