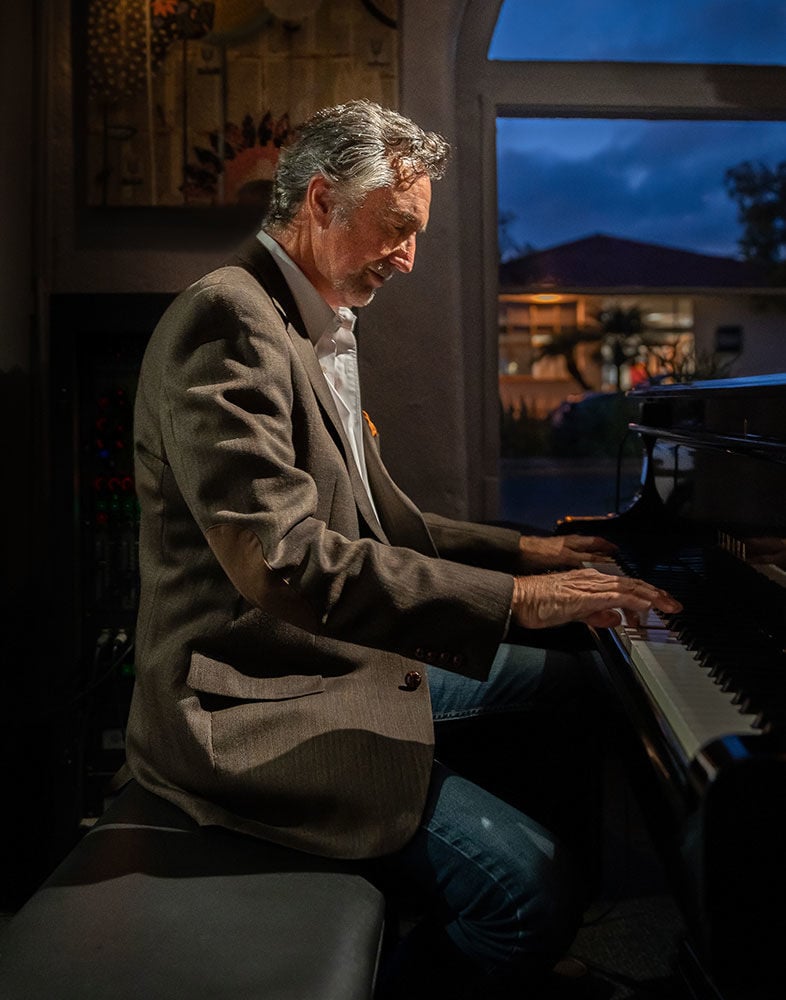 Photo by Ariana Drehsler
Forget sheet music. When Randy Beecher pulls up the bench to his Yamaha grand piano at Mille Fleurs' bar, he reads the room—and he's pretty darn good at it, having been the pianist there for 26 consecutive years.
"Actually, I prefer 'piano entertainer,'" he clarifies, "because I'm more than someone who sits and plays piano. You have to have a pulse for the room. You don't want to make one person happy and sacrifice the rest."
Between 8 p.m. and midnight on Thursday, Friday, and Saturday, he's the ringmaster at Bertrand Hug's upscale eatery in the heart of Rancho Santa Fe. (Hug also owns Mister A's.)
Beecher sings, dances, and has been known to share the spotlight on Thursday nights, handing the mic to locals like Banana Bread Ken, who brings banana bread muffins for everyone, or Chantel, who sings in French. Then there was the time Tony Award winner Christian Hoff of Jersey Boys fame came in and belted out a few tunes.
"It may be the dignitary of Rancho Santa Fe, but a bar is a bar, and you just get all kinds of people in there. You never know what's going to happen."
Bill Gates, Betty and Gerald Ford, Jenny Craig, Mel Brooks, Al Gore—he's played for them all over his tenure at the restaurant.
Beecher's predecessor was a personal friend, who tipped him off to the side hustle all those years ago and invited him to audition for Hug. "He offered me the job the next day."
Though that can be considered his big local break, "I've had my hands on the keyboard pretty much nonstop since my teens," when he was first turned on to the piano by the gospel quartets who would visit his church. "I would sit down by the piano player and watch those fingers. It really motivated me." At age 10 he begged and pleaded with his parents for lessons, and they gave in.
There's been a time or two where we hit the keys with our feet.
"My skill level went from mediocre to where it is today when I played in garage bands in high school," says Beecher, who was born in Oceanside and raised in El Cajon. While pursuing a music history degree at Grossmont College, he also worked at the Organ Exchange, a used piano and keyboard store. His first paid music gig was at a café in El Cajon. He was 18, and borrowed one of the keyboards from the shop for it.
Beecher's always had a strong work ethic. He's taken only one sick day in his entire 26 years at Mille Fleurs. (Neither has he called off work at his day job, as a music appreciation teacher at Grossmont and San Diego Mesa colleges.)
"Up until about two years ago, I had never, ever missed a night. I get a flu shot every year. Two years ago or so, you might remember the flu shot didn't work very well."
Staying healthy aside, the 63-year-old's biggest challenge is managing the customers' requests—don't ask him to put a number to how many songs he knows. "I just have a real strong ear for hearing and playing melodies."
When he first started, he'd haul a bag full of sheet music with him to work. Now, he just plops an iPad up on the stand when he's at a loss for lyrics. He also brings an iPhone with him for backup tracks to play through the sound system—that'll usually happen toward the end of the night, whenever he observes that the crowd wants to get rowdy.
"There's been a time or two where we went crazy with a Jerry Lee Lewis song and hit the keys with our feet," Beecher says. "If people think Mille Fleurs is a snobby place, they've never been there after about 9:30 p.m., because the place is crazy fun. There are times where the room is really going strong, and it's midnight and customers won't let me go."
In those instances, Beecher has a trick: "The magic is to play the appropriate songs to make them yawn a bit."
All in a night's work.
---
See him play!
Thursday–Saturday, 8 p.m.–12 a.m.
Mille Fleurs, 6009 Paseo Delicias, Rancho Santa Femillefleursrsf