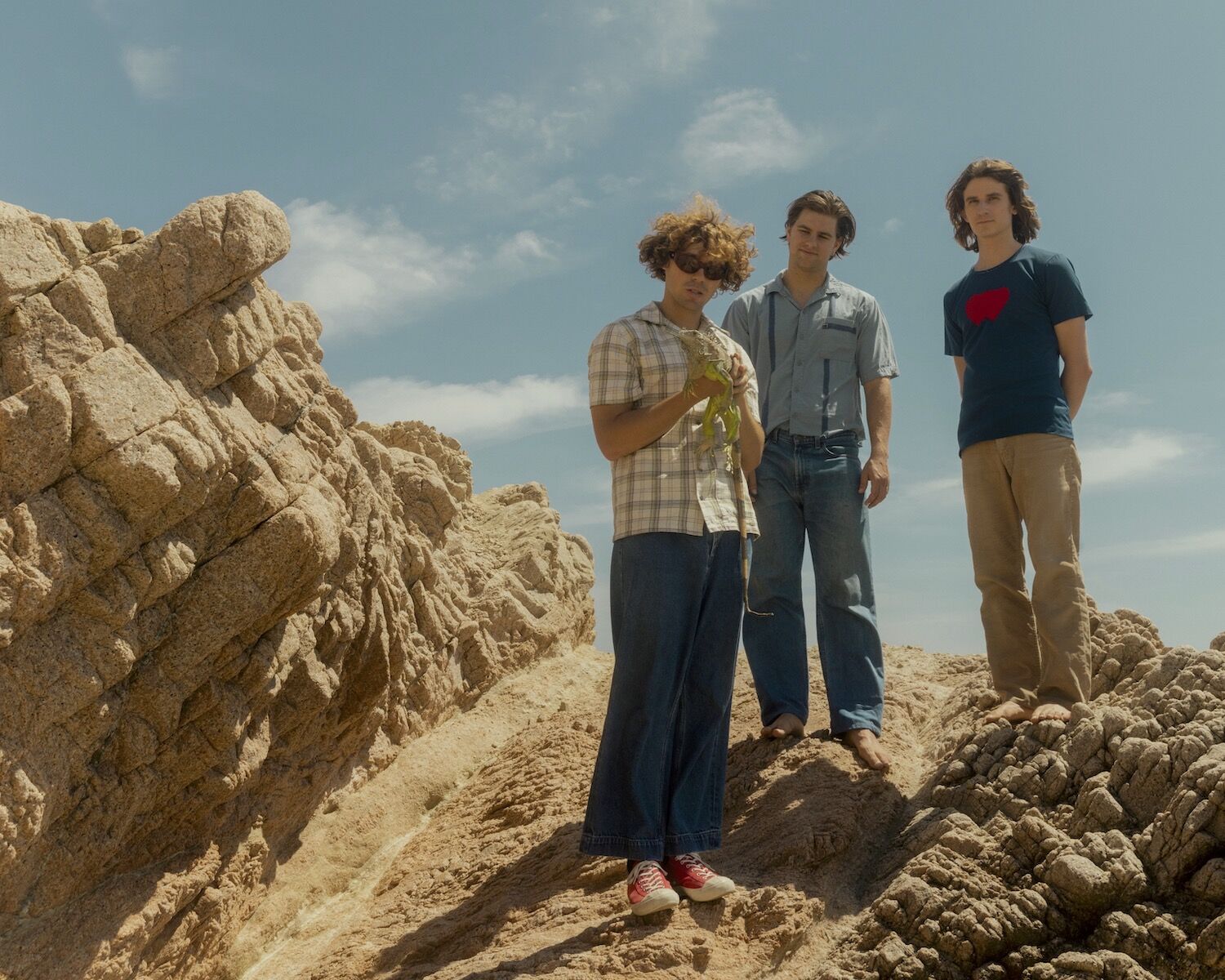 Courtesy of Almost Monday
A perfect San Diego day consists of duck diving under crisp blue waves, flipping through a cheesy rom-com laying in the sand, and of course, tacos. For San Diego locals and members of Almost Monday (a name they style in all lowercase)—Cole Clisby, Luke Fabry, and Dawson Daugherty—this type of day is what makes music so good. Fabry and lead singer Daugherty have been close friends since they can remember. During their second year of high school, Clisby was introduced to Daugherty when surfing a local California break. Together, the band formed in 2020 and debuted their first single "Broken People", ranking in the Top 20 on alternative radio. That year, they performed their first live show in the back of a surf shop in Encinitas. Their second EP in 2021, Live Forever, received praise from People, Forbes, and many other outlets. In 2022, they released three more singles: "Sunburn," "Sun Keeps Shining," and "Cough Drops."
Clisby, guitarist for the band, describes their
newest single, "Life Goes By"
 as "an ode to San Diego of sorts." Growing up in San Diego, the city's influence tends to seep into their music, "whether we like it or not" says Clisby.The song, like any good SoCal tune, dropped on July 14 and muses on missing the perfect beach day while on the road. Care-free, upbeat, fresh, Almost Monday makes the kind of feel-good you can blast in your car on a warm summer day.Makes sense, since the band credits their melodies to the songs, movies, books, and traveling that they are currently loving. Clisby admits that they are still figuring out their sound themselves, but it's hard not to hear an inherent thread of surf-rock, indie, and alternative in their melodies. For the music video, the trio headed down to
Cabo San Lucas
with one of their pals for an impromptu shoot.
"It's basically just us running around," says bass player Fabry. It's cliff-jumping, retro colors, looking at summer through a fisheye lens, and skateboarding barefoot—a playful ode to youth.In collaboration with "secret fourth member" and producer, Simon Oscroft, the trio possess impressive songwriting abilities. According to Fabry, the band is a democracy; they do everything as a team and each song is written with a unique writing process.Now, the trio is traveling on a sold-out tour with
The Driver Era
and
Ross Lynch
, while performing at festivals like Governor's Ball, and Wonder Bus. Coming full circle, Almost Monday will return to San Diego for their first stop on tour on
August 4 at Quartyard
. Their tour will last about a month, but they will return soon after to throw the first pitch at a Padres game.