Disclaimer: This story was published in the January 2021 issue of San Diego Magazine, which was sent to press before the Regional Stay Home Order was enacted. Visiting these destinations may be restricted, visit covid19.ca.gov for the latest information.
Choose Your Travel Category:
The Great Outdoors | Small Town Vibes | Wine and Dine | Close to Home
The Great Outdoors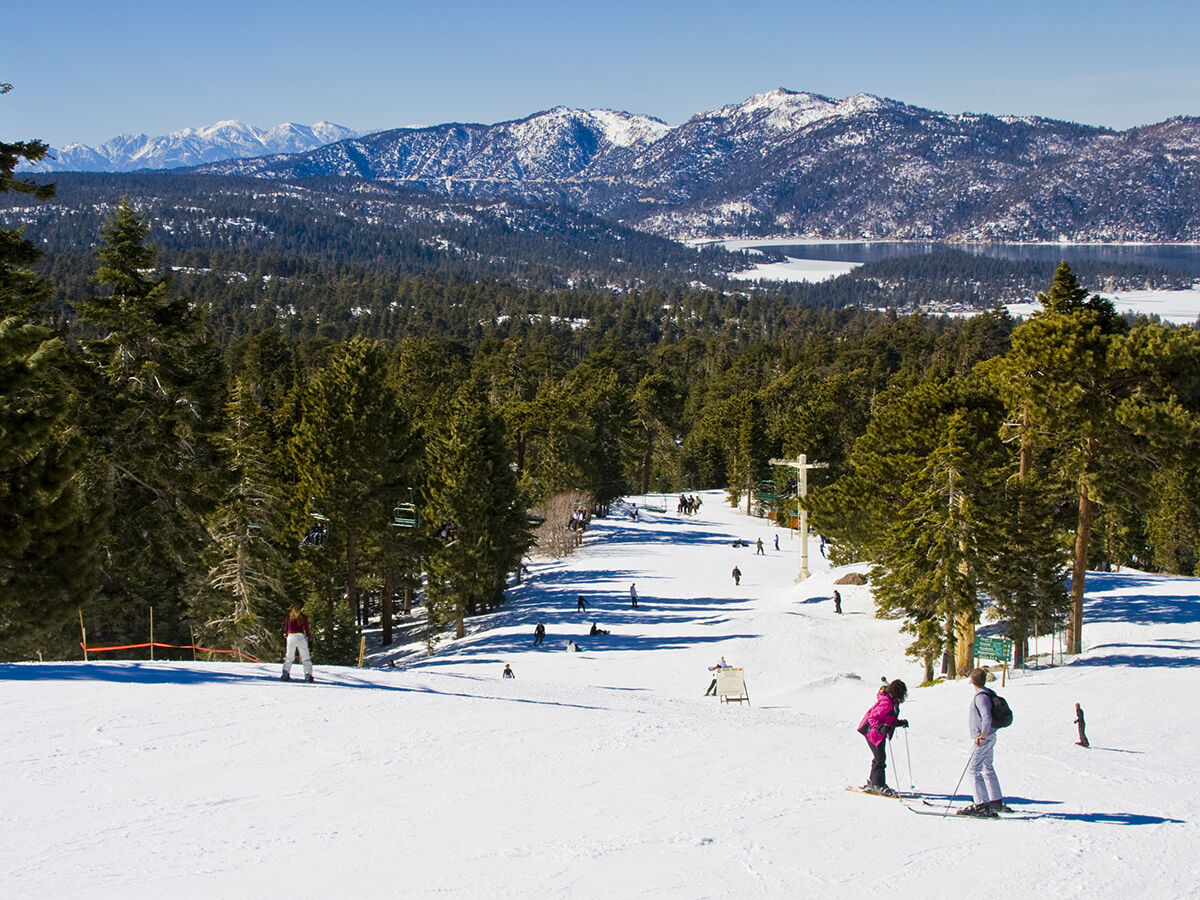 Big Bear
2.5 hours northeast
This village might revolve around the lake it's named for, but it's the slopes that draw Southern Californians in the winter months—and for good reason. Avid snow bunnies know Bear Mountain and Snow Summit are the two resorts to choose from. Opt for the former if you're seeking freestyle skiing or snow­boarding. Snow Summit, on the other hand, has more traditional runs. There's lodging aplenty near the two resorts. For a boutique option, Noon Lodge is a mere mile from Big Bear Village and offers modern single cabins. The lakefront Marina Resort is slated to reopen this winter and has a quintessential cabin aesthetic. Before setting out on your adventures for the day, consider fueling up at Teddy Bear Restaurant for breakfast or Dank Donuts for grab-and-go. Big Bear Lake Brewing Co. is a must-stop for post-shred libations.
Traveling with kids? Take the whole family to Big Bear Snow Play for tubing, a ropes course, and even go-kart racing. Or pay a visit to Big Bear Alpine Zoo. It serves as a rehabilitation center for injured and orphaned animals, and you can see winter-climate creatures like snowy owls, snow leopards, and arctic foxes. If weather allows, squeeze in a hike on one of the several trails nearby. Alpine Pedal Path Trail is perfect for a leisurely lakefront stroll, and Castle Rock Trail affords views of Big Bear Lake that are worth the trek.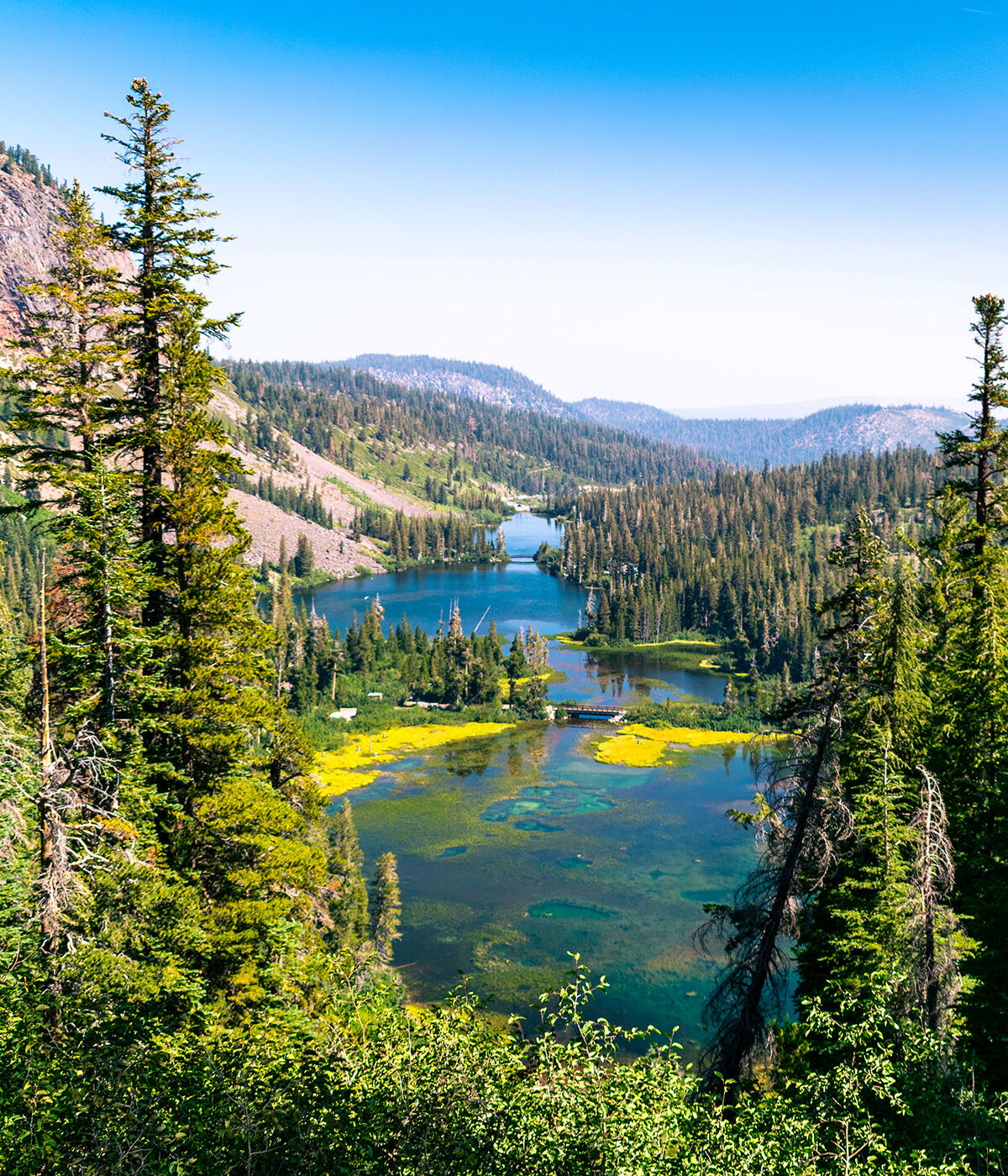 Mammoth Mountain
7.5 hours northeast
Curious about what San Diego's favorite ski resort will look like during the pandemic? Mammoth Mountain plans to keep skiers safe by managing the crowds. With limits on daily ticket sales, priority given to season pass holders, and no walk-up window purchases, the key to shredding powder this year is to plan ahead and make reservations. Stay safe with contactless ski rental services—your equipment will be waiting for you at a designated locker. With social distancing in mind, two new eateries built out of shipping containers have been added slopeside to spread the skiers out when it's time to grab a burger and a beer.
If you really want to ditch the crowds, hire High Sierra Guides for alpine skiing in the deep wilderness outside the resort's boundaries. Mammoth also has five uphill routes for off-piste practice—think backcountry skiing's version of a climbing gym—and offers introductory courses. If you want to explore the 19 miles of groomed yet secluded tracks of Mammoth Lakes Basin by snowshoe or cross-country, gear up at Tamarack Cross-Country Ski Center. You can also bundle up, don a headlamp, and grab a thermos of hot chocolate for a Full Moon Tour (snowshoe or cross-country), where a naturalist will guide you through the silvery moonlight. Kids love Woolly's Tube Park and Snow Play, but keep in mind you need a reservation.
After all that alpine play, it's time for après-ski. In The Village mall, the newly revamped 53 Kitchen + Cocktails serves up barrel-aged libations and sports-bar eats like chili and chicken wings, and meatloaf. Noodle fans will appreciate the newly opened Yama Ramen, where sake bombs, Japanese whiskeys, and tapas are served alongside delicious noodle bowls. Oenophiles should pop a cork at Jimmy's Taverna, known for its seafood and carefully curated wine list; families gravitate to casual Campo for wood-fired Neapolitan pizza and pasta.
New stylish digs can be found at Hillside, an easy walk from The Village Gondola. These mountain-chic townhomes sport gourmet kitchens, antler chandeliers, modern bunk beds and suites, floor-to-ceiling windows for epic views, and decks for hot tubbing under the stars. While the Westin Monache Resort lures families for its ease of mountain access, giant pool, and reasonable rack rate, you can also cozy up in a rustic cabin at the Tamarack Lodge & Resort for a more secluded stay.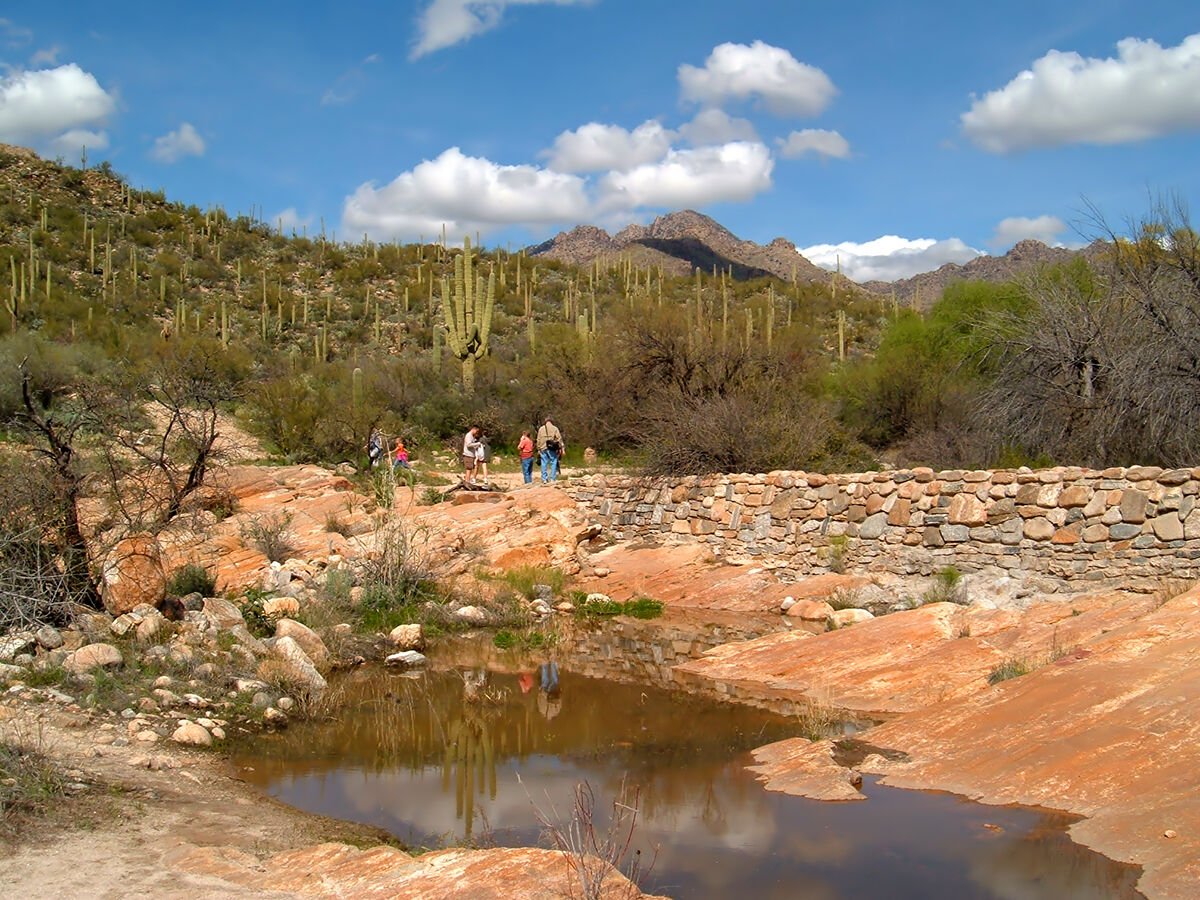 Tucson, Arizona
6 hours east
Yes, we're still going gaga for the revamp of this once-dated desert city. Despite the economic setbacks of 2020, Tucson still has plenty to write home about, starting with modern boutique The Tuxon Hotel, which opened last summer, and newcomer hotel Graduate Tucson bordering the University of Arizona campus. The MSA Annex, filled with locally owned shops, added Why I Love Where I Live to its community roster. The boutique is filled with cute accessories and no-brainer giftables fit for any occasion. Just a block from the newly revamped Tucson Museum of Art and El Presidio Plaza, charming Ceres offers fresh pasta and baked artisanal bread from a walk-up window in what used to house the Mexican restaurant El Rapido. But one of the most notable pandemic pivots comes from James Beard nominees Carlotta Flores (El Charro Cafe) and Don Guerra (Barrio Bread). The duo collaborated on Barrio Charro, a new concept coming soon that reflects the times with an elevated take on takeout-friendly eats. Need a quick city escape? Sabino Canyon remains a great spot for hiking, but you can also hitch a ride on the recently relaunched Crawler, a zero-emission electric shuttle that travels the desert recreation area.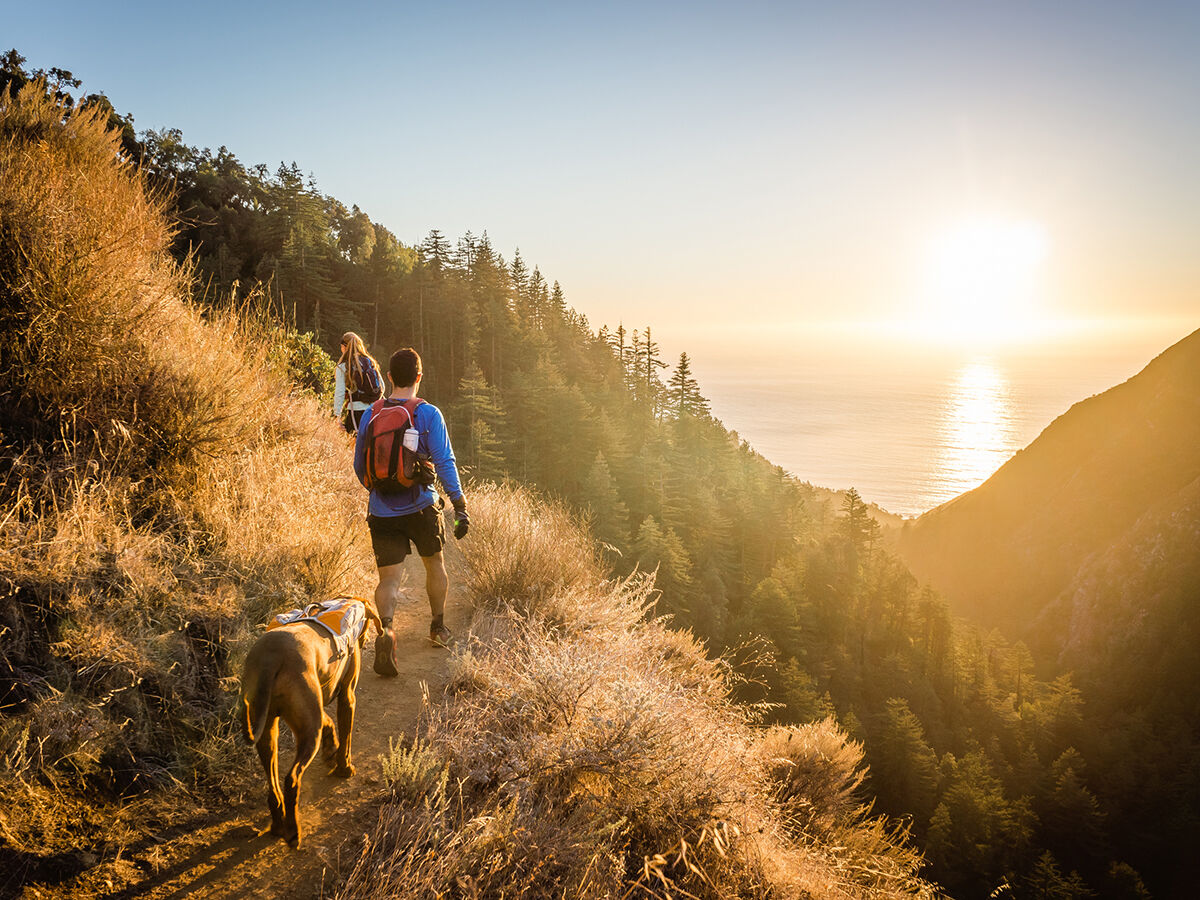 Big Sur
7 hours north
"Do nothing" is a visitor recommendation for a reason. In this coastal paradise, the view is the main attraction. It seems no matter where you are—on the road, at a restaurant, or taking a hike—a majestic vista of the coastline nestled among redwood trees is ever-present.
The drive into Big Sur along iconic Highway 1 is a quin­tessential road trip. The curvy, compact highway will take you on a journey from one jaw-dropping cliffside view to the next. Blink and you'll miss a turnout or a hidden restaurant. If you're looking for a photo with Bixby Bridge, the unofficial symbol of Big Sur, you can stop at turnouts along the highway to capture that oh-so-necessary shot.
Nepenthe is one of the first dining stops to greet you after a long drive north seemingly without rest stops. Coast is an alternative for the art or coffee lover; this café and gallery is a gem with, of course, an epic viewpoint.
Head to Big Sur Taphouse and try a local beer. If you want to work up a sweat first, you can access the taphouse from a trail in Pfeiffer Big Sur State Park. The taphouse says the trail was created for locals to use after the 2016 wildfire and subsequent landslides damaged the Pfeiffer Canyon Bridge and blocked access.
To truly do nothing, stay at Ventana Big Sur for a luxurious experience that will leave you relaxed and fantasizing about ways to move here. Get some brunch outdoors at The Sur House before you leave and prepare to be blown away by their ocean outlook. For a more affordable stay, try Ventana's glamping experience in the property's campground next door. Or go rustic under the redwood trees and stars at Pfeiffer Big Sur State Park, a campground with nearly 200 RV and tent sites on or near Big Sur River. Don't miss Pfeiffer Falls Trail, a short hike that ends at a waterfall, with plenty of worthy lookouts along the way. No matter where you stop, the backdrop here will set a seriously high bar for future road trips.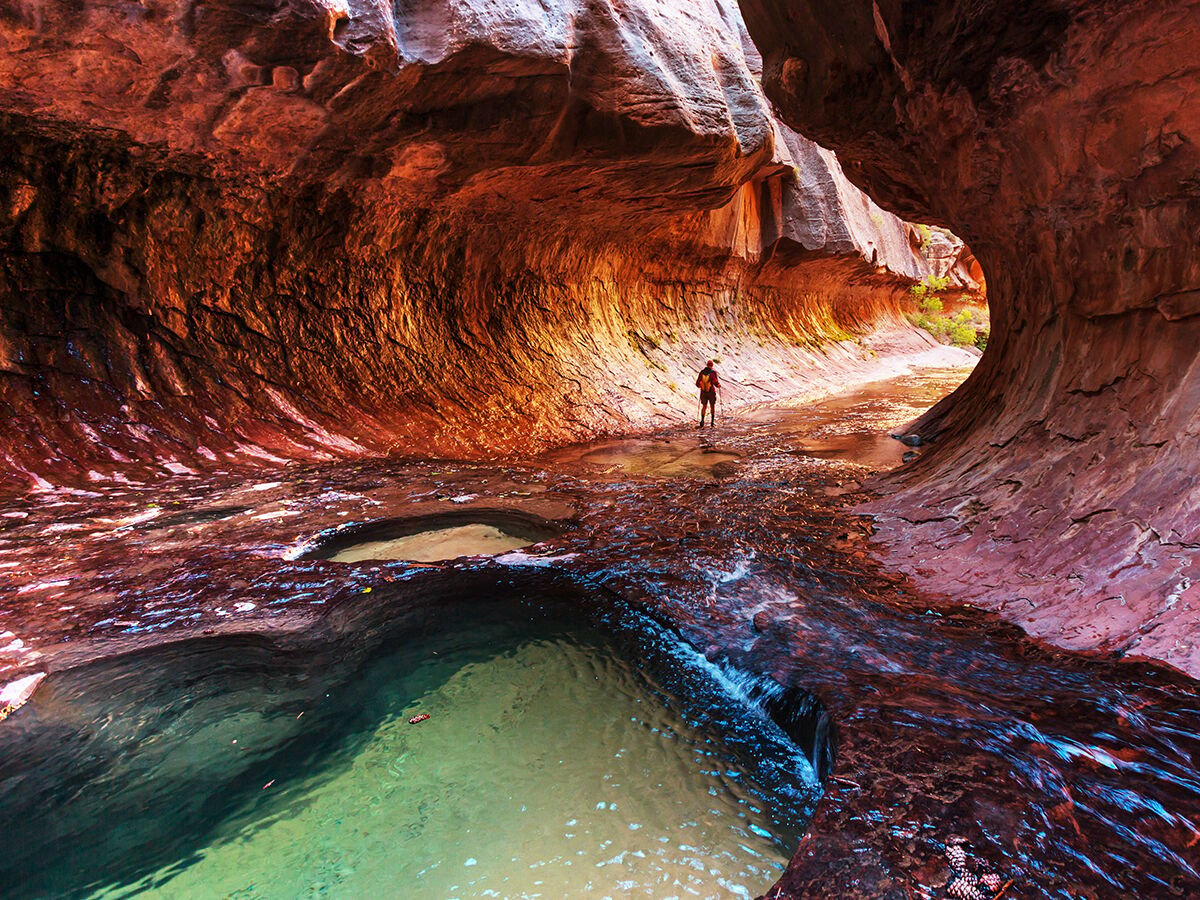 Zion, Utah
7.5 hours northeast
Before you head boots-first down one of Zion National Park's many well-traveled hikes, start your day in nearby Springdale. Often considered the gatekeeper of Zion, the charming town of 600 offers reliable eats and shops for last-minute prepping, and a handful of art galleries to tour before the day's exploration. First stop: The bright blue house on the corner of Winderland Lane, where Deep Creek Coffee Co. can satisfy your caffeine craving at their walk-up window. MeMe's Cafe and Oscar's Cafe serve filling breakfast and lunch in no-frills ambience, and King's Landing Bistro is a popular pick for dinner with a view. When you're ready to hit the trails, The Narrows remains first choice for a reason—parallel towering walls lead you down a winding river path, a favorite for the warmer months. Other notable trails include kid-friendly Riverside Walk, moderate Hidden Canyon, and Observation Point for a challenging hike to a sweeping view that comes with bragging rights. For your well-earned shut-eye, Under Canvas and Wildflower Resort remain top glamping picks, and Zion Lodge situates you mere steps away from another day's adventures within the park.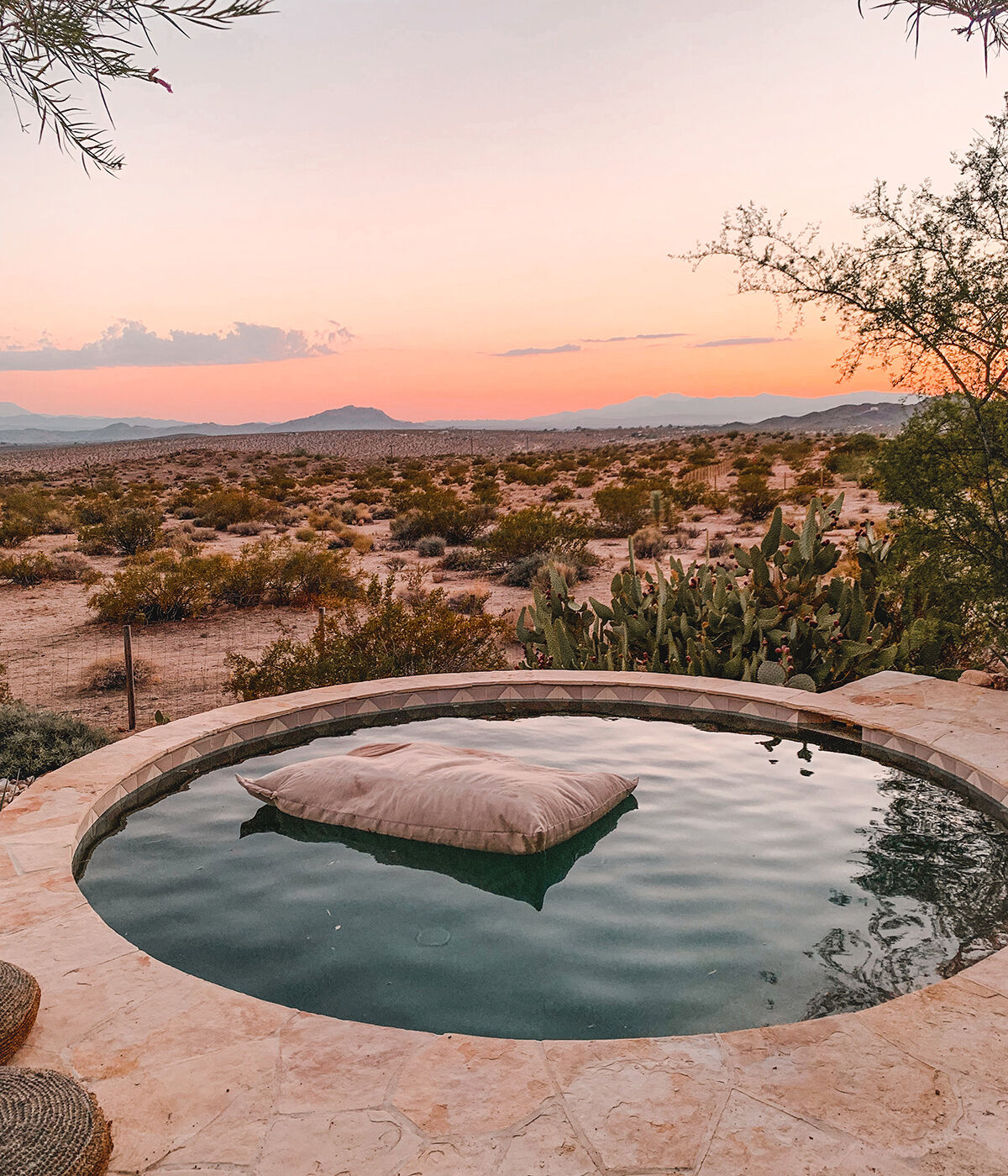 Joshua Tree
3 hours northeast
When life calls for a change of scenery, you answer with a GPS directed toward Joshua Tree National Park. Just a three-hour drive from our coastal home base, sand turns to dust and mountains flatten to make way for the slow-growing, twisted yuccas the park is named for.
On the way in, you'll pass through Yucca Valley with a handful of shops to explore, including Hoof & the Horn, Route 62 Arts & Antiques, and thrifters' gold mine Funky & Darn Near New.
Some of Joshua Tree's most noteworthy sites are accessible from a few short, easy trails. To start, the road to Skull Rock is a light 1.7-mile loop, and Hidden Valley's one-mile loop passes the supposed boulder hideout of an Old West cattle rustler. Other significant stops are the Cholla Cactus Garden and the Lost Horse Mine, a four-mile out-and-back trail to one of the park's most successful gold mines.
To refuel, Joshua Tree Coffee Company and Frontier Café are hip outposts to enjoy a cuppa. Crossroads Cafe offers breakfast and lunch fare in a modern western setup, and Natural Sisters Cafe puts a healthy spin on their menu with plenty of vegan options. Nearby La Copine remains an editor's pick, with a new twist—they're currently operating as a meal pickup service with weekly dinner menus for two.
Joshua Tree has long been a retreat for artists and designers alike, many of whom create design-forward vacation rentals that fully immerse you in the desert. Bob's Homestead and The Joshua Tree House are two such stays.
When the itch for city life (or a population greater than 7,000) starts up again, let neighboring Palm Springs ease the transition. New this year are Les Cactus and , which took over the Rat Pack's once-beloved hangout, The Riviera, and carries on the legacy of the historic hotel with signature tropical details in a retro Hollywood atmosphere.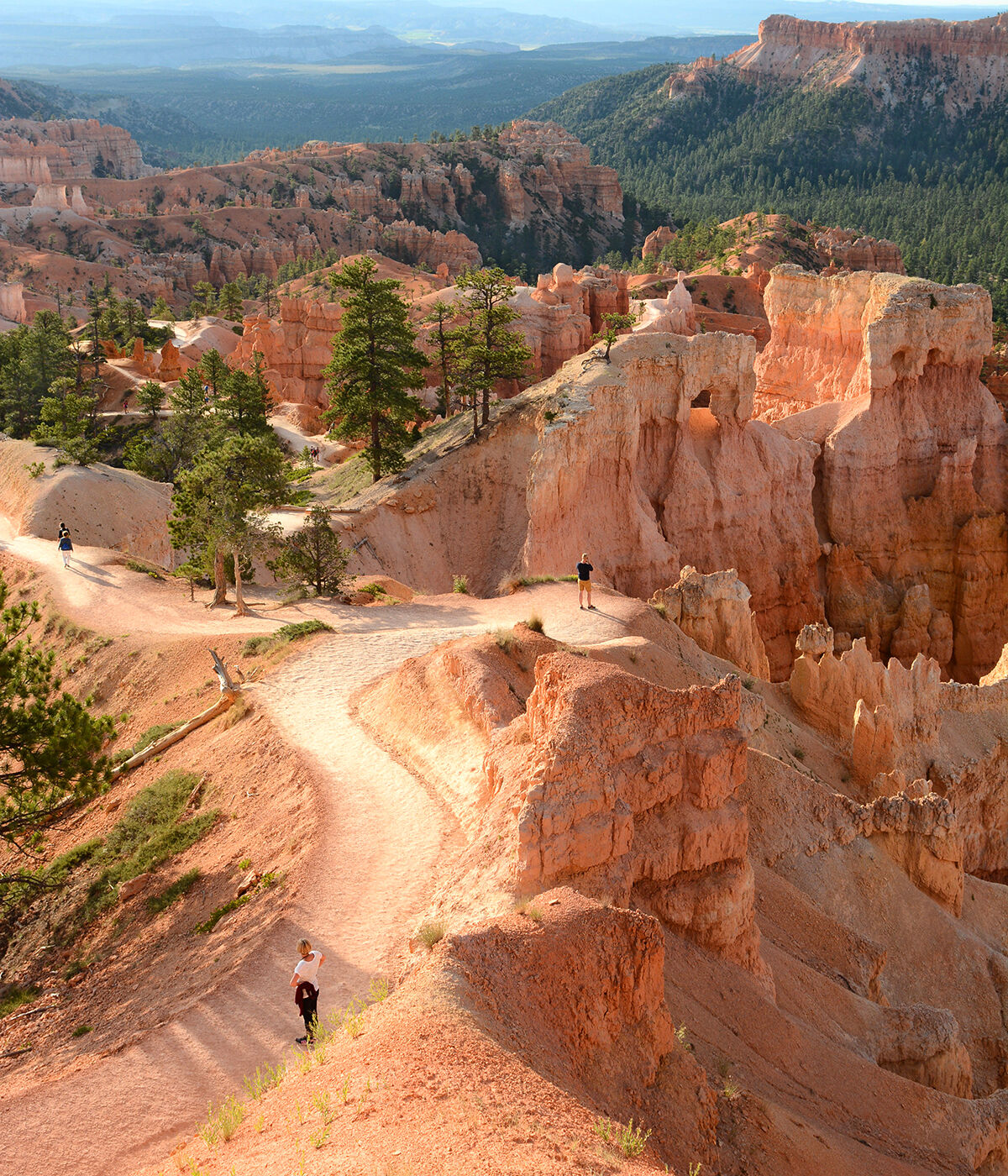 Bryce Canyon, Utah
9 hours northeast
Two hours away from its much bigger (and more popular) neighbor, Zion, Bryce Canyon is a worthy visit that offers plenty of rewards for those who make the journey. The national park is known for its stark red rock formations and one of the darkest, clearest night skies in the country. Stargazers, seek out Natural Bridge Overlook and Inspiration Point for front-row seats to the cosmos! Hike the moderately challenging rim trail to overlook Bryce Amphitheater, one of the park's signature sights. For a closer look, tackle the more strenuous Navajo Loop, which dips down into the amphitheater and also delivers a prime view of Thor's Hammer, the most famous hoodoo—a tall, thin rock spire—in the canyon. Visitor tip: Bryce packs a punch with a much higher elevation than nearby Zion, clocking in at 8,000–9,000 feet, so plan to stay hydrated and take plenty of breaks along the way. There's not too much happening outside the park, but a 10-minute drive will bring you to the town of Tropic, where i.d.k. Barbecue and Stone Hearth Grille deliver on a filling post-hike meal. If you aren't staying closer to Zion, then vacation rentals and Airbnbs are the way to go to stay around Bryce. Prefer to pitch a tent? North Campground and Sunset Campground are the park's tried-and-true spots.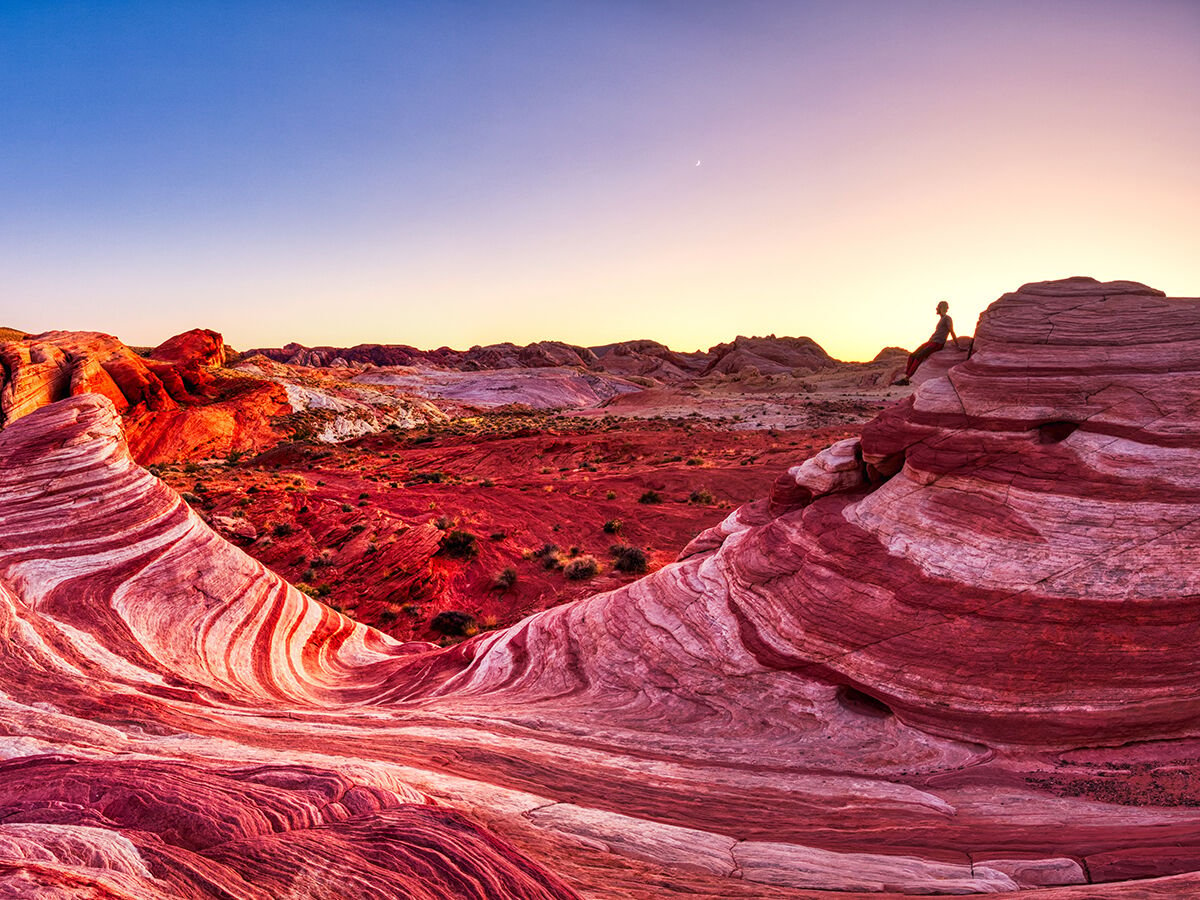 Valley of Fire State Park, Nevada
6 hours northeast
A geological marvel that's millions of years old lies just an hour away from the bright lights of Sin City. Within this nature preserve's 46,000 acres are towers of Martian-red sandstone, surreal rock formations, indigenous Puebloan rock art, picturesque canyons, and plenty of hiking trails. Start at the visitor center to get your bearings and plot out how you want to see the park. An easy hike (less than a mile) on the Mouse's Tank Trail leads you to petroglyphs that are thousands of years old, and if you have more time, hit the Fire Wave or White Domes trails. You can drive the three-mile scenic loop to see Arch Rock and Table Rock, or follow Fire Canyon Road for a breathtaking viewpoint at the end. The park closes at sunset for day-trippers, but if you want to extend your stay, you can book a place to pitch a tent at one of two campgrounds.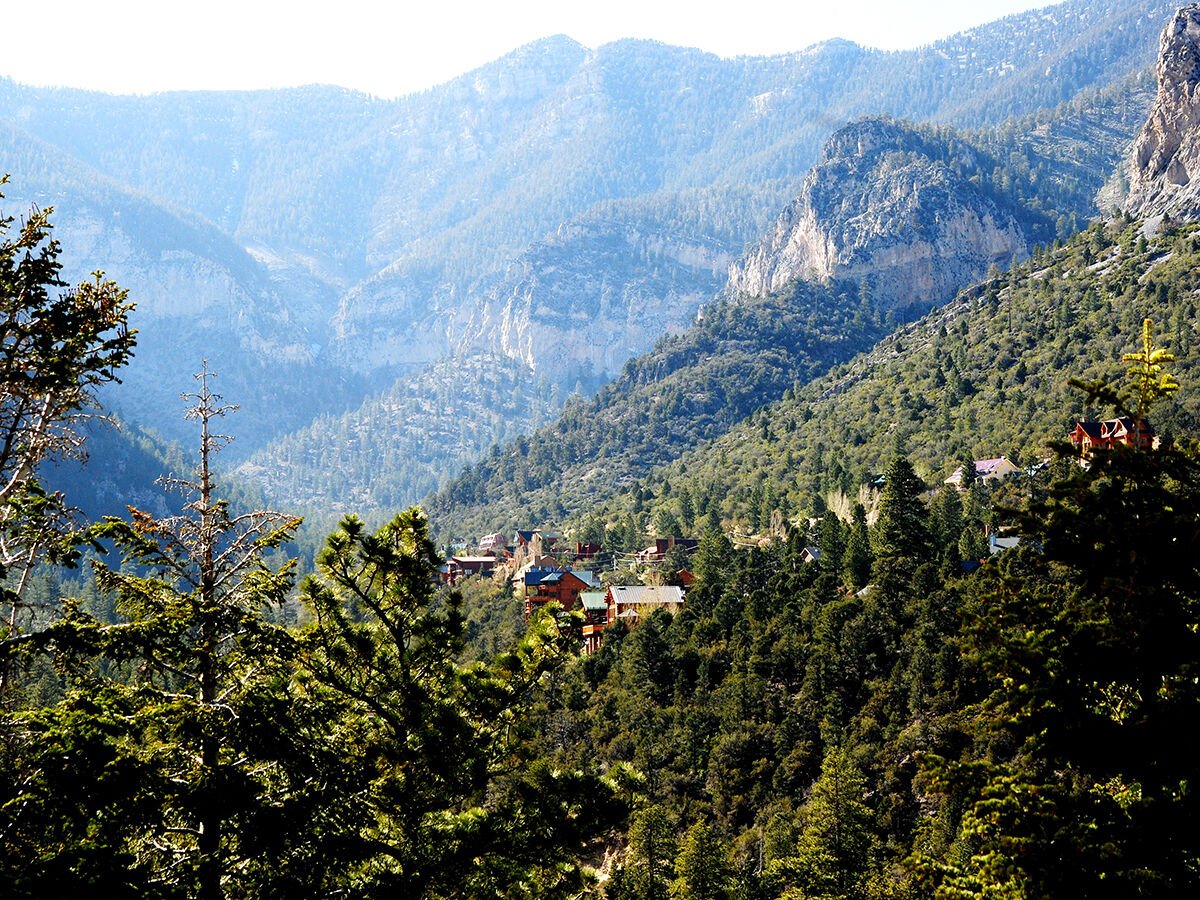 Mount Charleston/Spring Mountains, Nevada
5.5 hours northeast
Head for these hills for clean air, hiking, and exploration. Over 60 miles of trails traverse the alpine terrain in this National Recreation Area, the most strenuous of which summits Mount Charleston at nearly 12,000 feet. A fully accessible half-mile paved walkway leads to the Desert Overlook, which offers clear views from a high elevation (Area 51 is just over the horizon). If it's your first time visiting, stop by the Spring Mountain Visitor Gateway in Kyle Canyon, which has the nation's first Cold War memorial and the Seven Stones Plaza, a sacred space that pays tribute to the area's seven indigenous Southern Paiute tribes. Book a cabin at the historic Mt Charleston Lodge and fall asleep 7,000 feet above sea level, or stay at The Retreat on Charleston Peak for a boutique hotel getaway. There's snowboarding, sledding, and skiing in the winter months at Lee Canyon.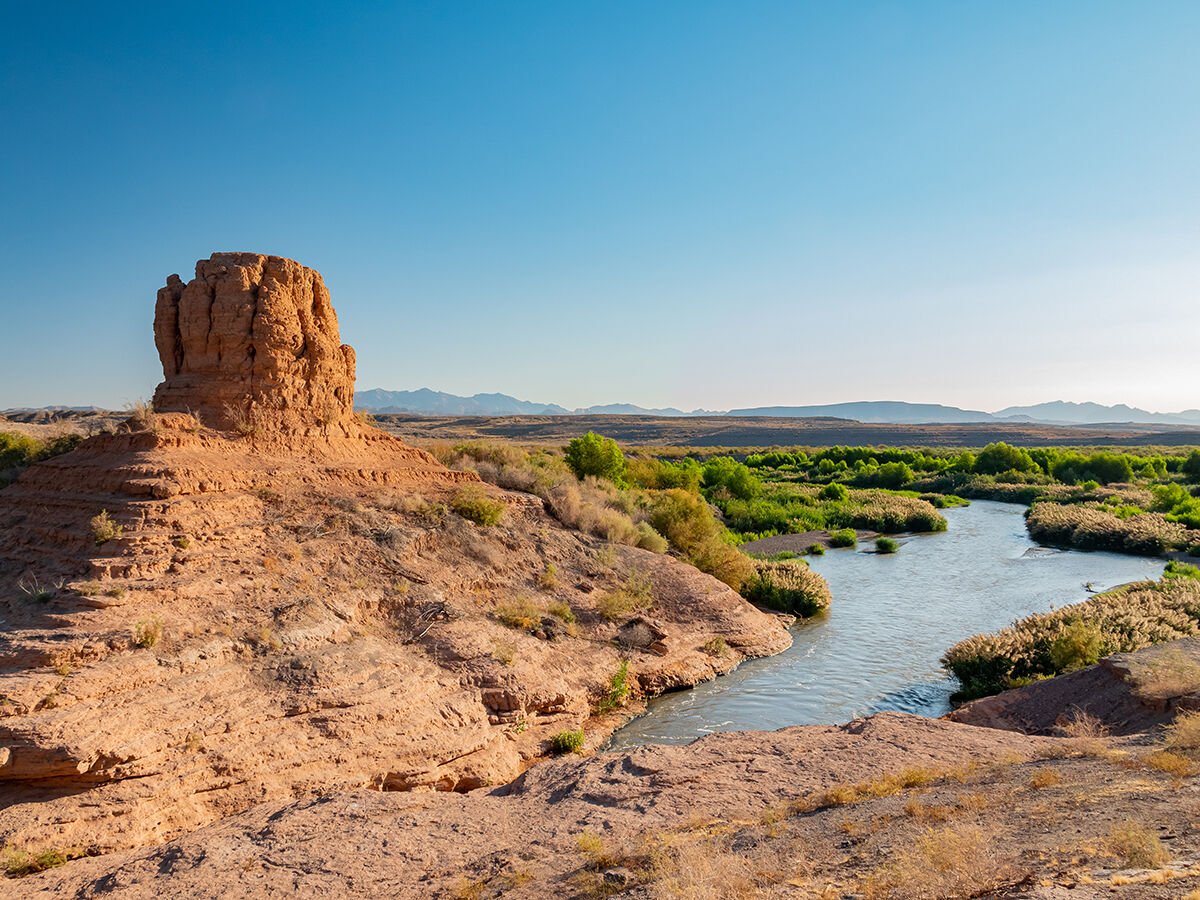 Lake Mead National Recreation Area, Nevada
5 hours northeast
Find some peace and quiet on the shores of the largest manmade reservoir in the country. The lake spans over 100 miles, so the options for R&R seem endless: boating, kayaking, fishing, and even scuba diving in the clear waters. If you'd rather be on dry land, several hiking trails lead into the eastern Mojave Desert; late winter to early spring is the best time to visit since the temps are much cooler. The park is teeming with wildlife, like desert tortoise and bighorn sheep, and if you make it out before March, you might be able to spot bald eagles in the sky. If you're short on time, the 12-mile drive on Lakeshore Road will take you past the main boat marina, Boulder Harbor, and several overlooks where you can pull over for a photo. At the south end of the road, head east for a few miles through Boulder City to get to the Hoover Dam Visitors Center. If you want to make a weekend out of it, there are 900 campsites throughout the park.
Small Town Vibes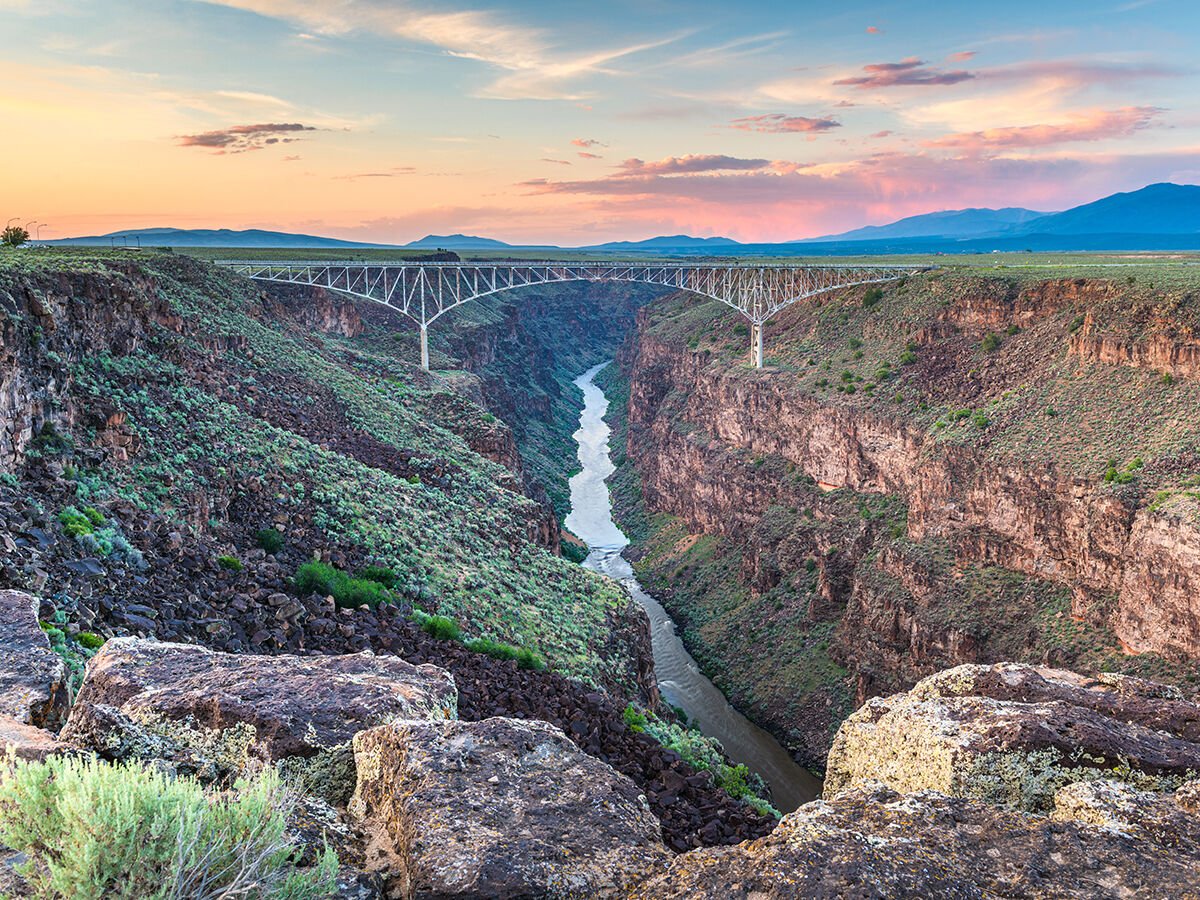 Taos, New Mexico
14 hours east
To go off the grid, you'll need to put in some miles—about 900, to be exact. But the long trip will be worth it when you reach the small arts town of Taos.
This Southwestern community is home to an arts colony that dates back to the late 19th century and, long before that, to Native American artisans. A good place to start is Taos Art Museum, which showcases work from the Taos Society of Artists. From there, spend the afternoon perusing locally owned shops like Bryans Gallery and MoMo Taos.
Though it's closed as of press time due to COVID-19, the pre-Columbian Taos Pueblo is integral to the identity of Taos. Quite likely the oldest continuously inhabited settlement in the United States, the buildings are at least 1,000 years old and have been designated a UNESCO World Heritage Site and a National Historic Landmark. The people who live here speak the Tiwa language and have a deep respect for carrying on the traditions of their cultural heritage and, in normal circumstances, open their doors for visitors to learn more about their history and shop handmade pottery and jewelry.
Near the plaza, La Cueva Cafe serves up the town's popular smothered enchiladas, while World Cup is a reliable pick for espresso and people-watching. Outside of the main hub, look to The Love Apple and Lambert's of Taos for your date-night dinner; both have cozy outdoor patios.
The Historic Taos Inn is a local favorite for cocktails and also a great place to stay if walkability is a priority. If it's not, Palacio de Marquesa has rooms inspired by female artists who at one point called Taos home. To go fully off the grid, look to Airbnb to book an Earthship, which is made from recycled materials and run on solar power and rainwater.
You've already made the long journey, what's a few more miles? 30 minutes north you can hit the slopes at Taos Ski Valley. Head east for 50 minutes and reward yourself with a soak at Ojo Caliente Mineral Hot Springs. Steady as she goes for another half hour, and Georgia O'Keefe's Ghost Ranch is a must-see.
Traveler's note: Check New Mexico's travel restrictions to stay up to date on the latest guidelines.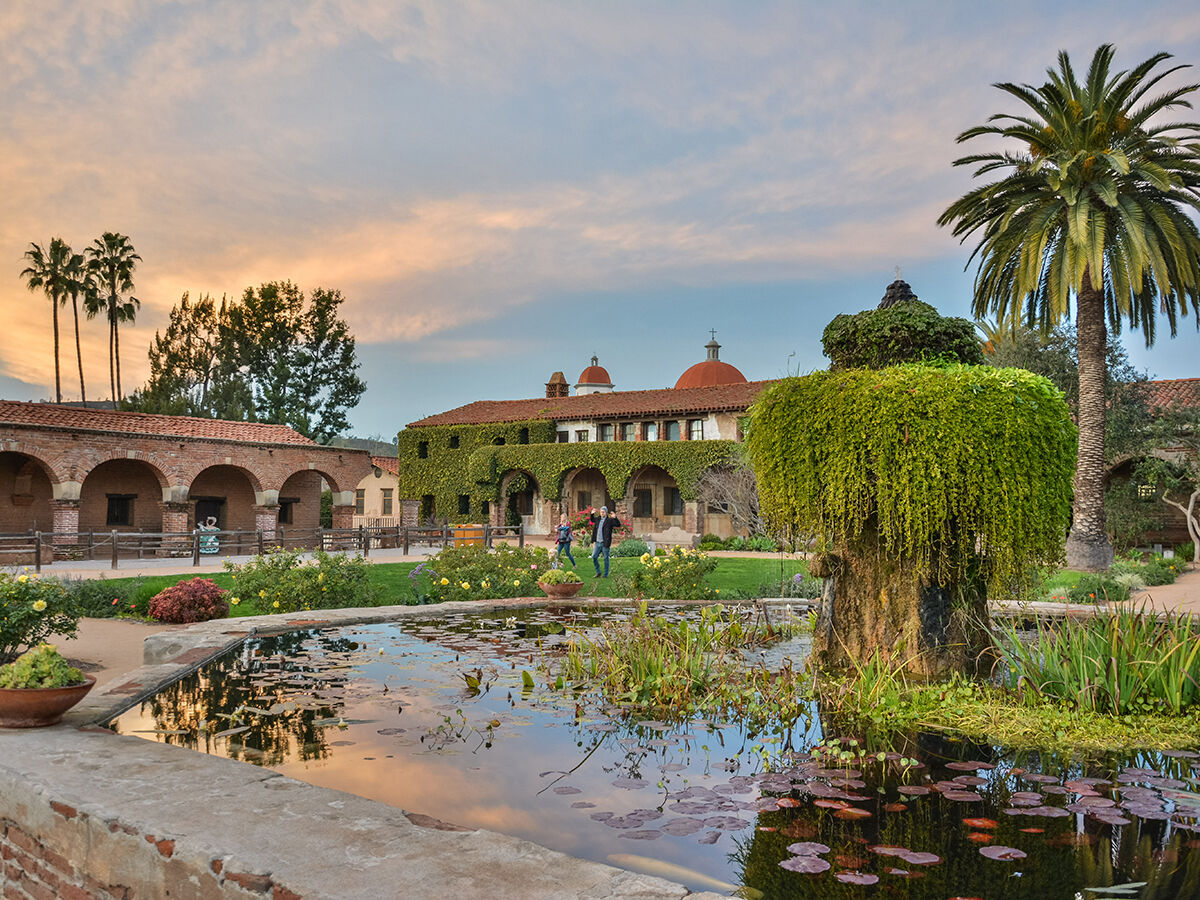 San Juan Capistrano
1 hour north
This micro-destination south of Orange County's urban centers packs an impressive roster of eats, sights, and shops into the span of a few blocks. Plan to visit Mission San Juan Capistrano, the town's most recognizable landmark and home to California's oldest building that's still in use, a chapel that dates back to 1782. Take a self-guided tour of the grounds—the museum is a picturesque backdrop for a quick rest stop that's chock-full of information regarding the history of the mission and the landscape, showcasing native flowers and plants. Time your visit right and come spring, watch as the mission prepares for the annual return of the famous migratory swallows that nest on the property. Off Camino Capistrano, Old Barn Antique Mall is brimming with unique finds, and two small wine bars, Rancho Capistrano Winery and Five Vines Wine Bar, pour boutique wines from a variety of vintners on spacious outdoor patios. To eat, look to locally beloved Heritage Barbecue (line up early!), recently opened Mayfield, and Trevor's at the Tracks inside the 1894 railway depot. Just across those tracks, Los Rios Historic District is a quaint stretch that's not to be missed. Enjoy a relaxed coffee break at Hidden House Coffee Shop, or reserve tea time in the garden at The Tea House on Los Rios. Down the road, find kid-friendly activities like gold panning and a petting zoo at Zoomars or a seat among nature at Los Rios Butterfly Garden. Accommodations at the Inn at the Mission San Juan Capistrano place you right in the center of it all.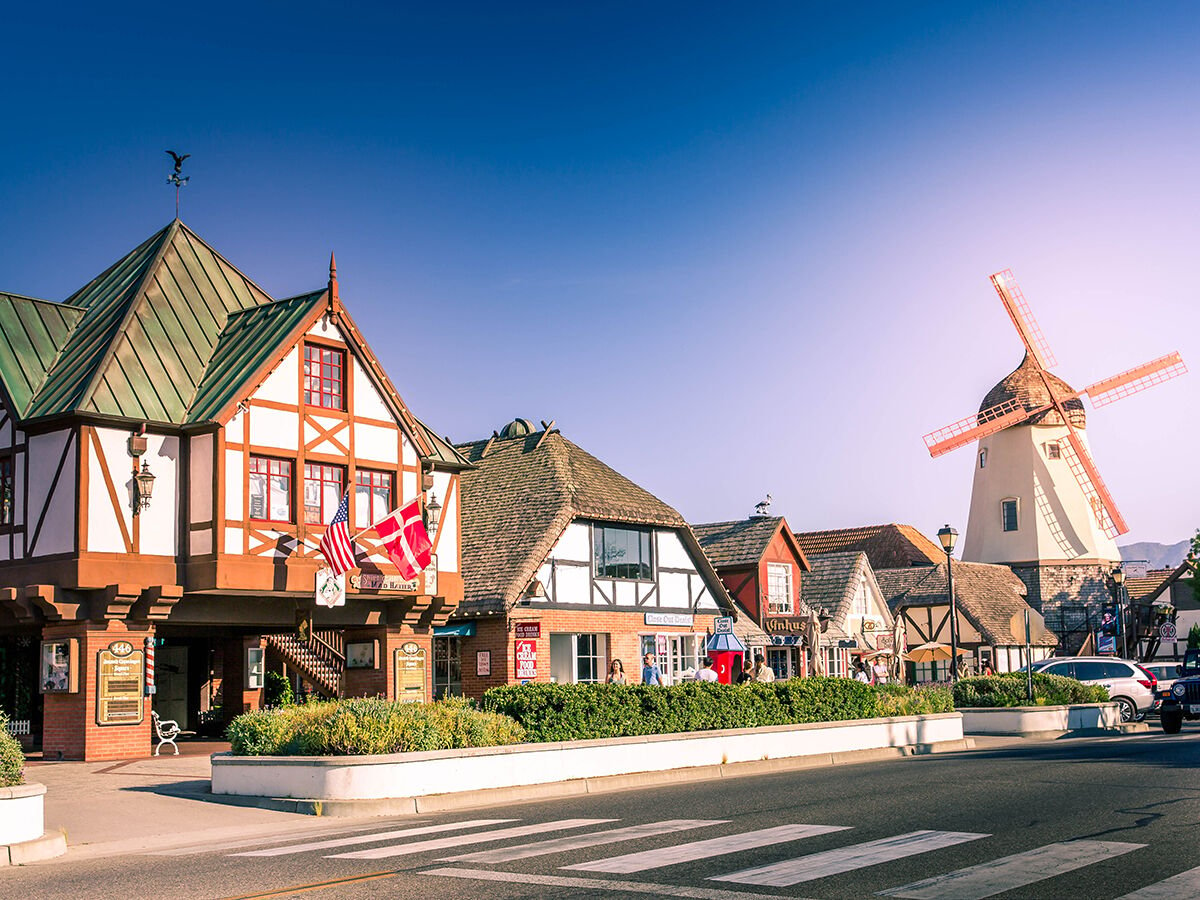 Solvang
4 hours north
California is full of surprises (see: mountains, forests, deserts, and beaches within a day's drive of one another), but none quite like the charming Danish village of Solvang. Tucked away in the Santa Ynez Valley, this sweet treat delivers on photo-ops, good eats, unique shops, and an excellent location neighboring Los Olivos wine country (see page 98!). Start your day with handcrafted coffee at Good Seed Coffee Boutique, Danish pastries at Mortensen's, or traditional Danish pancakes at the popular Paula's Pancake House. Around town, ONEderChild is a must for colorful toys and gifts handpicked by co-owners Matt and Kiel, and the Solvang Spice Merchant sells a lineup of one-of-a-kind spice blends. If you don't want to travel by foot, tour Solvang by eMoke, an emission-free, street-legal vehicle that you can rent by the hour. Just outside of the main stretch, locals flock to Leonardo's Ristorante & Pizzeria for handmade pastas and pizzas—ask for the chili oil, homemade by Leonardo himself, to give your meal an extra kick. In town, the Copenhagen Sausage Garden is a great lunch stop with plenty of outdoor seating, and the Mirabelle Inn hosts an upscale dinner for two at the Michelin-recognized First & Oak. Newcomer The Winston opened its doors last summer to offer a chic 14-room boutique stay right in the center of town in the historic Old Mill Clock Tower.
Traveler's note: Solvang is a small town and is operating with limited availability. Reservations are recommended!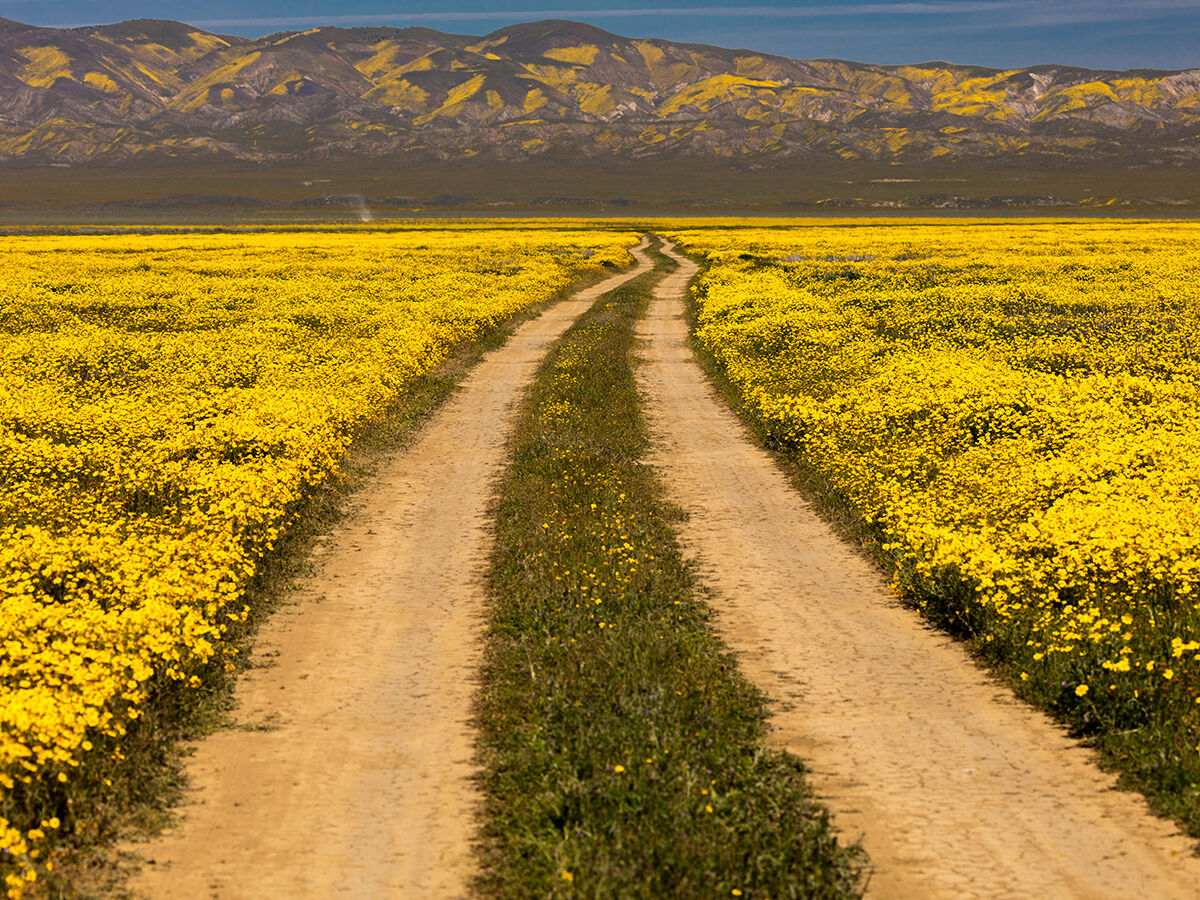 New Cuyama
4.5 hours north
For much of its two-hundred-year history, it was fairly easy to miss this tiny farming town. That changed last year with the reopening of Cuyama Buckhorn, a midcentury modern revamp of an old motel by the same name. The hotel has 21 renovated rooms and suites and a genuine farm-to-table restaurant highlighting the bounty of Santa Barbara and Ventura counties. The micro-destination's main draw is its high desert scrub surroundings, mountain views, nearby hiking and wine tasting, and crystal-clear skies for stargazing. Also in town is the Blue Sky Center, which plays a pivotal role in business development in Central California's high desert pistachio farming community. On-site camping facilities, art shows, a printing company, woodworking workshops, and tours of the foundation are all offered to visitors.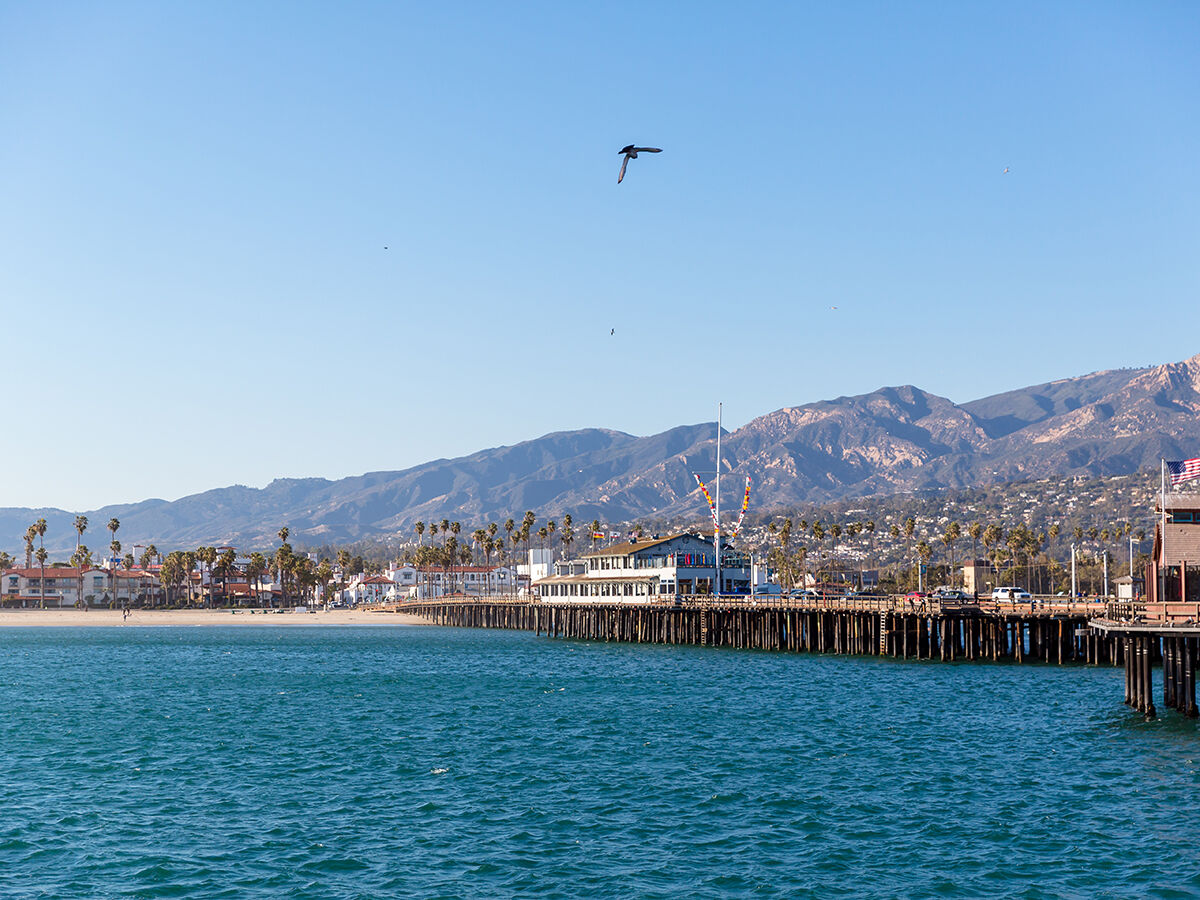 Santa Barbara
3.5 hours north
If you're going to leave a royal lifestyle and palatial digs for U.S. soil—we're looking at you Harry and Meghan—Santa Barbara is the next best thing. Often called the "American Riviera," the scenic SoCal city checks all the boxes for vacation pleasures.
One of the best areas to start is the walkable Funk Zone. Located between the ocean and the 101, the Funk Zone has transformed blank walls into vibrant murals and former warehouses into industrial-chic dining spots. Municipal Winemakers promises a breezy patio overlooking Anacapa Street for people-watching to pair with your pinot. The hip but elegant Pearl Social is a recent addition that's turning out craft cocktails and food by Jason Paluska, the chef who runs Santa Barbara staple restaurant The Lark. Elsewhere in the Funk Zone, try modern Mexican plates that pay homage to the country's pre-Hispanic roots at Flor de Maíz.
A walk along State Street means a mishmash of local gems (like Ace Rivington for designer denim) alongside chain and novelty shops, but the real finds are on the periphery. The corner of East Canon Perdido and Santa Barbara streets can easily occupy your afternoon, between caffeine at Handlebar Coffee Roasters, shopping for women and kids at Jake and Jones, Lebanese fare on a large patio at Zaytoon, and a stop at El Presidio de Santa Bárbara State Historic Park, where you can see one of California's last Spanish fortresses, including two original adobe buildings.
Given its nearly perfect weather year-round, socially distanced activities in Santa Barbara are a cinch. Douglas Family Preserve—set on bluffs overlooking Arroyo Burro Beach and named after actor Michael Douglas, who helped save the area from development—offers hiking and biking trails, as well as off-leash areas for dogs. In nearby Goleta, Ellwood Mesa has similar views over a more expansive 230 acres. You might want to save this visit for the fall, when thousands of monarch butterflies migrate to the preserve's Goleta Butterfly Grove. If you prefer to stroll, take a self-guided tour (starting mid-February) at Lotusland, a botanical garden on Madame Ganna Walska's former estate, where the Polish opera singer spent her twilight years.
A crop of new properties are providing more price-friendly accommodations, like Mar Monte or La Playa Inn, which has all the Spanish Colonial design details you'd want in a Santa Barbara stay—mission tile roofs, ornate staircases, and a charming patio where you can dig into your complimentary daily breakfast. But if you want to splash out, book a stay at Hotel Californian or the ultra-regal Rosewood Miramar Beach in nearby Montecito. You might even catch a royal sighting.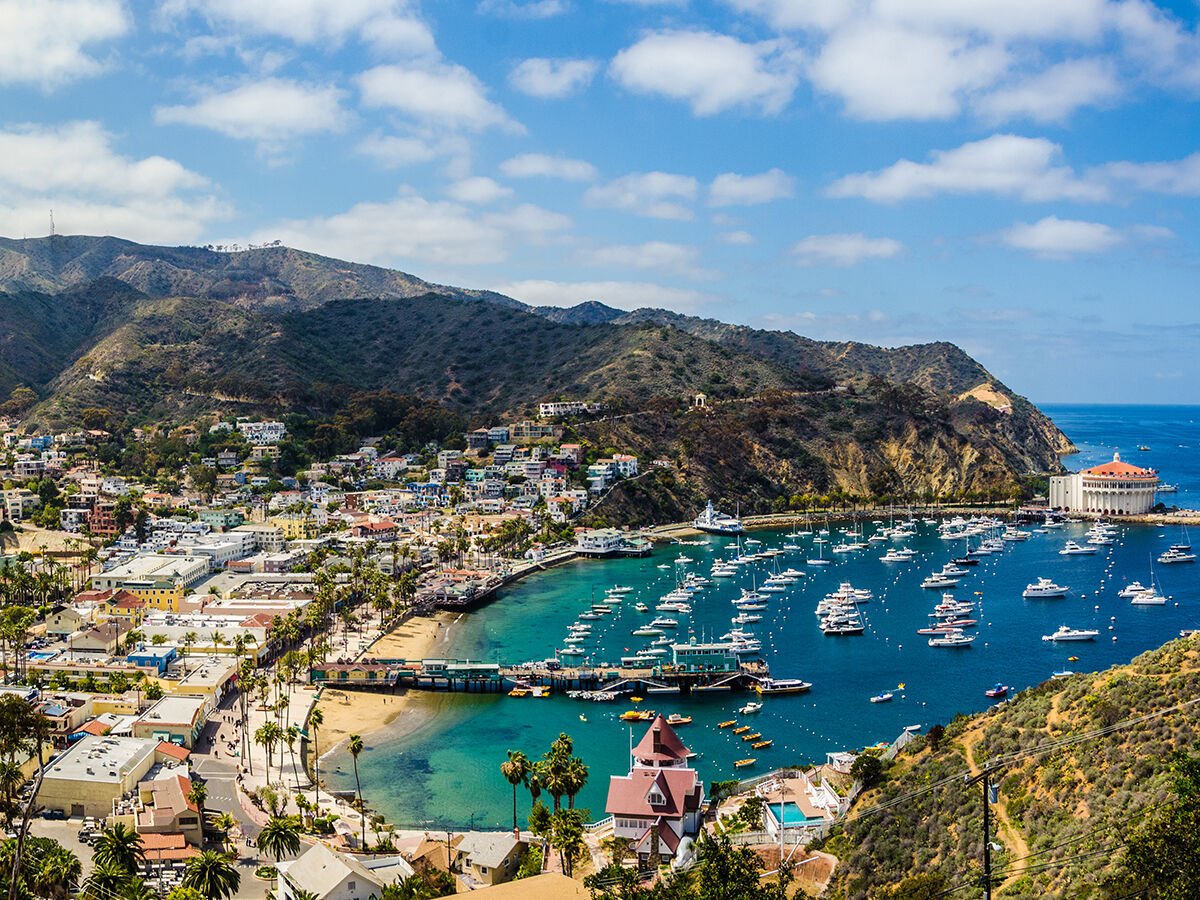 Catalina Island
1 hour via ferry from Dana Point (1.5 hour drive north)
Hop on the ferry and let your mainland worries slip into the sea breeze as you charge across the Pacific in the company of dolphins. The dreamy isle of Catalina is a world unto itself, where bison roam and golf carts outnumber cars. Check in to Hotel Atwater; the historic 1920s Wrigley Family property got a modern refresh, and it hosts you right in the center of town. Then immediately head to Descanso Beach Club for street tacos and a Catalina Unquarantini (Tito's, Aperol, and citrus juice). For an afternoon adrenaline rush, harness up and zip-line down the steep seaside canyon or opt for Rumble & Trek, a bison safari in a biofuel Hummer followed by a 2.2 mile elevated hike for arresting views of the island's far side. A 30-minute stroll up the hill from town leads to the Wrigley Memorial and Botanical Garden, where you can see plants that are endemic to the island and explore the chewing gum magnate's legacy of protecting Catalina's natural wonders. Nighttime means sustainable seafood at BlueWater Avalon or casual bites at Luau Larry's, which serves the island's signature Buffalo Milk cocktail—a boozy milkshake spin on a white Russian. Lastly, keep an ear open for more pop-up sleepovers at the landmark Casino Ballroom, where two lucky guests at a time get the art deco gem to themselves and enjoy a private concierge, tour, screening, and 1920s drinks and cuisine.
Wine and Dine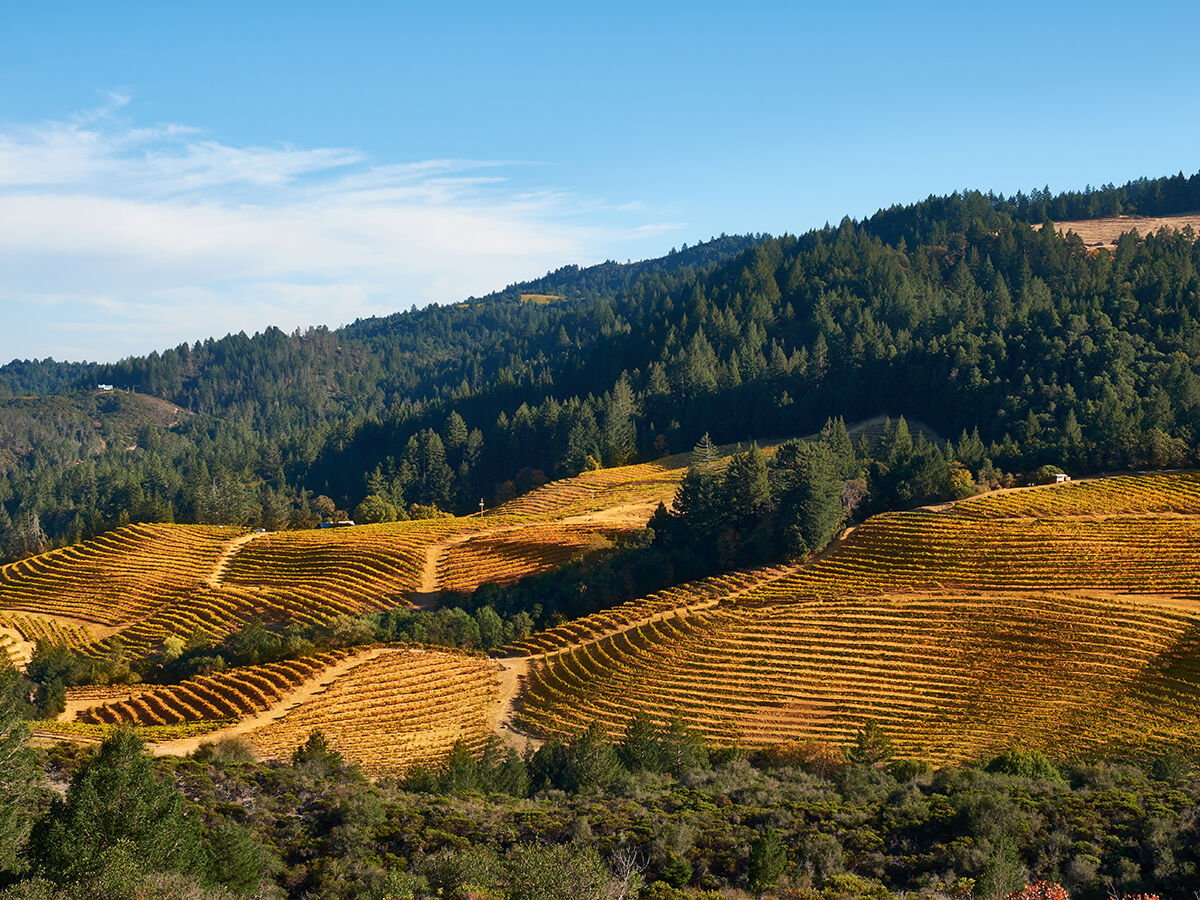 Napa Valley
8.5 hours north
Napa Valley has been hard hit with fires scorching the region, but most of the landscape remains beautiful and vibrant, and the resilience of the locals is as strong as ever. Winter season means new buds on the vines, fewer tourists, and plenty of great wine and food, so it's the perfect time to support the wine country and contribute to its recovery.
When it's time for wine tasting, head to Hudson Ranch for elegant chardonnays in a dreamy setting, Relic Wine Cellars for Rhône blends and views of the bay, Crocker & Starr Wines for classic Napa sauvignon blanc and exceptional cab Franc, or Cervantes Family Vineyards, a stunning 110-acre estate producing bold yet balanced cabernets. If sipping vino at an animal sanctuary sounds like heaven to you, Oasis by Hoopes is the new boho-chic spot replete with market lights, an Airstream, a daily farmers' market, and an upcycled lounge scene by the vines. In downtown Napa, go for the fizz at Be Bubbly, the only Champagne and sparkling wine lounge in the area. Or indulge in gourmet cupcakes and sparkling wine pairings at Bar Lucia at Oxbow Public Market.
Had enough wine? Craft brews and pastries made from scratch color the menu at La Cheve Bakery and Brews. Order a Mexican Dream Lager and Momma Juana's Mexican sweet bread. The glam-meets-Zen Morimoto means hamachi tacos and arty cocktails. Locals know that Angele reigns as the best spot for lunch, Ciccio serves up divine Italian fare in Yountville, and the Taco Addiction food truck is the undisputed go-to for quesabirria tacos.
Check in to a cottage, plunge into the mineral springs, or play lawn games at the recently reimagined Dr. Wilkinson's Backyard Resort & Mineral Springs (established 1952). Or try one of three geothermal pools at the Roman Spa Hot Springs Resort. The George, a refurbished 1891 Queen Anne Victorian, opens as a boutique inn early this year. The swanky Solage, an Auberge Resort & Spa, has undergone a $30 million upgrade. The newly built Four Seasons Resort and Residences sports its own on-site vineyard and a unique spa vibe—picture swaying hammocks above geothermal pools.
The magic of Napa Valley has brought so much joy to so many, travelers can support its recovery by visiting or by donating to their fire disaster relief fund at napavalleycoad.org/donations.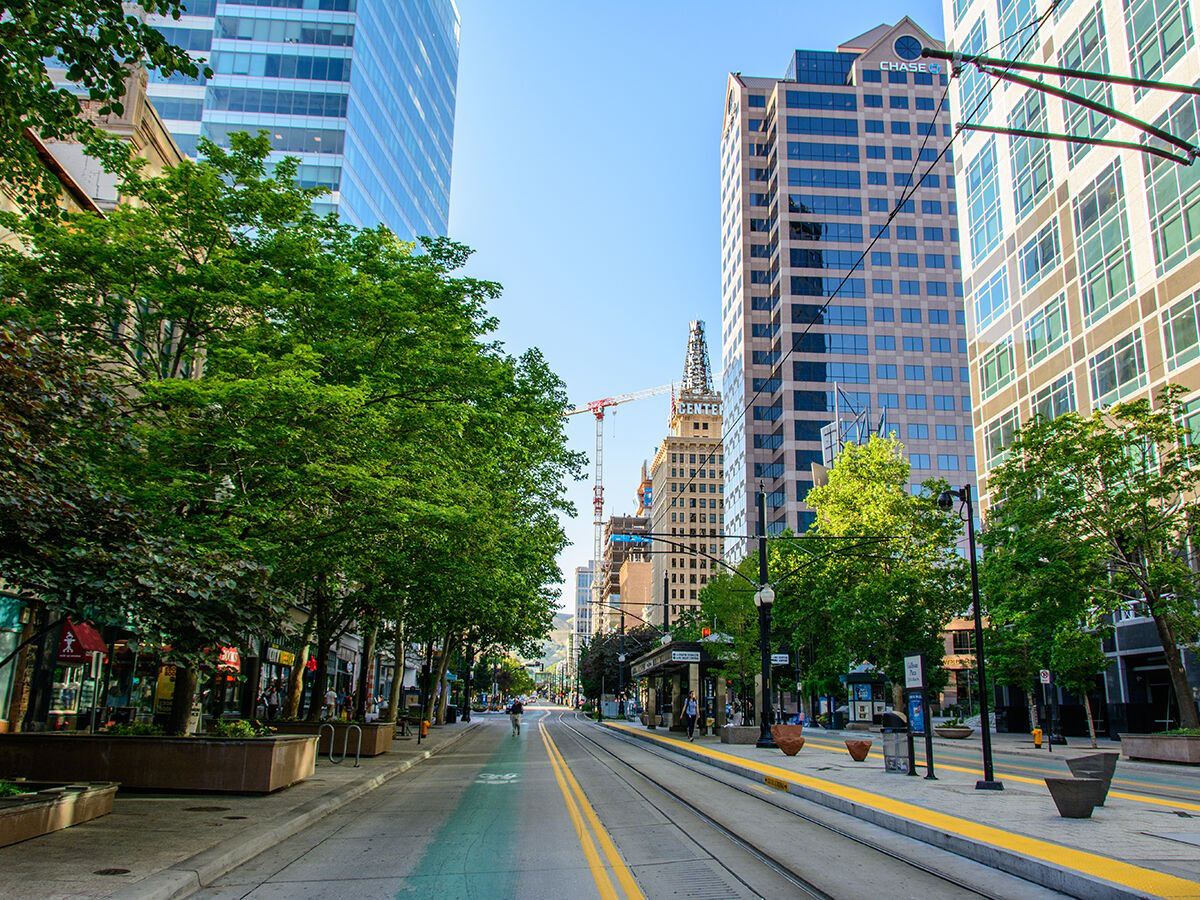 Salt Lake City, Utah
11 hours northeast
While the mountain city's claim to fame is its proximity to hiking trails, outdoor adventures, and posh ski resorts, it also has a burgeoning craft beer, dining, and pub scene that shouldn't be overlooked. It's true that Utah's liquor laws are more conservative than California's, but you can drink here—and the days of the "Zion Curtain" are no more. Start downtown at the state's oldest craft brewery, Wasatch, which is famous for ales with names that poke fun at stereotypes, like "Polygamy Porter," then head to Squatters Pub for IPAs, spiked seltzer, and seasonal brews on tap. Desert Edge Brewery has been in the city's historic Trolley Square since the early '70s and is a must-stop for its award-winning Happy Valley Hefewiezen. You can even tour the landmark Trolley Square Water Tower (over 100 years old) before you start sipping—just book in advance, since tours are now limited to one a day. Fun fact: Downtown's Main Street used to be called Whiskey Street until it was changed in the early 1900s, and the hip Whiskey Street restaurant pays homage to that history. Stop in for spiked coffees at brunch or elevated pub fare at lunch and dinner.
Salt Lake City has a good crop of trendy farm-to-table restaurants, like SLC Eatery, which serves beautifully plated appetizers on a cart that diners can flag down as it passes by. If you want to try a classic, check out Ruth's Diner. It just celebrated its 90th anniversary and is famous for its fluffy Mile High Biscuits and country gravy. Curious to try Mormon "funeral potatoes"? Gourmet twists on the state's comforting casserole side dish are at Fat Jack's Burger Emporium and Garage on Beck. Two proteins you have to try while in Utah are elk steaks and locally caught trout, and the white tablecloth ambience and scenic views at Log Haven are the perfect place to do so.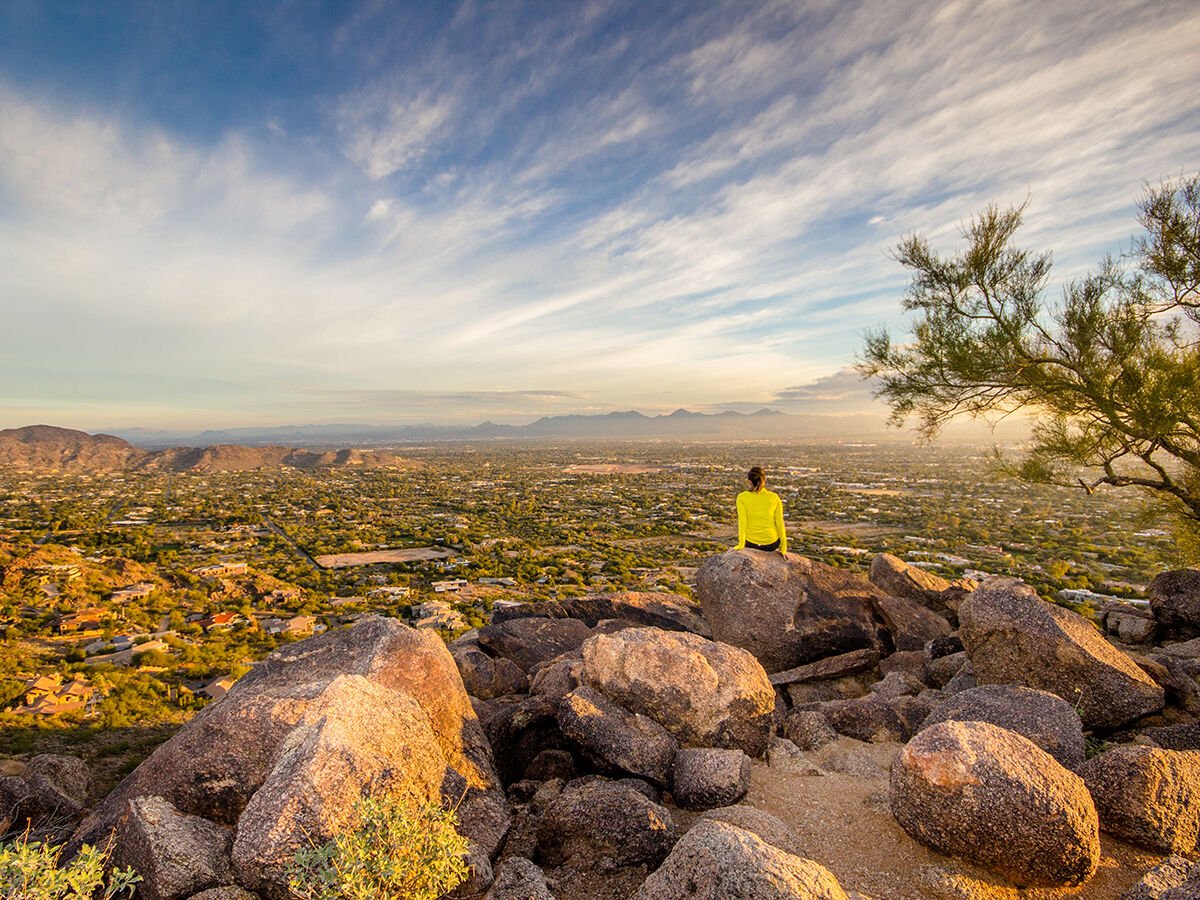 Scottsdale, Arizona
5.5 hours east
Just east of state capital Phoenix, the ever-changing Scottsdale is a must-visit for its retreat vibes, hip culinary scene, and slew of exciting openings—most recently Adero. The region's first-ever Dark Sky Zone resort, named after the canyon it's nestled in, Adero comes with modern decor and desert views that are just as mesmerizing as the sky is by night. More accommodation options include Boulders Resort & Spa, with a new certified organic garden on site, Hotel Valley Ho for midcentury modern digs, and the glamorous Mountain Shadows Resort in the foothills of Camelback Mountain. To fill out your itinerary, consider longtime favorites like the recently reopened Frank Lloyd Wright masterpiece Taliesin West, and the many trails that make up the McDowell Sonoran Preserve. In Phoenix, the Desert Botanical Garden features desert plants from all over the world and is worth a stop before or after having a slice at Chris Bianco's famed Pizzeria Bianco in Heritage Square. Your dining experience in Scottsdale is moot without a visit to FnB. With James Beard Award–winning chef Charleen Badman at the helm, this veggie-driven restaurant was the first to put farm-to-table dining on the map in Arizona. New in Old Town, Benjamin's Upstairs is a swanky speakeasy fit for date night and Reserve wows with a 12-to-15-course dining experience and in-house sommeliers.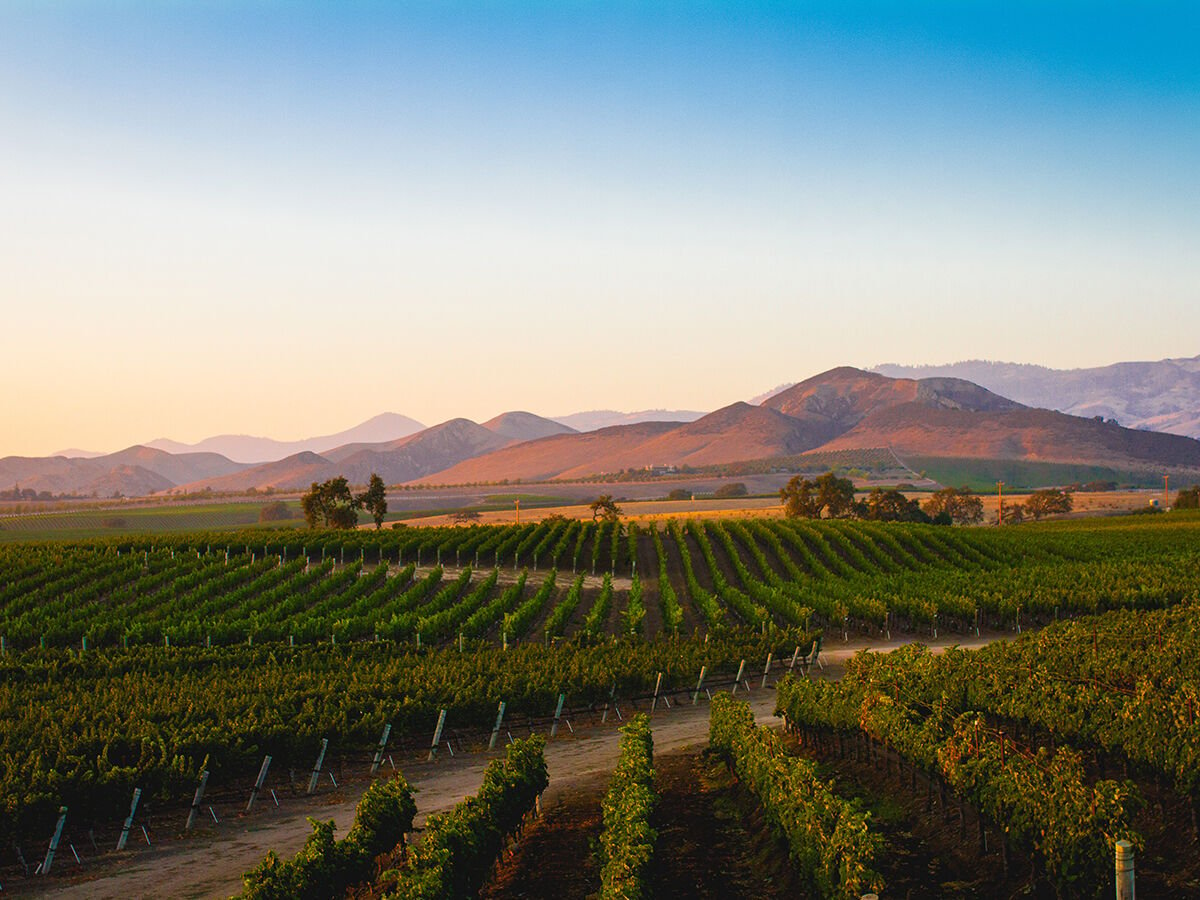 Los Olivos
4 hours north
Don't be fooled by the small-town vibes of this charming stop in the Santa Ynez Valley. Los Olivos has quickly become a hub for some of California's best boutique wines. The walkable Downtown Los Olivos leads you along Grand Avenue, which is lined with small-shop and often family-run tasting rooms. Most offer outdoor seating, though reservations are strongly recommended. Look for the charming red cottage of Stolpman Vineyard for syrah and roussanne wines. At Epiphany Cellars, taste small-batch Rhône varieties and pop into courtyard-adjacent Bubble Shack for a sip of some sparkling wines. Both offer the crafted wines of Blair and Sarah Fox, who co-own Blair Fox Cellars just around the corner. Saarloos and Sons is a local favorite for their cupcake flights, and the Austrian varietals of minimalist Solminer are not to be missed. In between sips, get some light lunch fare from Los Olivos Wine Merchant & Cafe, casual hot dogs to go from The Doggy Door, or something more substantial from newbie Nella Kitchen inside the luxury Fess Parker Wine Country Inn. Another rest stop is the cozy Wine Country Cabins behind Epiphany Cellars, and be on the lookout for the revamped, reopened Mattei's Tavern Bungalows come late 2021.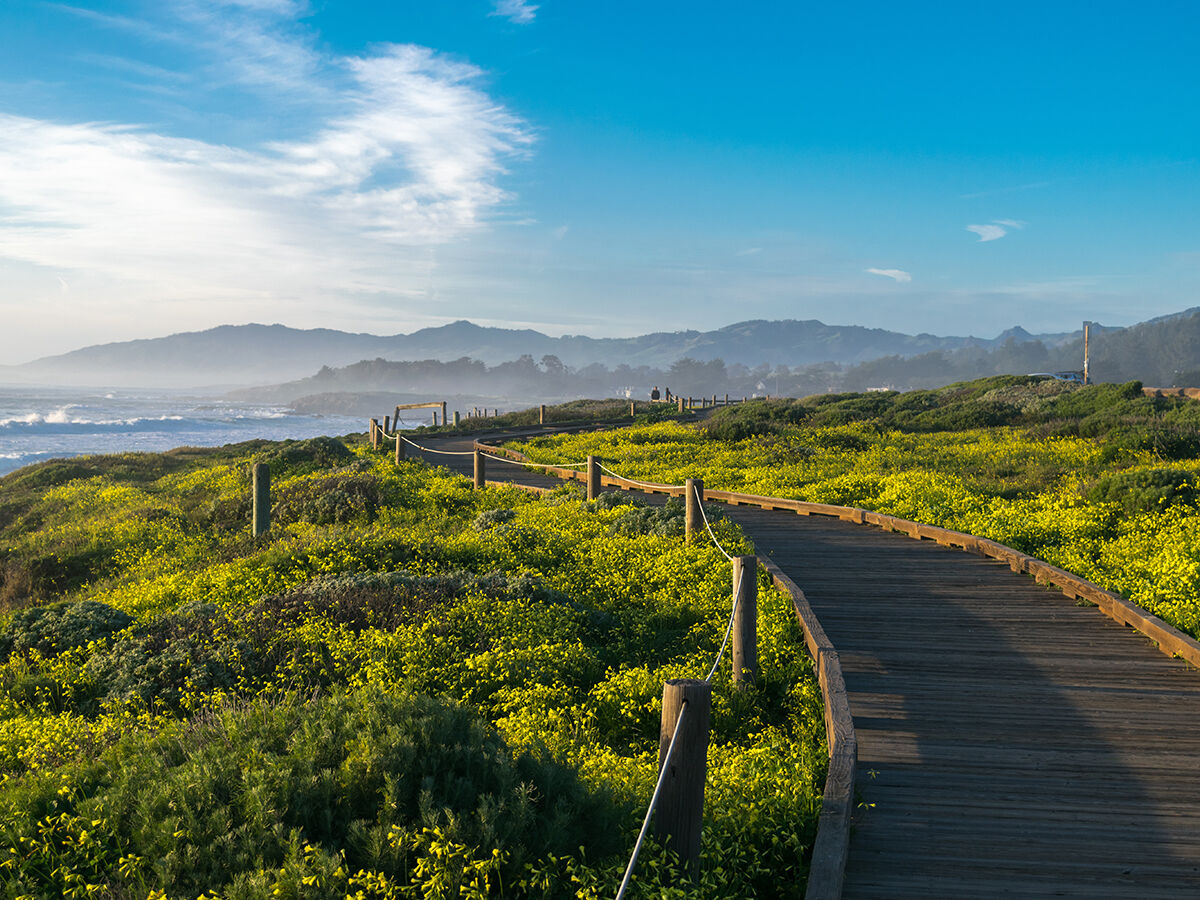 Central Coast
5 hours north
California's Central Coast is famous for its striking coastline and mist-shrouded coves, but along with scenic roads this part of the state is home to wineries, verdant farms, and small-town eateries that make it a drive-worthy destination for gourmands. Start in San Luis Obispo, or SLO, a city filled with missions, ranchos, and historic buildings (almost 200 buildings have a historic designation) to sample Santa Maria–style barbecue, a regional specialty. Old San Luis BBQ Company or Firestone Grill are your best gateway to experience tender tri-tip that's been fired over red oak on a hand-cranked iron grill. The Bee's Knees Fruit Farm launched new overnight stays in its 100-year-old farmhouse, where you can pick the produce for your dinner right from the farm and owner Pattea Torrence will bring in local beef, chicken, or seafood for the main dish. North on the famous Highway 1 is Morro Bay (you'll want a photo!), where you can spot sea otters, and farther up the road is the town of Cayucos. Try the popular smoked fish tacos at Ruddell's Smokehouse, and be sure to pick up some sea-salt-dusted treats from Brown Butter Cookie Company. If you love getting hands-on, Marley Family Seaweeds offers foraging tours where you learn how to gather seaweed right from the tide pools, and you're rewarded with a bowl of freshly prepared ramen at the end.
Book a stay in nearby Cambria at the newly renovated White Water, a modern lodge overlooking Moonstone Beach. Comb the beach during the day in search of its namesake, then stop by Linn's bakery, a local institution, for an olallieberry (a type of blackberry) pie or tart. End the scenic coastal excursion in San Simeon (don't miss the colony of elephant seals who've taken up residence on the beach on the way in) and explore Estero Bluffs State Park, which has a flat four-mile hiking trail. If you hike down to the beach, you can see the wreck of a local fishing boat. Head to Hearst Ranch Winery before sunset and savor a glass of wine on the expansive lawn that overlooks the ocean. It's across the road from the iconic Hearst Castle, the former estate of William Randolph Hearst and inspiration for Xanadu in the film Citizen Kane.
Just 40 minutes inland from Cambria is Paso Robles, a booming wine region with rolling hills known for its zinfandels and its Rhône varietals, such as syrah. Although there are 250 boutique wineries here, Paso Robles has retained its rustic ranch feel and is more low-key than Napa. Stay at the new Lofts at the Market in the heart of downtown, or the nearby Stables Inn. South of SLO, Edna Valley is an up-and-coming wine destination that produces excellent chardonnays and pinots. Cheers!
Close to Home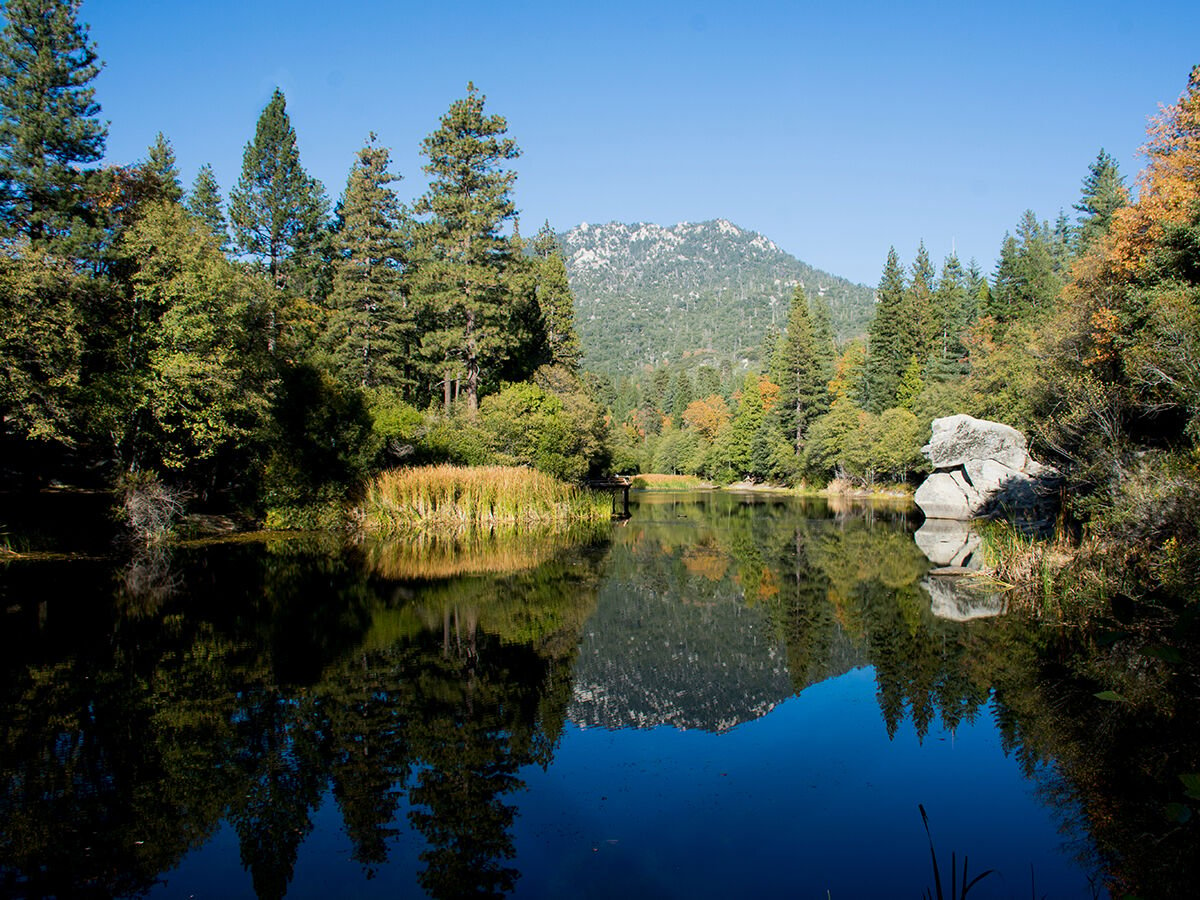 Idyllwild
2 hours northeast
Anyone looking for a quick mountain escape would do well to head straight to Idyllwild, a charming haven perched in the San Jacinto Mountains. It's one of the more popular weekend destinations in the area, with a slew of cozy cabins and the added bonus of snow during the winter—a true draw for San Diegans. Head into the Village Center to check out local shops and galleries and, if you're lucky, meet the town's canine mayor—Maximus Mighty-Dog Mueller II, or Mayor Max for short. To refuel, Idyllwild Pizza Company, Idyllwild Brewpub, and the Gastrognome are tried-and-true staples. Looking for a quick fix? Higher Grounds Coffee Shop will satisfy your caffeine cravings and hold you over with light pastries. Tasteful, artsy, and outdoors-oriented Airbnbs are popular, but cult favorite Hicksville Pines Bud & Breakfast offers accommodations for an offbeat good time. The resort, which opened in 2017, comprises cabins with quirky themes like Dolly Parton or Haunted Mansion. The obvious pick for cannabis connoisseurs is Room 420, which is outfitted with stoner-movie DVDs, a vending machine with good munchies, blacklight art, and a record player complete with a collection of psychedelic rock albums. (If you're not into that, don't worry; the property offers plenty of other accommodations that are weed-free.)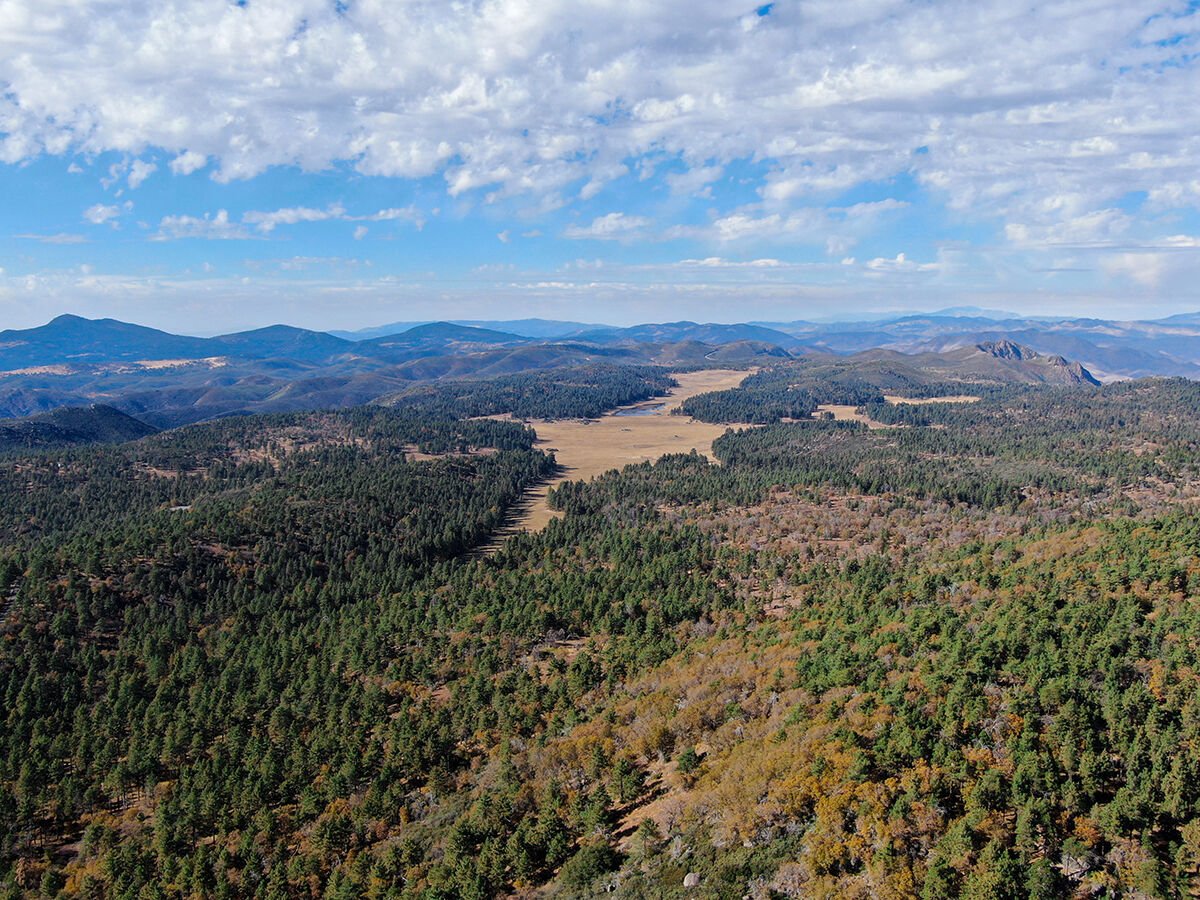 Jacumba Hot Springs
1 hour east
Just an hour east of San Diego is the tiny town of Jacumba Hot Springs, population 202. Its moniker was expanded from its old name, Jacumba, in 2013, when a developer who'd purchased most of the town decided to increase its curb appeal. As you might guess, the main attraction is Jacumba Hot Springs Resort, where three mineral pools of varying sizes and temperatures draw from the area's natural geothermal activity. The on-site restaurant and bar are the best in town, and its rooms were revamped just last year by a local San Diegan firm. A bevy of New Age Airbnb rentals populate this part of the high desert, owing their popularity in part to the "energy vortex" the town is said to contain. For those needing a little more action besides a funky history and sprawling desert views, Golden Acorn Casino is just down the road.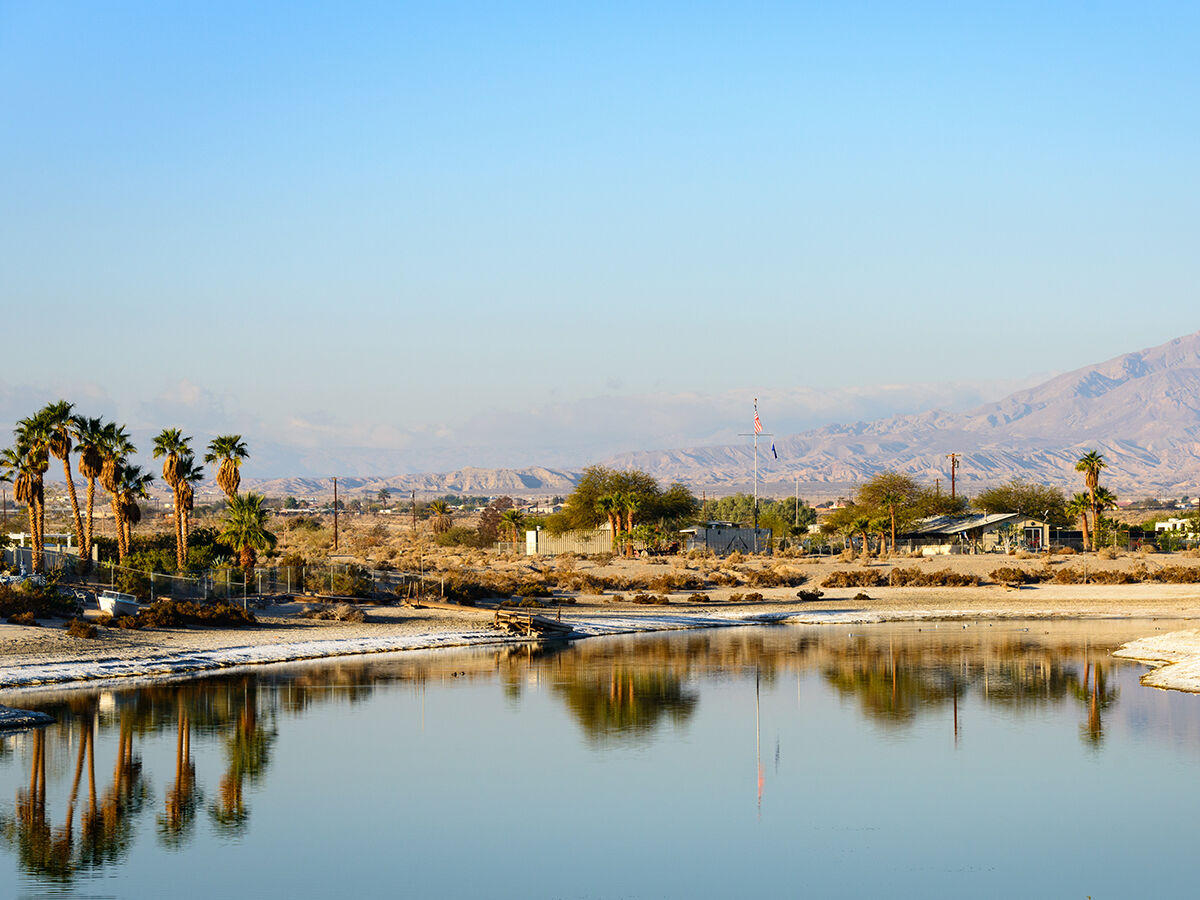 Salton Sea
2.5 hours east
The iconic Salton Sea sits on the San Andreas Fault, just beyond Anza-Borrego Desert State Park and the greater Palm Springs area. The highly saline lake—California's largest—was created over time from the runoff of the Colorado River. By the 1950s, developers aimed to make several towns that ring the lake into resort towns, the types of places to see and be seen outside the big city. That idea came to fruition for a brief time before petering out, and today, the area remains a fascinating but macabre tribute to the machinations of water rights and the oddities of the California desert. The Salton Sea has been shrinking, gradually at first but accelerated in 2018, when the state decided it would no longer divert water to the lake to keep it flush—so visit sooner than later. Explore its lakeside hamlets, like Bombay Beach; check out the psychedelic Salvation Mountain, an environmental art landscape worthy of Dr. Seuss; and see Slab City, which is one of the most well-known permanent anarchist communities in the country. (The residents have a reputation for being welcoming to tourists, but be respectful of personal and property boundaries, especially considering the pandemic—the nearest hospital is 40 miles away.) When it's time to head out, there's all kinds of desert recreation in nearby Anza-Borrego.