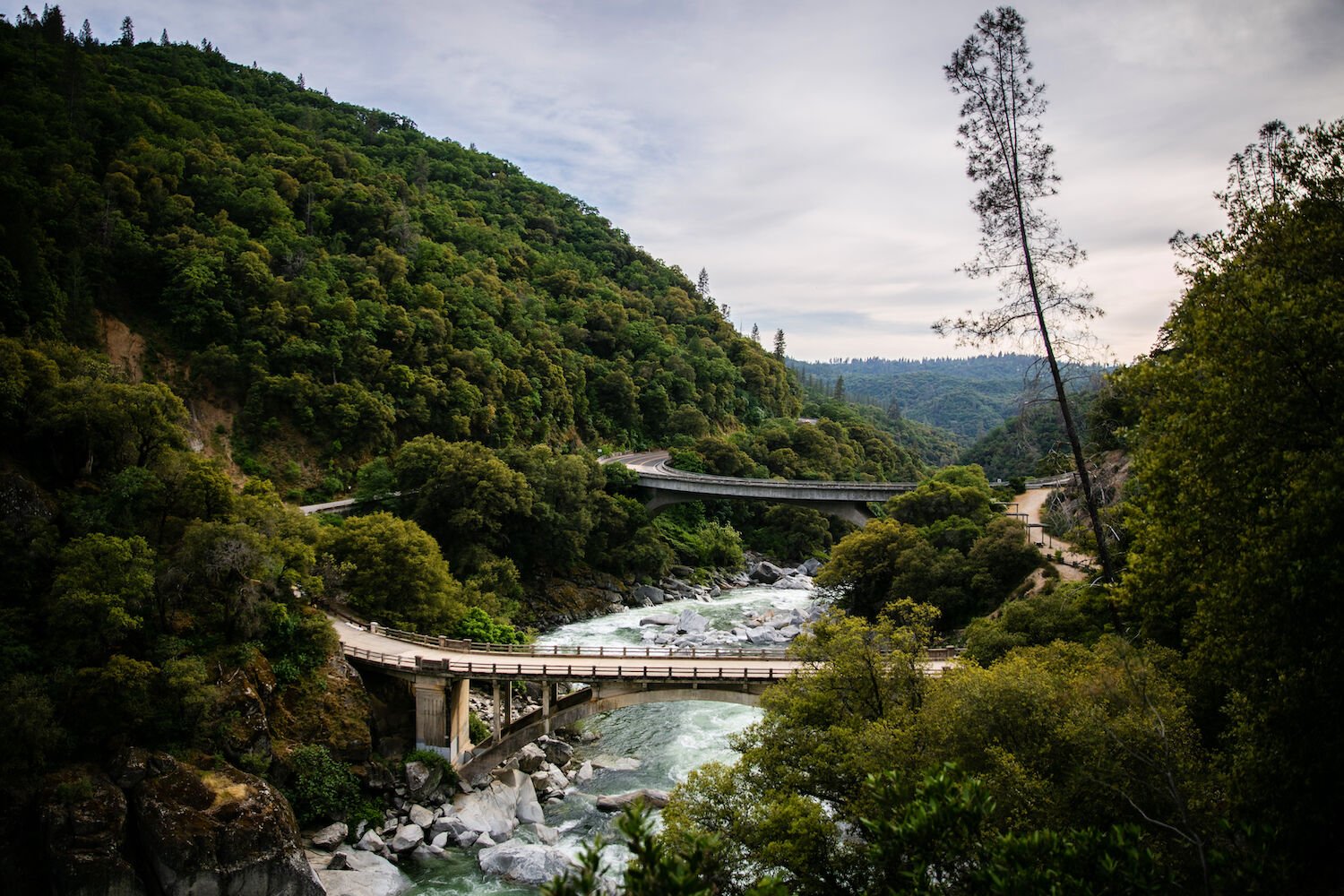 Visit California
Spurred by the discovery of gold in the American River in 1848, a flood of fortune seekers arrived at the California frontier. The massive migration that became known as the California Gold Rush turned the formerly rural Sierra Nevada into a region dotted with boom towns.
Two of the richest, Grass Valley and Nevada City, grew their business districts and Victorian neighborhoods from this early mining heritage. During their operative years, from around 1850-70, the mines in the immediate area extracted more than $400 million in gold, making Grass Valley the Golden State's most prosperous mining area at the time (that's about $15 billion in today's dollars).
As mining declined, attention turned away from the rural region, and the only reliable tourist attraction was the great outdoors. Now the boom is slowly coming back, thanks to ongoing revitalizations of both towns.
Erin Thiem
In particular, the renovations of two historical hotels—the Holbrooke in Grass Valley and the National Exchange in Nevada City—are key to this renaissance. Santa Barbara-based ACME Hospitality oversaw the revamp of both, using local architects, designers, and craftspeople to preserve the history of the grand properties while also giving it enough new and now.
Staff members seem more like docents of the hotels, telling the wild stories of its nooks and crannies, of which there are many. To give just one example, both hotels are rumored to be quite haunted by ghosts. On the streets, vibrant new merchants are making these 49'er towns true well-rounded destinations rather than a quick stop on a day trip to the past.
Grass Valley: Gateway to the Sierra Nevada
From its beginnings as the Golden Gate Saloon in 1852, Grass Valley's Holbrooke Hotel has held various names. Fires destroyed it twice on its way to the current two-story structure made of brick, stone, and wood. Famous guests include President Ulysses S. Grant, authors Mark Twain and Bret Harte, and it's rumored outlaw Black Bart preferred a room next to an exit door for obvious reasons.
The understated hybrid of antique and modern furnishings (including original clawfoot tubs) makes the 28 hotel rooms feel spacious and indulgent. I recommend a balcony king room, ideal for those who want to unwind while overlooking the bustle of Main Street, which is peppered with a neat row of Victorian façades and the Sierra beyond. Dogs are welcome guests in both the Holbrooke and National Exchange.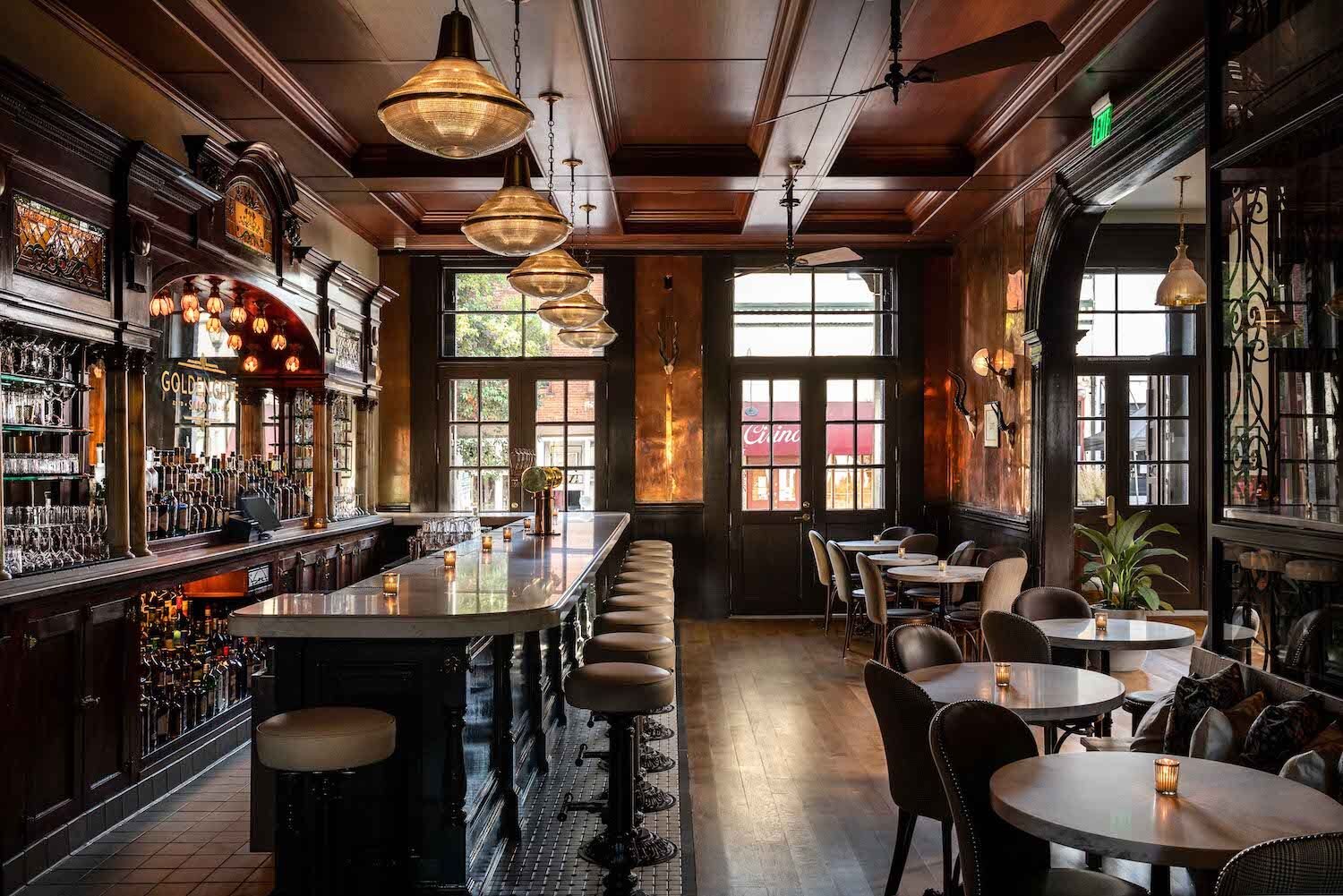 Kat Alves
The centerpiece of the hotel is the Golden Gate Saloon, with its original bar made of mahogany, marble, and stained glass. It was constructed in Italy before being shipped to San Francisco. Linger for an updated classic cocktail like a mezcal Negroni, or head to the dining room where chef Zachary Ahrenholtz features dishes inspired by California's Mexican heritage—from a barbacoa of lion's mane mushrooms, crispy potatoes, avocado, and pineapple relish to a birria that I still crave (braised short rib, onion, cilantro, yellow corn tortillas, and achiote rice).
In the evening, walk downstairs to the Iron Door, an underground bar that's rumored to have been both a brothel and a speakeasy, named after the metal doors that once led to a series of underground tunnels.
Spend your time wandering Grass Valley's historic downtown and mural hunting. Perpendicular to the hotel's location on Main Street is Mill Street, which is being transformed from a vehicular street to a pedestrian plaza following the success of its temporary closure during the pandemic. Drop in at Mill and Main, a cooperative boutique with clothing and jewelry, or find a favorite glass of wine at Cork 49 or Lucchesi Mill Street Tasting Room, both of which are well-stocked with in-state wines.
Nevada City: Mother Lode Beauty
Less than a 10-minute drive from Grass Valley, Nevada City was the preferred home base for most mine owners during the Gold Rush, and the entire downtown district—including the National Exchange Hotel—is listed on the National Register of Historic Places. Built in 1856, the National Exchange Hotel served not only those looking for accommodation and sustenance but also housed the first town telegraph office, was home to the United States Post Office until 1942, and had a stagecoach stop just steps away from the barroom.
After the extensive renovation, the 38 guest rooms and common spaces blend modern luxuries and vintage pieces with art featuring fearless women from the 1800s through today. As with its sister property, it's a relief that the renovation avoided kitschy Gold Rush décor, managing to pay respect to the past and revitalizing the hotel to modern-day standards.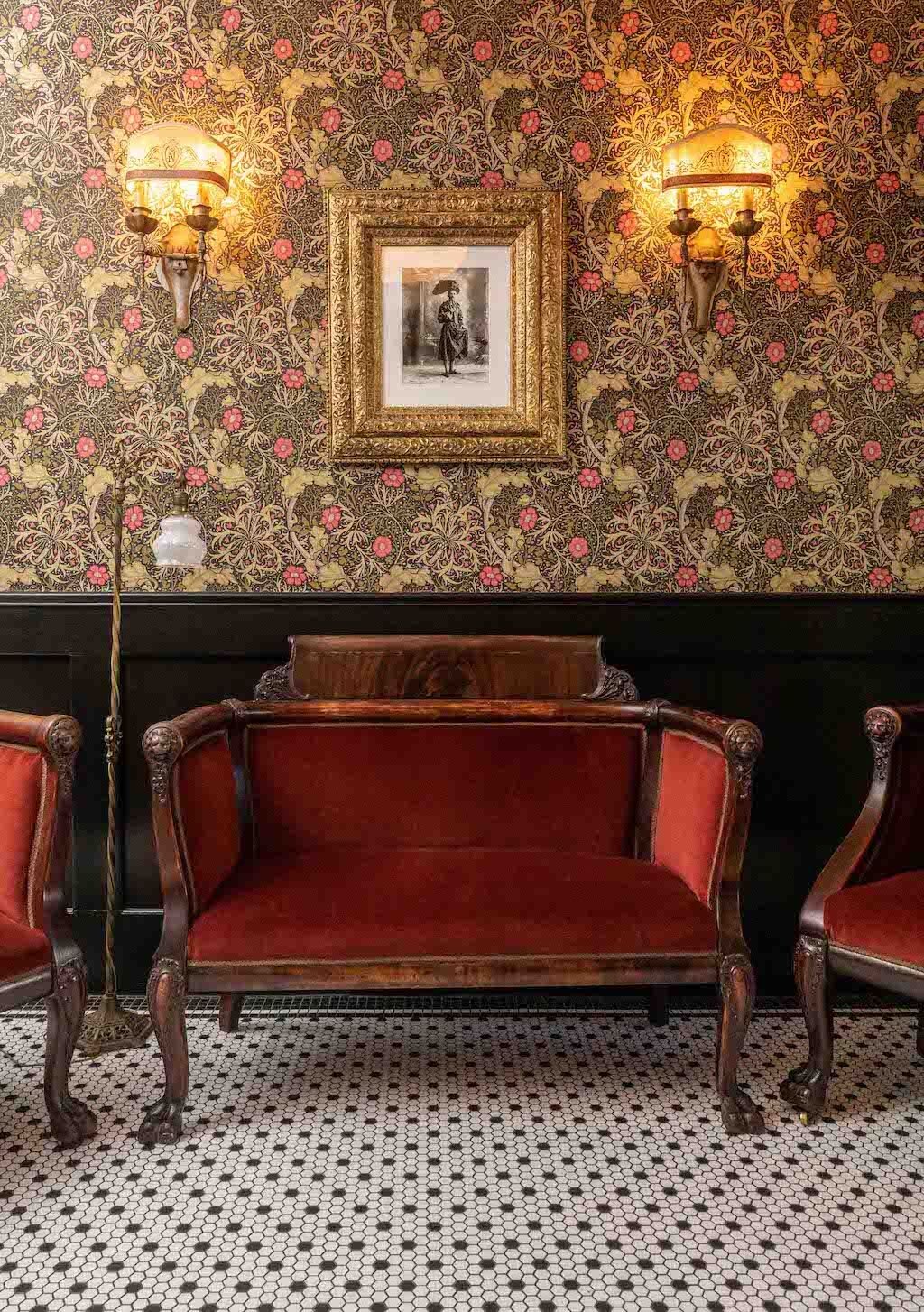 Kat Alves
Even if you're not a design fan, you may find yourself combing the entire property to view different styles of beautiful William Morris wallpaper, notable for its dense, Victorian-style prints inspired by nature. King suites with large windows that open to the balcony are optimal for guests seeking a more semi-private living space with fresh air and views of Nevada City's Broad Street, which is basically its main drag. Walk-in showers and Mascioni robes ensure comfort while giving guests the feeling they've traveled in time — exactly how a vacation should be.
On the ground floor, the hotel's restaurant Lola is named after Lola Montez, a woman of the new Western frontier whose unconventional, multi- hyphenate career titles included dancer, actress, courtesan, and author. The European-inspired menu consists of various dishes, from a half-grilled chicken with Blue Lake beans, chimichurri, and spring onion to a strip loin steak with truffle-braised mushrooms and fried Walla Walla onions. Sink into history while enjoying a craft cocktail at the National Bar, where gilded radiators from the historic hotel work together to support the bar counter.
Take your time discovering downtown boutiques and historic sites. Named after an endemic native plant, Kitkitdizzi is filled with a curated collection of art, jewelry, and beauty products. UBA SEO showcases Indigenous Nisenan art and their rich-but-nearly- forgotten history in Nevada County. If you enjoy town life but love being closer to the great outdoors, pitch your tent, park your RV, or get glamping at the Inn Town Campground.