Whether you're sourcing stocking stuffers for your loved ones or searching for a white elephant gift the whole office will want to steal, a good gift is hard to find. So we rounded up dozens of locally sourced and national products to help you check off everyone on your list this holiday season. Welcome to America's finest holiday gift guide, curated by our in-the-know editors.
For Homebodies | For Outdoor Lovers | For The Kids
For Fashionable Friends | For Pets
Holiday Gift Guide: For Homebodies
---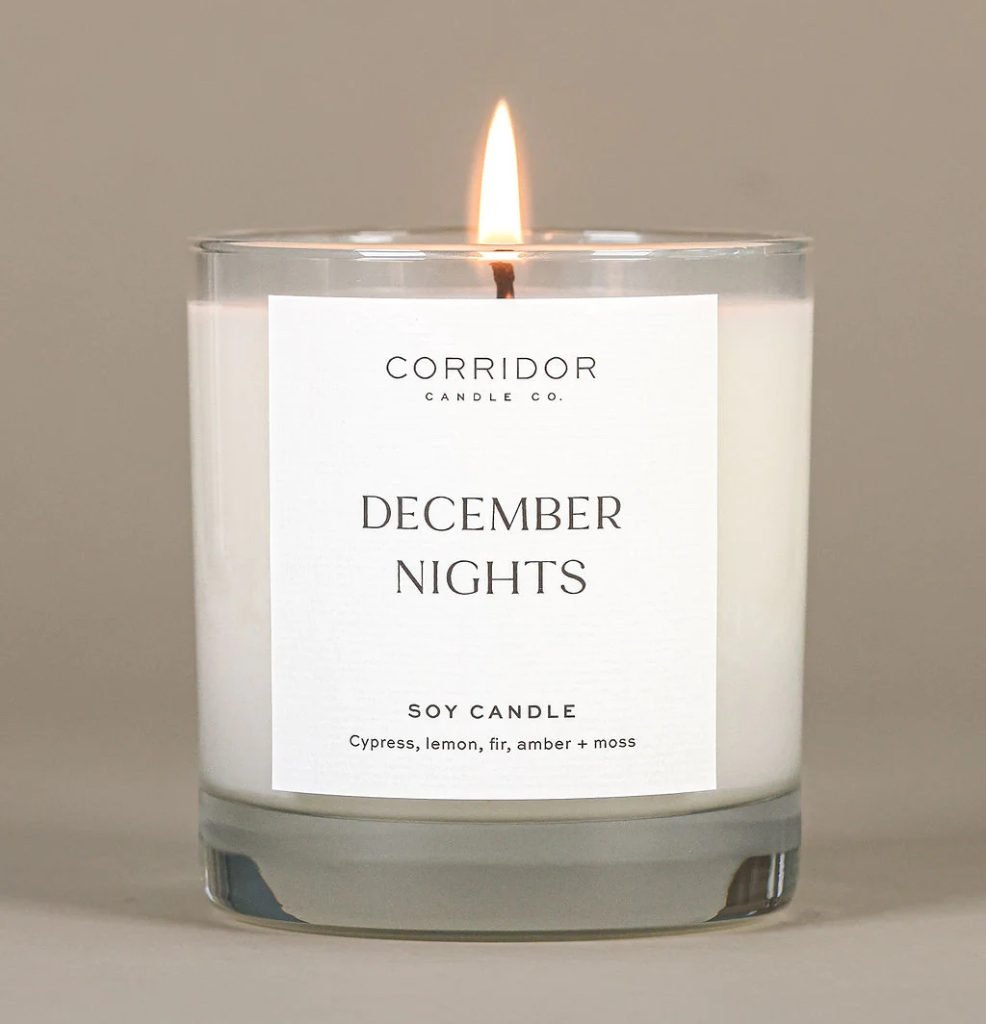 December Nights Candle – $34
Corridor Candle Co.
Local brand Corridor Candle Co. pours the smells of San Diego into local landmark–inspired candles that actually last. The brand's festive holiday-only scent, December Nights, adds lemon, amber, and moss notes to fir and cypress to make that classic Christmas tree aroma sexier.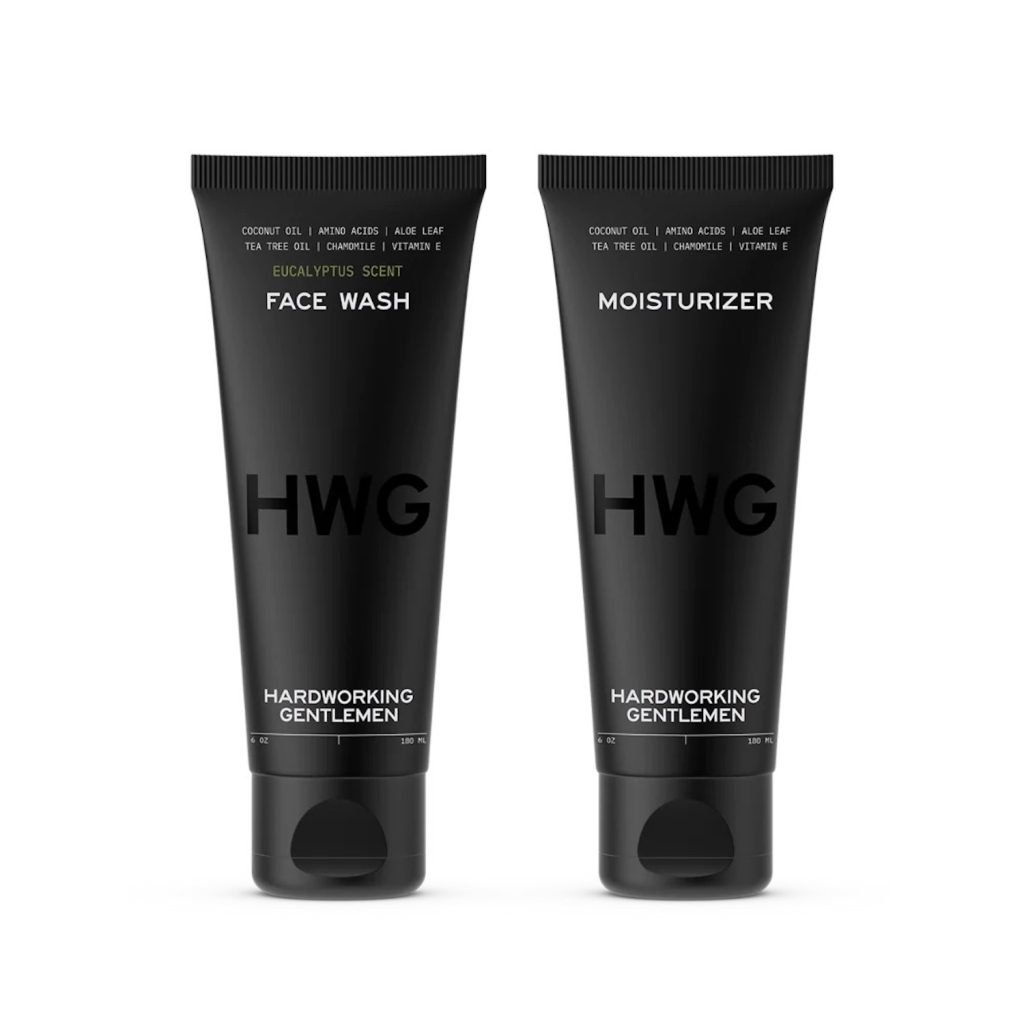 Hardworking Gentlemen Daily Face Duo – $30–40
Shop Moniker
Get the hardworking gentleman in your life a much-needed skincare set from an Encinitas-based brand. A great pick for teen boys new to self-care, the duo (DIYable at Liberty Station outpost Shop Moniker) contains a face wash and moisturizer infused with aloe and coconut and tea tree oils, clearing complexions without obliterating moisture barriers.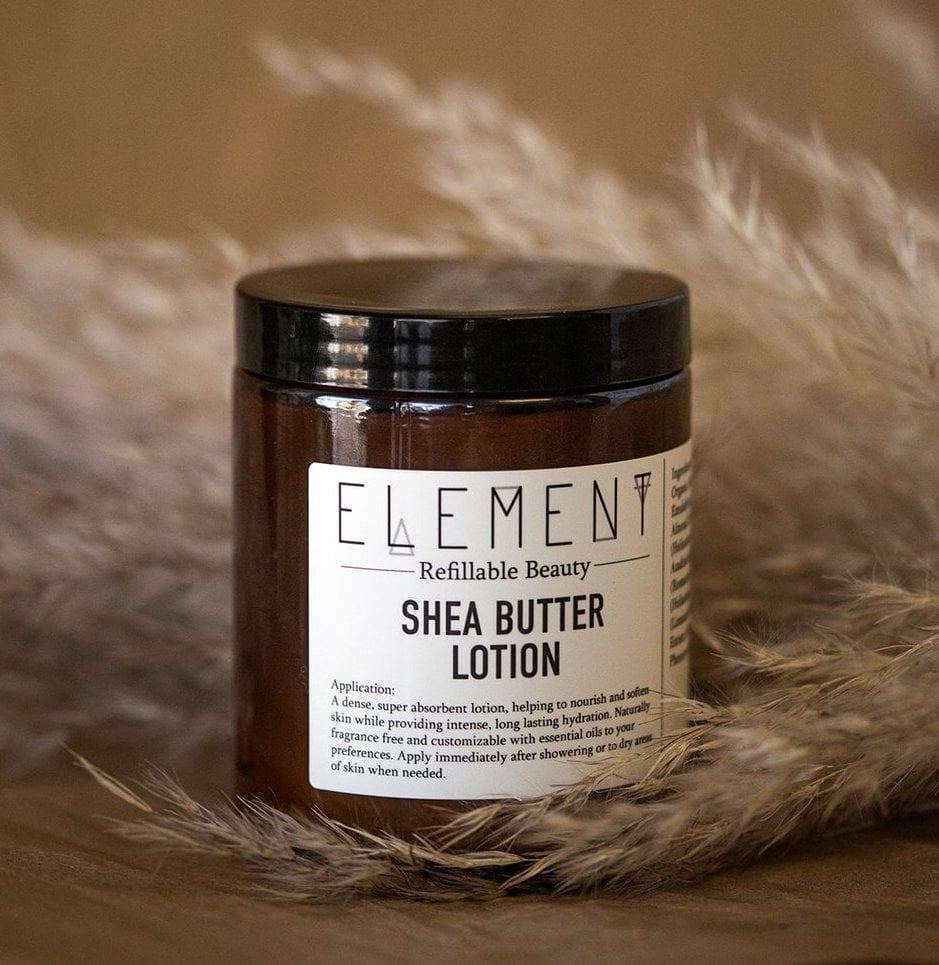 Element Shea Butter Lotion – $12
Scisters Salon
Element's shea butter lotion provides enduring hydration ideal for San Diego's notoriously warm, dry climate. Free of animal products, gluten, paraben, and fragrance, the vitamin E–packed product is friendly to sensitive skin, though those craving a little aromatherapy can mix in an essential oil of their choice.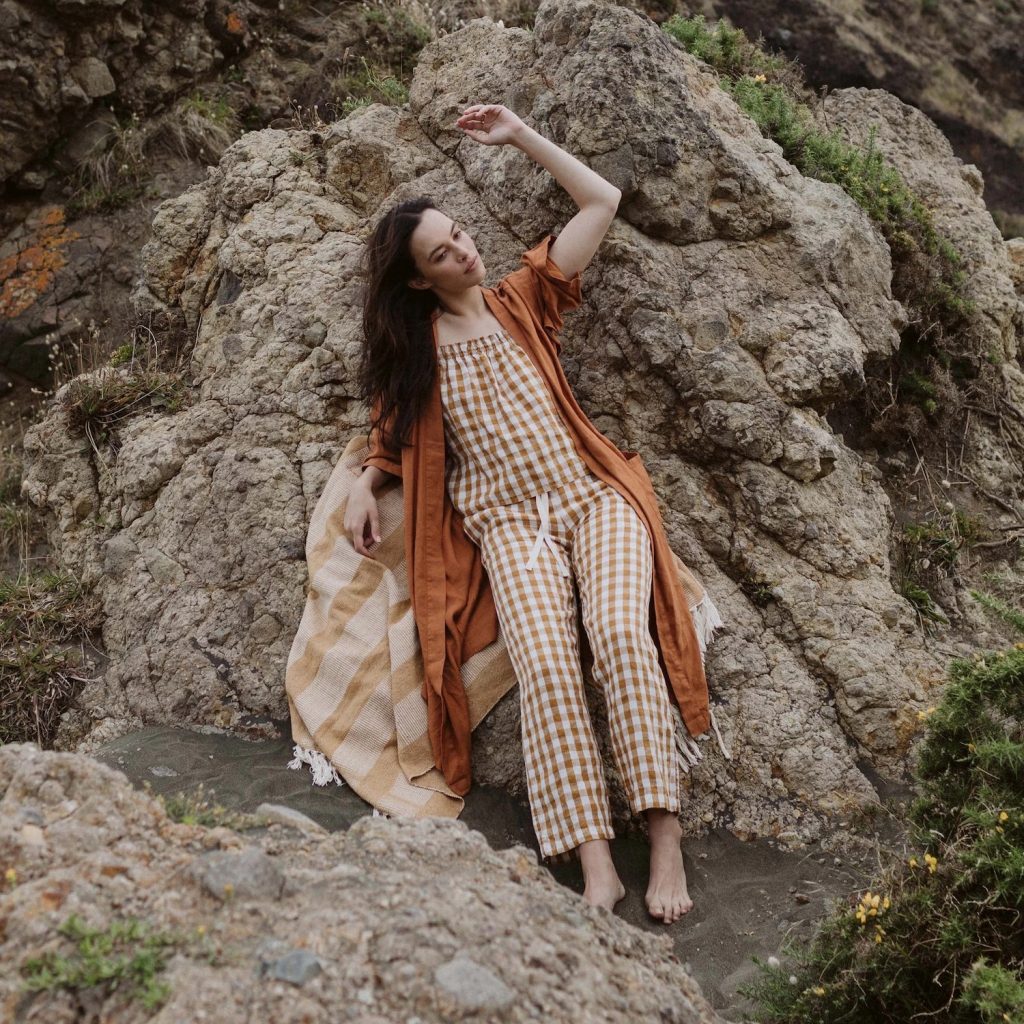 Honey Gingham Sleepwear Set – $200
Morrow Soft Goods
Subtly hint to a lover or roommate that it's time to let go of that holey college t-shirt they wear to bed by gifting them these lightweight French-linen jammies. Sustainably minded brand Morrow adds bamboo-derived rayon to their gingham sleepwear set to balance linen's slight natural stiffness and ensure the fabric is soft from the very first sleep.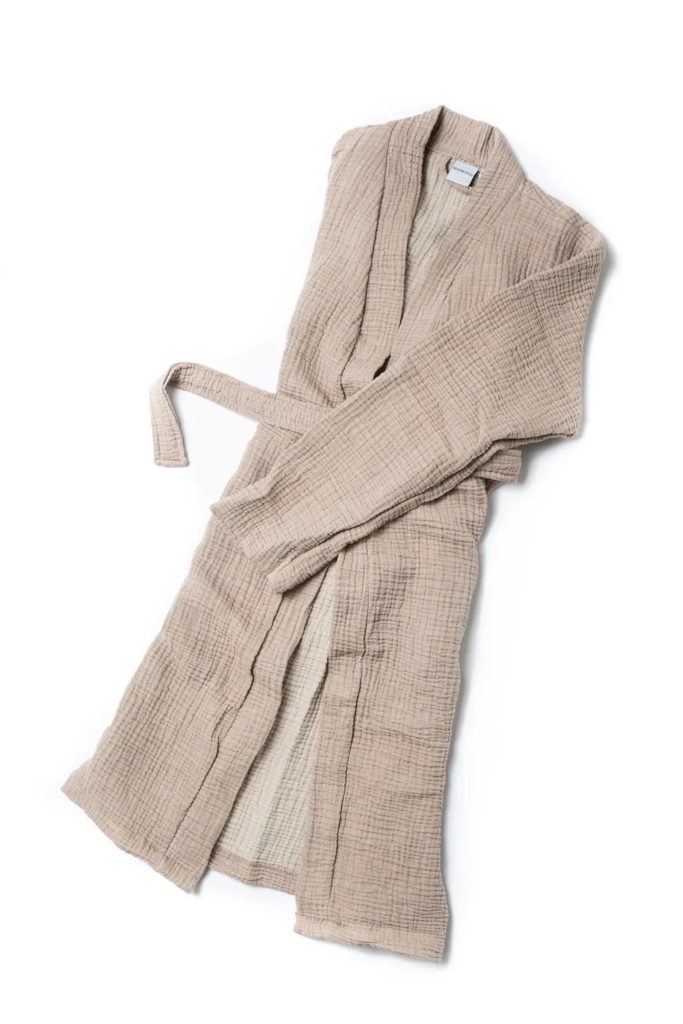 Alaia Robe – $148
Gold Leaf
The Ritz Carlton of robes. If you listen closely as you enshroud yourself in organic Turkish cotton, you can hear the wheels of a room service cart headed to your penthouse suite. The Alaia robe is both lightweight and cozy, perfect for a night of hot chocolate, snuggling, and holiday movies.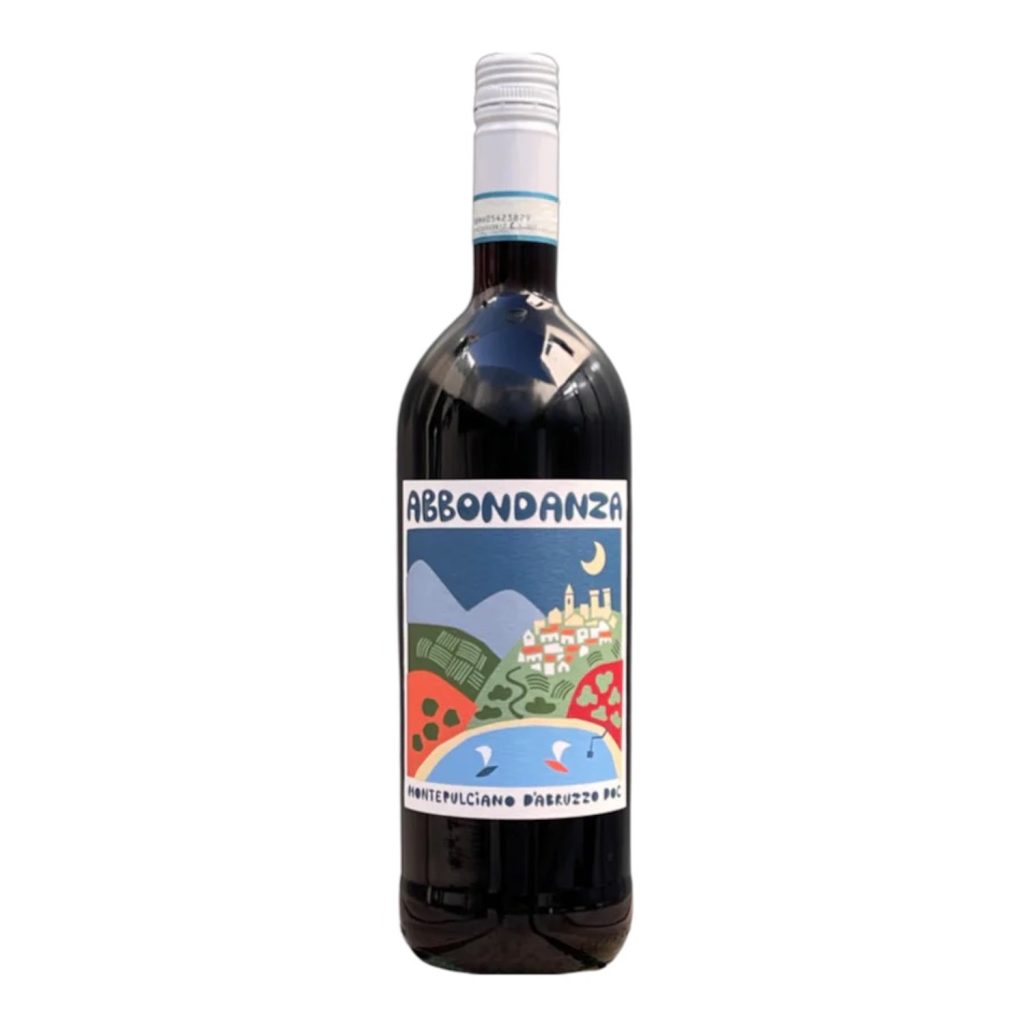 Abbondanza Montepulciano d'Abruzzo – $20
Esquina Wine Shop
This sessionable, chillable organic red offers an approachable foray into low-intervention wines, making it a fab hostess gift for both kinds of pals: the one who's hosting a vegan, gluten-free holiday potluck and the one who will serve beenie weenies at the white elephant exchange.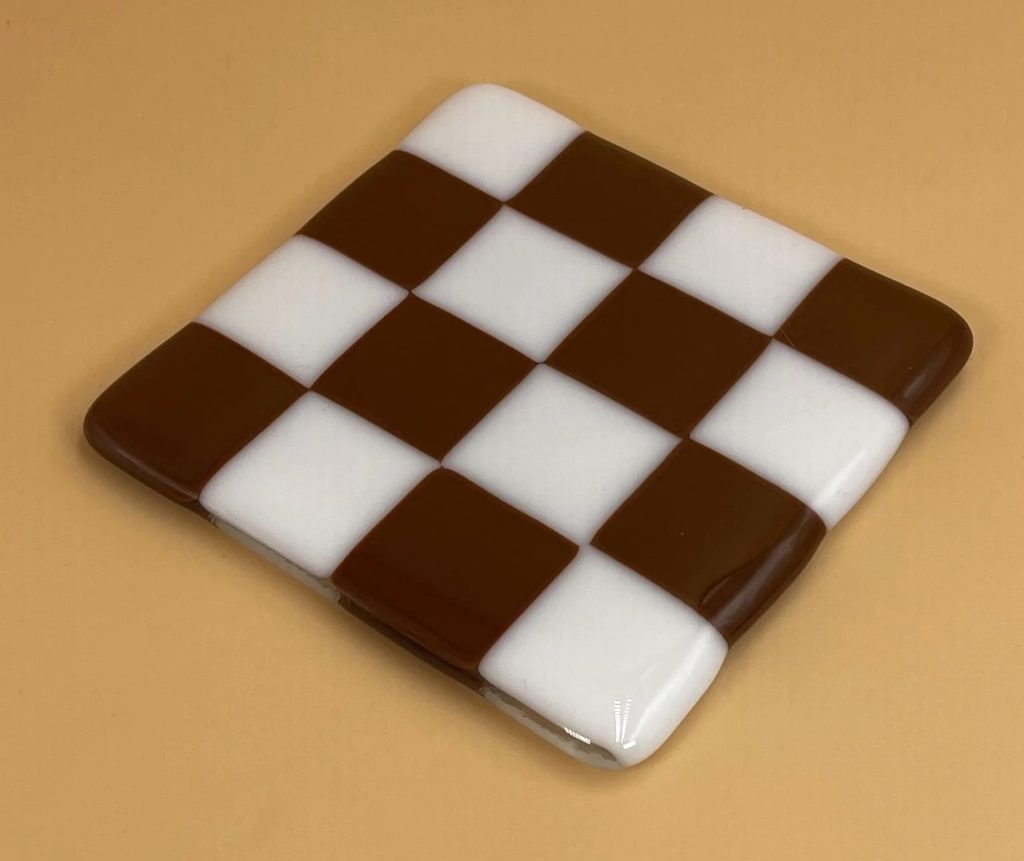 Art School Dropout Infused Glass coaster – $20
Home Ec
Checker-print is one of the biggest home trends of the last few years—but gifting a pal an area rug can feel a bit presumptuous. Instead, offer a small dose of stylish squares with these handmade coasters from local small biz Art School Dropout.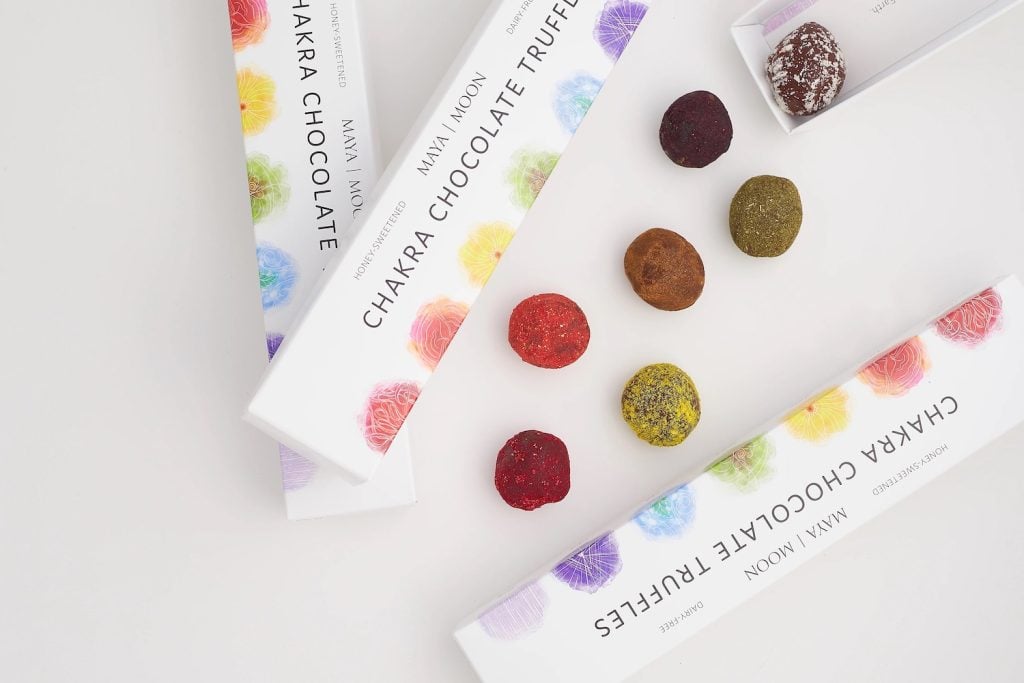 Chakra Chocolate Truffles Gift Box – $25
Maya Moon Collective
Eating chocolate already feels like a spiritual experience. Snacking on this box of seven truffles can be a literal one—every box includes a link to guided meditation to complete while trying each flavor.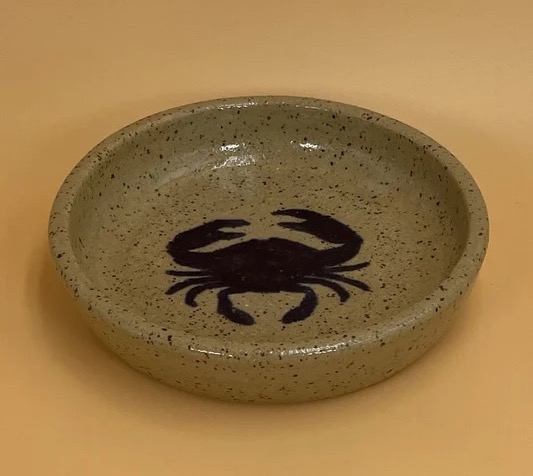 Black Slip Babes Crab Plate – $28
Home Ec
About 10,000 stitches behind on your plan to knit everyone scarves for the holidays? Go the handmade route without the finger cramps at Little Italy outpost Home Ec, which vends one-of-a-kind, artisan creations like this funky Black Slip Babes Crab plate from local artist Kim Nguyen.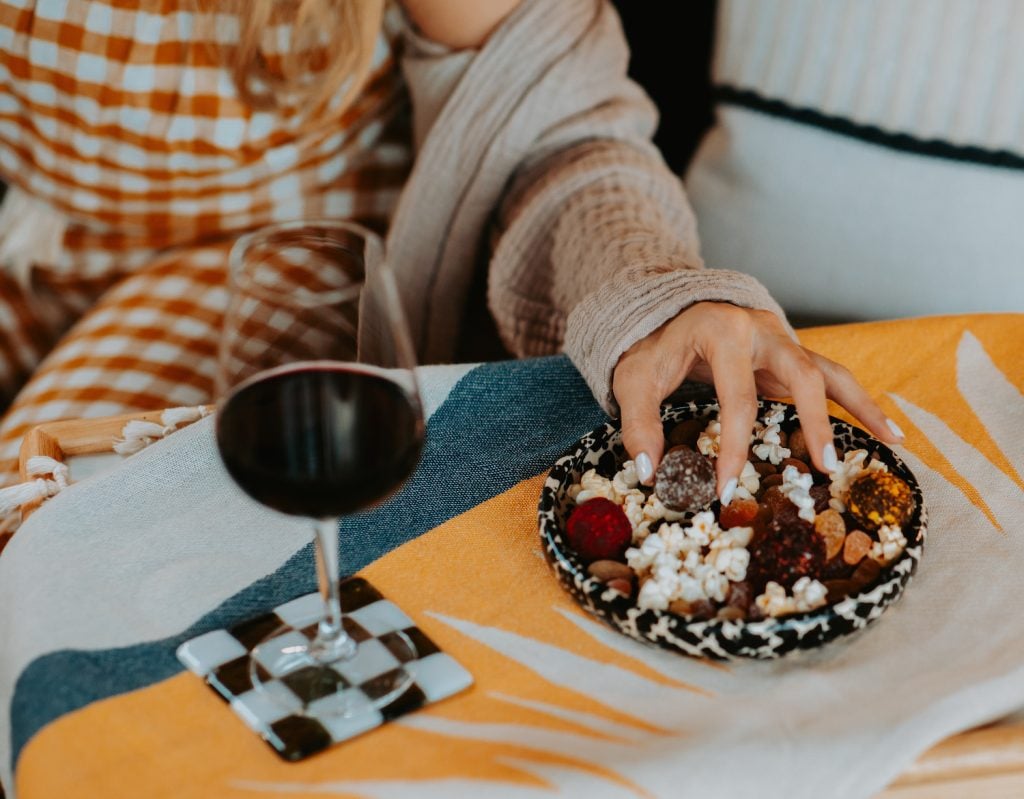 Movie Night Snack Basket – Prices Vary
The Mighty Bin
Treat your favorite film buff to an earth-friendly movie night snack basket: jars of sweet and savory eats from the bulk bins at zero-waste North Park shop The Mighty Bin. We recommend grabbing popcorn, garlic powder, gummy mix, and carob-covered almonds.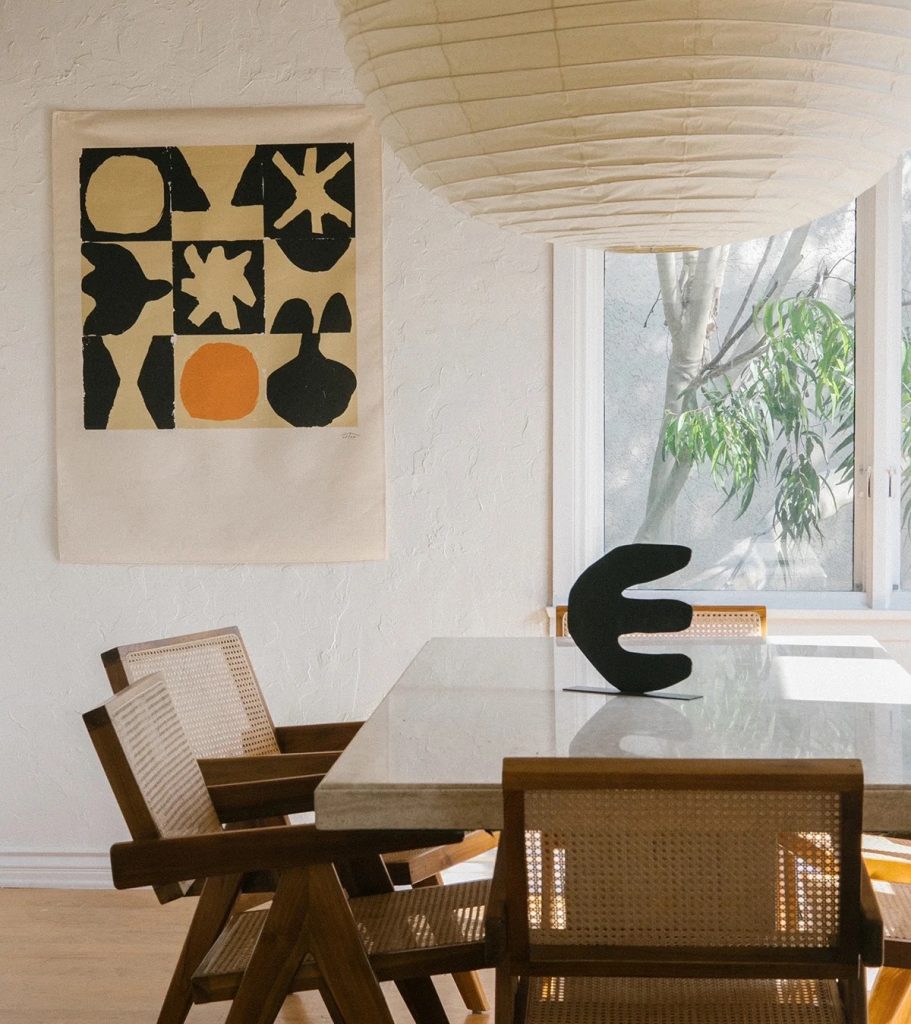 Hersham Print – $185
Upton Home
Vista artist Mike Upton designed for breakout local brand Brixton before launching Upton Home with his wife Mariel. Rendered in soothing neutrals and soft colors, their big canvas prints (equipped with eyelets for quick hanging) match almost any décor.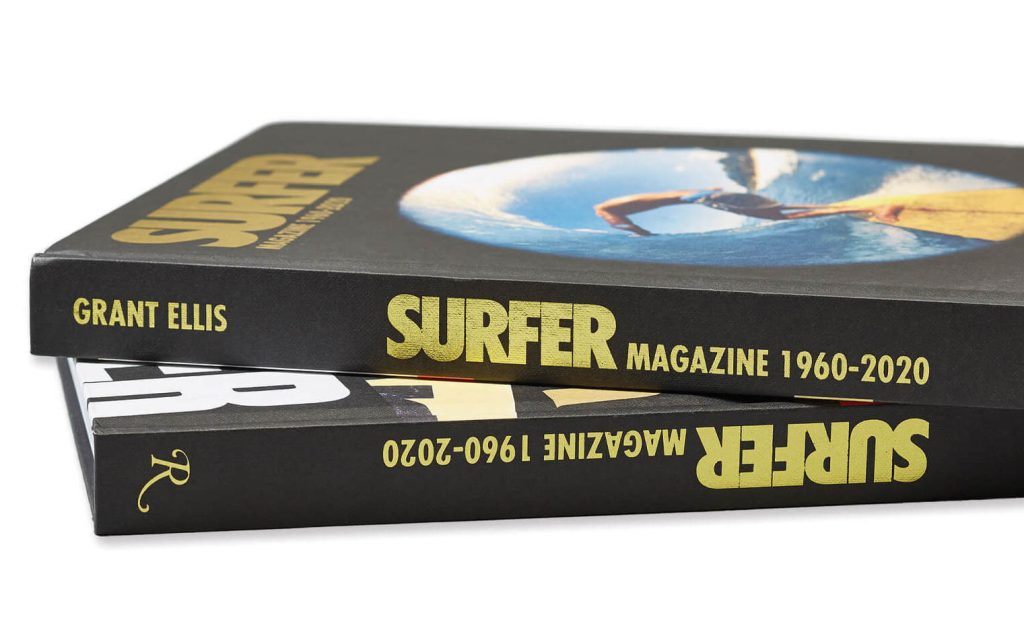 Surfer Magazine, 1960–2020 by Grant Ellis – $55
Surfer Magazine
Informed by his 17 years as Surfer Magazine's photo editor, North County resident and surf photographer Grant Ellis traces the publication's sixty years of history in this coffee table tome featuring breathtaking shots of the world's best surfers riding breaks in California, Hawaii, and other spectacular spots.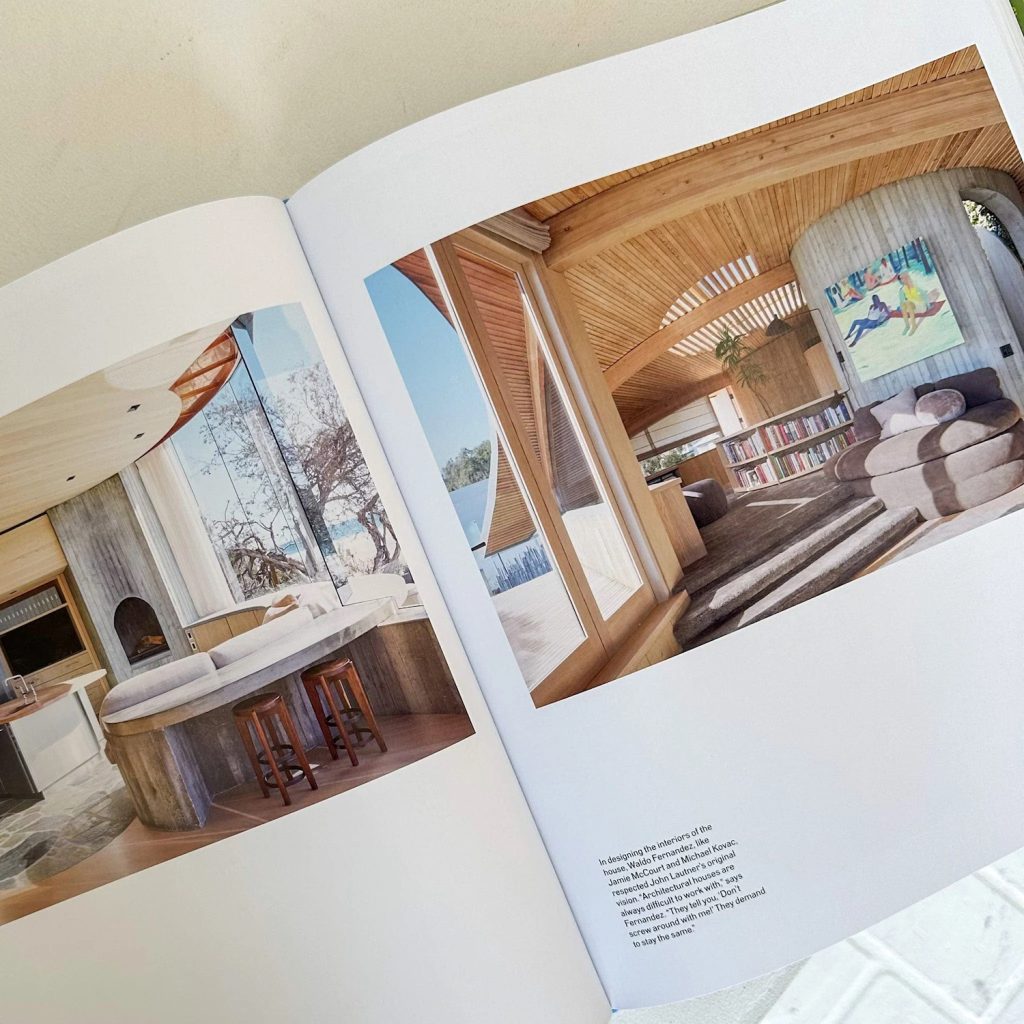 Beyond the Canyon: Inside Epic California Homes by Roger Davies – $65
The Book Catapult
Got a pal who keeps up with Architectural Digest celebrity home tours like they're new episodes of Love Is Blind? Get them some analog décor inspo with Beyond the Canyon, a roundup of incredible architecture, California design, and, yes, celeb abodes shot by prolific SoCal photographer Roger Davies.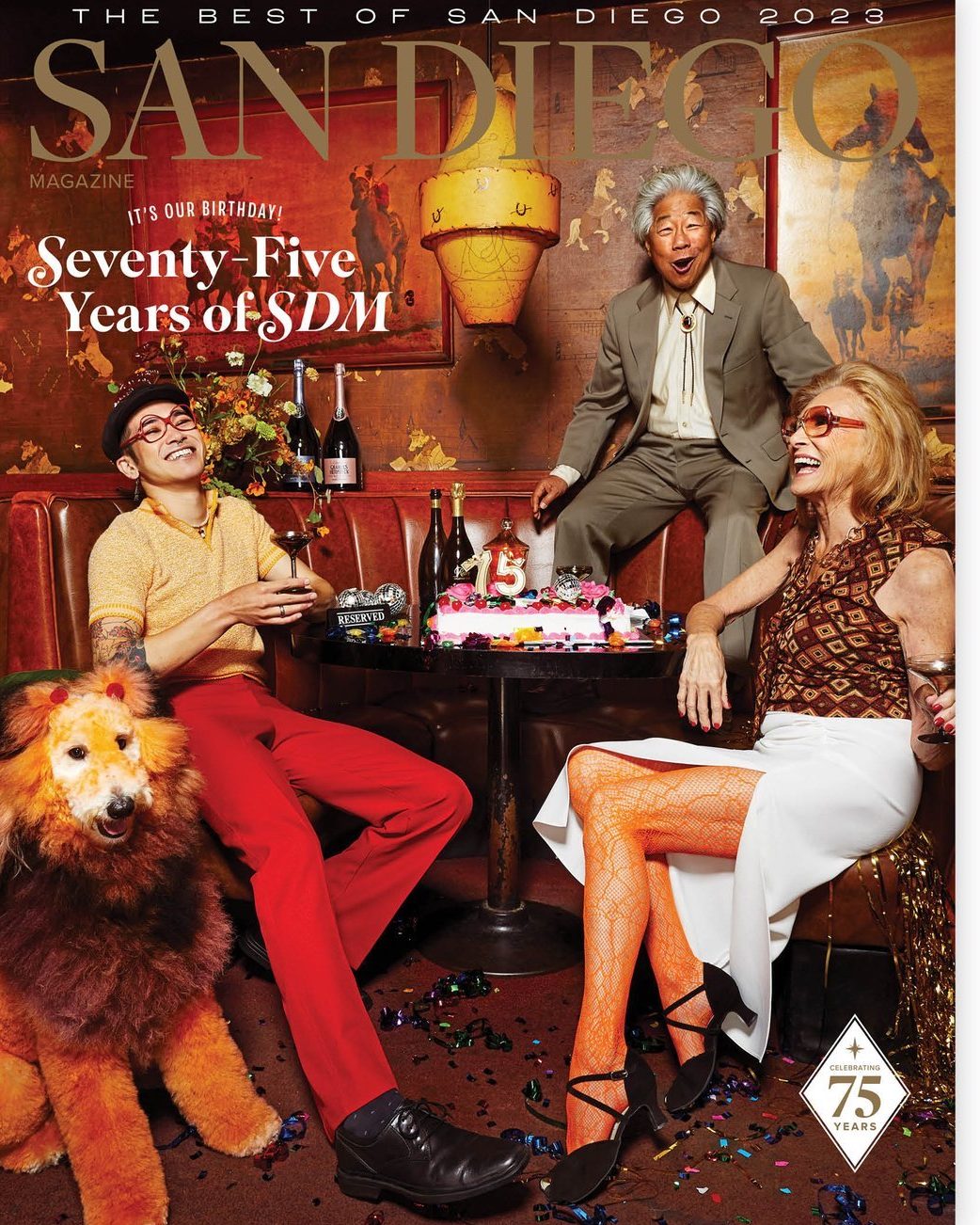 San Diego Magazine One-Year Subscription – $10
The biggest no-brainer on this list, if you ask us. A subscription to SDM is the gift that keeps on giving—lucky recipients will find thoughtful stories on our region's coolest restaurants, businesses, art, and culture in their mailbox each month (for less than the price of two issues off the newsstand).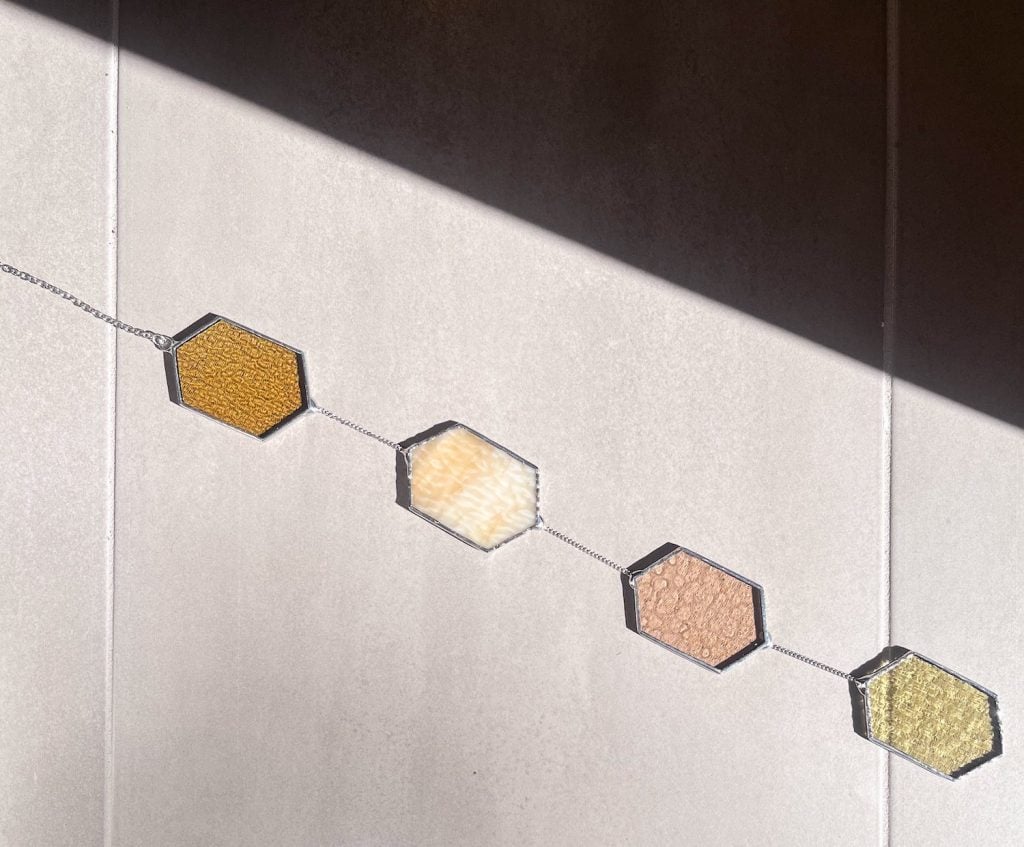 Culotta Creations Four-Element Geometric Drop Suncatcher – $75
Thread Spun
Brighten up a loved one's day amid SD's sometimes-gloomy winter weather with a stained-glass suncatcher that courts light and scatters colorful shadows. You can find the handmade piece at Thread Spun, a charming Encinitas boutique focused on sustainable goods.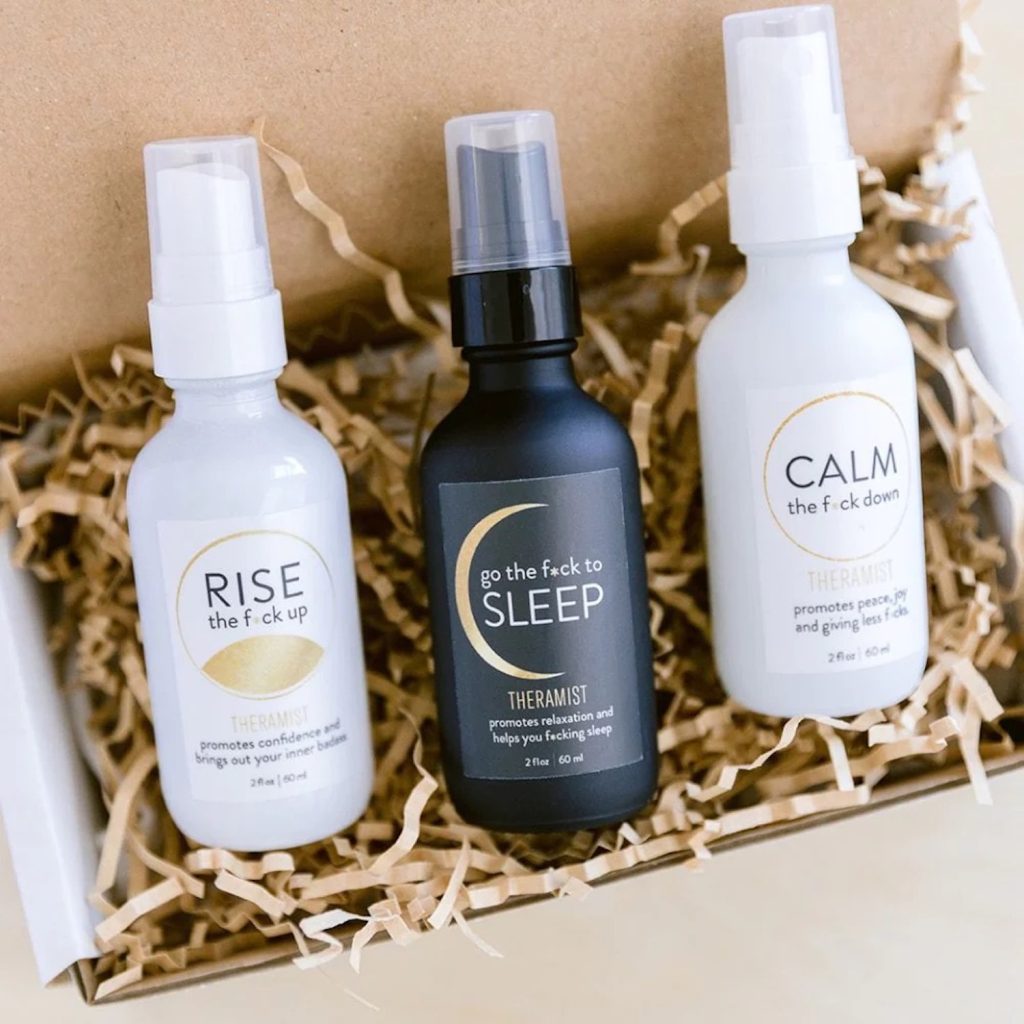 Mini Mists Gift Set – $54
You Need Ther-Happy
Friends who consider four-letter words a form of therapy will appreciate the cheeky names of these essential oil mists, each designed to help you wake up, chill out, or wind down. Each spray in the mini set makes a super stocking stuffer (and fits in a purse, offering an instant assist next time the little ones are melting down in a Target).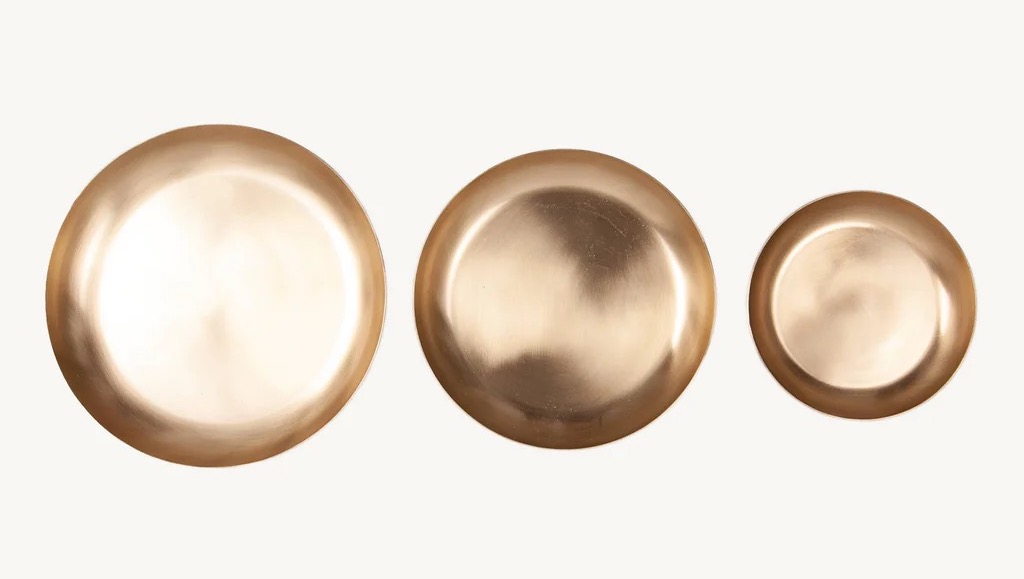 Brass Round Trays (Set of Three) – $76
Adobe by Jess Vargas
These multipurpose solid brass trays from Carlsbad homegoods shop Adobe by Jess Vargas arrive in three sizes: 3.75 inches (hello, pretty incense holder), 5.1 inches (an ideal jewelry-storing spot), and 5.75 inches (fancy snack platter).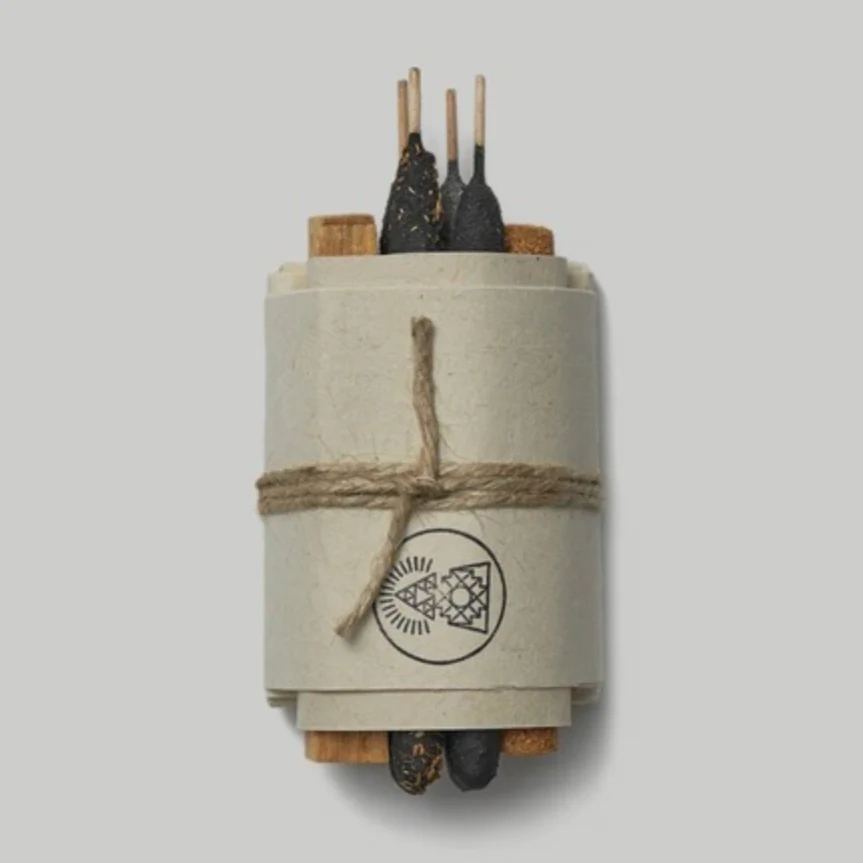 Bath and Meditate Bundle – $36
Adobe by Jess Vargas
If gifting a spa weekend is out of the budget this year, remind your bestie to unwind in a subtler way with this Bath and Meditate Bundle, which pairs a yummy-smelling vegan soap with palo santo and incense sticks.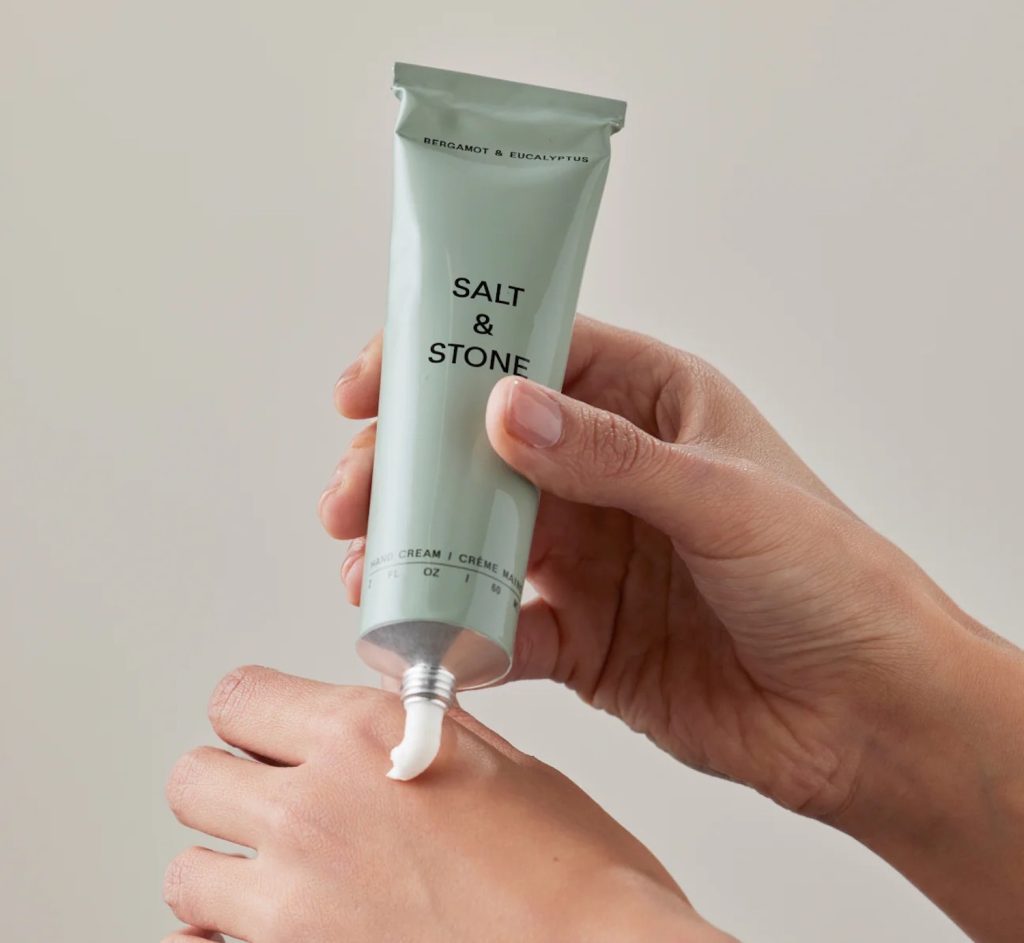 Salt & Stone Hand Cream – $20
Shop Good
Help your mom beat dry winter mitts with a squalane and snow mushroom–boosted hand cream from natural skincare company Salt & Stone. It comes in two scents: bergamot-and-hinoki and santal.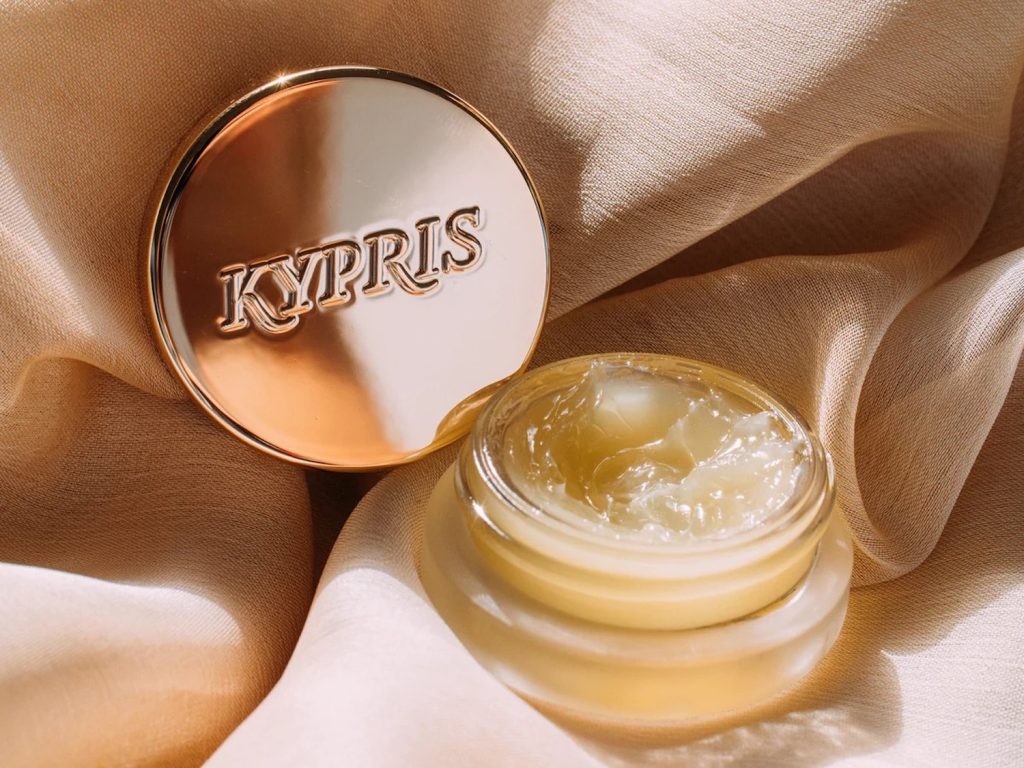 Kypris Lip Elixir Balm – $49
Shop Good
Some folks are Chapstick people, some are Carmex people. Some are just trying to find a lip balm they like enough to not lose. Help those in the latter category out with Kypris' lip elixir, a luxurious balm packed with peptides, plant butters, and hyaluronic acid.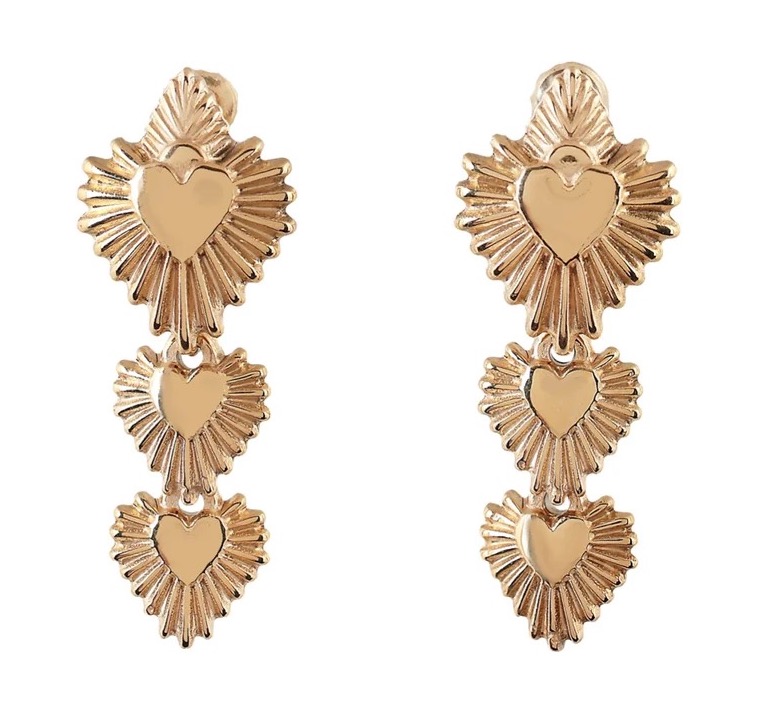 "Be Fierce" Removable Mini Hearts Earrings – $90
Ibiza Passion
Say "I love you" with earrings shaped like hearts. Say "I'll love you, even if you change" with heart-shaped earrings that shapeshift—wearers can detach and reattach hearts to turn the baubles from simple, gold-plated studs to statement danglers.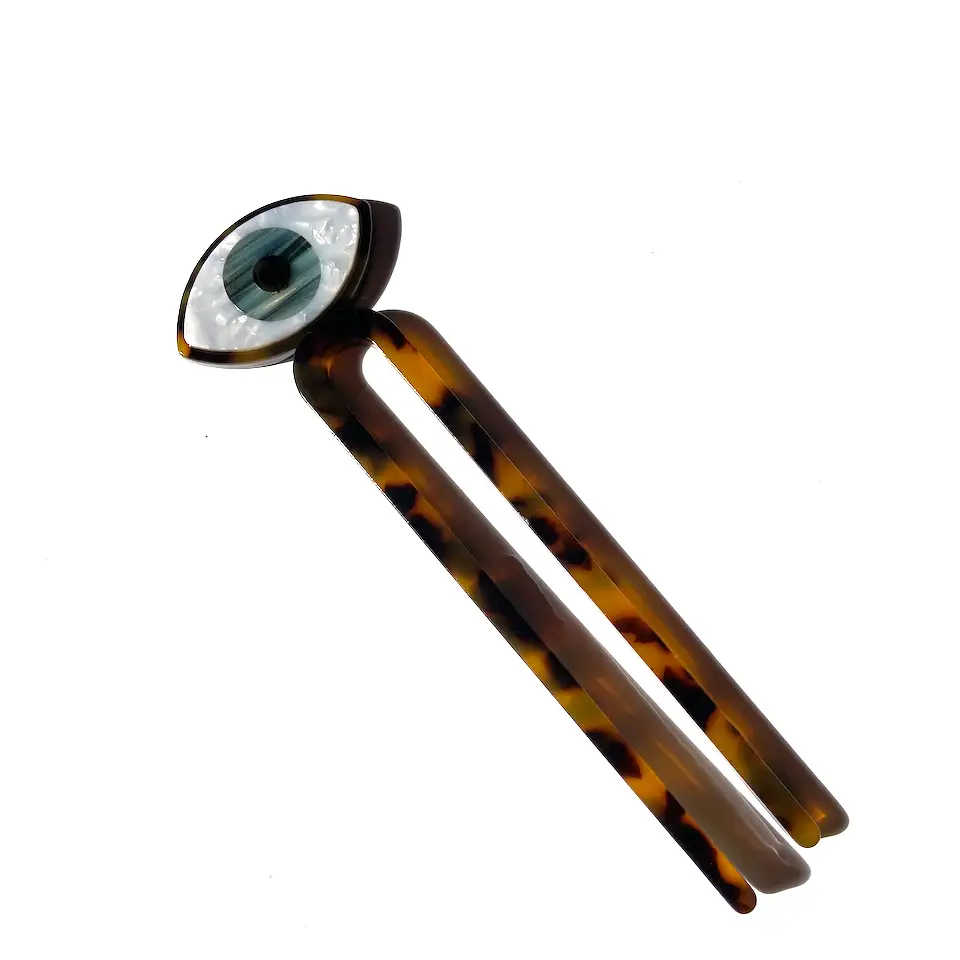 Solar Eclipse Hairpin – $18
Scisters Salon
Hairpins are in. The tress accessories from zero-waste hair salon Scisters are made from biodegradable materials, so you can stuff stockings with an effortless updo–helper while also being sweet to Mama Earth.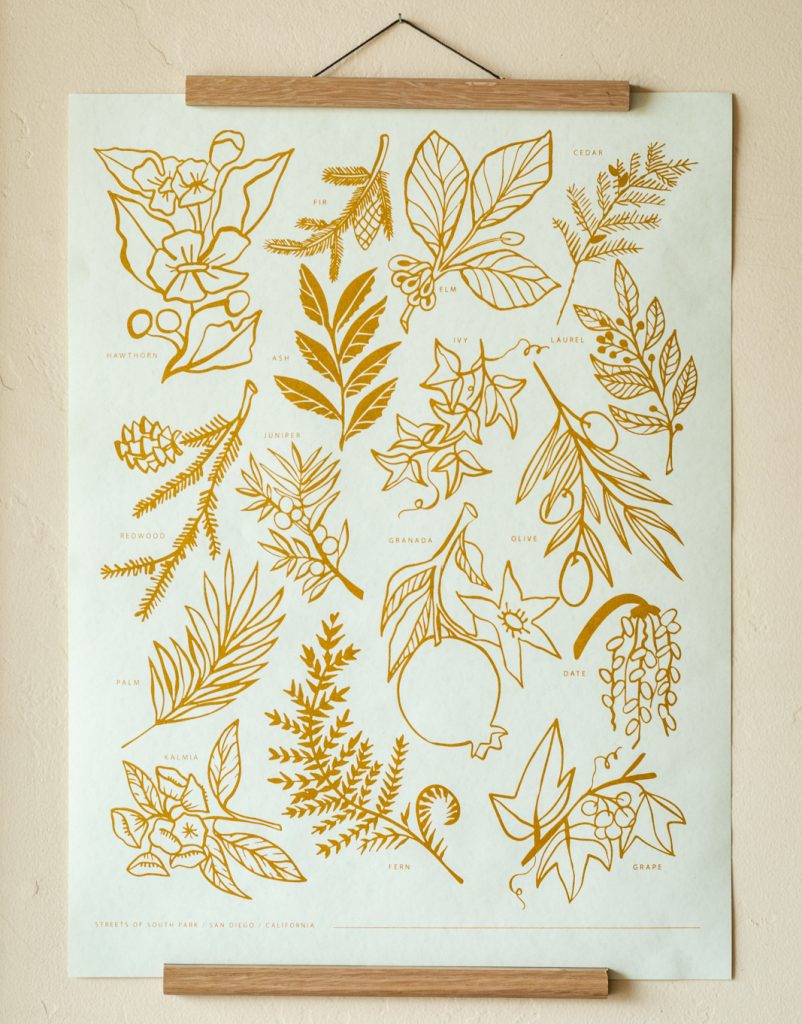 Botanical South Park Print – $32
Gold Leaf
When shopping for home décor obsessives, a map of our city can feel a little on-the-nose. Gift quiet local flair with this botanical print depicting the greenery from which South Park's streets get their names, including juniper, date, olive, and laurel.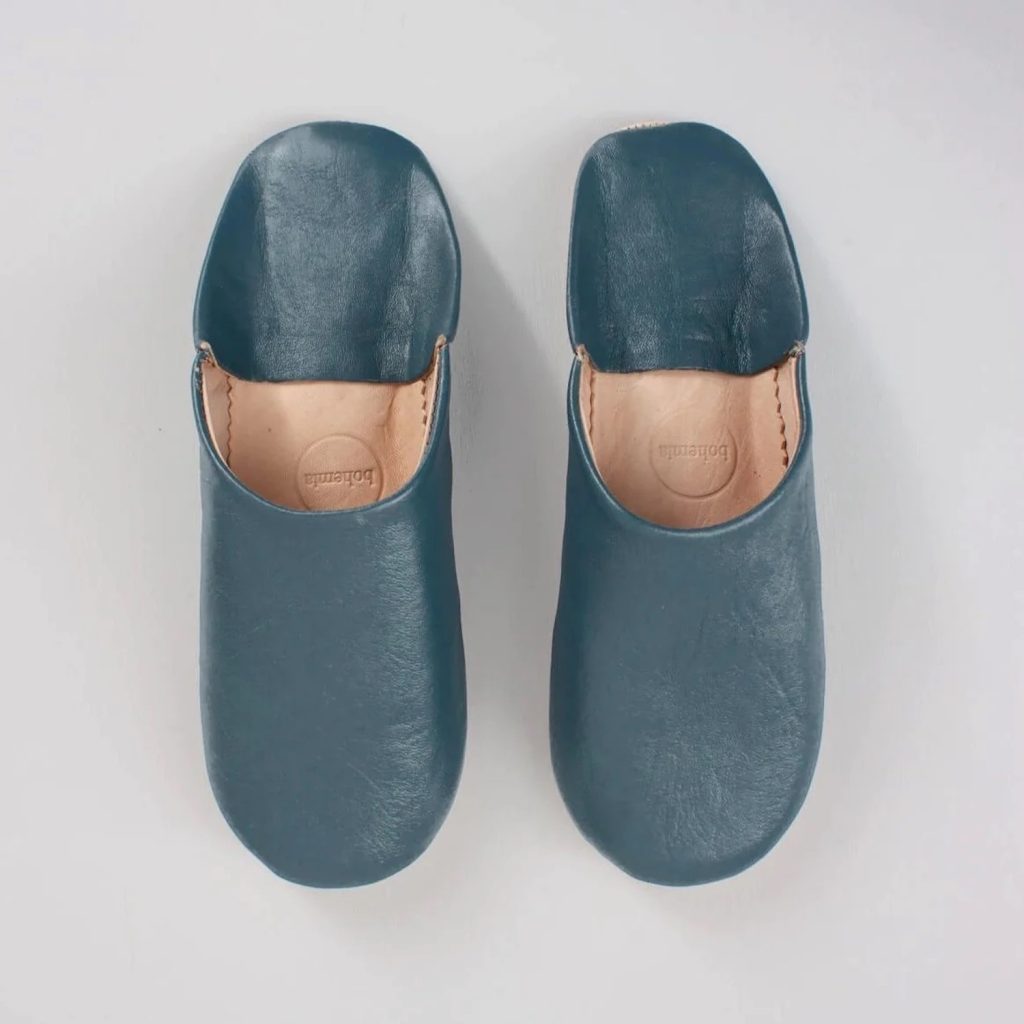 Moroccan Babouche Slippers – $40
Gold Leaf
Put down the "Best Mom Ever" coffee mug. Instead, spoil her with leather slippers. They're handmade in Morocco and pretty enough for her to wear while hosting at home.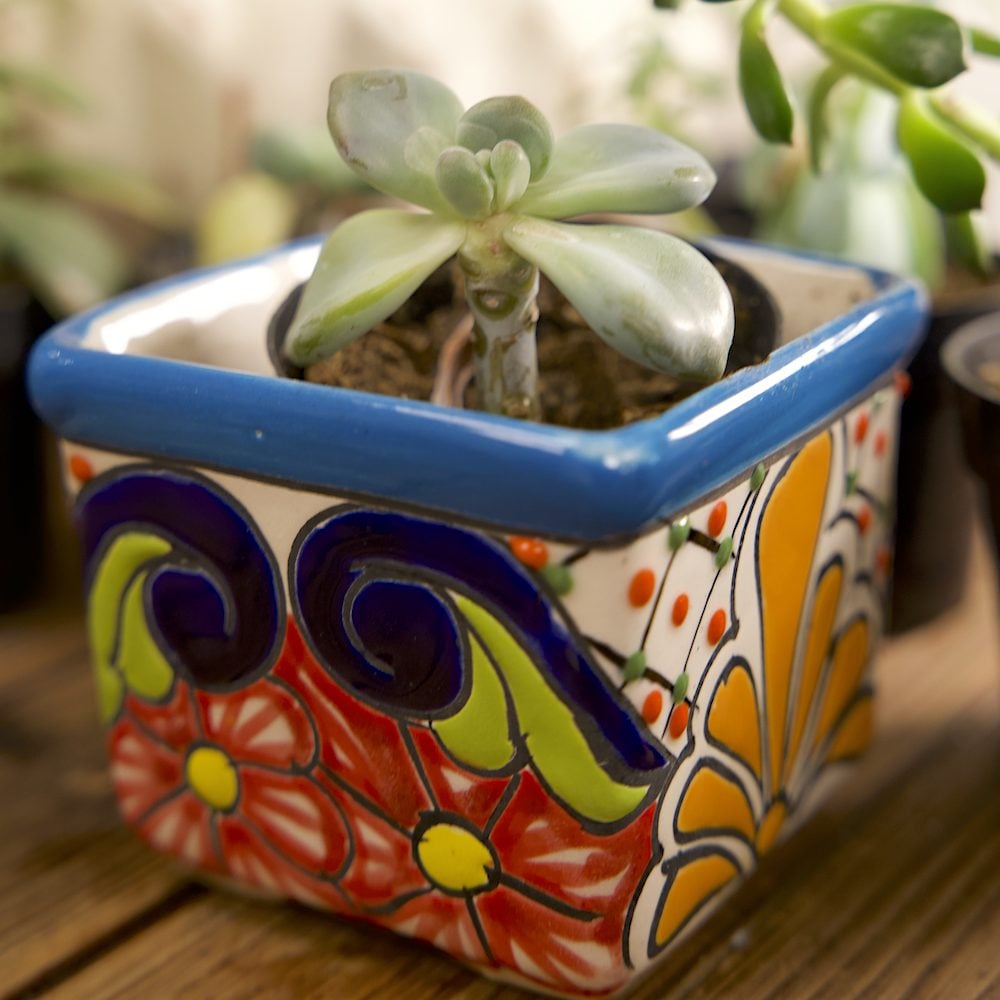 Tiled Planter – $12.95
Casa Xovi
Casa Xovi's Mexican tiled planters house sweet succulents and add color and culture to windowsills, bedside tables, and patios.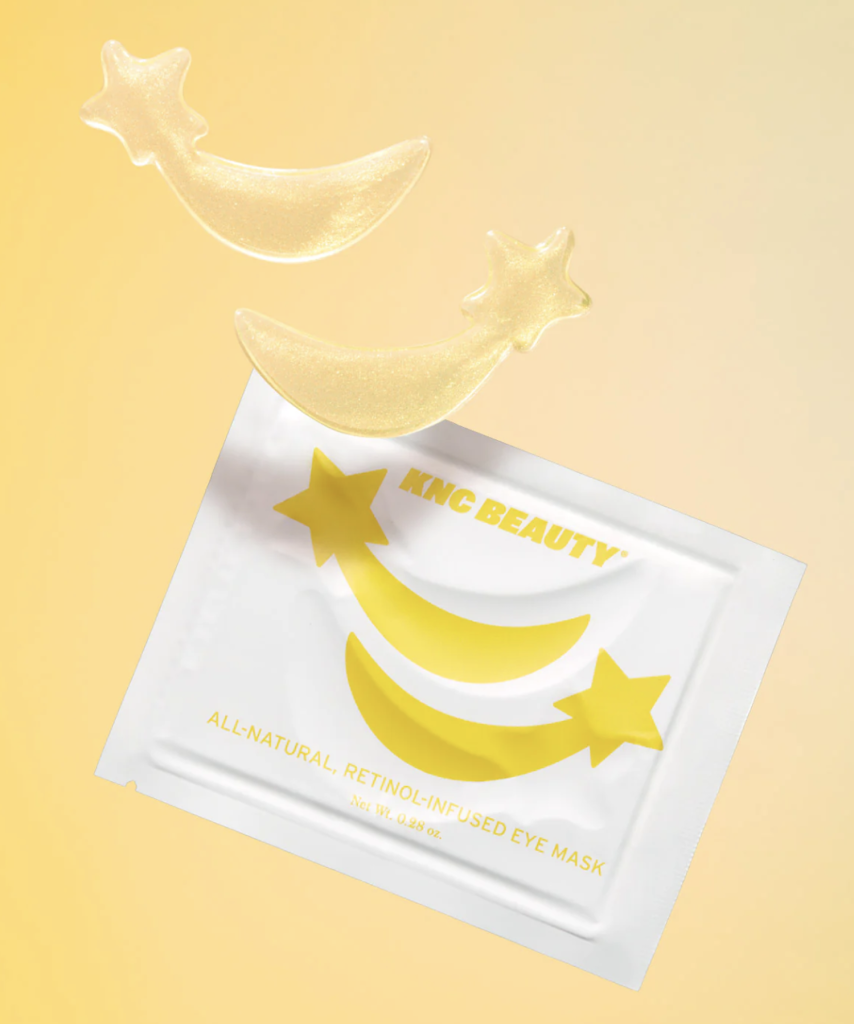 KNC Beauty Eye Mask – $5
Shop Good
Fun for middle schoolers curious about skincare, KNC's star-shaped eye mask provides under-eye hydration in the form of soft, sparkly, selfie-ready stickers.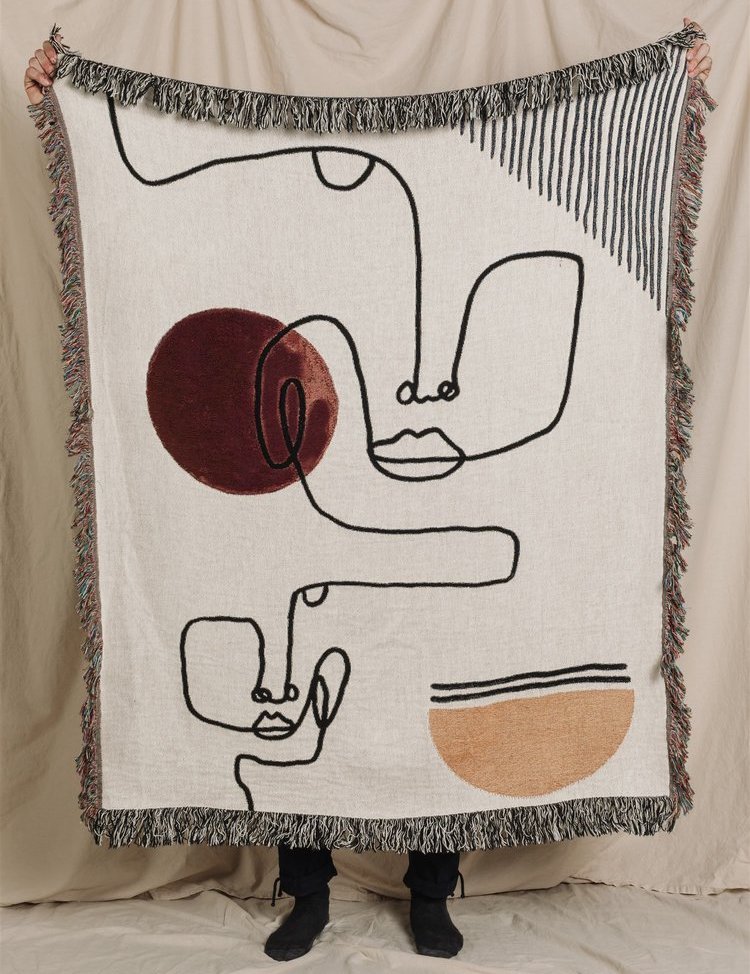 Linefaces Throw – $149
Par Ker Made
When he's not collabing with Vans, local artist and BMX pro Parker Heath makes funky apparel and homegoods in abstract patterns. This thick, comfy blanket can also function as an eye-catching tapestry.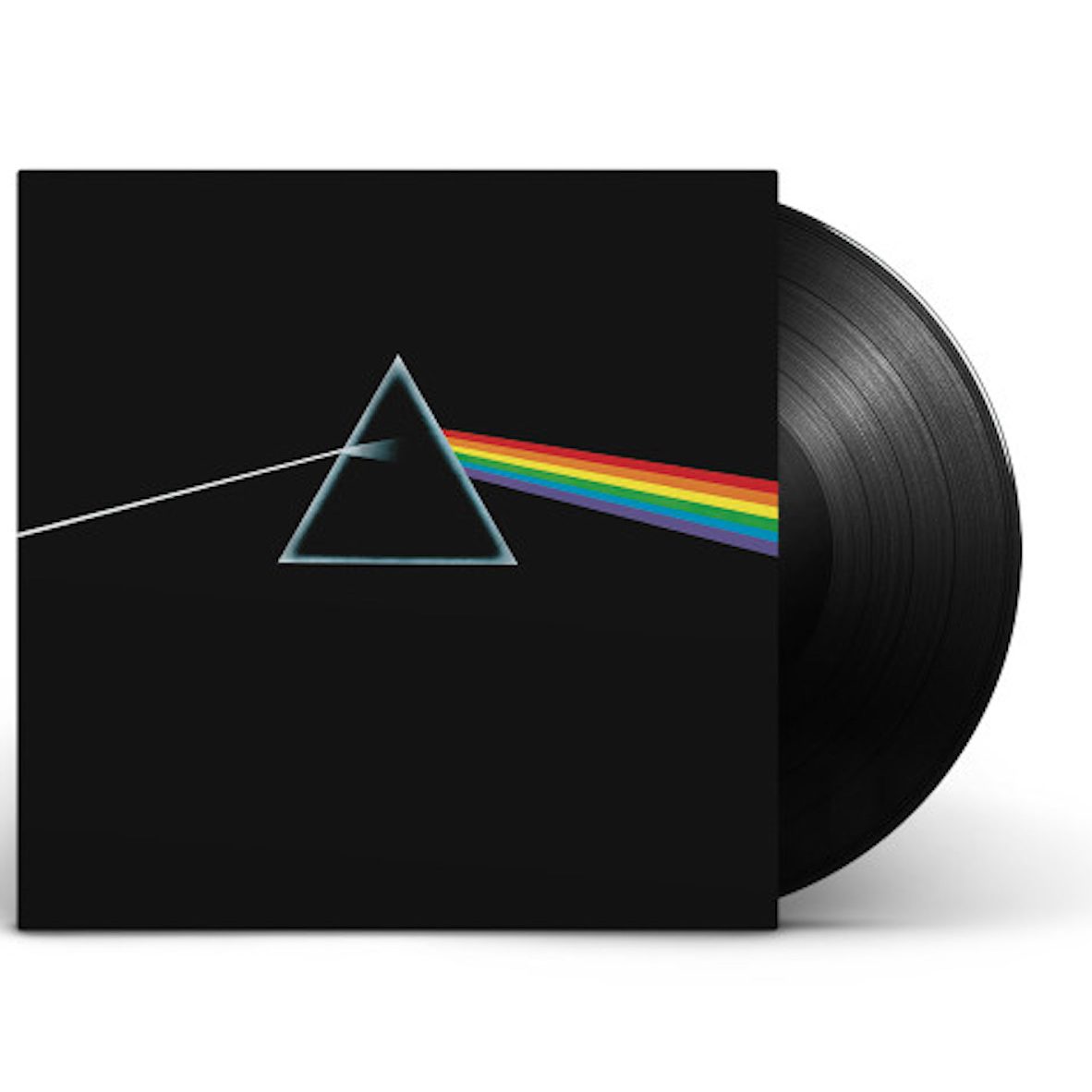 The Dark Side of the Moon by Pink Floyd – $33.99
Vinyl Junkies
Widely considered Pink Floyd's best album, The Dark Side of the Moon sat on the Billboard charts for nearly 15 years after its release in 1973. Available at South Park record store Vinyl Junkies, this LP set also includes posters and stickers.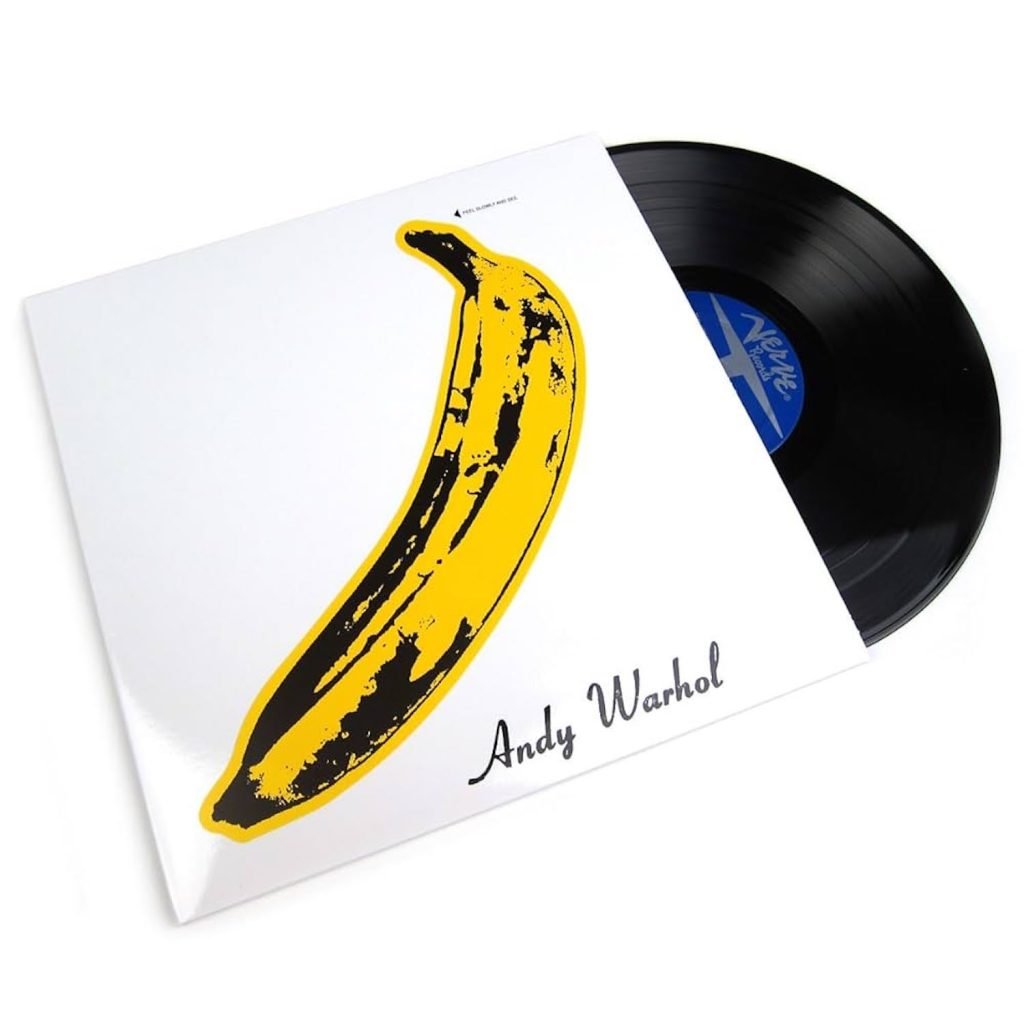 The Velvet Underground and Nico – $29
Vinyl Junkies
A must-have for rock fans starting a record collection, 1966's The Velvet Underground and Nico (instantly recognizable thanks to its iconic Andy Warhol cover) is the album that launched a thousand genres, influencing punk, indie, and shoegaze, among other styles.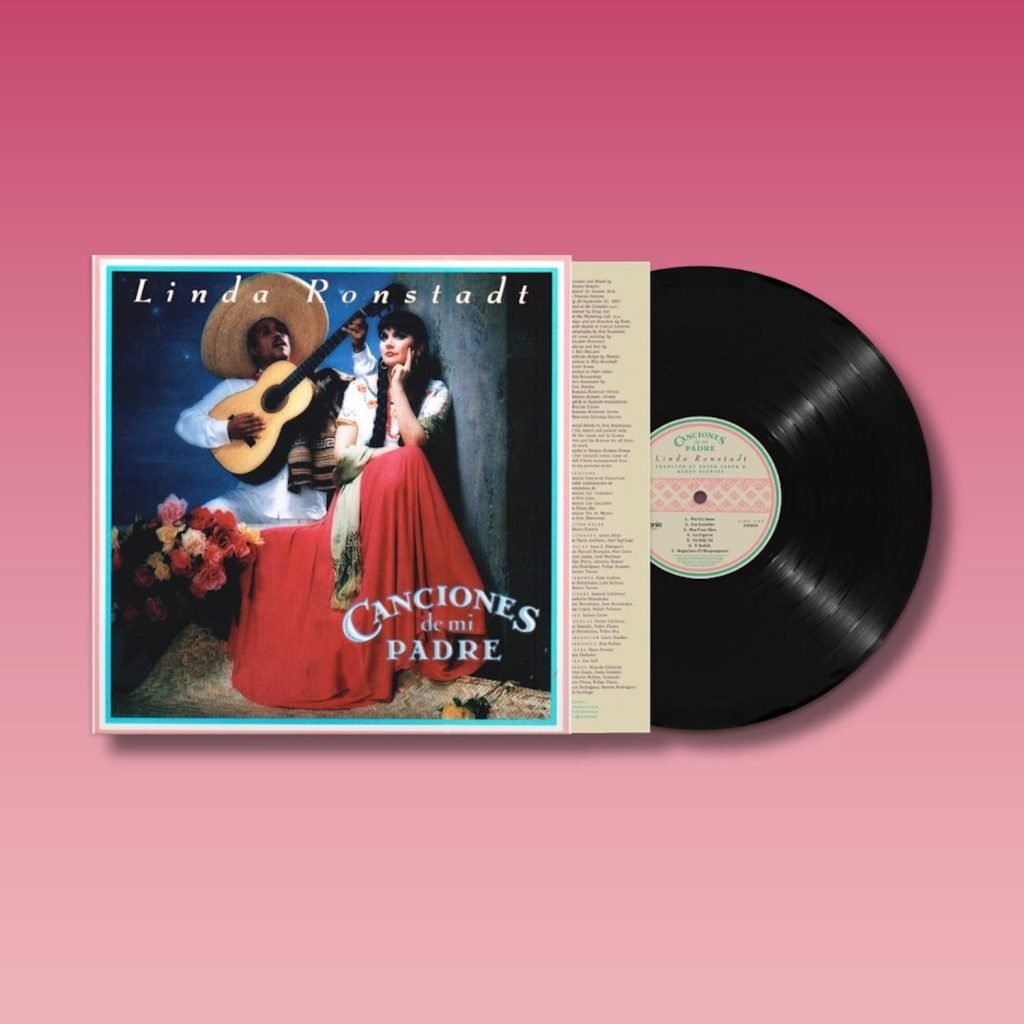 Canciones de Mi Padre by Linda Ronstadt – $26.99
Vinyl Junkies
Rock and Roll Hall of Famer released her first mariachi album, Canciones de Mi Padre, in 1987, with music inspired by her Mexican-American upbringing in Arizona. Some of her earliest brushes with the songs came from Chicano musician Lalo Guerrero, who often visited her family home when she was a child.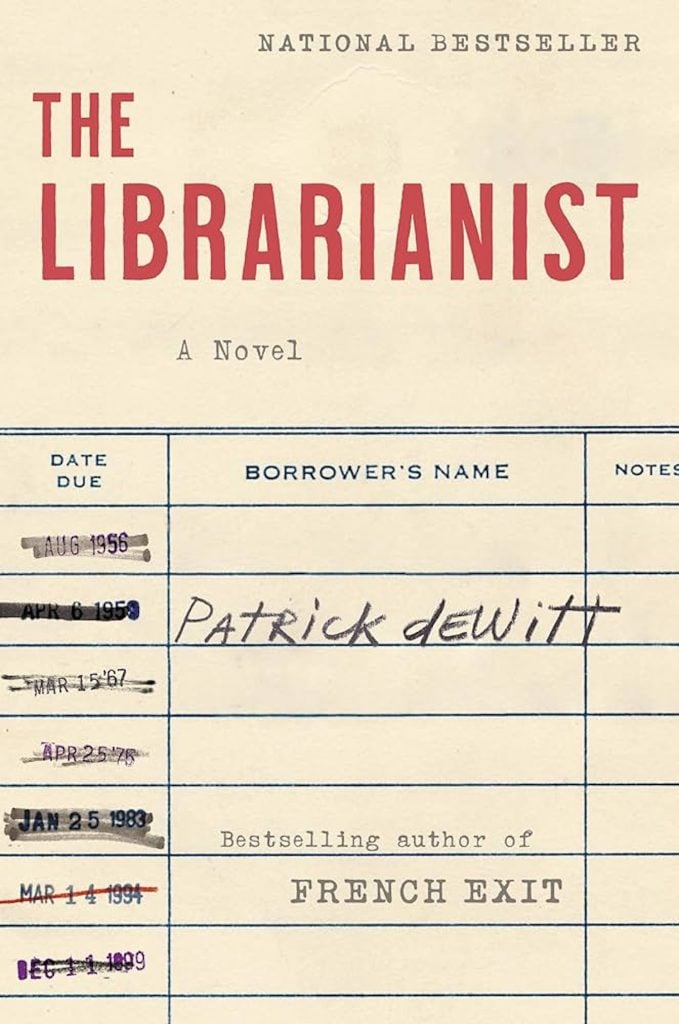 The Librarianist by Patrick deWitt – $30
The Book Catapult
Catapult Books co-owner Seth Marko compared Patrick deWitt's seemingly mundane story of a retired librarian to Wes Anderson's eccentric films. Give this to a friend who likes funny books with quiet power.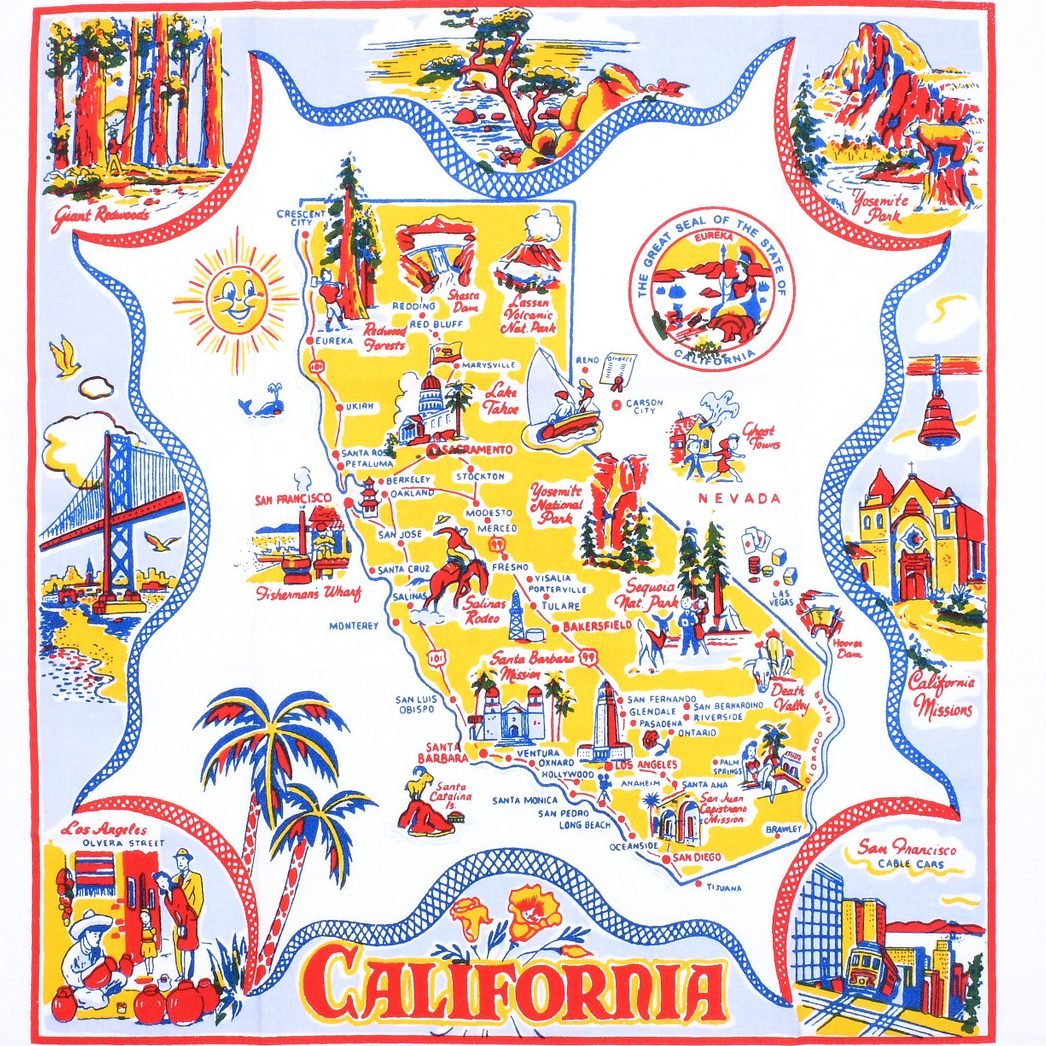 Red and White Kitchen Company California Blue Flour Sack Towel
Sea Hive Station
The chef is your life is probably inundated with fancy olive oils and salts every year—so pivot to something that will brighten up their kitchen as they cook. Red and White Kitchen Company's flour sack towel depicts California's most popular destinations (and actually absorbs water, unlike decorative cloths made of microfiber).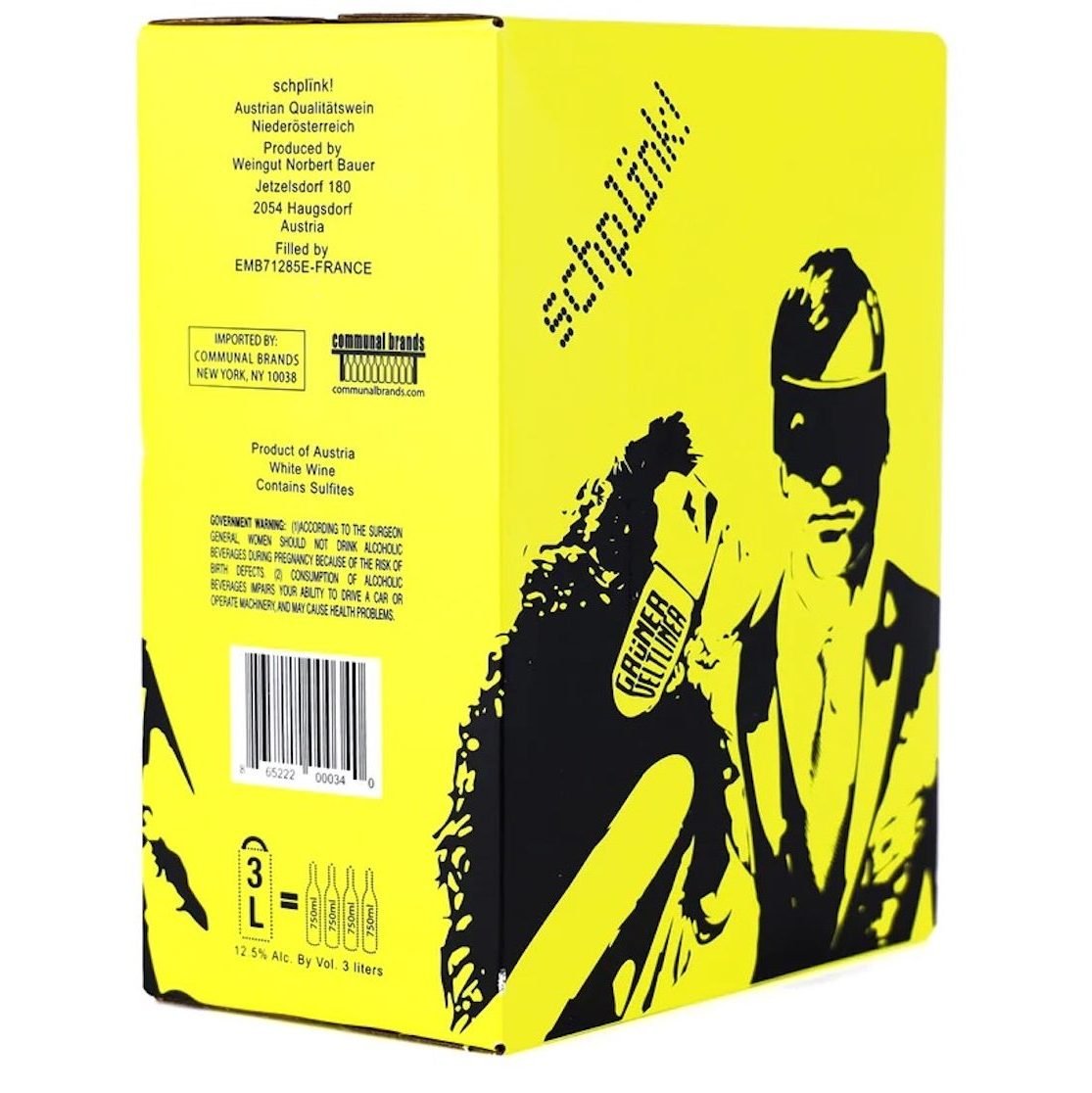 Schplink! Grüner Veltliner – $38
Esquina Wine Shop
Divest yourself of sad college-party associations with boxed wine: Schplink!'s crisp Austrian white is organic, low-intervention, and worlds away from a slappable bag of Franzia. The three-liter box holds as much vino as four regular bottles, making you the MVP guest at the dinner party.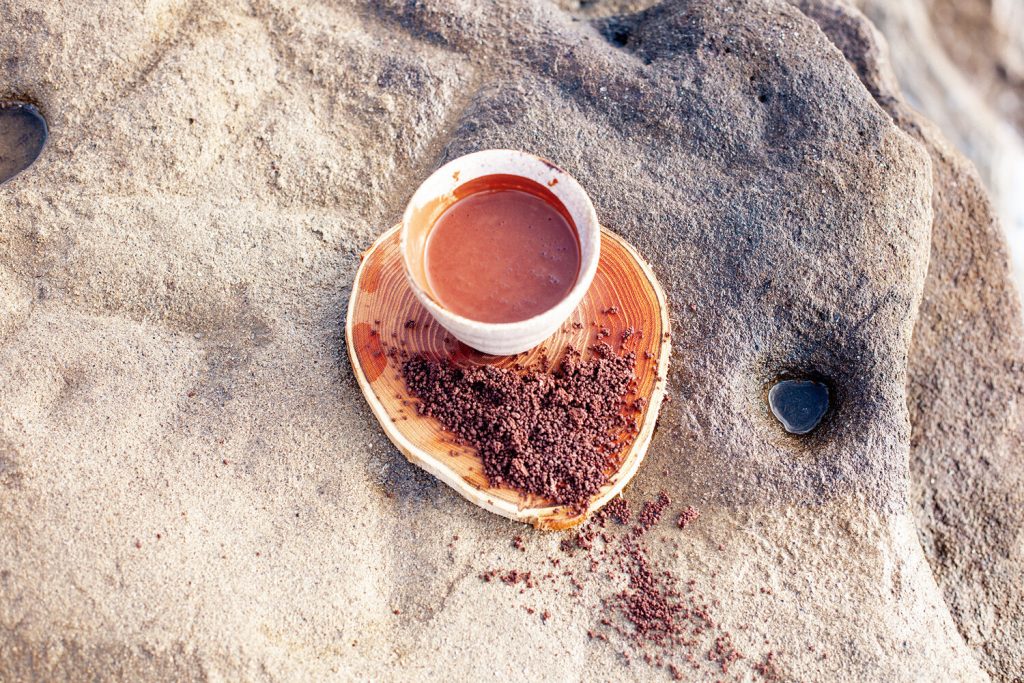 Classic Drinking Cacao – $36
Maya Moon Collective
Serve a cozy, Santa-approved mug of hot cocoa (without the sugar high). Normal Heights cacao shop Maya Moon Collective offers their nourishing mix in a take-home bag sweetened with maple syrup.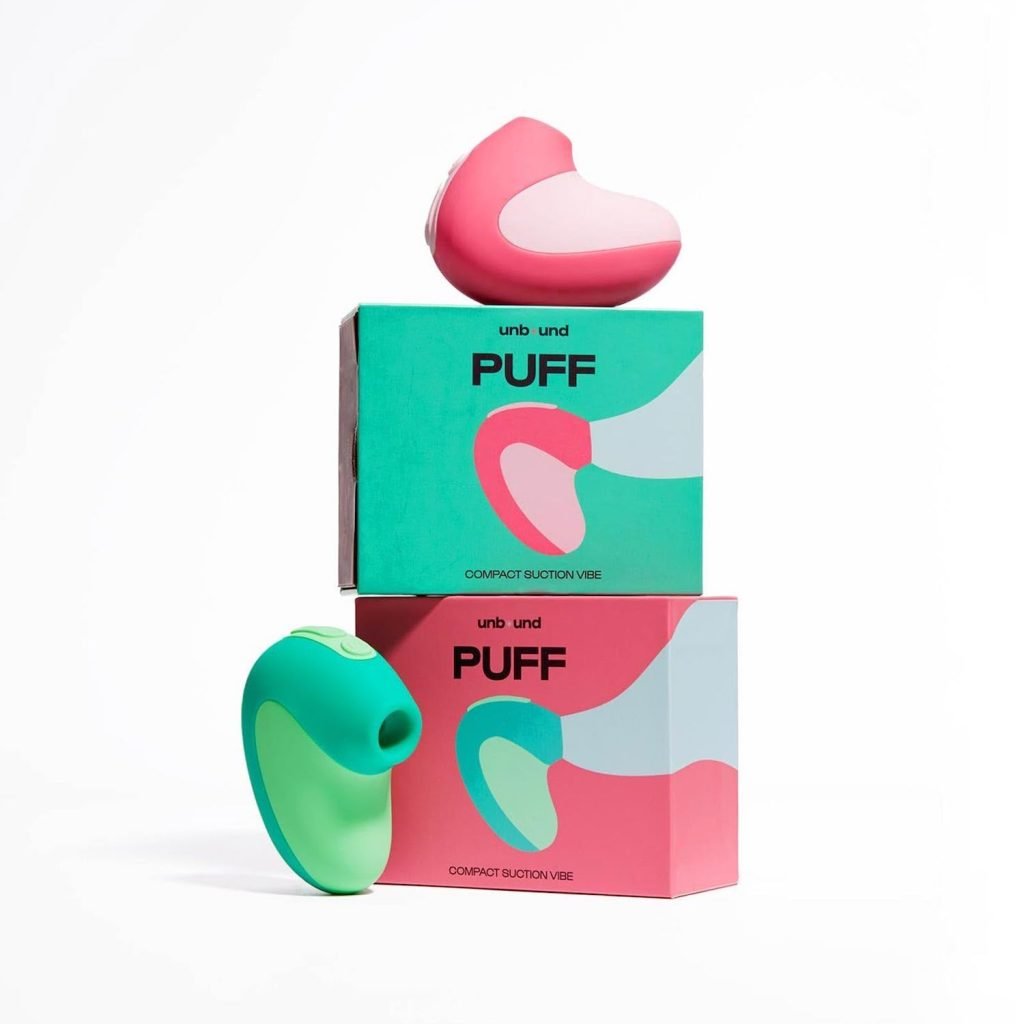 Puff Vibrator – $48
Unbound
Okay, so maybe you don't want to stick this one under the tree—but as far as useful gifts go, this discreet, palm-sized suction sex toy from woman-owned company Unbound ranks high (and has the rave reviews to prove it).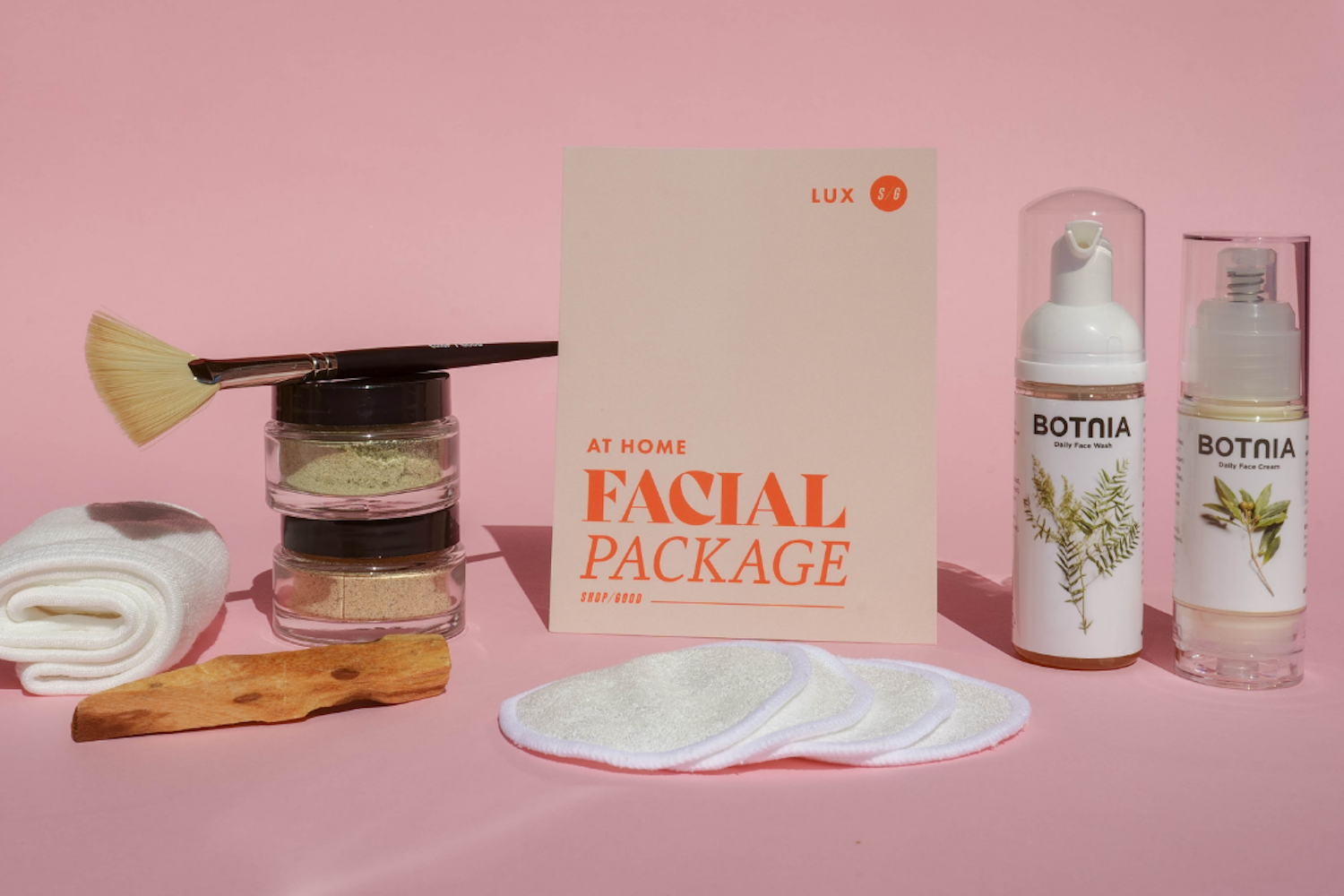 At-Home Facial Package – $38-115
Shop Good
Time to do some reconnaissance on your bestie's skin type. The holistic estheticians at local clean beauty outpost Shop Good will create two personalized treatment masks based on your friend's needs and goals and package them with reusable rounds, a playlist to inspire self-care, and other products.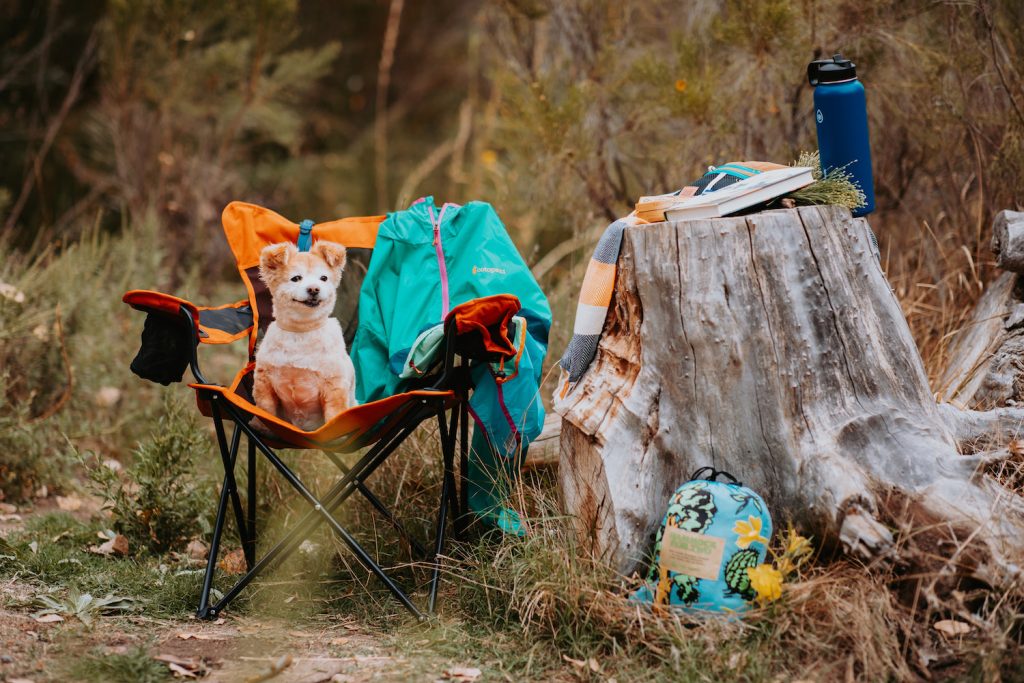 Holiday Gift Guide: For Outdoor Lovers
---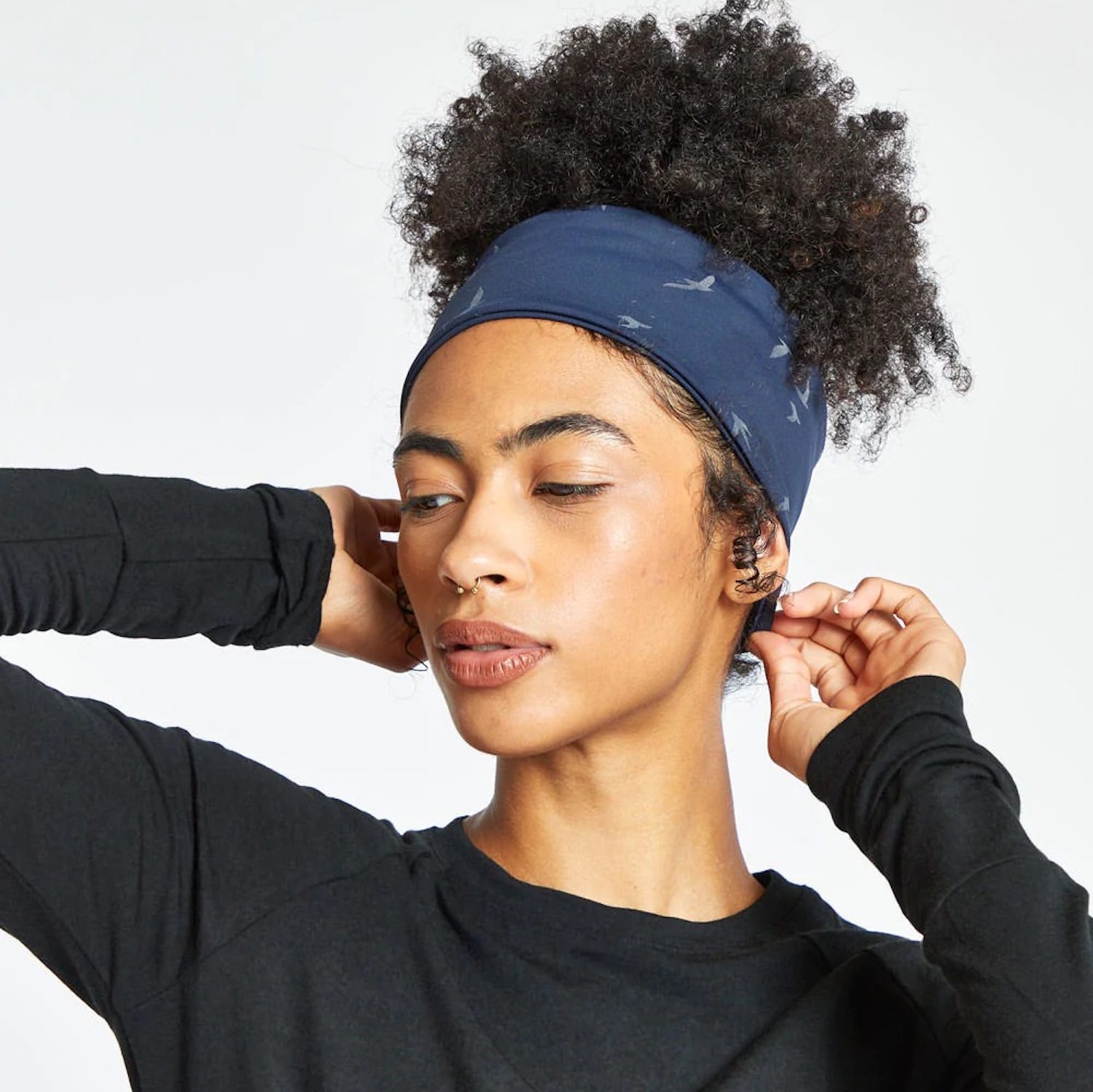 Firecracker Earband – $24
Oiselle
Runners racking up steps in the early morning chill will appreciate this cozy headband, which warms ears with a sweat-absorbing reflective fabric that helps joggers stay visible, even beneath the foggy haze of SD's marine layer.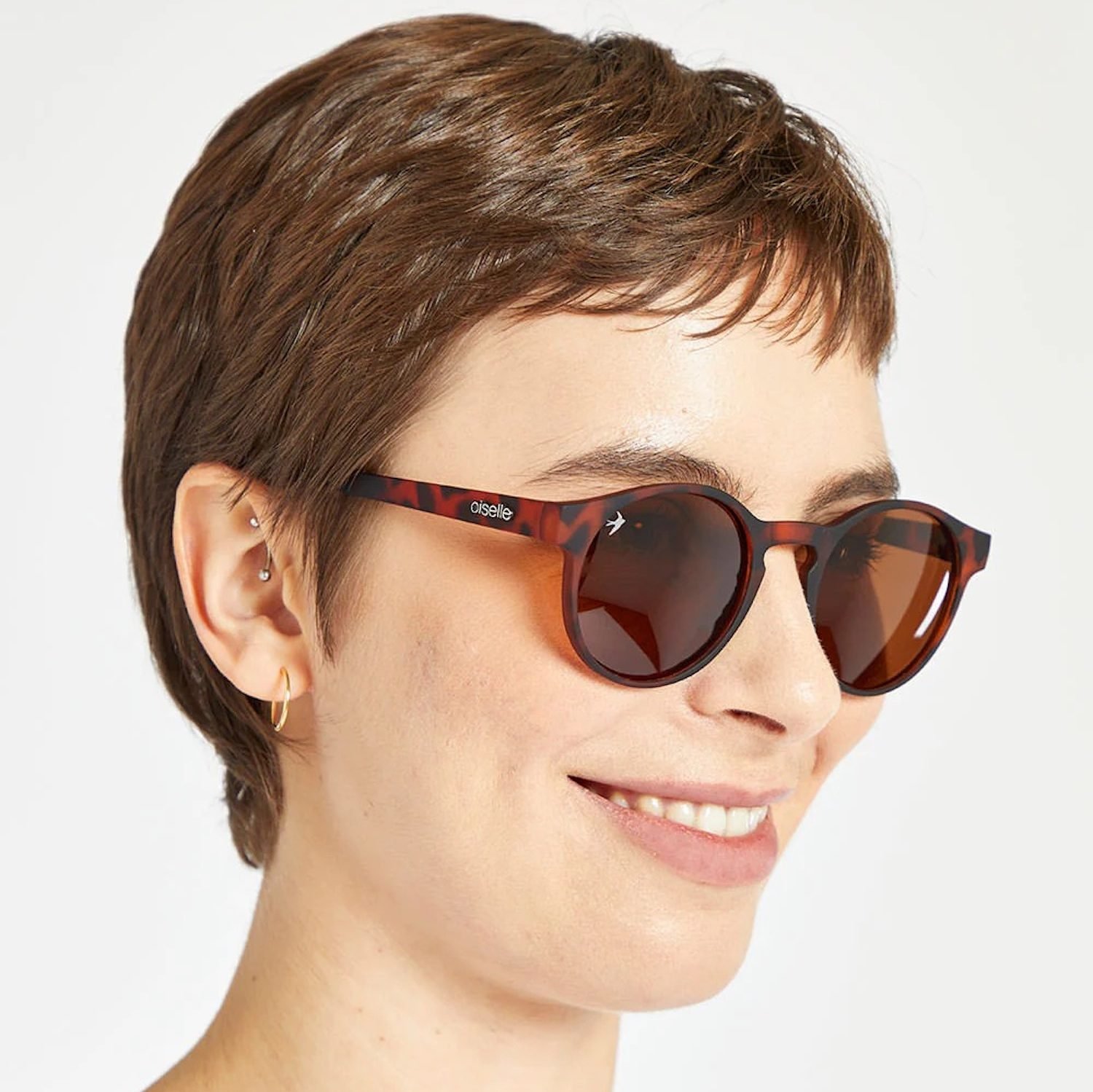 Runglasses – $28
Oiselle
The appeal is in the name. These glasses withstand slippery sweat mid-marathon (or during a half-mile Hot Girl Walk. No shade). Affordable and scratch-resistant, Oiselle's sunnies are a perfect gift for seasoned athletes and jogging newbies alike.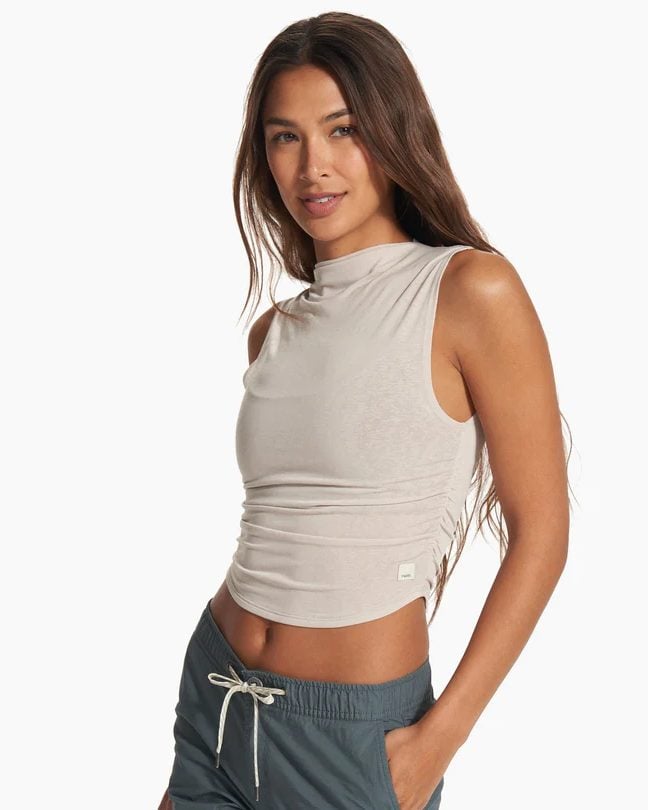 Westerlies Mock Tank – $68
Vuori
This sleeveless mock tank from major Encinitas brand Vuori is breathable enough for a barre class but cute enough for brunch. Friends who are forever on the go will thank you.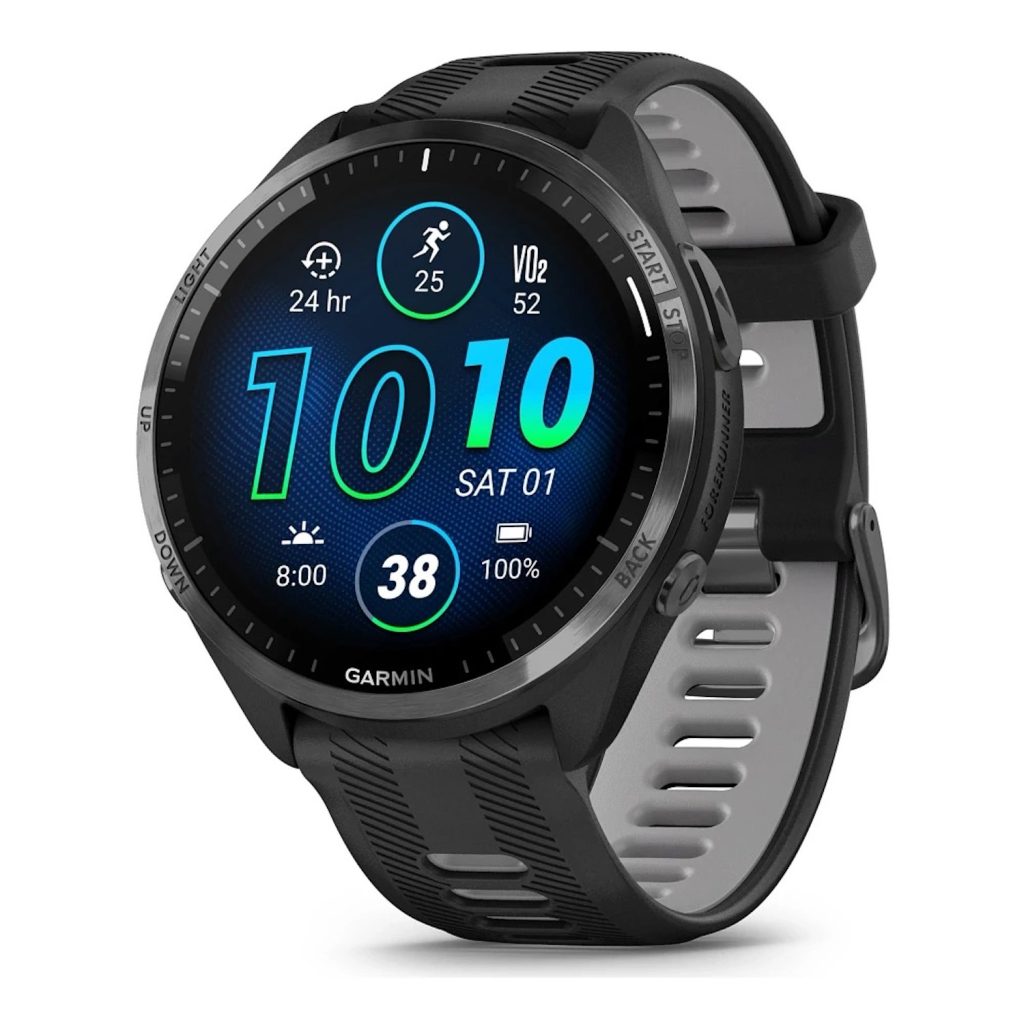 Garmin Forerunner 965 – $599
Road Runner Sports
Garmin's fitness tracker comes equipped with all the James Bond–esque capabilities: race widgets, built-in maps, and 23 days of battery life, so it can stay superglued to your loved one's wrist, no steps left uncounted.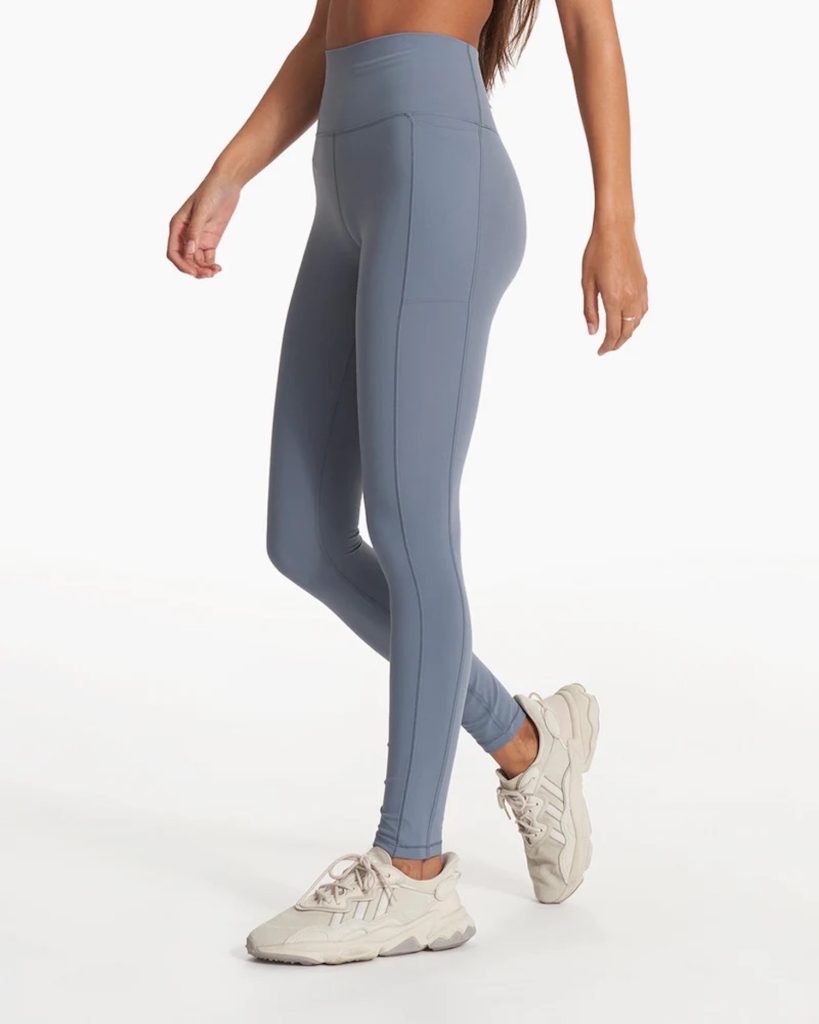 Studio Pocket Legging – $98
Vuori
Whether we're talking dresses, jeans, or leggings, women often want one thing: pockets. These Vuori workout bottoms feature three—two on the sides for phone- and credit card–stashing and a hidden one on the waistband that holds lip balm, a key, or other small necessities.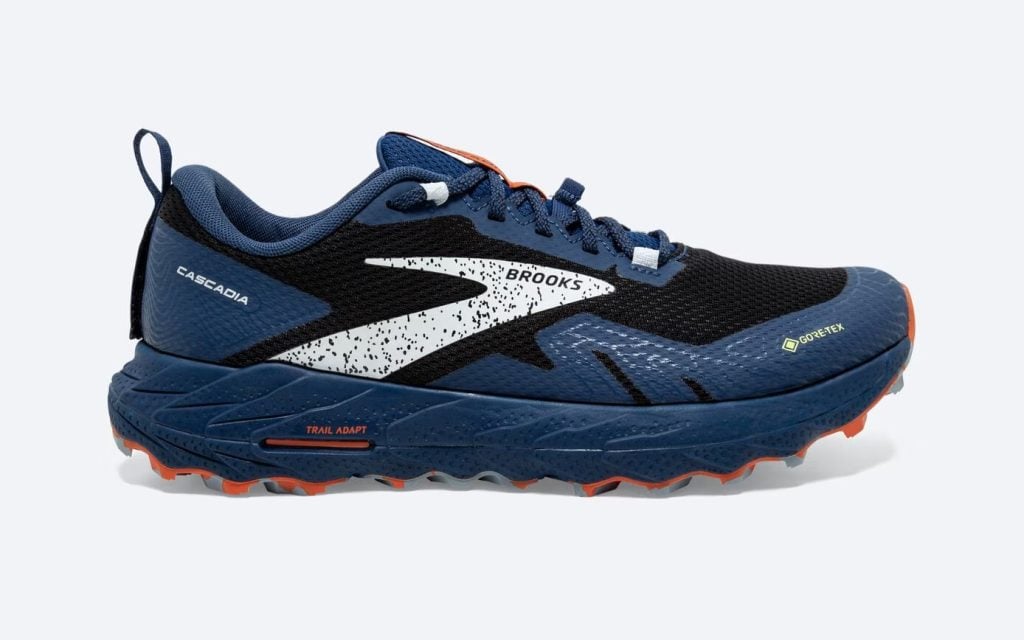 Brooks Cascadia 17 GTX – $170
Road Runner Sports
Running shoes need replacing every 300 to 500 miles—which, for serious joggers, can be as often as every few months. Help your favorite sprinter be more sustainable with Brooks' earth-friendly Cascadias. Each pair is created with recycled materials equivalent to 10 plastic water bottles.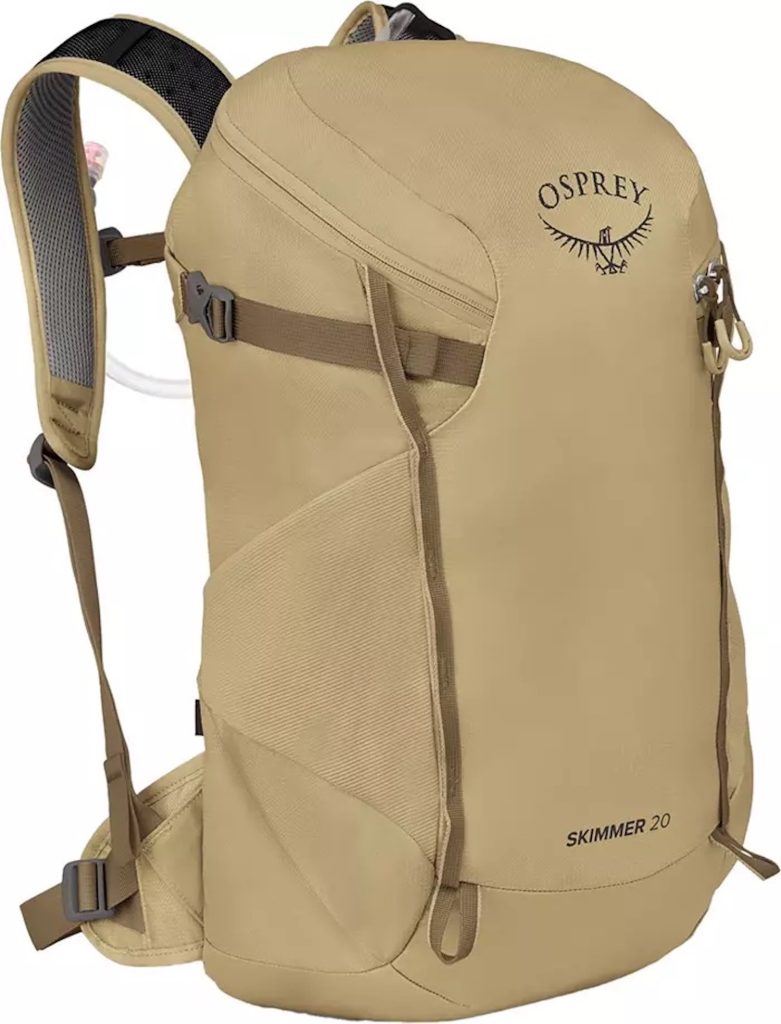 Osprey Skimmer 20 Hydration Pack – $130
Dick's Sporting Goods
A favorite accessory of intrepid hikers and shirtless guys at music festivals, the Camelbak-style pack is practical, but not especially chic—until now. Osprey's take offers a sleeker version that holds 20 liters of water.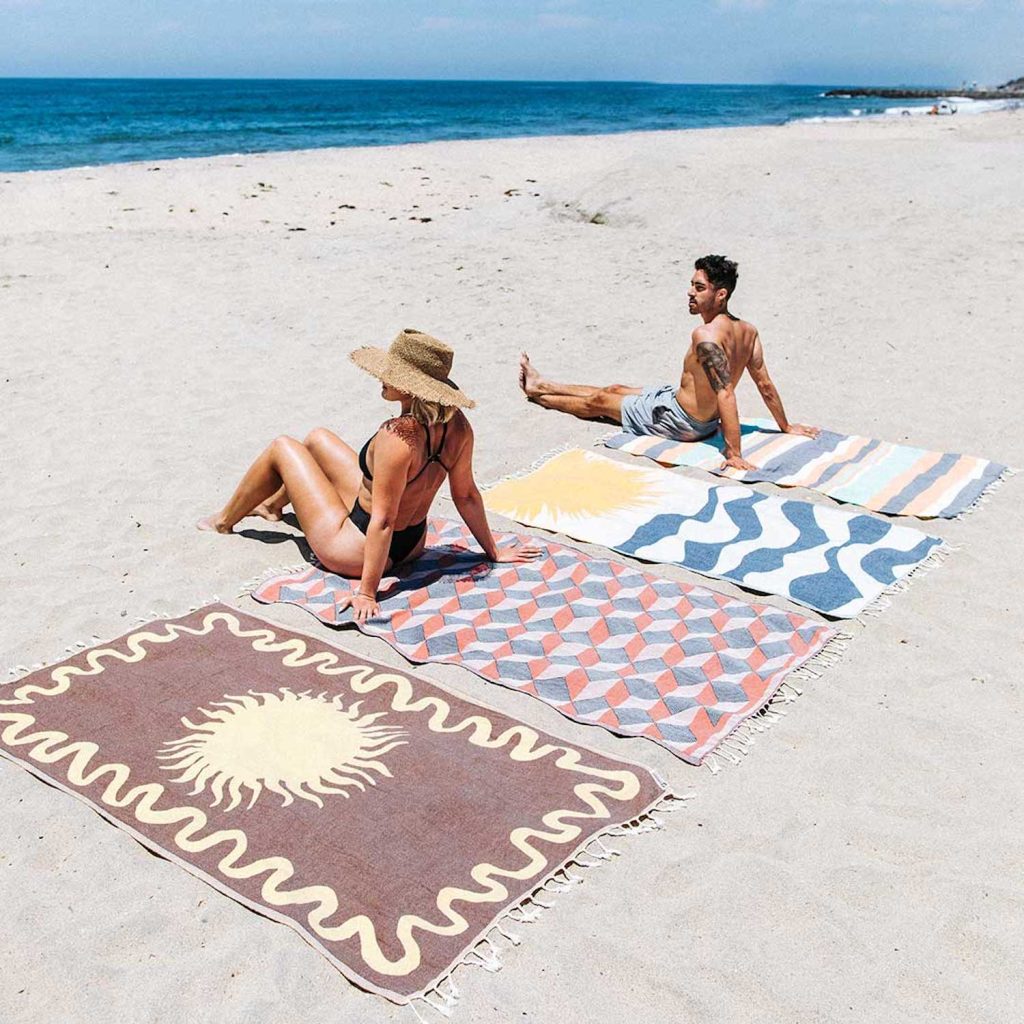 Surfrider Towel – $50
Sand Cloud
In most parts of America, gifting a beach towel in the winter is a cruel taunt—but here, whoever gets one will be able to use it before New Year's. SD brand Sand Cloud collabed with local nonprofit the Surfrider Foundation to create these organic cotton towels that dry quick and repel sand.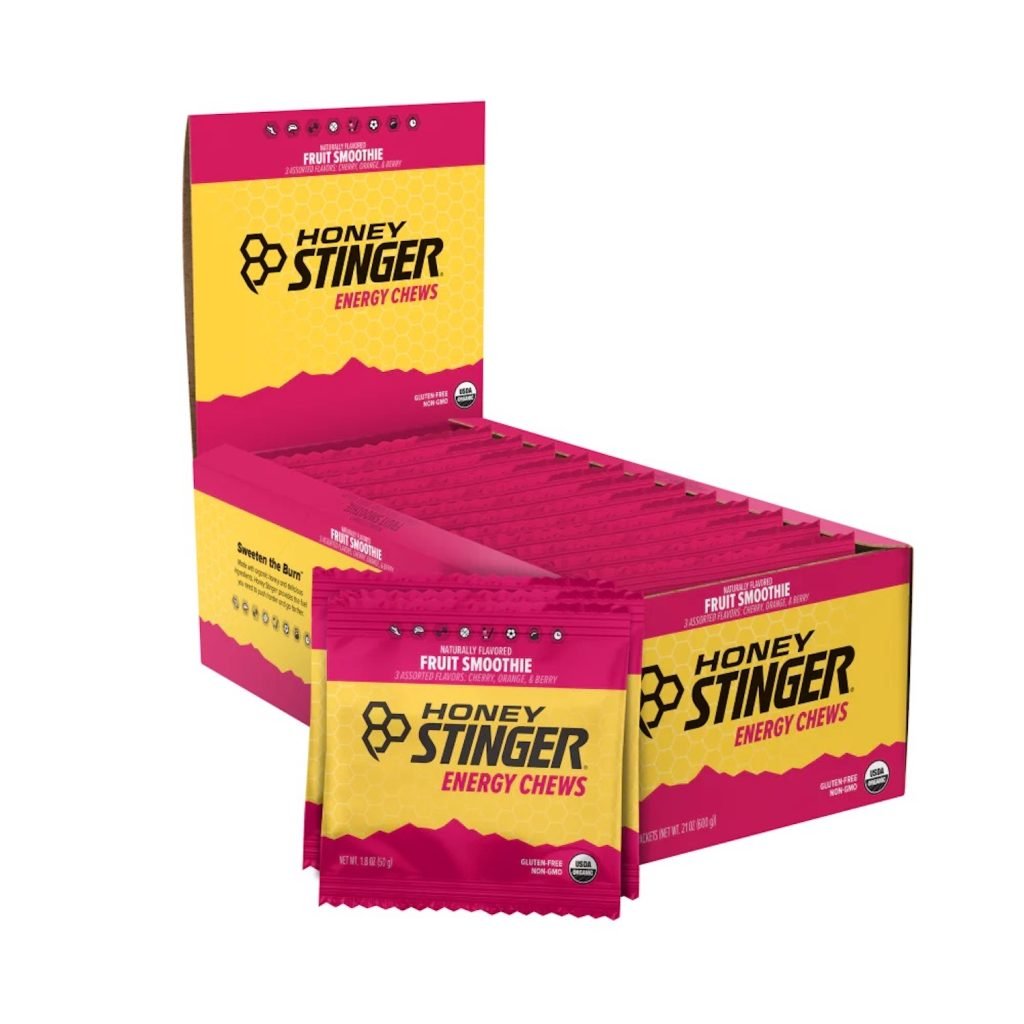 Honey Stinger Energy Chews – $32 and GU Energy Gel – $13
Milestone Running
Pad gaps in a frequent camper's stocking with easily portable trail snacks, including Honey Stinger's fruit-flavored energy chews and GU's caffeine-boosted gels.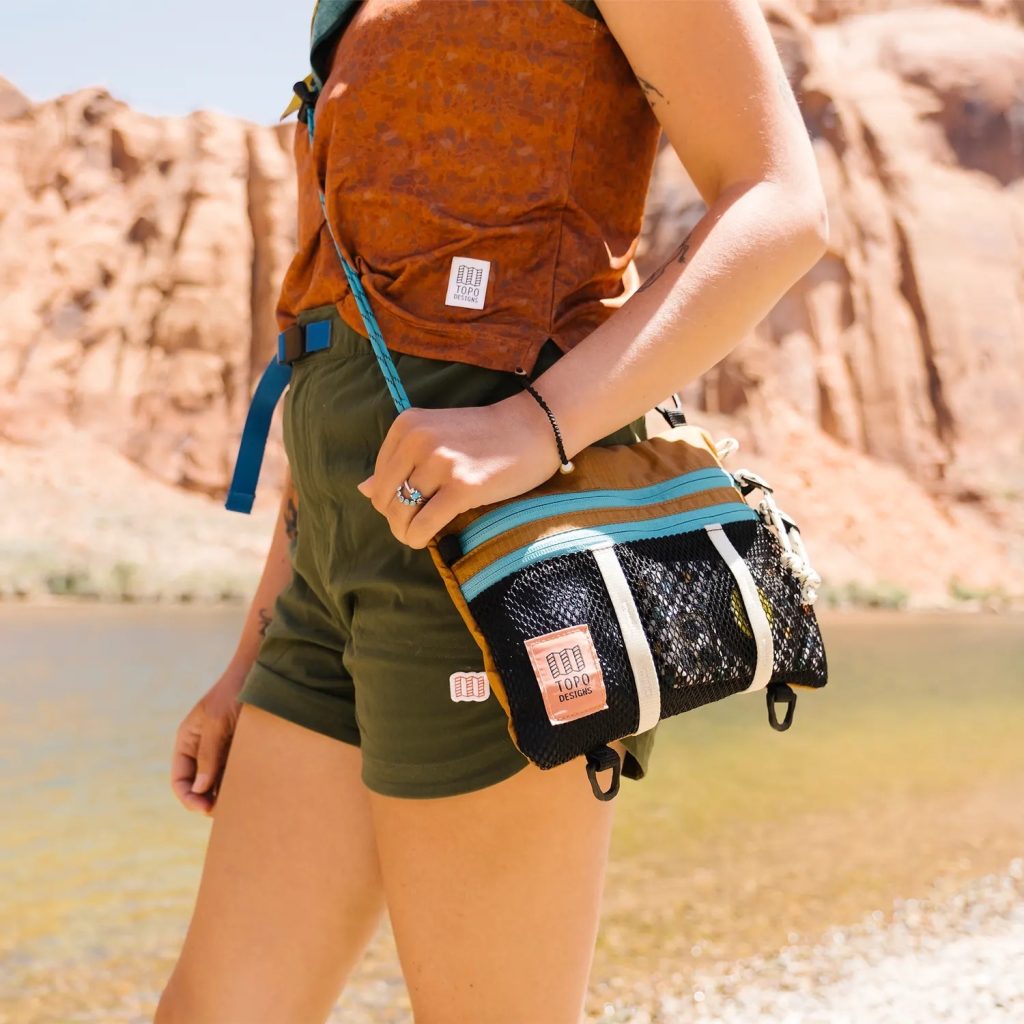 Topo Designs Mountain Accessory Shoulder Bag – $54
Shop Moniker
Here's one for your hiking buddy: a lightweight shoulder bag ideal for short treks. Topo Designs' crossbody has practical pockets for keys, phone, and snacks without any extra bulk. Now all your friend has to worry about is the elevation increase.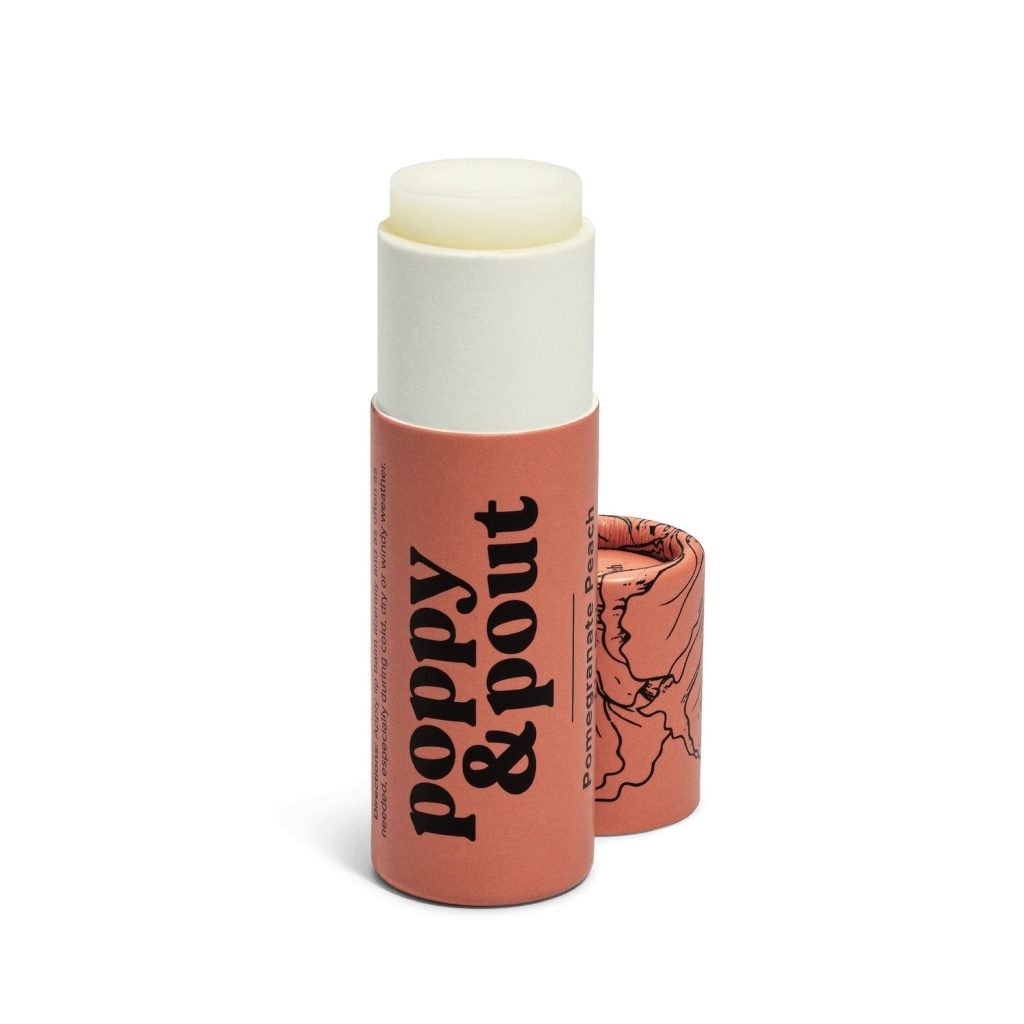 Poppy & Pout Lip Balm – $10
Scisters Salon
The last thing climbers need is a potted lip moisturizer that must be applied with chalky, dusty fingertips. Instead, equip them with Poppy & Pout's tinted balm, which comes in a recyclable cardboard tube.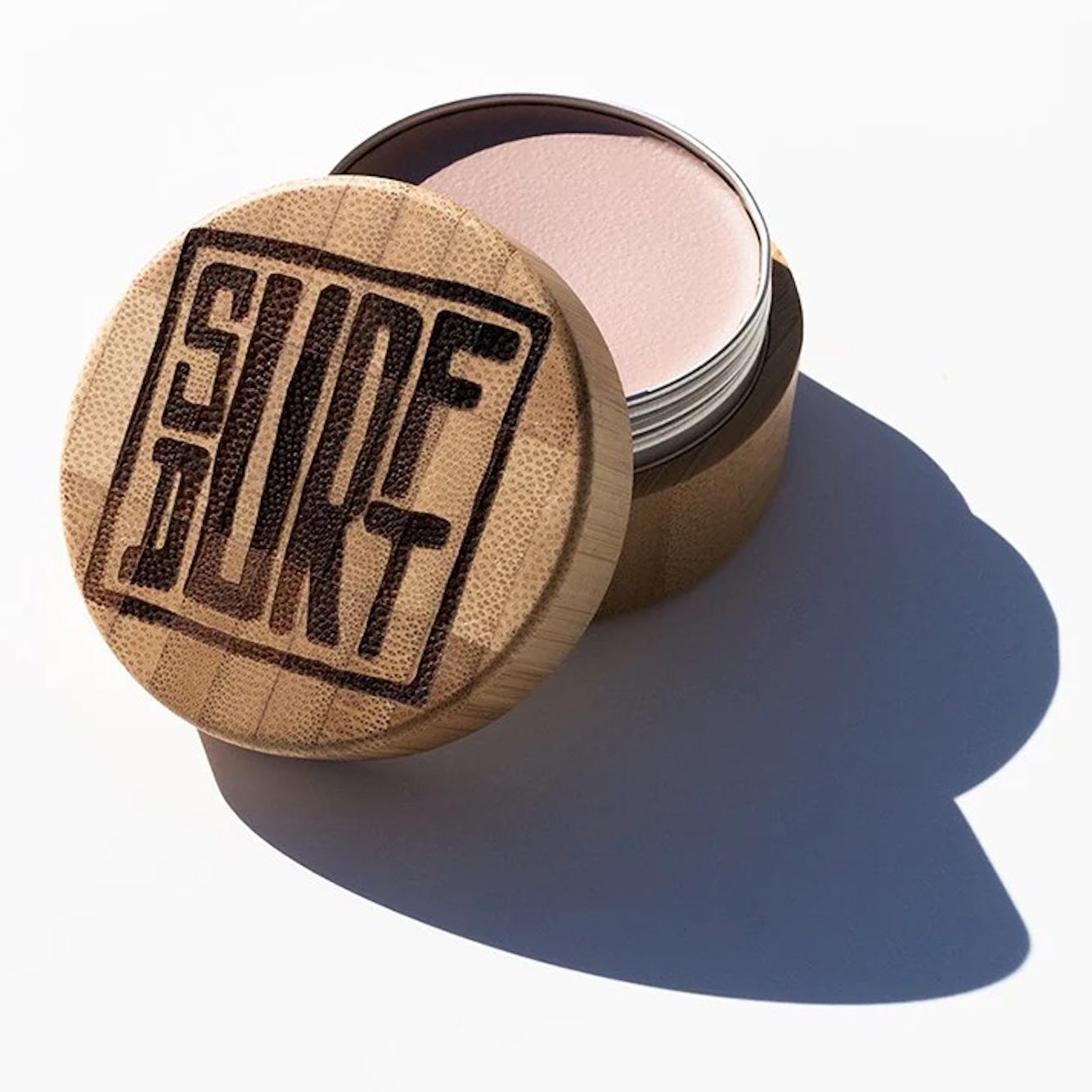 The OG Sunscreen – $25
SurfDurt
This cruelty-free, made-in-SD sunscreen is kind to coral, making it a thoughtful gift for surfers and swimmers. The zinc oxide–based product stands out for lacking the white cast that plagues many a mineral sunblock.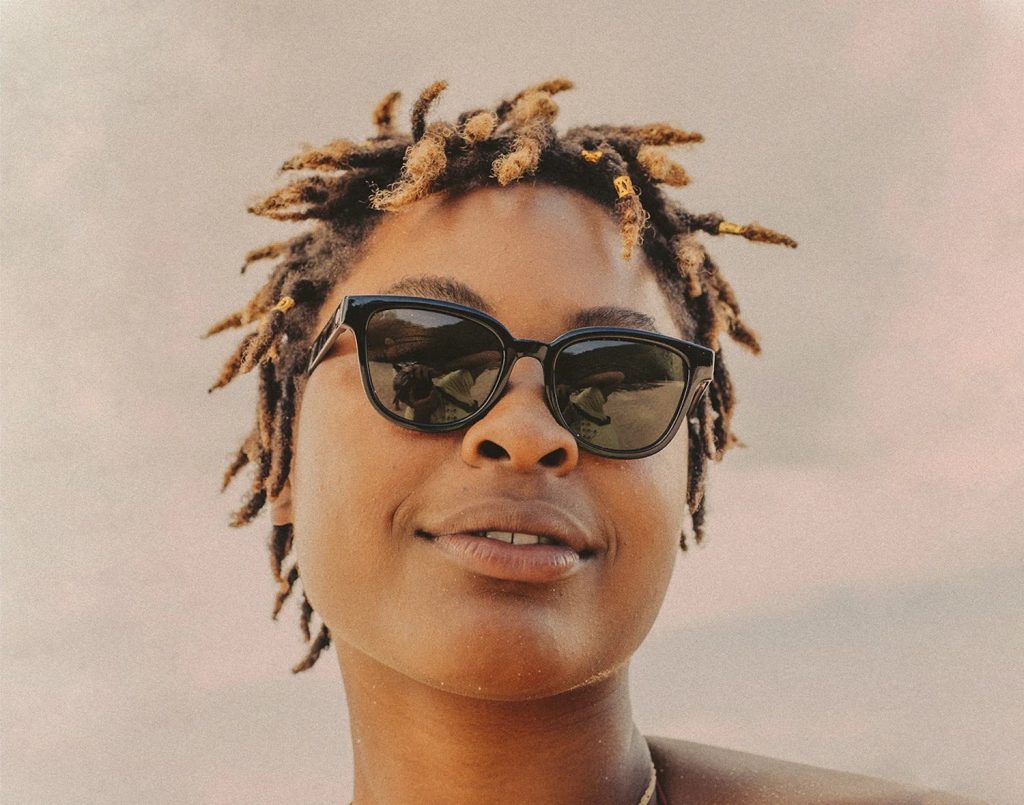 Sunski Dipsea Polarized Sunglasses – $68
Thread Spun
Sunski's unisex polarized glasses offer a nice upgrade for buds endlessly battling the breakable nature of drug-store sunnies (while leaving room in your budget for everyone else on your list).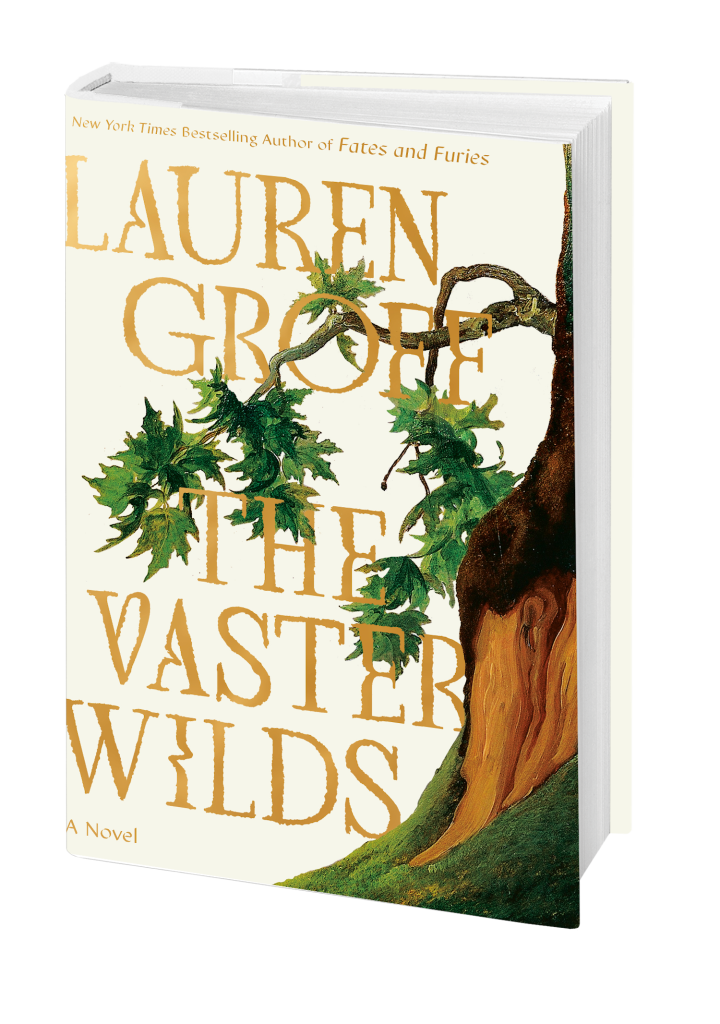 The Vaster Wilds by Lauren Groff – $28
The Book Catapult
The staff at South Park shop The Book Catapult selected Lauren Groff's The Vaster Wilds as one of the best books of 2023. Set in the 17th century, the novel follows a young girl's escape from a colony into an unplumbed wilderness.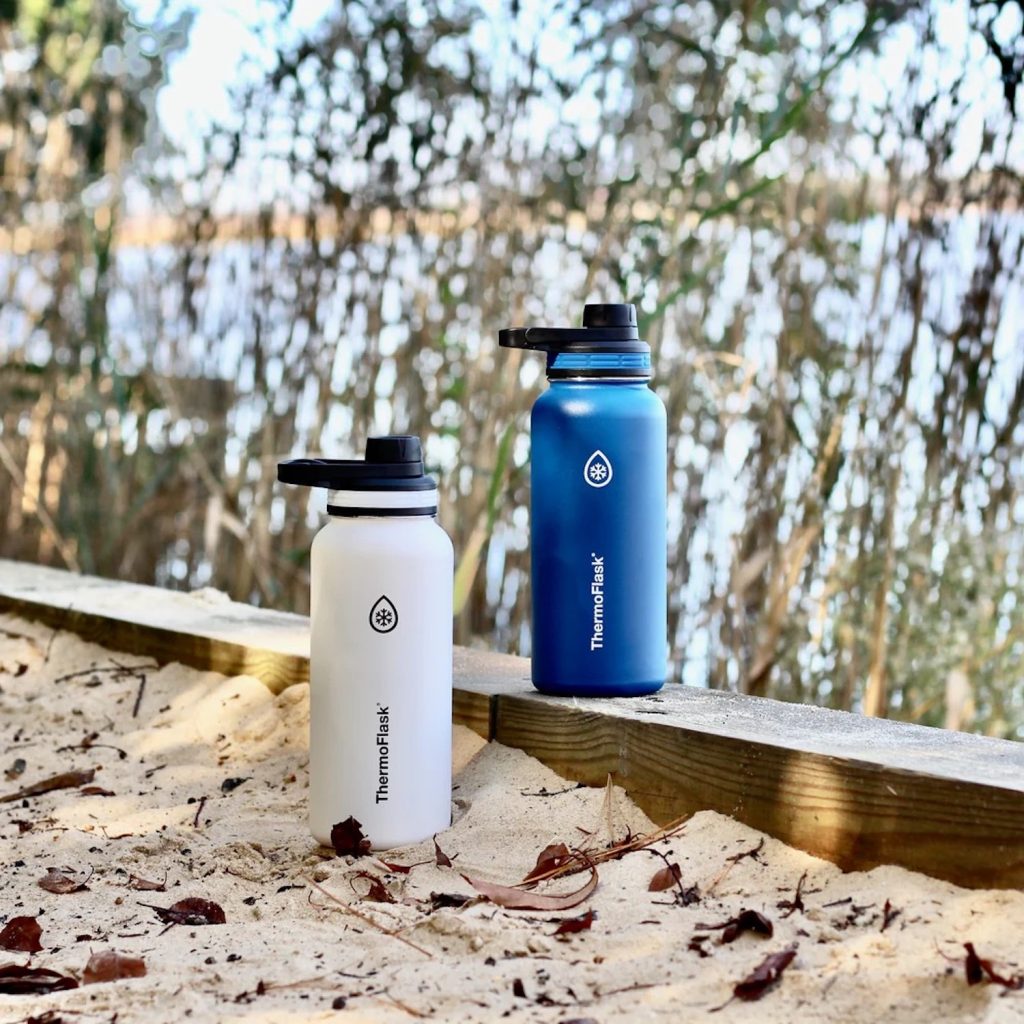 ThermoFlask 32 oz. Stainless Steel Water Bottle – $33
Amazon
Healthy teens require at least 64 ounces of water every day (more if they play a sport). Help the high schoolers in your life stay hydrated from Spanish class to soccer practice by gifting them a stainless-steel water bottle from ThermoFlask (plus a few stickers to decorate it).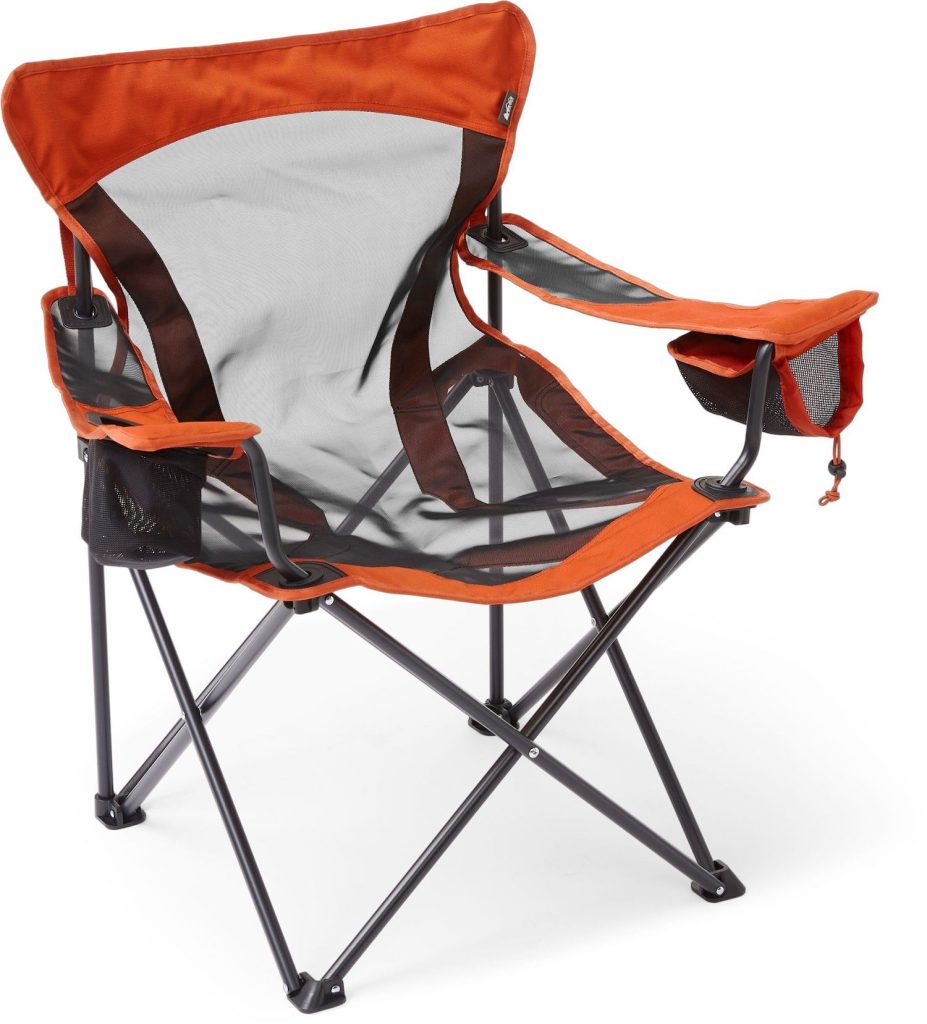 Skyward Chair – $60
REI
REI's staple Skyward chair is a must-have for two key facets of the San Diego lifestyle: outdoor adventuring and beachside chilling. Weighing in at just over seven pounds, it's a foldable, portable camp seat that also suits tailgaters, soccer parents, and open-air concert fans.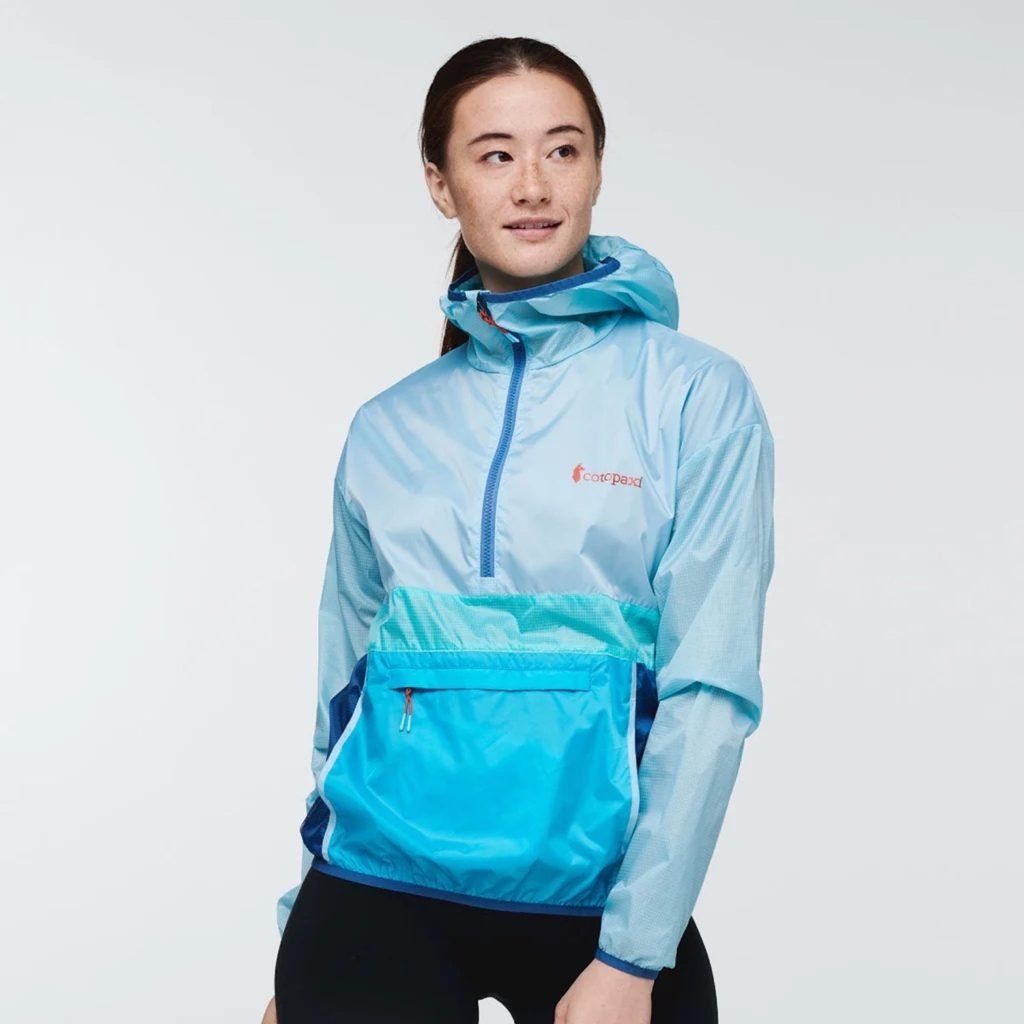 Teca Half-Zip Windbreaker – $80
Cotopaxi
With an El Niño winter on the way, SD may see more rain this winter. Help folks on your gift list weather any storm with this packable half-zip windbreaker. See a shade they'll love? Snap it up—Teca makes 'em with repurposed materials, meaning each colorway is limited.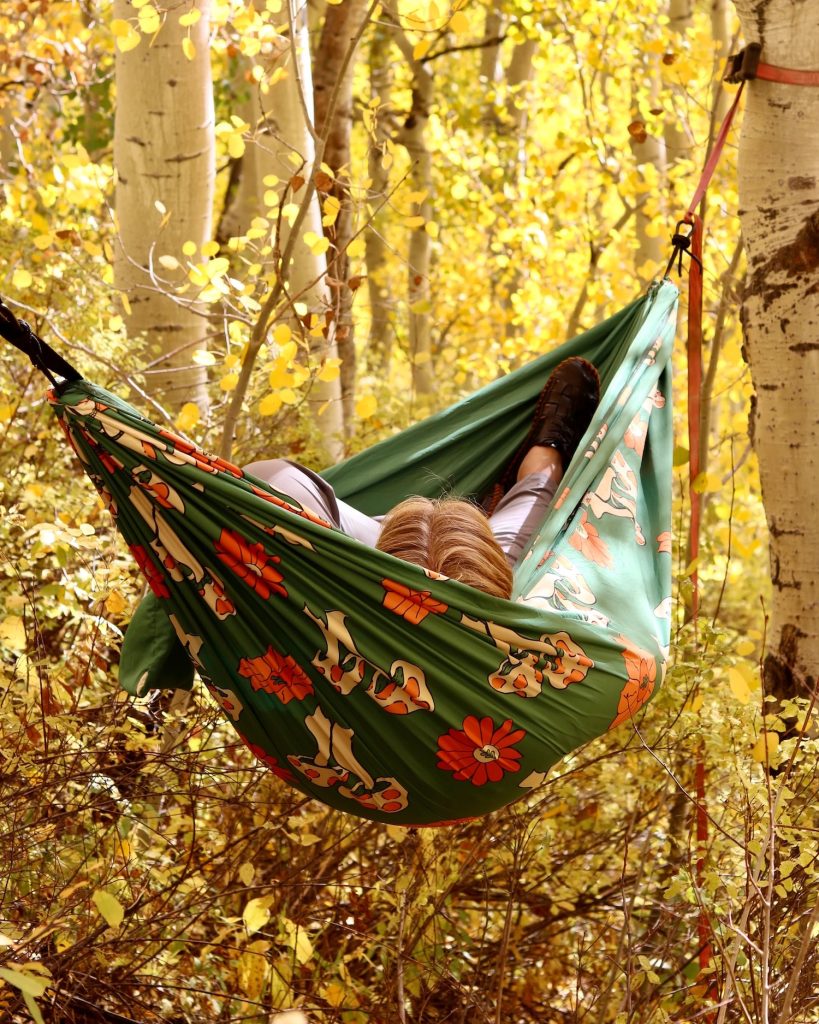 Parks Project Two-Person Hammock – $105
Small Batch
The woods are for lovers. Treat your sweetheart (and yourself) to cozier camping trips with this trippy printed hammock that fits two.
Holiday Gift Guide: For The Kids
---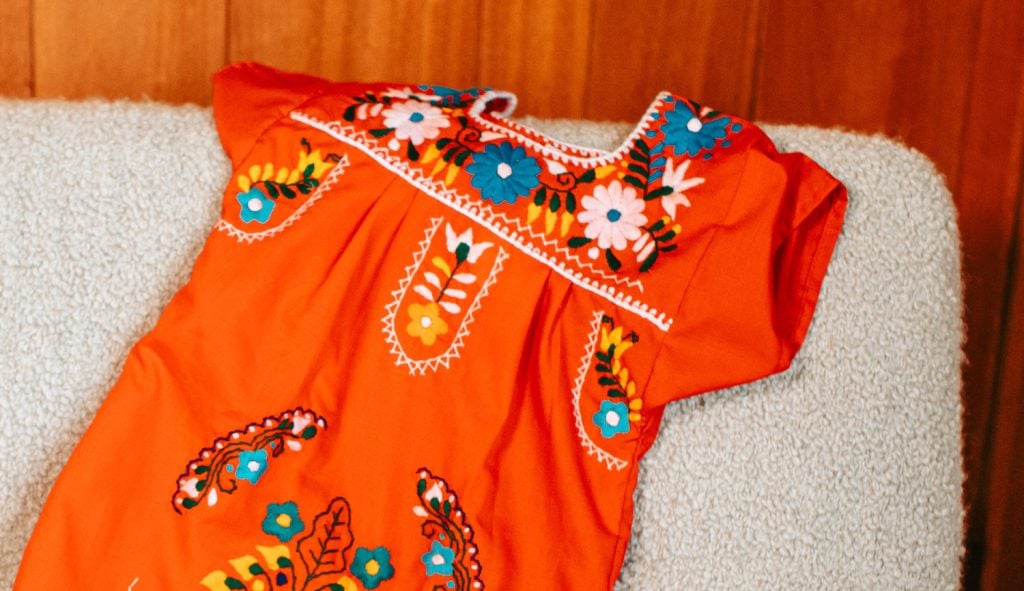 Child's Dress – $25
Casa Xovi
Woman-owned Barrio Logan boutique Casa Xovi vends Mexican goods from an eclectic collective of shops in Barrio Logan. The store slings colorful kids' clothes for babies, toddlers, and older children.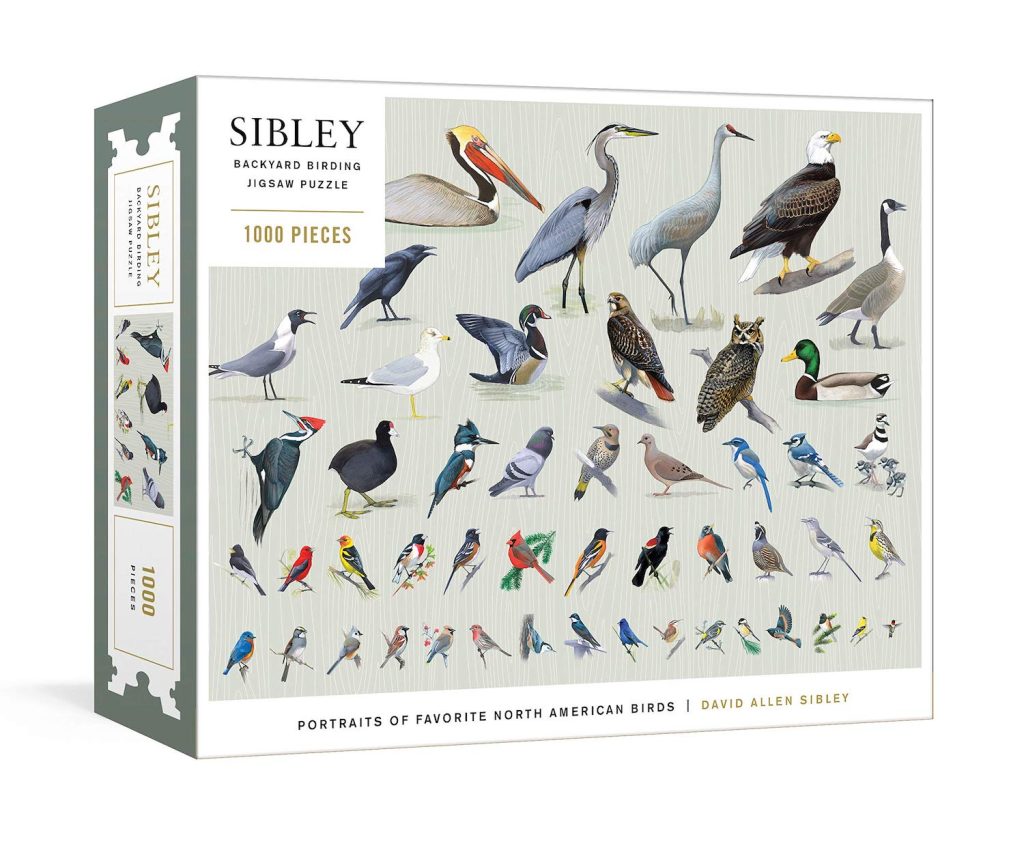 Sibley Backyard Birding Jigsaw Puzzle – $20
Small Batch
Short winter days can prevent birdwatching jaunts, but this illustrated puzzle allows bird lovers to ogle avian life from the comfort of their couch. At 1,000 pieces, the puzzle is best for kiddos over 12 (or smaller solvers with very patient parents).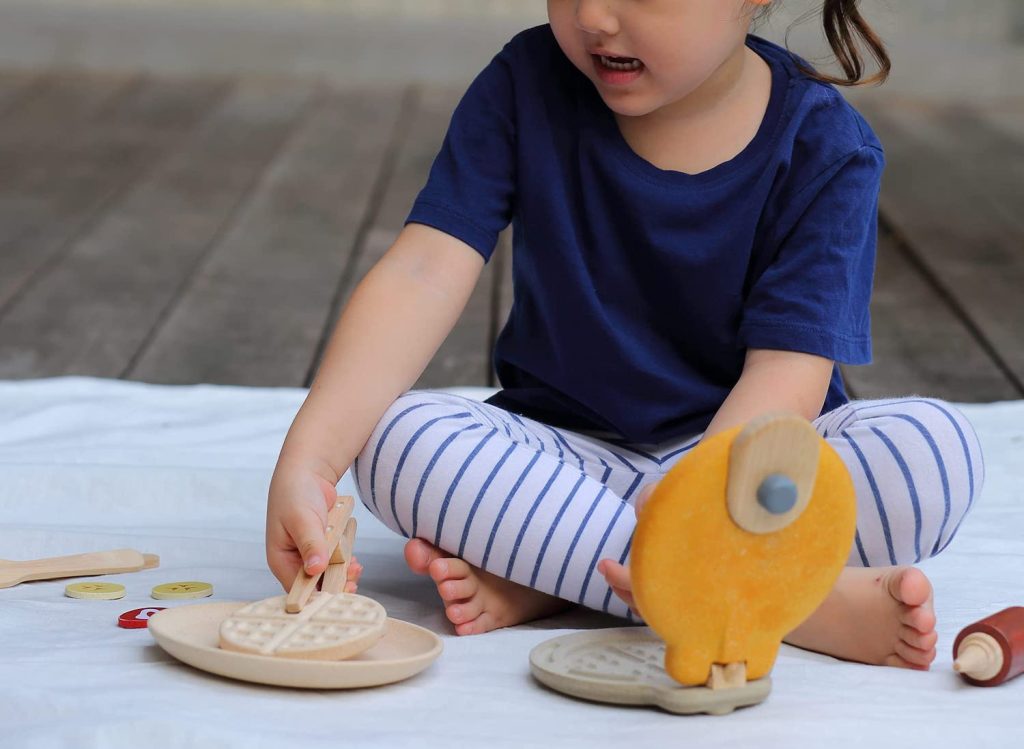 Plan Toys Waffle Set – $55
Shop Moniker
Little chefs can safely hone their cooking skills with this sustainable toy rubberwood waffle iron complete with silverware, dishes, and pretend waffles, syrup, and fruit.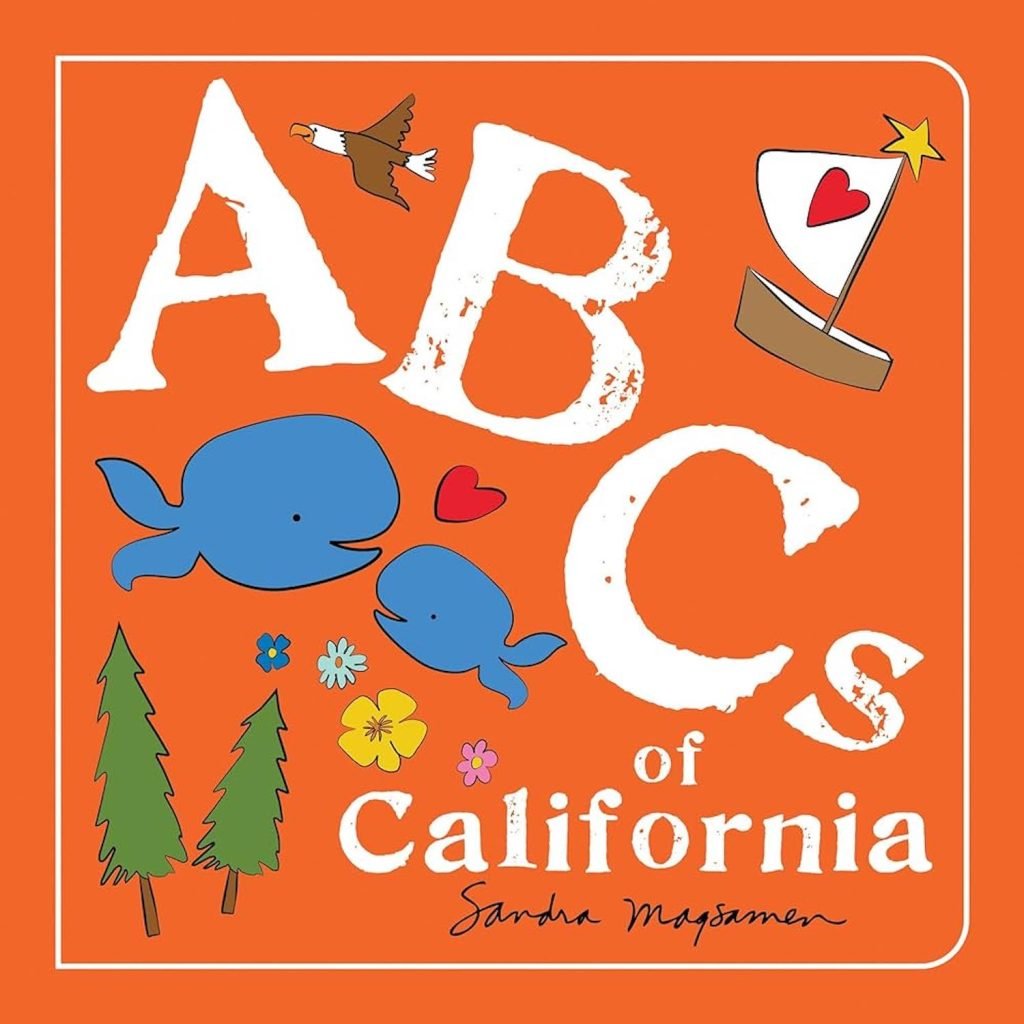 ABCs of California by Sandra Magsamen – $13
Sea Hive Station
Teach children the wonders of living on the West Coast with Sandra Magsamen's ABCs of California, which traces the state's most magical qualities from A (for awesome, "because that's what California is, in every way!") to Z (for zoo, "where sea lions swim around and bark").
Holiday Gift Guide: For Fashionable Friends
---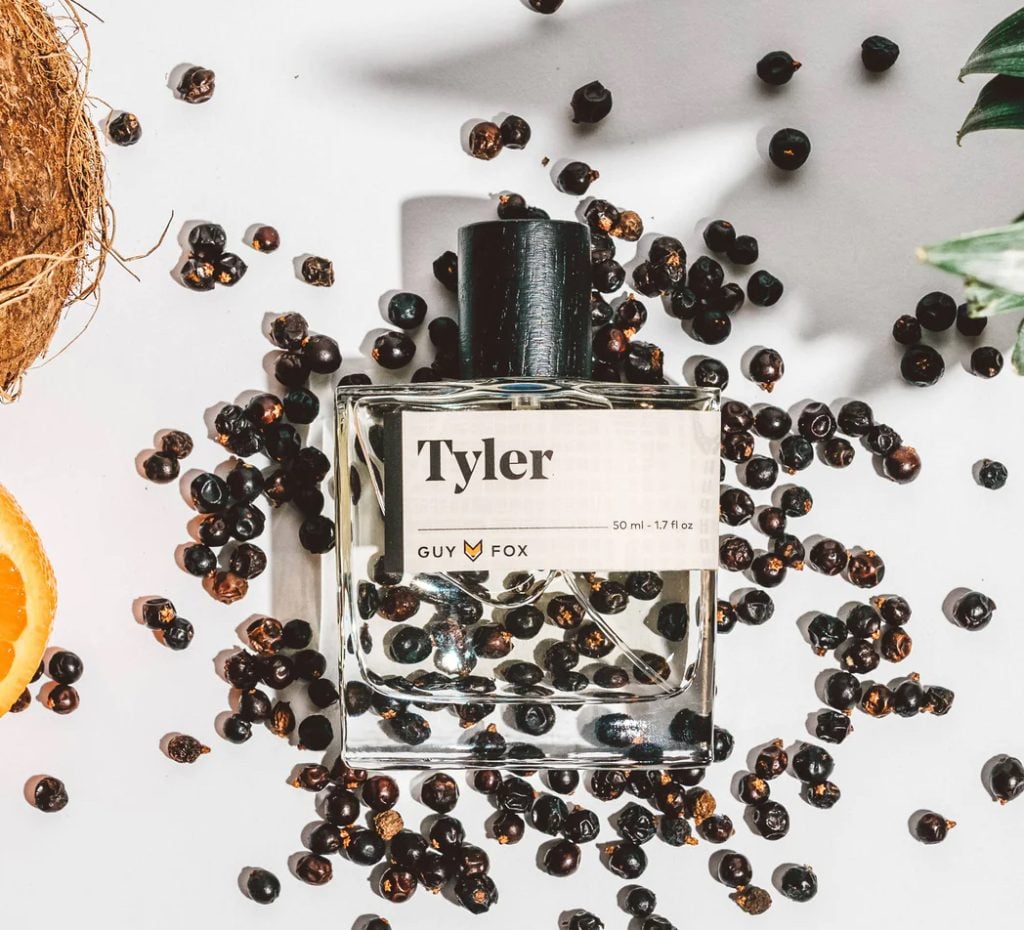 Guy Fox Tyler Cologne – $68
Small Batch
Gift someone a signature scent. The rare fruit-forward fragrance directed more at dudes, this locally produced cologne offers a zippy blend of citrus notes, coconut, sage, and juniper, plus a touch of moodiness from patchouli and cedar.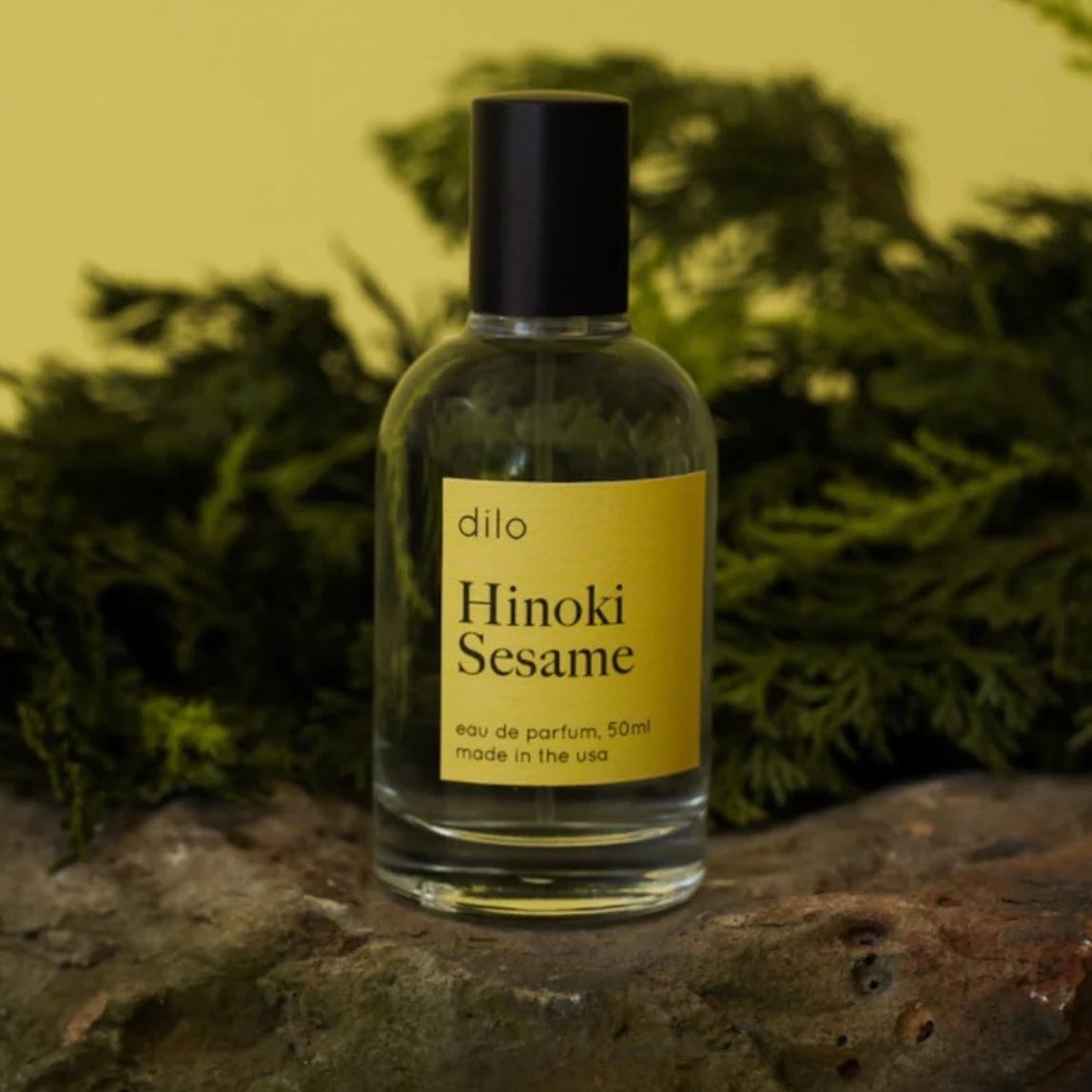 Dilo Hinoki Sesame Perfume – $84
Adobe by Jess Vargas
Sexy and fresh, Dilo Hinoki Sesame melds bergamot, sandalwood, and cedar will its namesake notes (sesame seeds and hinoki, a type of Japanese cypress). Fans of Le Labo's hinoki-scented bath and body products will dig this for an extra layer of lemony, foresty goodness.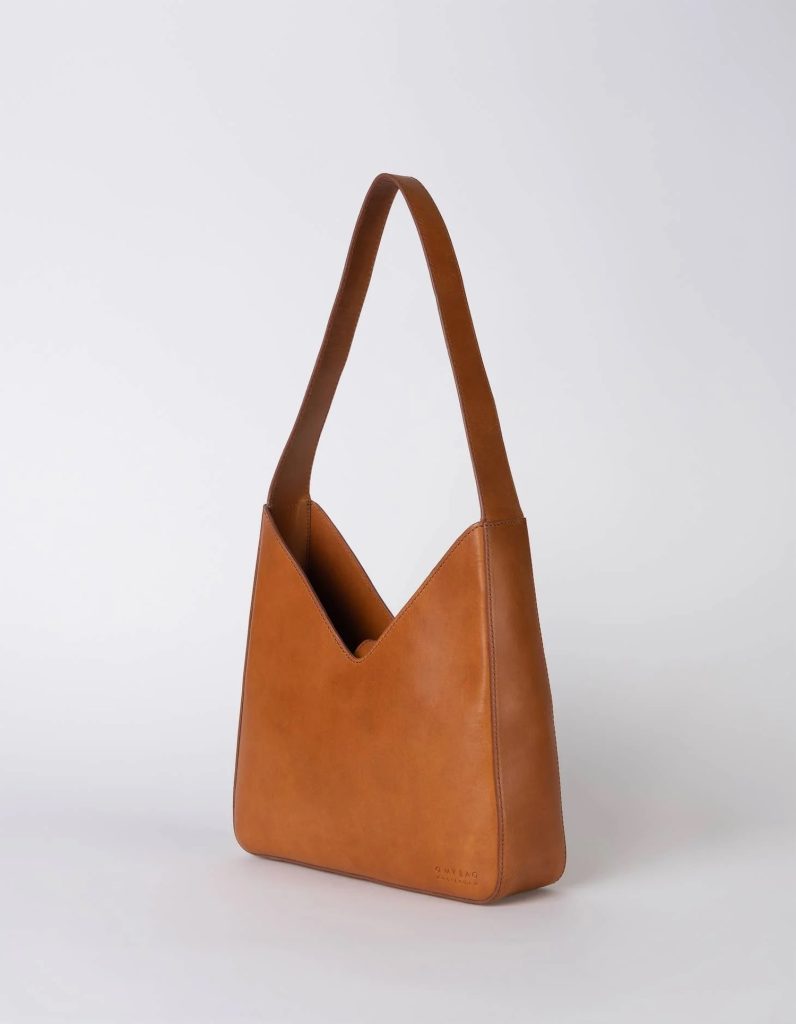 O My Bag Vicky Leather Bag – $298
Thread Spun
The scent of new leather wafting from a gift bag is its own delight—and O My Bag's vegetable-tanned purse delivers with a sharp, interesting shape in a warm, goes-with-everything color.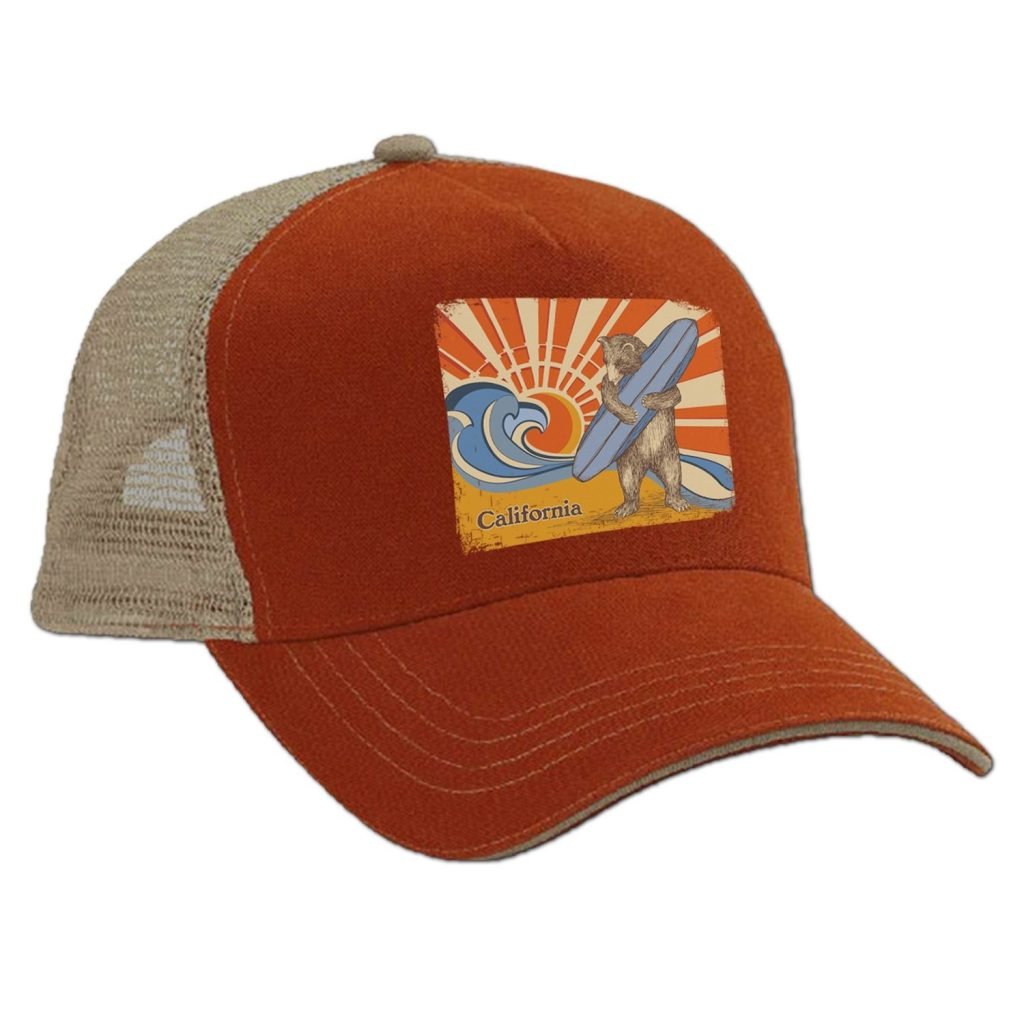 La Ranchitas California Trucker Hat – $28
Sea Hive Station
The solution to your dad's insistence that he doesn't need anything? Probably a cap. La Ranchitas' trucker hat celebrates SD's seaside culture with a detailed decal featuring sun, sand, surf, and waves.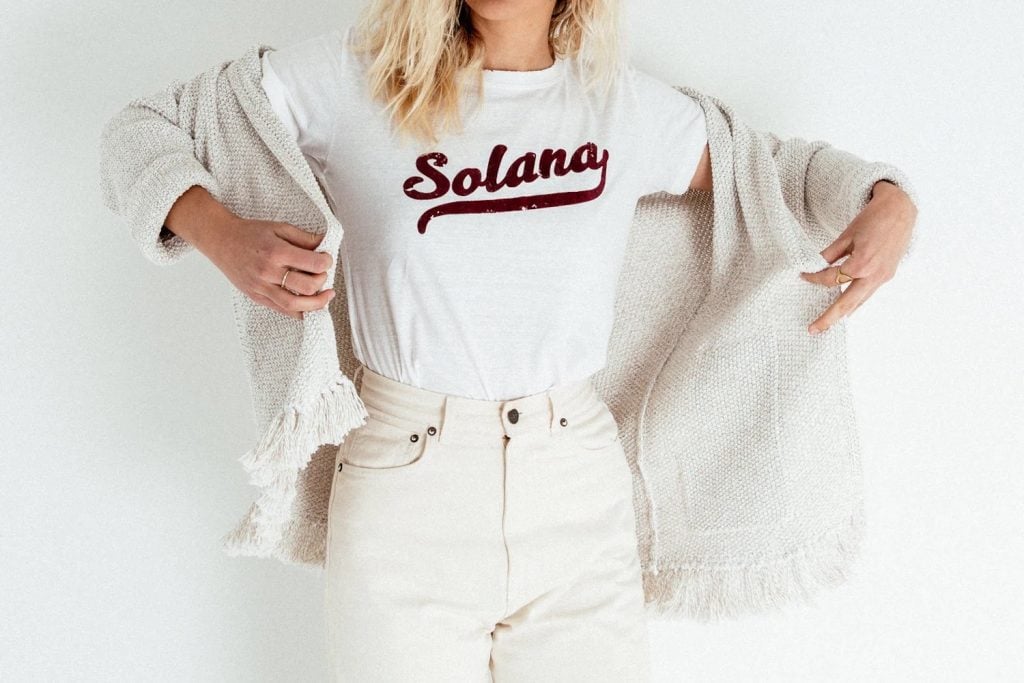 T-Shirt – $65
No. 1926
Leave the souvenir sweatshirts to Embarcadero tourists. Instead, help your loved ones rep local spots with soft, vintage-inspired tees from SD-based No. 1926. The shirts shout out county hot spots like Solana Beach, Del Mar, and North Park.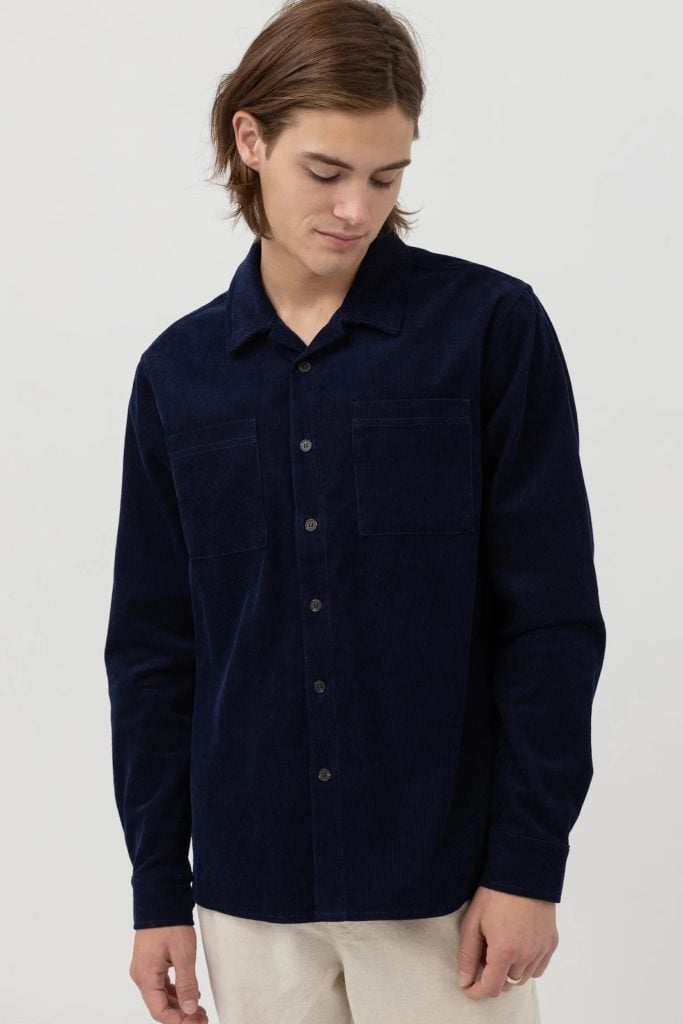 Rhythm Corduroy Shirt – $99
Shop Moniker
This durable, timeless corduroy shirt from Rhythm is the ideal San Diego winter layer, keeping wearers warm when it hits 6 p.m. and it's no longer 70 and sunny. Tragic.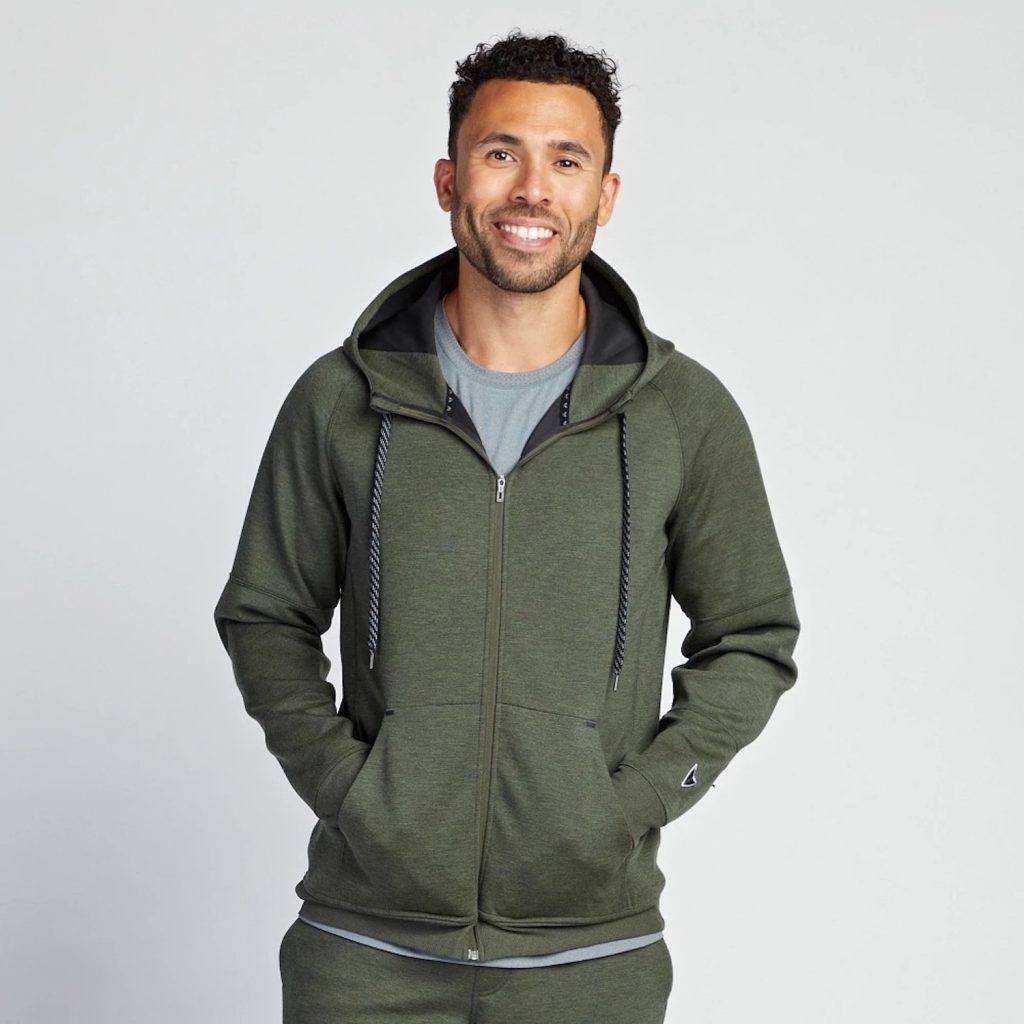 Korsa Transfer Full Zip Hoodie – $100
Road Runner Sports
San Diego running goods shop Road Runner Sports designed this comfy hoodie, adding strategically placed fleece and subtle venting to balance body temps during cold-weather workouts.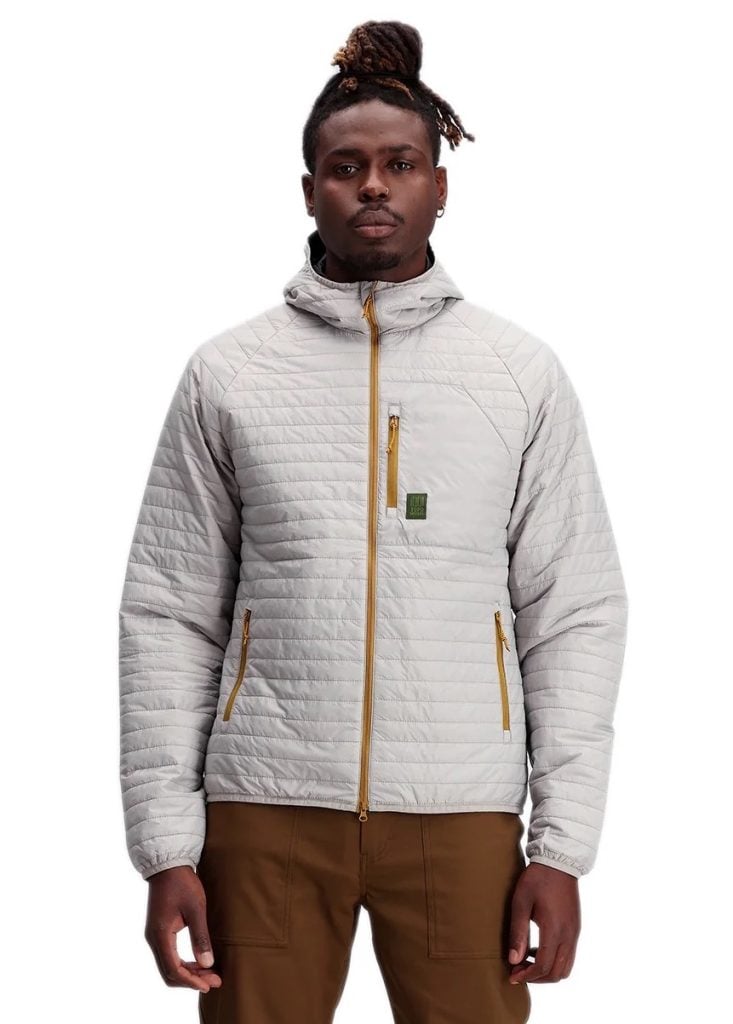 Topo Designs Global Puffer Hoodie – $271
Shop Moniker
Topo Design's puffer hoodie is ready to take on everything, from everyday wear to summiting mountain peaks. This lightweight, waterproof layer will take recipients to new heights (even if those heights are merely reaching up to place a star at the top of the tree).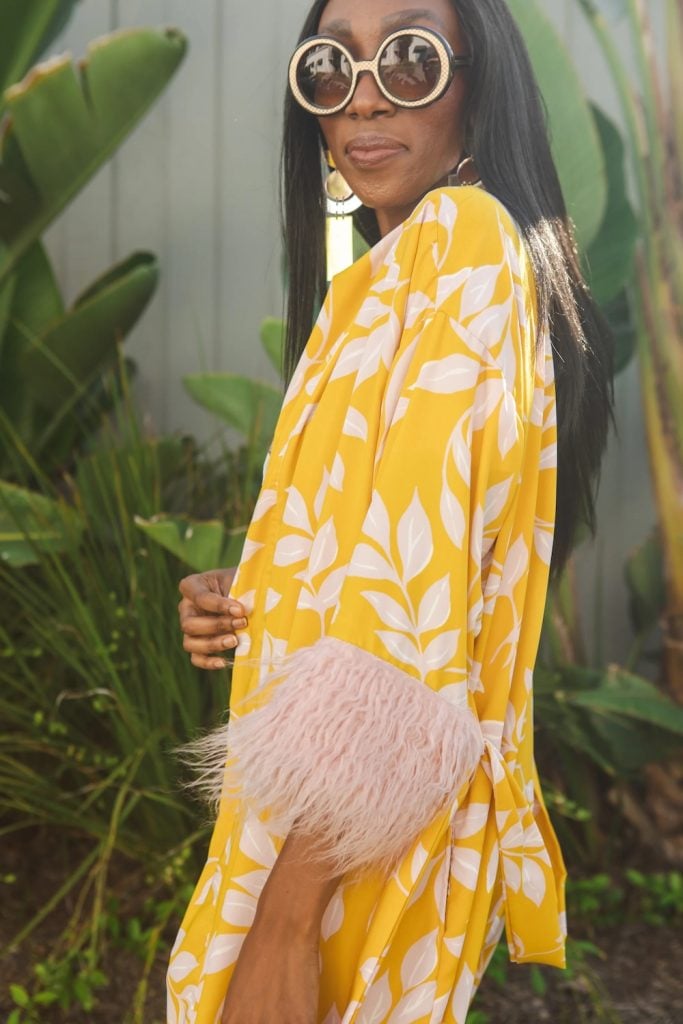 Jennafer Grace Lavender Honey Faux Fur Koi Kimono – $189
Sea Hive Station
Friends who consider Daisy Jones and the Six the ultimate style inspo will dig a saucy robe from Jennafer Grace. It wears just as well at home paired with a glass of red wine as it does atop a silky slip dress for a night out.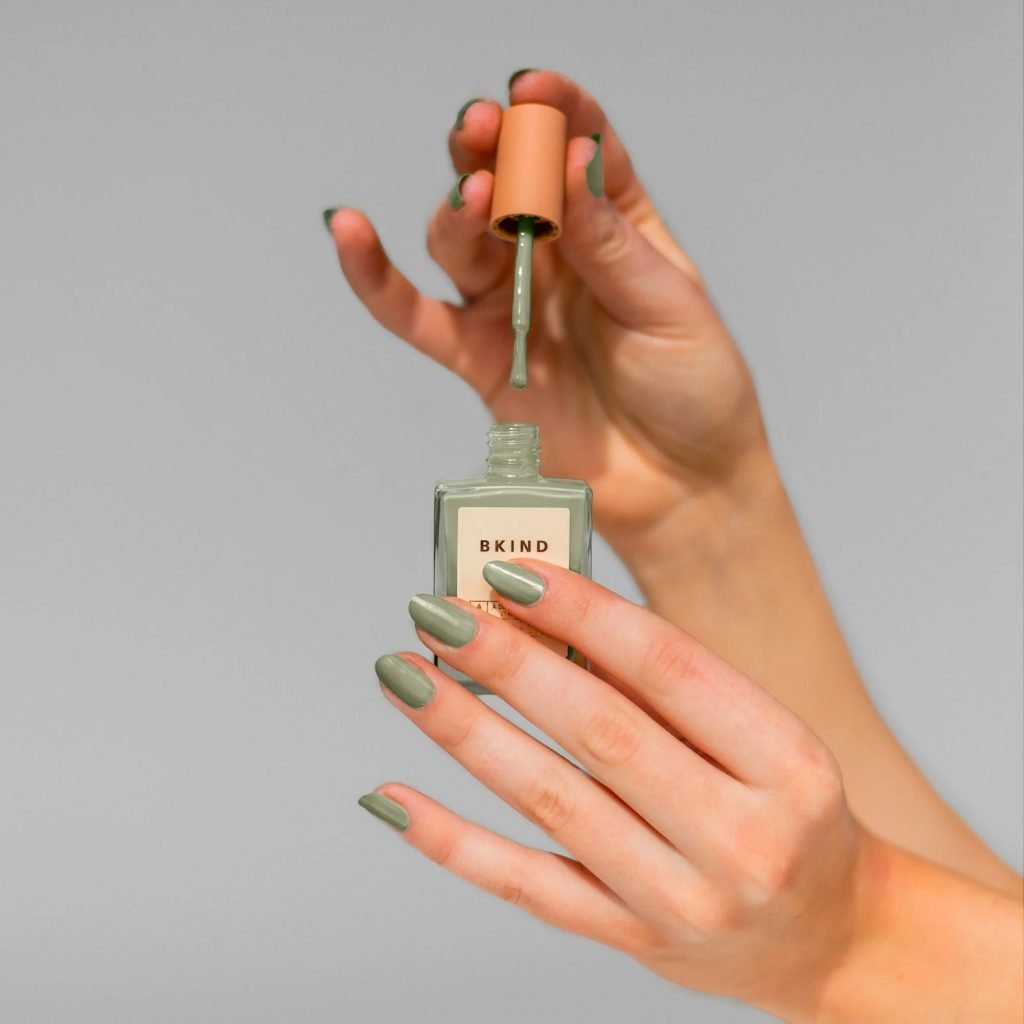 BKIND Nail Polish – $16
Scisters Salon
Vegan and free of 21 potentially harmful ingredients typically found in nail polish, this holiday gift guide favorite—BKIND's nail polish—comes in tons of colors, from a holiday-ready cherry red to a soft, pearly white.
Holiday Gift Guide: For Pets
---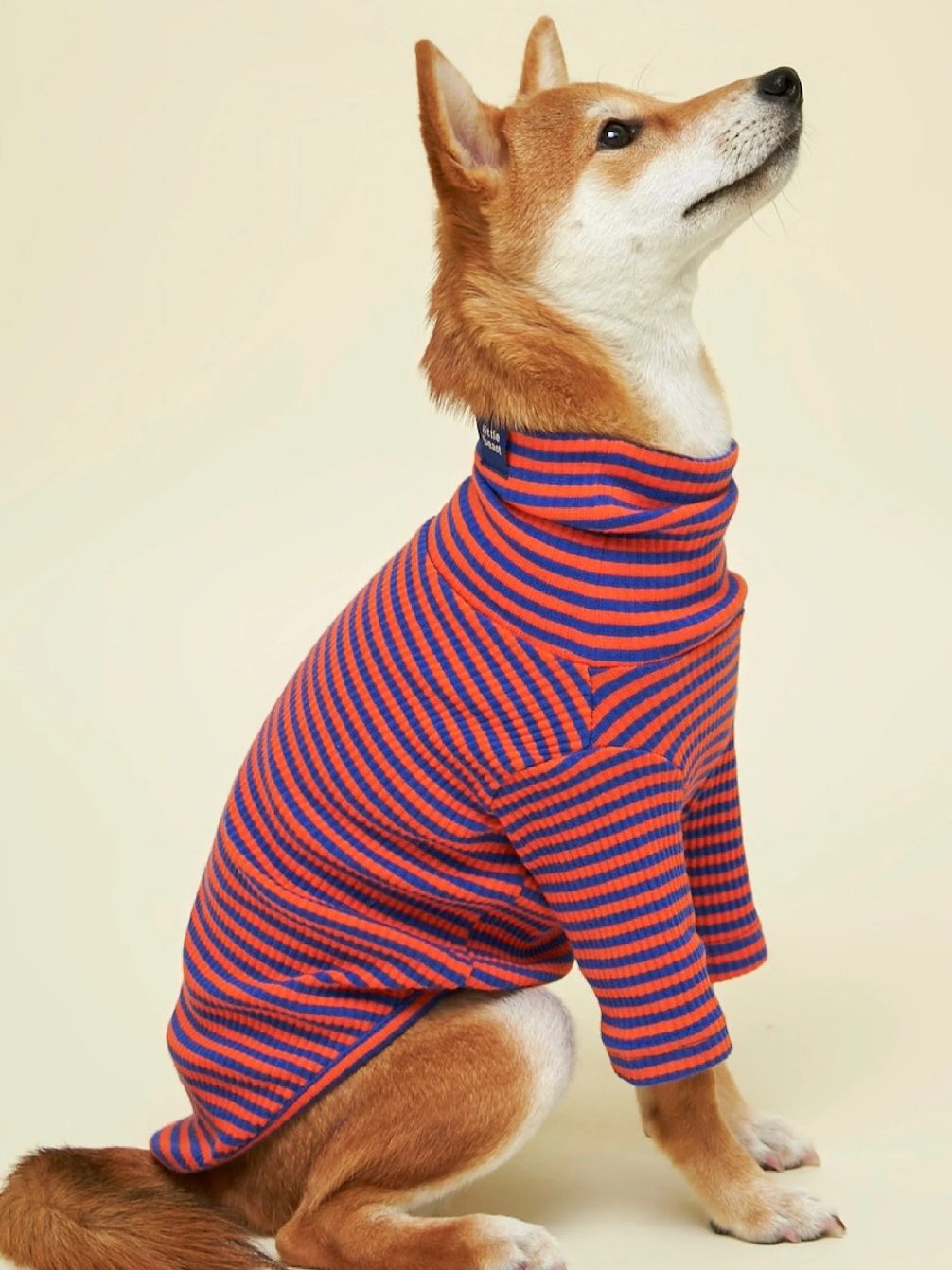 Knickerbocker Sweatshirt – $45
Little Beast
Humans aren't the only ones enjoying sweater weather—our dogs love it, too. Get your four-legged friend a stylish look for their next holiday shindig, like this striped turtleneck from quirky pet clothes company Little Beast.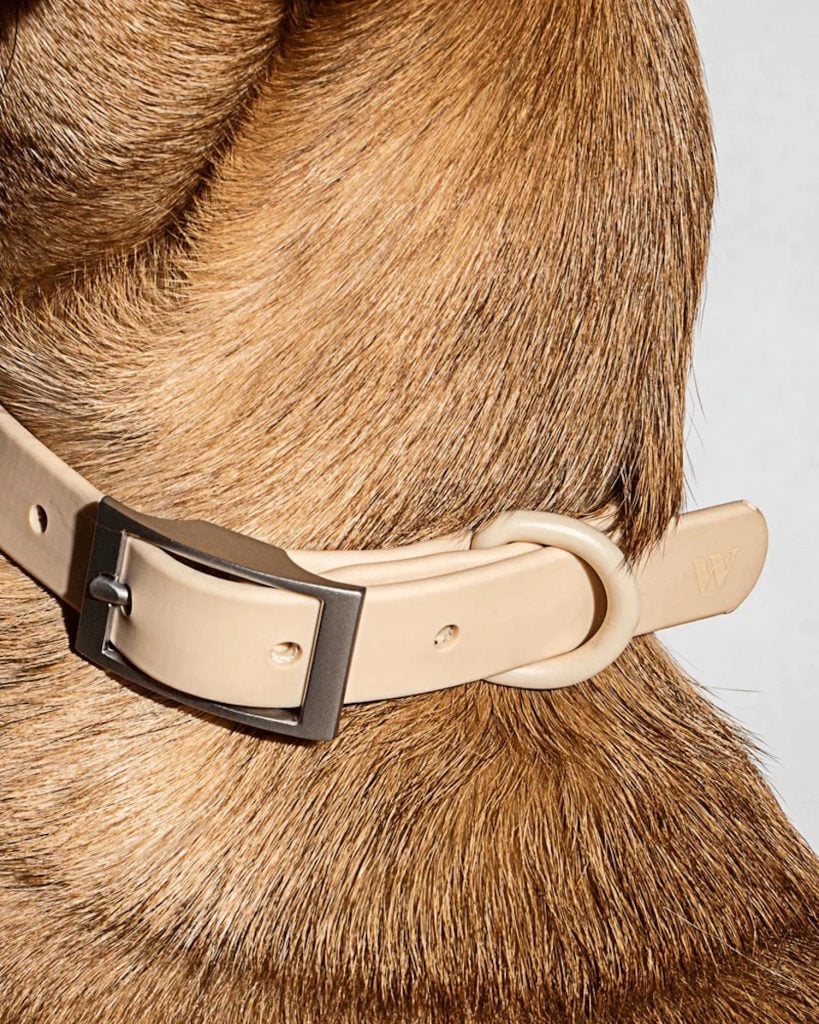 Wild One Collar – $44
Shop Moniker
Remember how your parents would sneak in a few pairs of socks amid the toys on Christmas? Give your four-legged baby the same treatment with an eternally practical accessory: the dirt- and odor-resistant Wild One collar. In a battle against skunks, mud, and the million other smells puppies get into, this collar will always win.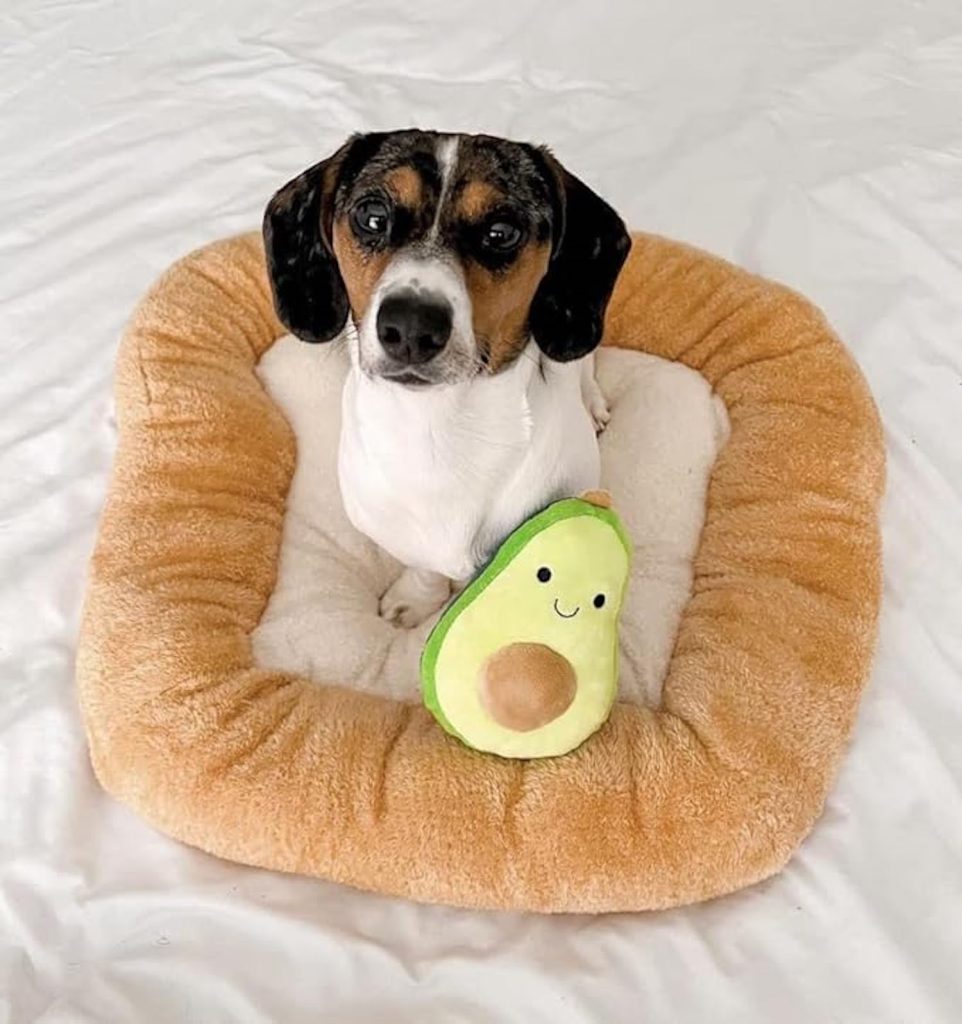 Tonbo Avocado Toast Dog Bed – $40
Sea Hive Station
Keep pets warm and comfortable in the most California way possible: with a bed shaped like avocado toast. The machine-washable sleeper comes with an avo toy and is available in person at local-biz outpost Sea Hive Station.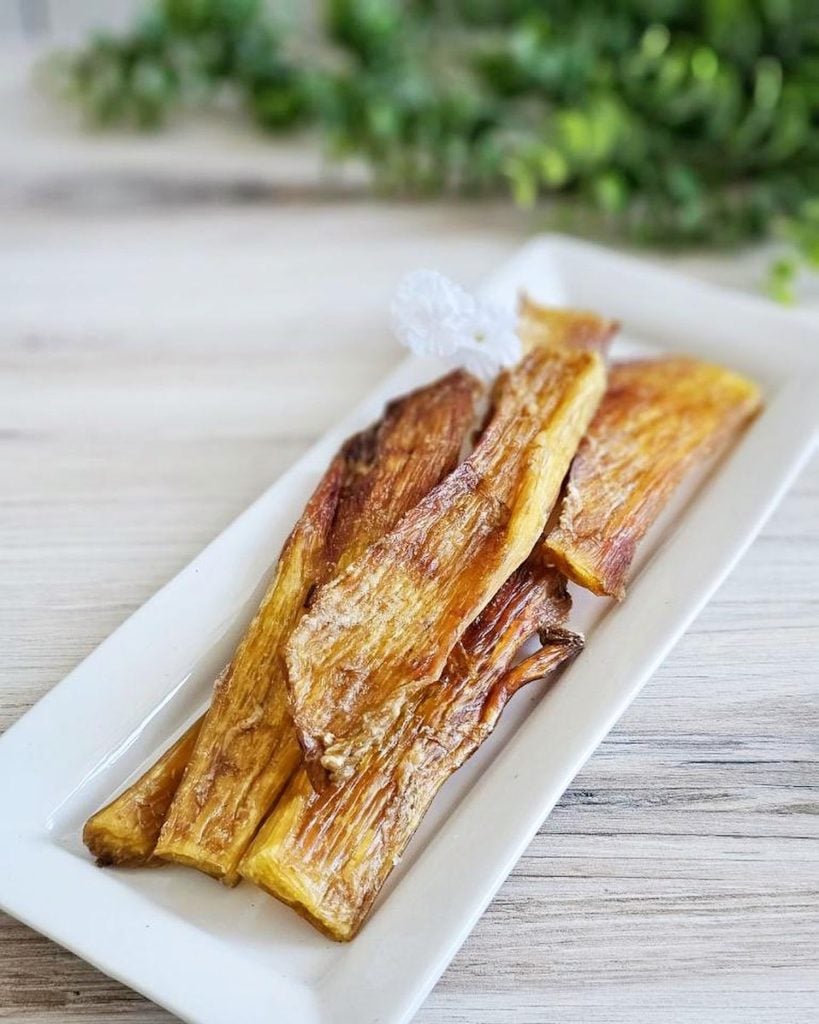 Naked Beast Hoki Dog Treats – $14.75
Sea Hive Station
Pup-focused purveyor Naked Beast makes natural, vitamin- and omega-loaded bites for pets of all sizes. The brand's hoki treats are made from dried, wild-caught white fish. Sea Hive Station carries dozens of other single-ingredient snacks, including nutrient-dense organ meats.
Wild One Leash – $66
Shop Moniker
If your dog is still hitting the streets hooked up to the ragged cotton leash they gnawed on as a pup, offer them an upgrade with this durable leash that repels dirt, water, and odor.
---
This post contains affiliate links to products and services. We may receive compensation when you click on links.