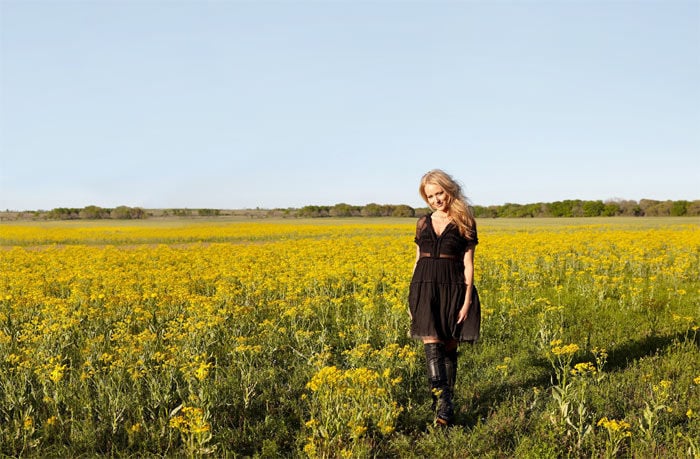 After you attended high school at Interlochen Arts Academy in Michigan, what was it about San Diego that attracted you? It was really for a sick relative. I was helping take care of her. That's why I came, but how can you not fall in love? It's 72 degrees all year long. The air is magical. It has such a lovely, free feeling. Still, I got into a grind. It was sort of dead-end jobs and things like that. Then I fell on hard times, but it was nicer to be homeless in San Diego than somewhere else.
The story of your early days in San Diego has been romanticized over the years. Did you end up living in your car so that you could pursue a music career? It wasn't that at all. The truth is that I was working in a warehouse at the time, and I just ended up in my car because I wouldn't have sex with my boss. I thought living in my car was better than selling myself out that way. After growing up in a log cabin in Alaska, living in a car in San Diego wasn't some big hardship. I thought I would get another job.
The thing is, I didn't. I was sick a lot, and I kept missing work. Then the car suddenly got stolen, and I went to singing locally to make a couple hundred bucks a night, just because I was raised that way. I wasn't really able to learn cover songs, so I just started doing original music, but it's not because I was trying to get signed. I wasn't in California because I had dreams of getting a label or anything like that. I heard what was on the radio, and I knew it was nothing like me. I didn't think I had a chance.
"Ego, hubris, all those things are the antithesis to creativity. To stay alive creatively, you have to stay humble, you have to stay grounded, and you have to stay very hungry."
Your path to being discovered was famously connected to your regular gigs at coffee houses like The Inner Change and Java Joe's. What was that scene like while you were part of it? There were actually a lot of people singing in coffee shops. In general, it was singing while people talked over you. When I first started, I was really needing a gig because I'd become homeless. I sang with some friends on their gig at coffee shops. They charged money at the door, so I went to settle out, assuming we got part of the door money. She informed me, "Actually, the singers just sing for tips." I was so offended. I went and found a coffee shop that was about to go out of business [the now-shuttered Inner Change Coffeehouse in Pacific Beach]. I worked out a deal with [the owner] and said, "If I can get people to come in, I want to keep all the door money, and you can keep all the coffee and food sales."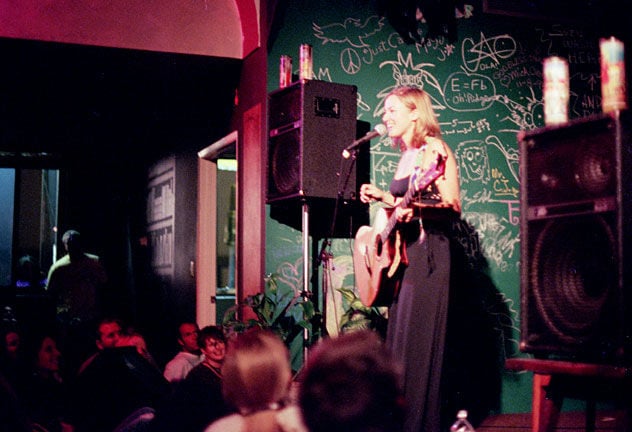 Jewel's early days at Java Joe's in Ocean Beach
It was just a handshake deal, and I started handing out flyers on the boardwalk to surfers. I remember having two guys there the first time I sang. I think they probably asked me out to dinner later or something. They weren't there to hear me sing. But the next time, there was four. The next time, there was six.
All of a sudden the little coffee shop was just sold out. There were people in the front, spilling into the street, just watching me sing through the window, and it was pouring outside. It was unreal.
How did that affect your music? I started writing down all of my worst fears and shameful secrets. I just started talking about it. It saved my life. It made me vulnerable. It allowed me to be seen for the first time. It was rewarding being that vulnerable. People saw themselves in me. They felt the same way I did. That's what made me be just so honest and revealing in my music, realizing we're all struggling toward the same thing. The fans brought me food and books to read. I know that sounds really odd, but it was very healing.
In your early travels, you sang on street corners, just to earn enough money to get to the next town. How did you keep the passersby interested? I think bar singing all those years with my dad really paid off. I didn't like people walking by me when I sang. I wanted to make them stop. You start to use your instincts. Sometimes it's holding a note out really long. Sometimes it's just yodeling. Sometimes it's making up lyrics about the person walking by, so that they realize, and they stop and go, "Holy shit. She's, like, talking about me." The audience is different every night. Sometimes they're just tired, and they don't want anything too serious. Other nights they want their hearts broken. You just use anything you can to try and get people to listen.
A lot of your early success came from the music you wrote during hard times. Has fame made it tough to maintain that point of view in your music? I still really struggle in my life. I think everybody does. I think we quit when we die. Writing is my therapy. It helps me overcome and understand things in my life. I'm very engaged in trying to be a better person every day, so my writing's always reflecting that. I think that fame can be very damaging to your creativity because ego, hubris, all those things are the antithesis to creativity. To stay alive creatively, you have to stay humble, you have to stay grounded, and you have to stay very hungry.
You haven't been afraid to cross music genres. Why did you deviate from the type of music that first made you popular? I think music knows no bounds. Very rarely do you ever meet a fan that says, "I am strictly into punk rock," or "I strictly…" I'm not going to let anybody tell me I can't. As long as it stems from authenticity, that's what I do. That's where I go. Critics might be shocked or caught off-guard, but my fans all knew 0304 was coming because they watched a progression. They were seeing me do dance remixes, and I was telling them I was doing a pop record next. I'm hoping for a long career arc. You do that by having the freedom and the permission to follow your muse wherever it goes.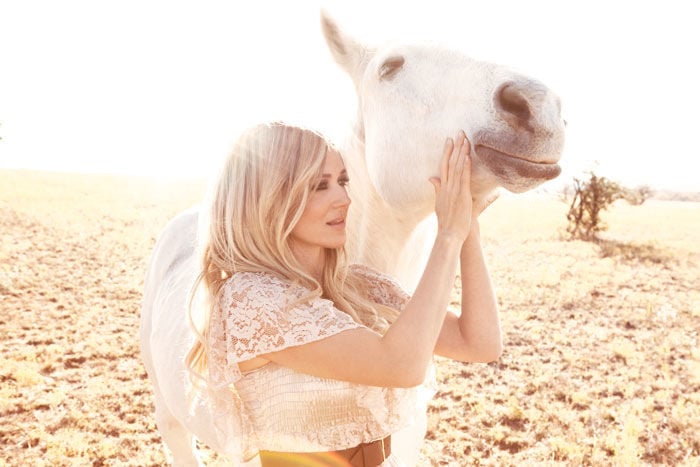 What led you to become a reality competition judge and mentor on shows like The Voice, American Idol, and Bravo's Platinum Hit?
If we don't help each other as artists, if we don't mentor each other, nobody else will. If Neil Young and Bob Dylan and Merle Haggard hadn't taken me under their wing, I would be a pretty different artist. I got permission to be myself from them—the courage to be like: "Hey. If you want to do a pop record, you do it. You be you."
I have no judgment about how you come to this path. There are no short cuts. You can say somebody like me, who flogged it out in the coffee shops and worked my way up through the circuits, it doesn't give me any more credibility than Carrie Underwood.
If all it took [to become a star] was winning a singing competition, there would be about 3,000 celebrities from these shows. The reason there aren't is because
it's hard.
In a weird way, the singing competitions have brought credibility back into the music business because labels were hiring cute faces that couldn't even sing a lick. They were just using Auto-Tune. At least the contestants on these shows are good singers.
Looking ahead, what do you have coming up? I'll be touring in June. I'm working on a new record right now. It's a bookend to Pieces of You, the way Harvest and Harvest Moon were for Neil Young. It's going to be a pretty raw folk record. I didn't plan it this way, but I think it will be released right around the 20-year anniversary of Pieces of You. Isn't that wild?