In the bohemian pocket of Ocean Beach, Kyle Rising, the 27-year-old lead singer of rock/reggae group Sensi Trails, uploads a video performing a solo cover of the legendary The Doors song "People Are Strange." Almost overnight, it receives 11 million views. Thousands of comments label Rising the reincarnation of The Doors frontman Jim Morrison.
In the video, Rising's voice is musically synonymous with the late icon of '60s psychedelic rock. But Rising's vintage clothes and shaggy hairstyle echo the aesthetics of Morrison's heyday as well. With both the look and voice combined, he was bound to go viral.
"It was a huge catapult into this new sort of brand that has essentially always been there," Rising says. "But it's now coming to the surface."
The video brought in followers and fans across age groups. Whether it was a social media algorithm or a community built from a love of rock music, Rising found his platform growing exponentially. This new audience nudged him toward new music and a new sound.
Born and raised on the East Coast, Rising migrated to San Diego five years ago in his van, drawn by the city's connections to reggae music. He's now working to weave his various inspirations into a solo album while also playing shows with Sensi Trails. And, of course, he's continuing to build his social media
fame by leaning into the vintage-inspired image that launched his stardom.
During their set at a Music Box summer show this year, Sensi Trails transformed the venue into a time machine, taking the crowd to the late '60s. Flared leather pants, heeled boots, funky patterns, and screens with neon psychedelic graphics swaying behind the band helped them channel midcentury rock counterculture.
"It was something that I wish I had. I wish I could've seen these artists from back in the day," Rising says. "So I want to sort of recreate it for people nowadays to have."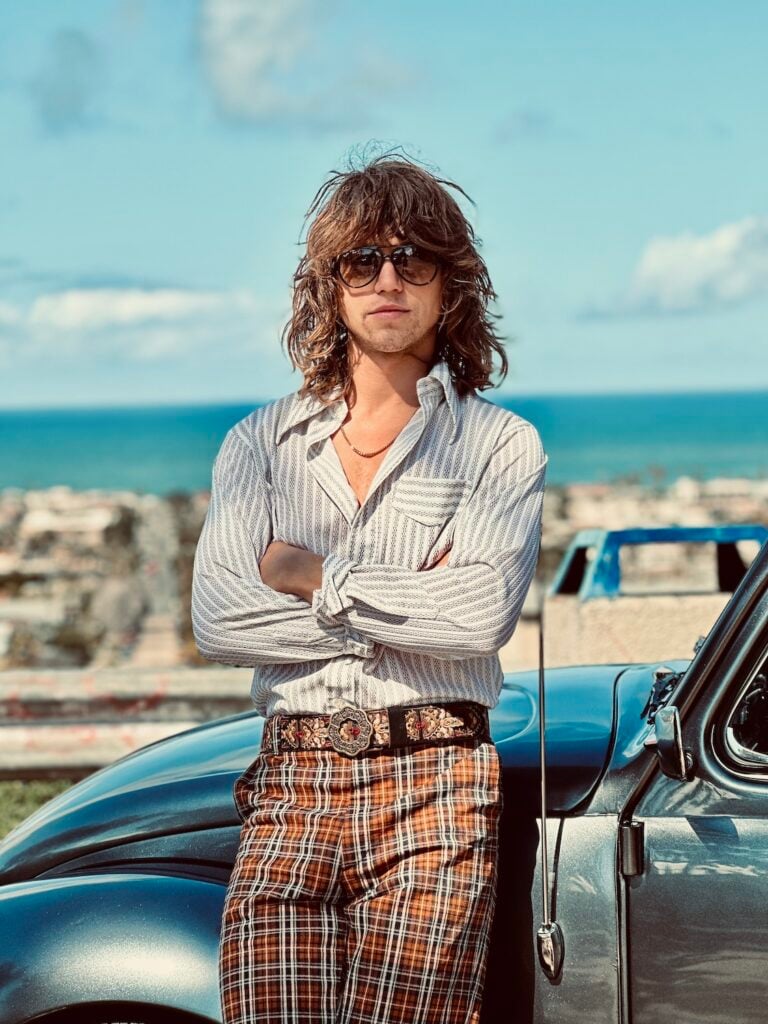 With his debut solo single, "She Freaks Me Out," Rising continues to connect with people both on-and off-screen through his timeless talents and the power of nostalgia.
In fact, his ode to a foundational era in rock music has made him popular not only with his broadening audience, but with his own idols.
Rising is set to perform with Robby Krieger of The Doors and The Soul Savages at the Oceanview Pavilion in Port Hueneme on Sept. 30. His online popularity led him right to where he needs to be, he affirms.
"As long as you treat people with kindness and go about your day in a kind-spirited sense, the universe unfolds in a magical way," he says.