Compiled by Staff with Nate Martins | Photos by Paul Body • Food Styling by Maria Sparks
San Diego's got a funny relationship with brunch. In fact, some of our favorite spots don't technically do brunch. They specialize in breakfast served all day, or lunch served early, or are nice places to go that put out OJ for your Champagne. One thing they all have in common: splurge. Either on price, calories, or alcohol. These are not critical meals. Or nutritious ones (except for our list of 10 healthy brunches on page 103). These are just-for-fun, cure-the-hangover, blow-the-day, break-your-plans, meet-your-friends, take-the-kids, not-every-Sunday kind of meals. So splurge. And may your mimosas always be bottomless!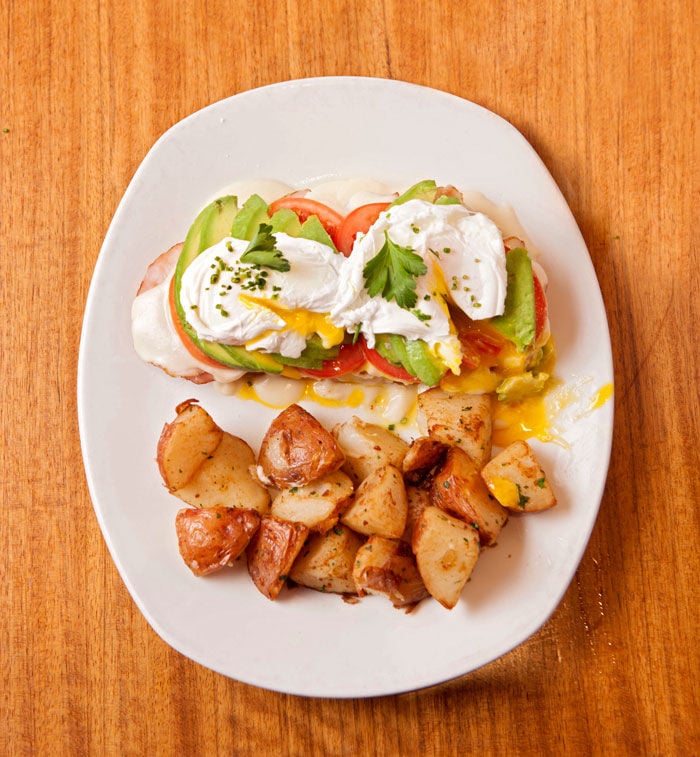 Make-it-your-way eggs Benedict with citrus Hollandaise and breakfast potatoes at Tower23/JRDN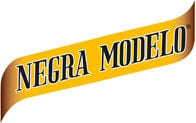 Sponsored by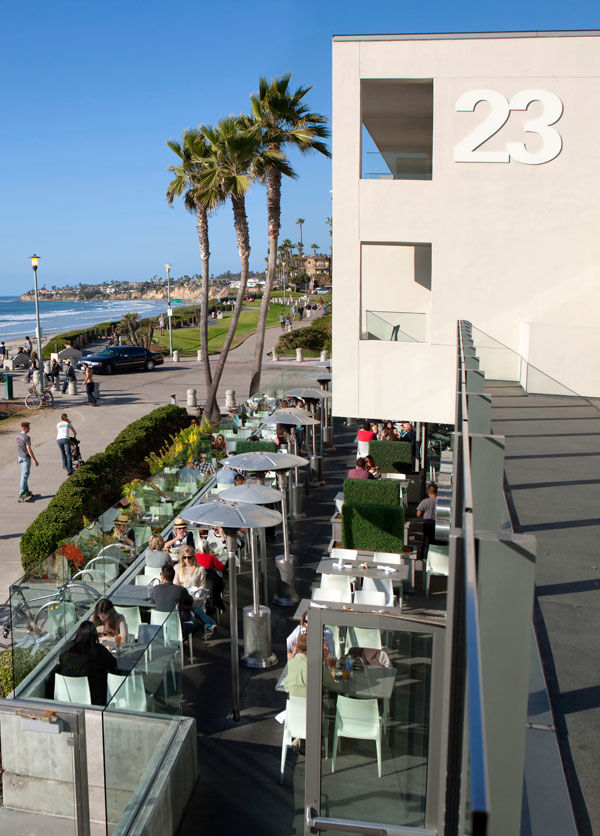 Tower23/JRDN
10 Brunches with a View
Hollandaise and hash browns with the ocean in sight
Pacific Coast Grill
Cardiff-by-the-Sea
George's at the Cove
La Jolla
Caroline's Cafe
La Jolla
World Famous
Pacific Beach
Jimmy's Famous American Tavern
Point Loma
Cusp
La Jolla
Poseidon
Del Mar
Bertrand at Mister A's
Bankers Hill
Beach Break at the Harbor
Oceanside
Tower23/JRDN
Pacific Beach
Location and reservation info for all these places here »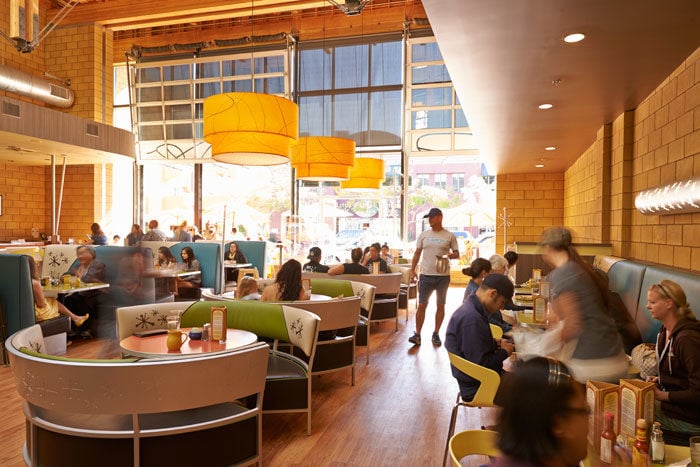 Snooze Hillcrest
Our Ultimate Brunch List
An unscientific selection of the best of the best
Snooze,
an A.M. Eatery
Hillcrest, Carmel Valley
Perfect eggs, mimosas, Bloodys, and a line around the block. It's our city's new brunch classic.

Barrio Star
Bankers Hill
Avocado and salsa fresca on almost everything, except the "Gringo Breakfast," and spicy Mexican cocktails.

The Westgate Hotel
Downtown
Champagne, seafood, and omelettes have never felt so elegant.

 

World Famous
Pacific Beach
Huevos rancheros always taste better with a side of people-watching, and there's no better people-watching than the PB boardwalk.

Brigantine
Del Mar
Enjoy Puerto Nuevo-style lobster omelettes while overlooking the racetrack.

House of Blues
Downtown
Forget eggs. Here you get fried chicken, mac 'n' cheese, and Jesus on Sunday mornings during gospel brunch. Preach!

 

Bali Hai
Shelter Island
We love the classic carving and seafood stations, but not as much as the bayfront view. Wowie!

Jimmy's Famous
American Tavern
Point Loma
A breezy patio on one of Point Loma's tidier marinas is quite perfect for a boozy, seafood-y brunch.

Hornblower Cruises & Events
Downtown
Floating brunch on the bay with bottomless everything deserves a spot on your bucket list.

 
Urban Solace
North Park
Cinnamon rolls big enough for a slab (not a drizzle) of icing, and live bluegrass tunes.
Location and reservation info for all these places here »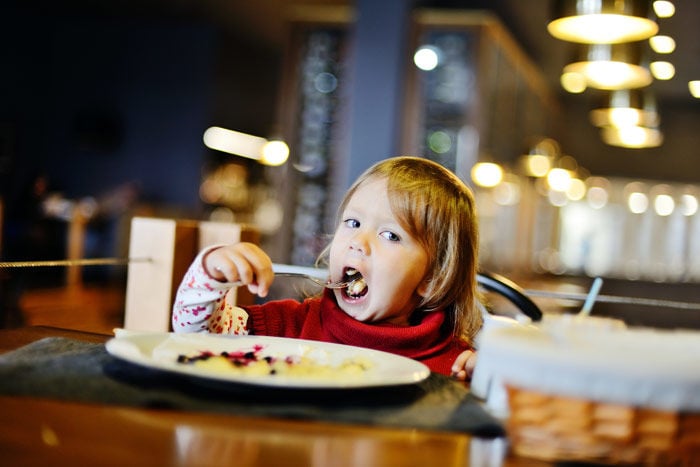 Family Brunch
Kids may not eat free, but at least they are welcome to eat
Waypoint Public
Hillcrest, Carmel Valley
Play area and $5 kids' menu for the little ones, craft beer and short rib hash for the big ones.

Beaumont's
Bird rock
Perfect for pre-beach day brunch with the family.

Brockton Villa
La Jolla
Make a reservation for family-style brunch passed around the table on platters.

 

Broken Yolk
multiple locations
Booster seats, chocolate chip pancakes, and plenty of noise to drown out any meltdowns.

Café 21
University Heights
Get a whole day's recommended serving of fruit with big, fresh sharable platters.

Hotel Del Coronado
Coronado
Find a reason to celebrate—kids under five eat free.

 

Snooze,
an A.M. Eatery
Hillcrest, Carmel Valley
Early-rising ankle-biters? Perfect, you'll avoid the line that forms after 9 a.m.

Flagship Cruises
Downtown
Kids welcomed aboard at a discounted rate on this floating feast.

Claire's on Cedros
Solana Beach
Breakfast served all day, legendary pancakes, plentiful boosters.

 
The Patio on Lamont Street
Pacific Beach
Bring the furry children along to this dog-friendly patio anytime.
Location and reservation info for all these places here »
Best Buffets
One of the best things about Vegas—without the Sin City hangover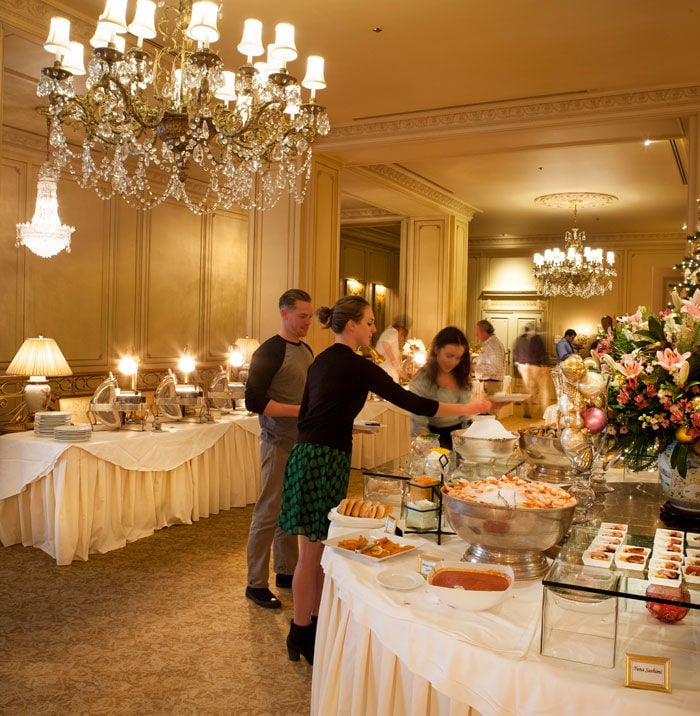 Brunch at The Westgate Hotel
The Westgate Hotel
Downtown
An elegant brunch with live music, fresh seafood, a crêpe station, and bottomless Champagne and other beverages. It's like a mini trip to Paris. Sundays only.
 

The Grant Grill
Gaslamp
Tackle the build-your-own-waffle buffet with more than 20 toppings from maple syrup and whipped cream to secret-recipe fried chicken and herb gravy.

Tom Ham's
Lighthouse
Point Loma
Make at least one trip to the raw bar.

Karl Strauss
Brewing Company
Sorrento Valley
Give the beer mimosa a shot.

House of Blues
Downtown
Doesn't get anymore spiritual than Sunday Gospel brunch with a Southern-fried buffet.

Humphreys
Restaurant
Point Loma
What's a buffet without a mouthwatering meat- carving station?

Hotel del Coronado
Coronado
The grande dame of brunches includes bottomless mimosas, a Bloody Mary bar, waffle station, omelette station, and fresh seafood.

Park Hyatt
Aviara Resort
Carlsbad
Gorge on the traditional Bloody Mary bar, seafood station, and omelette bar with golf course views.

Catamaran
Hotel
Mission Bay
A lively, party-like buffet on the bay. The perfect way to wow out-of-towners.

Hornblower
Downtown
Not just a Champagne brunch— Champagne brunch on a boat.
Location and reservation info for all these places here »
10 Bottomless Mimosas
Because we are glass-half-full kind of people

Herringbone
La Jolla
Come for the Monte Cristo or biscuits and gravy, stay for the $12 bottomless mimosa.
Bare Back Grill
Pacific Beach
At 10 a.m. on weekends, mimosas start at 50 cents, then increase 50 cents every half hour until 1 p.m.
Roppongi
La Jolla
New Sunday brunch! For $12, the unlimited mimosas are made with fresh-squeezed OJ.
Harbor Town Pub
Point Loma
A "Bottomless Weekend" ($20) includes one breakfast plate plus endless mimosas or Marys.
Searsucker
Downtown, Carmel Valley
A bottomless mimosa "liquid breakfast" is $15, and both locations offer Suja cold-pressed juices.
Lips
North Park
A drag show brunch where $17.95 buys you an entree plus bottomless mimosas, Bloodys, or, for a little extra, frozen cosmos.
Westgate Hotel
Downtown
At $45 per person, it better be bottomless! Also bottomless: margs, Marys, and champers.
St. Tropez
Downtown, Encinitas, UTC
Pair your mimosa with a French pastry or savory quiche.
The Pearl
Point Loma
Just $20 for an entree and a bottomless mimosa, both served poolside.
R Gang Eatery
HIllcrest
$10 bottomless mimosas pair perfectly with house-made cheddar-chive tater tots.
Location and reservation info for all these places here »
Eggs Benedict
Yoke It up with a little hollandaise in paradise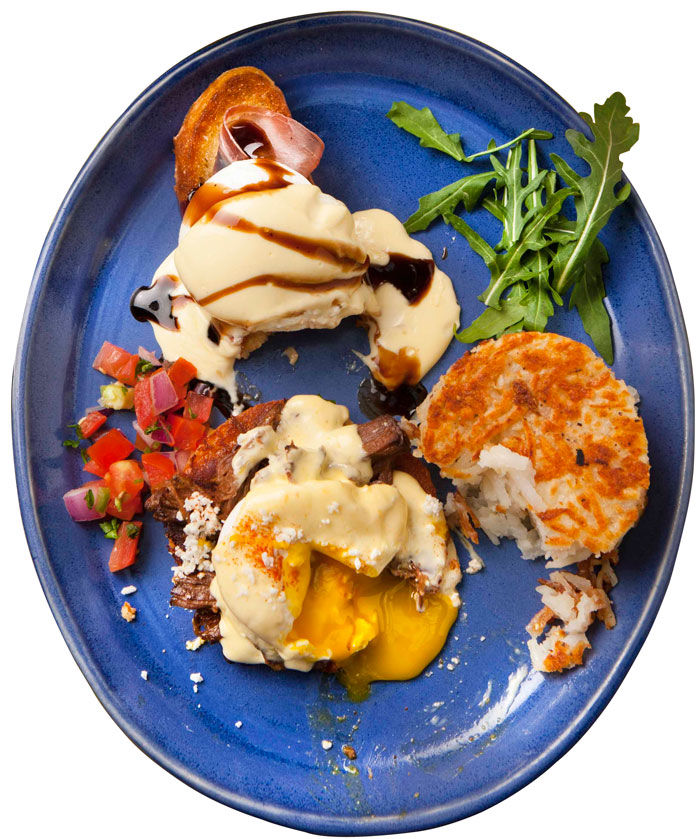 Eggs Benedict Snooze Hillcrest
Cody's La Jolla
La Jolla
Famous for the crab cake Benedict, served at a cute yellow Craftsman overlooking the cove.

Snooze, an A.M Eatery
Hillcrest, Carmel Valley
Cross borders with the chilaquiles Benedict, or try any two of their six options as a Half & Half plate.

The Cottage
La Jolla
Lighten up with their polenta Benny, which includes tomato relish, kale pesto, and goat cheese sauce.

The Patio on Lamont Street
Pacific Beach
We'd eat pork belly on anything, but it's especially tasty on eggs Benedict here.

Parkhouse Eatery
University Heights
We're drooling over the California chili Hollandaise on the Southwest crab Benedict.

R Gang Eatery
Hillcrest
Try the downhome meat loaf Benedict served on a pretzel roll.

Hash House A Go Go
Hillcrest
Can't go wrong with any of the five Benedicts, all served on mashed potatoes.

The Red Door
Mission Hills
Surf and turf with house-cured salmon or braised short rib Benedicts.

Fig Tree Café
Point Loma, Pacific Beach, Hillcrest
Tired of English muffins? Try their Bennys on house-made focaccia.

Bleu Boheme
Kensington
Get fancy with the lobster and mascarpone Benedict.
Location and reservation info for all these places here »
Best Bloody Marys
Add a little (or a lot) of spice to your morning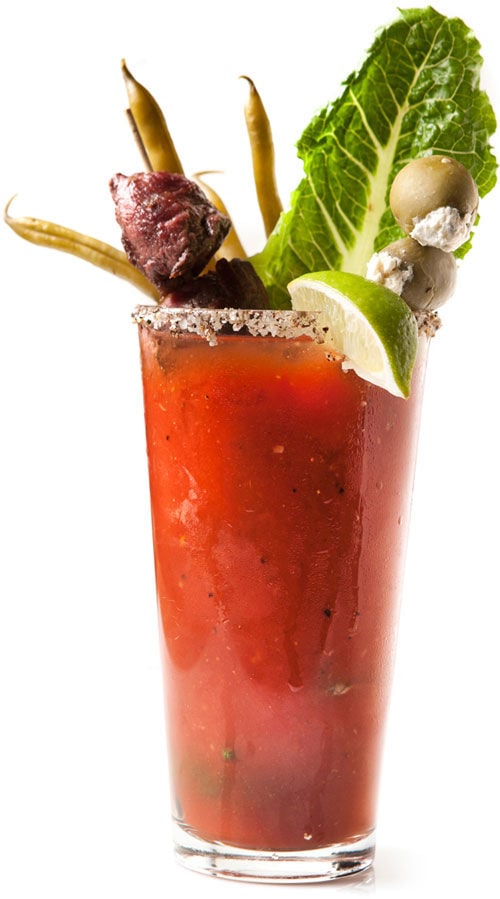 Johnny Rivera's Bloody Mary at Tractor Room
Davanti Enoteca
Little Italy, carmel valley
The build-your-own Bloody Mary bar on Saturdays and Sundays includes 75 hot sauces, pickled vegetables, and bacon.
Tower23/JRDN
Pacific Beach
Cilantro- and jalapeño-infused Skyy vodka, house-made mix, and a bacon-salt rim, plus a meal-on-a-stick that includes limes, jalapeños, olives, and salami.
Sessions Public
Ocean Beach
Made with Ballast Point Fugu vodka and Ballast Point Bloody Mary mix.
Waterfront Bar & Grill
Little Italy
A classic without all the frills. Prepared with the Waterfront's house-made mix.
T's Cafe
Solana Beach
This top-secret family recipe goes back 35 years and is so beloved they bottle and sell it for $15.
Small Bar
University Heights
A meal in a Mary with a splash of Guinness, a dash of steak sauce, garlic- and chili-infused vodka, shrimp, beer-candied bacon, pickles, and more.
George's at the Cove
La Jolla
A spicy traditional Mary, made with George's house-infused pepper vodka.
Hash House A Go Go
Hillcrest
Make a sandwich out of the BLT Mary. Garnished with a slice of white toast, bacon, lettuce, tomato, and mayo packet.
Jimmy's Famous American Tavern
Point Loma
Your choice of vodka or tequila, garnished with a blue-cheese-stuffed olive, wrapped in pepperoni, and served with a beer chaser.
World Famous
Pacific Beach
The bartenders are tight-lipped about the essential ingredients of this Mary made with Skyy vodka and house-made horseradish.
Craftsman New American Tavern
Encinitas
This NoCo hub has an $8 "Craft" Your Own Bloody Mary bar on Sundays.
Location and reservation info for all these places here »
Anatomy  Johnny Rivera's Bloody Mary at Tractor Room
Pictured above
Rib of fresh romaine
Blue Lake green beans
Big Spanish green olives
Point Reyes blue cheese
Salt and pepper rim
Grilled prime beef tenderloin
Fresh lime
Johnny's house-made Bloody Mary mix
Ground peppercorn and fresh horseradish
"I love brunch for many reasons. It's a way to keep the party going, to enjoy family and friends with the things that truly make all of us smile: pancakes, bacon, Bloody Marys, Champagne… and you never see anyone giving you an evil eye when you order a second or third Bloody Mary. Brunch is more a celebration of life and seizing the day. The weekend is yours!"
—Johnny Rivera (co-owner of Hash House A Go Go, Tractor Room, Great Maple)
Healthy Brunches
A hearty meal, sans food coma
True Food Kitchen
Fashion Valley
The health-food mecca offers quinoa johnnycakes and scrambles made with market veggies or chicken sausage.

The Mission
North Park, East Village, Mission beach
This famed spot has an extensive gluten-free menu, with ingredients like soy chorizo and farm-fresh egg whites.

Claire's on Cedros
Solana Beach
Fun fact about this local hangout specializing in wholesome food: co-founder Claire Allison is the creator of Milton's Multigrain Bread.

 

Naked Café
Solana Beach, Encinitas, Carlsbad, Point Loma
Here, "naked" means "natural." This NoCo favorite puts an emphasis on whole foods, with a sense of humor (e.g. whole-grain "Tree Hugger" pancakes).

Alchemy
South Park
Hello, quinoa hush puppies, vegetarian salads, and cage-free egg frittatas.

Starlite
Middletown
The farm-to-table establishment makes an eggless frittata using a chickpea flour base, which is both gluten-free and vegan.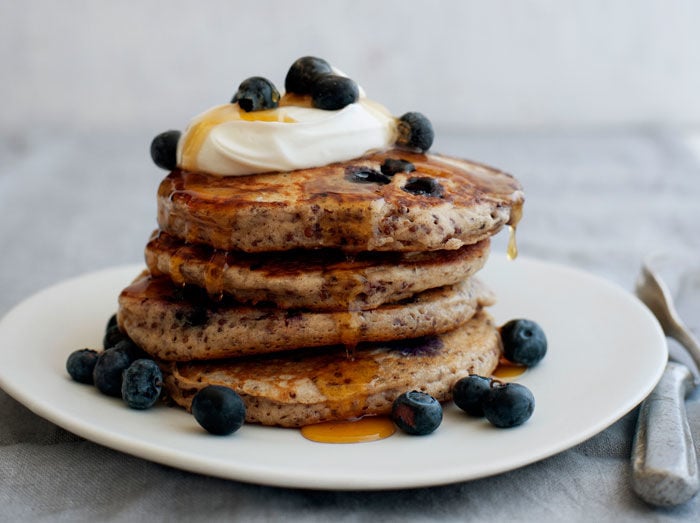 Johnnycakes at True Food Kitchen
Café 21
University Heights
They're committed to both organic coffee and organic vodka. This "nature's kitchen" also prides itself on locally sourced produce.

Barrio Star
Bankers Hill
Try the soy chorizo scramble or power breakfast with egg whites and organic steamed greens.

Ki's Restaurant
Cardiff-by-the-Sea
Tofu scramble, turkey bacon, and acai bowls, oh my. The Cardiff staple has loads of gluten-free, locally sourced, and organic items.

 

Pacifica Breeze Café
Del Mar
Among fattier options (hash with braised short rib!), you'll find acai bowls, house-blended granolas, and the Del Mar Power Breakfast made with egg whites, salsa, black beans, broccoli, and corn tortillas.

Marina Kitchen
Downtown
The resto inside the San Diego Marriott Marquis & Marina has a "Healthy Start" Buffet for $8 less than the regular buffet. It pays to watch what you eat!
Location and reservation info for all these places here »
Urban Brunch
Eat in the city!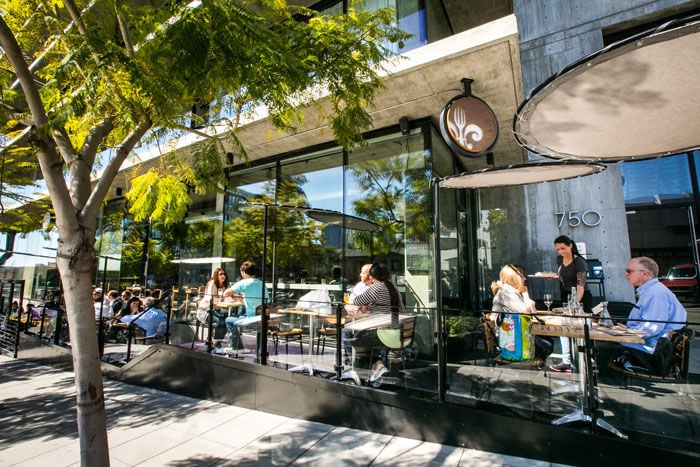 Monello
Monello
Little Italy
A perfect sidewalk setting to enjoy a farmers market-inspired brunch on weekends.

Great Maple
Hillcrest
Discounted pastries are carried out on a 5-foot board.

 

Tiger! Tiger! Tavern
North Park
Beer pairings with brunch on Sundays only.

Urban Mo's
Hillcrest
It's ground zero for the party-hearty brunch crew uptown.

 

Uptown Tavern
HIllcrest
When the brunch cocktail menu is as long as the food menu, it's best to just make a day of it.

Cafe Chloe
East Village
Go French with the croque madame, fancy mimosas, and Viennese coffee.

 

Eclipse Bar & Bistro
South Park
Everything (sweet and savory) has chocolate in it. Dessert for breakfast never hurt anybody.

Las Cuatro Milpas
Barrio Logan
Because no San Diego brunch list is complete without menudo.
Location and reservation info for all these places here »
10 Sweet Spots
Beyond chocolate chip pancakes and real maple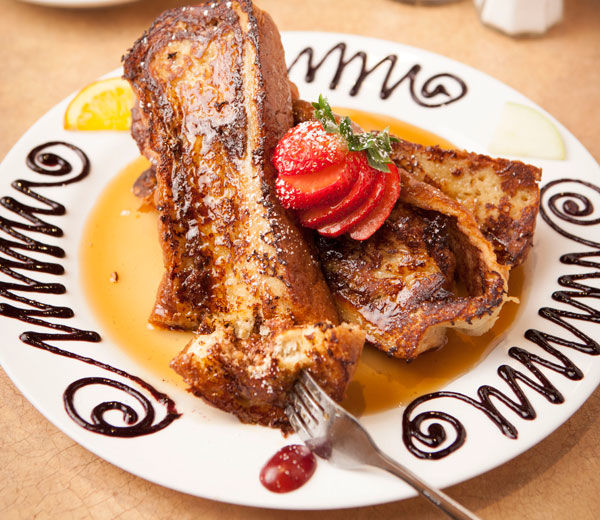 The Mission Restaurant, French toast
Eclipse Chocolate Bar and Bistro
South Park
After dining, brunchers get 10 percent off chocolate in the retail shop.
Brockton Villa
La Jolla
Famous for their "Coast Toast," which is like a custard-y, French toast soufflé.
Snooze, an A.M Eatery
Hillcrest & Carmel Valley
Indecisive? Order a flight of 3 different pancakes.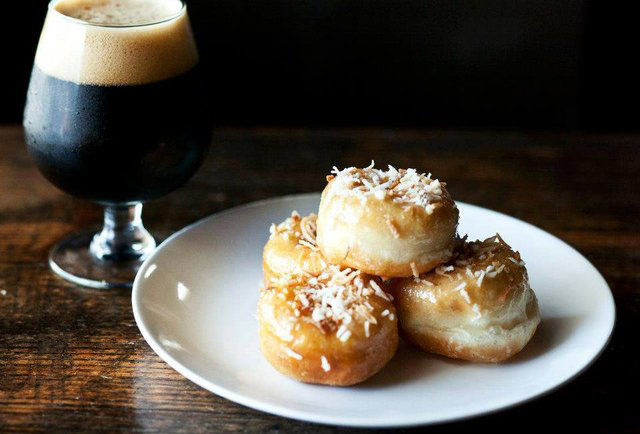 Tiger! Tiger! doughnuts
The Mission Restaurant
Multiple locations
Their famous French toast is made with cinnamon bread.
Tiger! Tiger! Tavern
North Park
Try the house-made doughnuts paired with a beer.
Leroy's Kitchen + Lounge
Coronado
Get your daily dose of fruit (kind of) in the berry brioche French toast.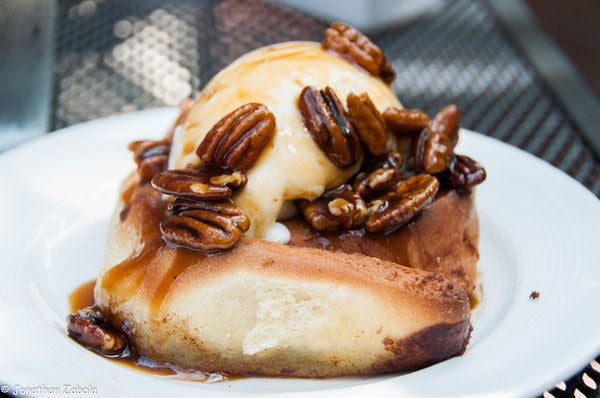 Urban Solace
The Red Door
Mission Hills
The name says it all: Sweet-Tooth Belgian Waffle.
Urban Solace
North Park
They'll ask if you want butter pecan sauce on the cinnamon roll. Um, YES.
Farm House Cafe
University Heights
French toast with lavender honey, please.
Whisknladle
La Jolla
Mix 'n' match house-made pastries for $3 each.
Location and reservation info for all these places here »
10 Dim Sum Spots
Nothing bad about brunch on a cart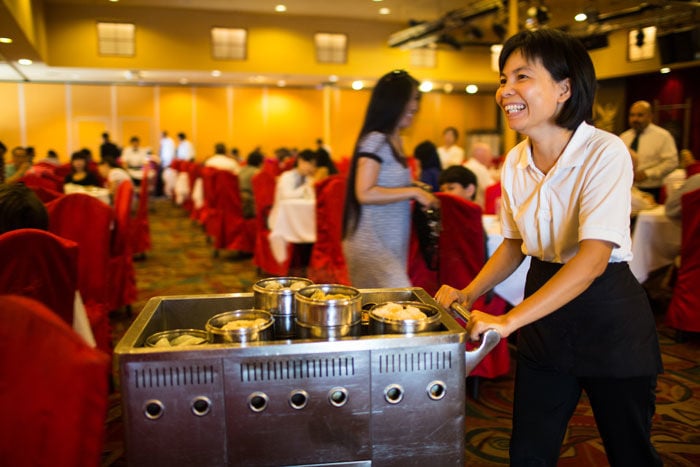 Jasmine Seafood Restaurant
Jasmine Seafood Restaurant
Kearny Mesa
Get your hands on every dumpling you can.

Emerald Chinese Seafood Restaurant
Kearny Mesa
Chicken feet never tasted so good.

 

China Max Seafood Restaurant
Kearny Mesa
First-timer? A great introduction to dim sum, with lots of variety.

Pearl Chinese Cuisine
Rancho Bernardo
Choose from small, medium, or large plates.

 

Hong Kong BBQ & Dimsum
Mira Mesa
Save room for the baked egg custard tart.

French Concession
Hillcrest
Pair your dim sum with a craft beer at Alex Thao's newest spot.

 

Imperial Mandarin Restaurant
Kearny Mesa
Dim sum served all day, with cart service on weekends.

Yum Cha Cafe
Linda Vista
Reasonably priced, but cash only.

 

Tom's Chinese BBQ
City Heights
Make room for the famous roasted duck.

Lucky Liu's Gaslamp Chinese
Gaslamp
In traditional fashion, dim sum is served on weekends only.
Location and reservation info for all these places here »
® Reservations Recommended
(SUN) Sundays Only
$ entrees $10 or less
$$ entrees $11-$16
$$$ entrees $17-$22
$$$$ entrees $23 & up
The Index
So now that you're sufficiently starving for Bennys and a Bloody Mary, it's time to make reservations, right? Here are details on every brunch spot we mentioned in this story, where to find them, how to get a reservation, and when to go. Let's do brunch!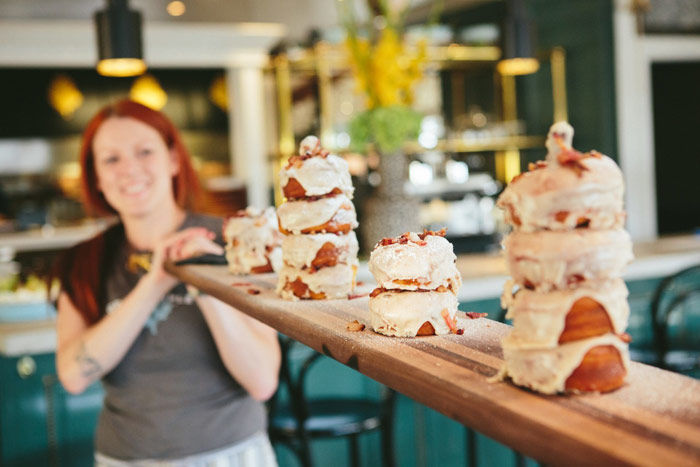 Maple Donuts at Great Maple
Alchemy
1503 30th Street
South Park
619-255-0616
$$

Atoll at the Catamaran
3999 Mission Boulevard
Pacific Beach
858-539-8635
® (SUN) $$$

Bali Hai
2230 Shelter Island Drive
Point Loma
619-222-1181
® (SUN) $$

 

Bare Back Grill
4640 Mission Boulevard
Pacific Beach
858-274-7117
$$

Barrio Star
2706 Fifth Avenue
Bankers Hill
619-501-7827
$$

Beach Break Café
1802 South Coast Highway
Oceanside
760-439-6355
$

 

Beaumont's
5662 La Jolla Boulevard
La Jolla
858-459-0474
$$

Bertrand at Mister A's 2550 Fifth Avenue
Bankers Hill
619-239-1377
® (SUN) $$$$

Bleu Boheme
4090 Adams Avenue
Kensington
619-255-4167
$$$

 

Bread & Cie
350 University Avenue
Hillcrest
619-683-9322
$$

Brigantine
Multiple locations;
brigantine.com
(SUN) $$

Brockton Villa
1235 Coast Boulevard
La Jolla
858-454-7393
® $-$$

 

Broken Yolk
Multiple locations;
thebrokenyolkcafe.com
$-$$

Café 21
750 5th Avenue
Gaslamp
619-795-0721;
2736 Adams Avenue
University Heights
619-640-2121
$$

Café Chloe
721 9th Avenue
East Village
619-232-3242
® $$

 

Caroline's
8610 Kennel Way
La Jolla
858-202-8569
$$

China Max
4698 Convoy Street
Kearny Mesa
858-650-3333
$$

Claire's on Cedros
245 North Cedros Avenue
Solana Beach
858-259-8597
$$

 

Cody's La Jolla
8030 Girard Avenue
La Jolla
858-459-0040
$$

The Cottage
7702 Fay Avenue
La Jolla
858-454-8409
$$

Craftsman New American Tavern
267 North El Camino Real
Encinitas
760-452-2000
(SUN) $$

 

Cusp Restaurant, Hotel La Jolla
7955 La Jolla Shores Drive
La Jolla
858-459-0261
$$$-$$$$

Davanti Enoteca
1655 India Street
Little Italy
619-237-9606;
12955 El Camino Real
Carmel Valley
858-519-5060
$$

Eclipse Chocolate Bar + Bistro
2145 Fern Street
South Park
619-578-2984
$$

 

Emerald Chinese
3709 Convoy Street
Kearny Mesa
858-565-6888
$$

Encore Champagne Bar & Dining Room
531 F Street
Gaslamp
619-255-5152
$$$

Farm House Café
2121 Adams Avenue
University Heights
619-269-9662
® (SUN) $$$

 

Fig Tree Café
Multiple locations;
figtreeeatery.com
$$

Flagship Cruises
Leaves from 990 North Harbor Drive
Downtown
800-442-7847
® (SUN) $$$

French Concession
3671 Fifth Avenue
Hillcrest
619-297-8424
$-$$

 

George's at the Cove
1250 Prospect Street
La Jolla
858-454-4244
® $$-$$$

Grant Grill
326 Broadway
Downtown
619-744-2077
® (SUN) $$$-$$$$

Great Maple
1451 Washington Street
Hillcrest
619-255-2282
$$

 

Harbor Town Pub
1125 Rosecrans Street
Point Loma
619-224-1321
$$

Hash House A Go Go
3628 Fifth Avenue
Hillcrest
619-298-4646
$$

Herringbone
7837 Herschel Avenue
La Jolla
858-459-0221
® (SUN) $$$

 

Hong Kong BBQ & Dim Sum
10550 Camino Ruiz
Mission Valley
858-408-4888
$

Hornblower Champagne Brunch Cruise
Leaves from 1800 North Harbor Drive
Downtown
619-686-8715
® (SUN) $$$$

Hotel Del Coronado
1500 Orange Avenue
Coronado
619-435-6611
® (SUN) $$$$

 

House of Blues
1055 Fifth Avenue
Gaslamp
619-299-2583
® (SUN) $$$

Humphreys Restaurant
2241 Shelter Island Drive
Point Loma
619-224-3577
® (SUN) $$-$$$

Imperial Mandarin
3904 Convoy Street
Kearny Mesa
858-292-1222
$$

 

Jasmine Seafood Restaurant
4609 Convoy Street
Kearny Mesa
858-268-0888
$$-$$$

Jimmy's Famous American Tavern
4990 North Harbor Drive
Point Loma
619-226-2103
$$

Karl Strauss
9675 Scranton Road
Sorrento Mesa
858-587-2739
(SUN) $-$$    

 

Ki's Restaurant
2591 South Highway 101
Cardiff-by-the-Sea
760-436-5236
$$

Las Quatro Milpas
8375 Logan Avenue
Barrio Logan
619-234-4460
Closed on Sundays
$

Leroy's Kitchen
& Lounge
1015 Orange Avenue
Coronado
619-437-6087
$$

 

Lips
3036 El Cajon Boulevard
North Park
619-295-7900
(SUN) $$

Luce Bar & Kitchen
1959 Morena Boulevard
Bay Park
619-275-0321
(SUN) $$

Lucky Liu's Gaslamp
332 J Street
Gaslamp
619-269-1320
$$

 

Marina Kitchen at San Diego Marriott Marquis & Marina
333 West Harbor Drive
Downtown
619-234-1500
® $$-$$$

The Mission
Multiple locations;
themissionsd.com
$$

Monello
750 West First Street
Little Italy
619-501-0030
® $$

 

The Naked Café
Multiple locations;
thenakedcafe.com
$$

Pacific Coast Grill
2526 Highway 101
Cardiff-by-the-Sea
760-479-0721
® (SUN) $$

Pacifica Breeze Café
1555 Camino Del Mar
Del Mar
858-509-9147
$$

 

Parkhouse Eatery
4574 Park Boulevard
University Heights
619-295-7275
$$

The Patio on Lamont Street
4445 Lamont Street
Pacific Beach
858-412-4648
$$

The Pearl
1410 Rosecrans Street
Point Loma
619-226-6100
® (SUN) Summers only $$

 

Pearl Chinese Cuisine
11666 Avena Place
Rancho Bernardo
858-487-3388
$$$

Poseidon
1670 Coast Boulevard
Del Mar
858-755-9345
 $$

R Gang Eatery
3683 5th Avenue
Hillcrest
619-677-2845
$$

 

The Red Door
Restaurant & Wine Bar
741 West Washington St.
Mission Hills
619-295-6000
® (SUN) $$

Roppongi
875 Prospect Street
La Jolla
858-551-5252
(SUN) $$

Searsucker
611 Fifth Avenue
Gaslamp Quarter
619-233-7327;
12995 El Camino Real
Carmel Valley
858-369-5700
® (SUN) $$$

 

Sessions Public
4204 Voltaire Street
Point Loma
619-756-7715
(SUN) $$

Small Bar
4628 Park Boulevard
University Heights
619-795-7998
$$

Snooze, an A.M. Eatery
3940 Fifth Avenue
Hillcrest
619-500-3344;
3435 Del Mar Heights Rd.
Carmel Valley
858-703-5300
$$

 

Solace & the Moonlight Lounge
25 East E Street
Encinitas
760-753-2433
(SUN) $$

St. Tropez
Multiple locations;
sttropezbistro.com
$$

Starlite
3175 India Street
Middletown
619-358-9766
(SUN) $-$$$

 

T's Café
271 North Highway 101
Solana Beach
858-755-7642
$$

Tiger! Tiger! Tavern
3025 El Cajon Boulevard
North Park
619-487-0401
(SUN) $$

Tom Ham's Lighthouse
2150 Harbor Island Drive
Point Loma
619-291-9110
® (SUN) $$$

 

Tom's Chinese BBQ
4414 University Avenue
City Heights
619-563-8225
$

Tower23/JRDN
723 Felspar Street
Pacific Beach
858-270-5736
® $$$

Tractor Room
3687 Fifth Avenue
Hillcrest
619-543-1007
$$-$$$

 

True Food Kitchen
7007 Friars Road
Fashion Valley
619-275-2094
$$-$$$

Uptown Tavern
1236 University Avenue
Hillcrest
619-241-2710
$$

Urban Mo's
308 University Avenue
Hillcrest
619-491-2348
$$

 

Urban Solace
3823 30th Street
North Park
619-295-6464
(SUN) $$

Vivace at the Park Hyatt Aviara
7100 Aviara Resort Drive
Carlsbad
760-448-1234
® (SUN) $$$

The Waterfront Bar & Grill
2044 Kettner Boulevard
Little Italy
619-232-9656
$$

 

Waypoint Public
3794 30th Street
North Park
619-255-8778
$$

Westgate Hotel
1055 Second Avenue
Downtown
619-557-3650
® (SUN) $$$

Whisknladle
1044 Wall Street
La Jolla
858-551-7575
$$$

 

World Famous
711 Pacific Beach Drive
Pacific Beach
858-272-3100
$$

Yum Cha Café
9633 Linda Vista Road
Linda Vista
858-268-9988
$