Hydration is life. We love drinks, and we know you do, too. So this month, for our issue dedicated to the outdoors, we're focusing on liquids. Because nothing hits like a cold draft after a hike (beer or kombucha!), and the right cocktail or milkshake can turn around even the worst of days. Aprés ski? Aprés me. Here are a few handfuls of drinks to consider after a day of outdoor adventure. Turn it into a bingo card. Go nuts.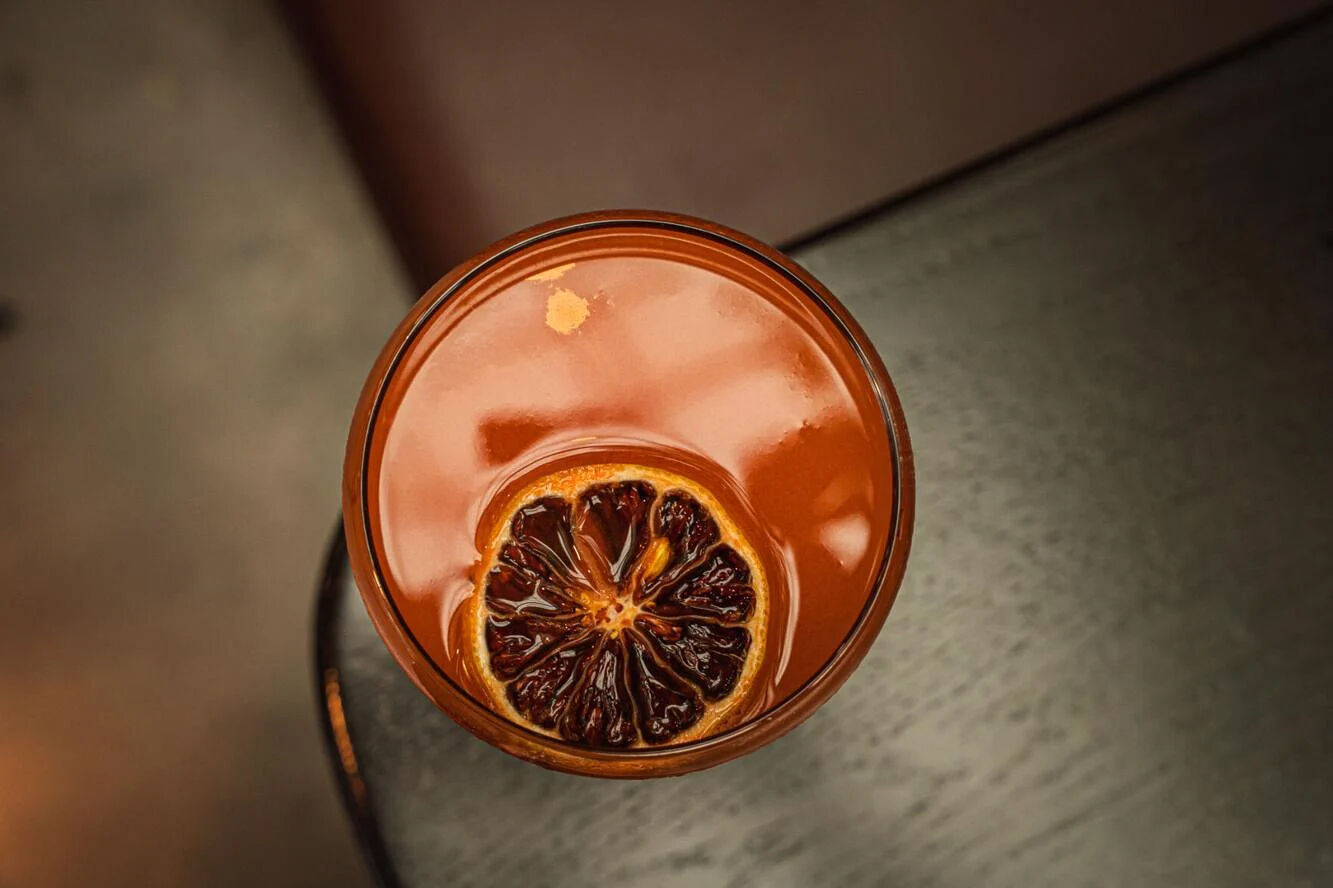 La Puerta Mission Hills
Demon Fire
The Demon Fire at La Puerta is made with mezcal, gin, carrot, chile, and lemon and is basically a Whole Foods wellness shot infused with alcohol. The flavors mix together perfectly, making it a cocktail that is semi-sweet with a bit of smokiness that all comes together to give our eyes and immune system a little love. –NM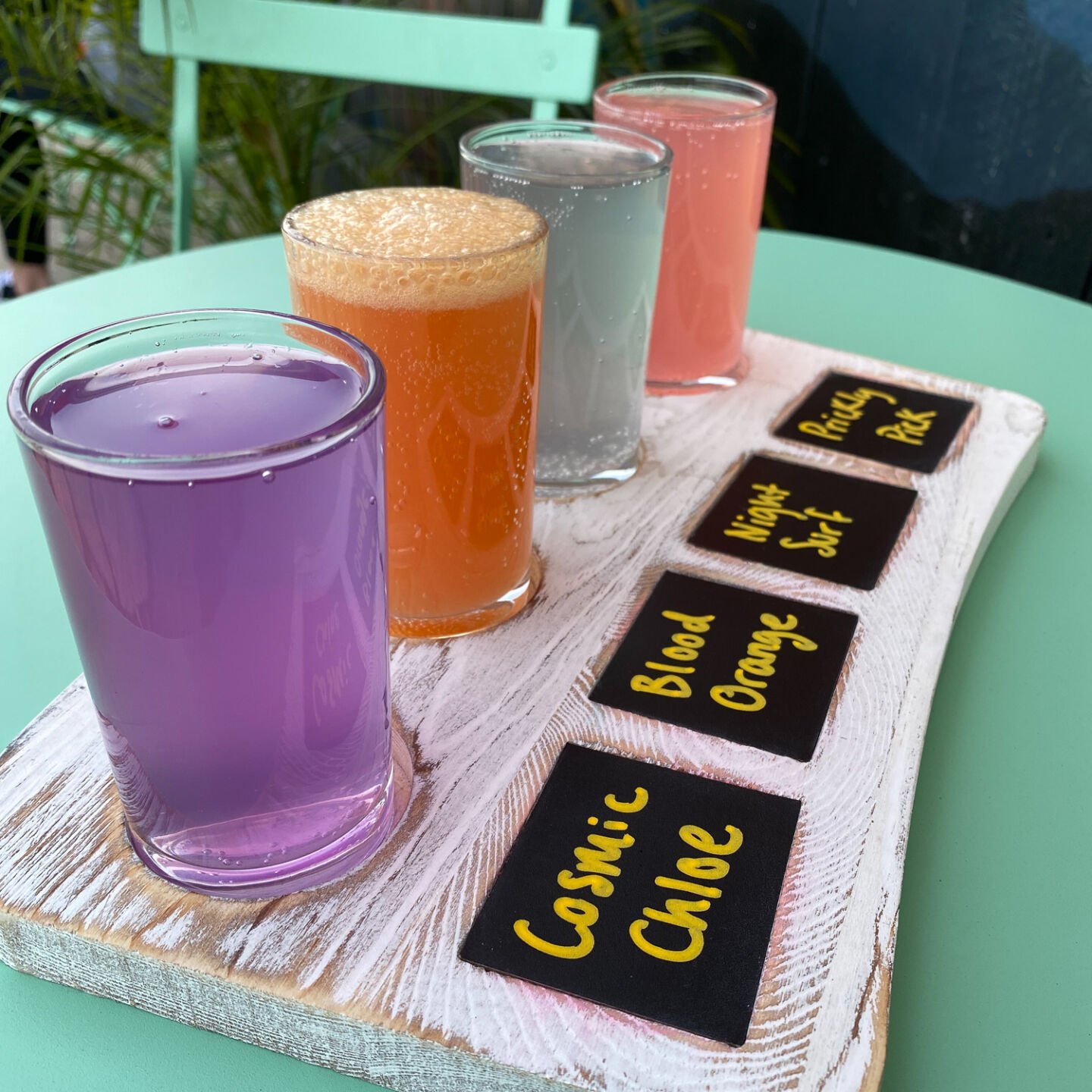 Tap Shack
Kombucha Flight
Choices are hard. Go for the flight. A nonalcoholic oasis on a stressfully busy corner of OB, Tap Shack's success nods to the quality. (It opened a second location in East Village.) With numerous rotating flavors of booch on tap—plus nitro cold brew—there's a drink for every time of day. The Night Surf kombucha stands out with coconut, charcoal, and lime. –MH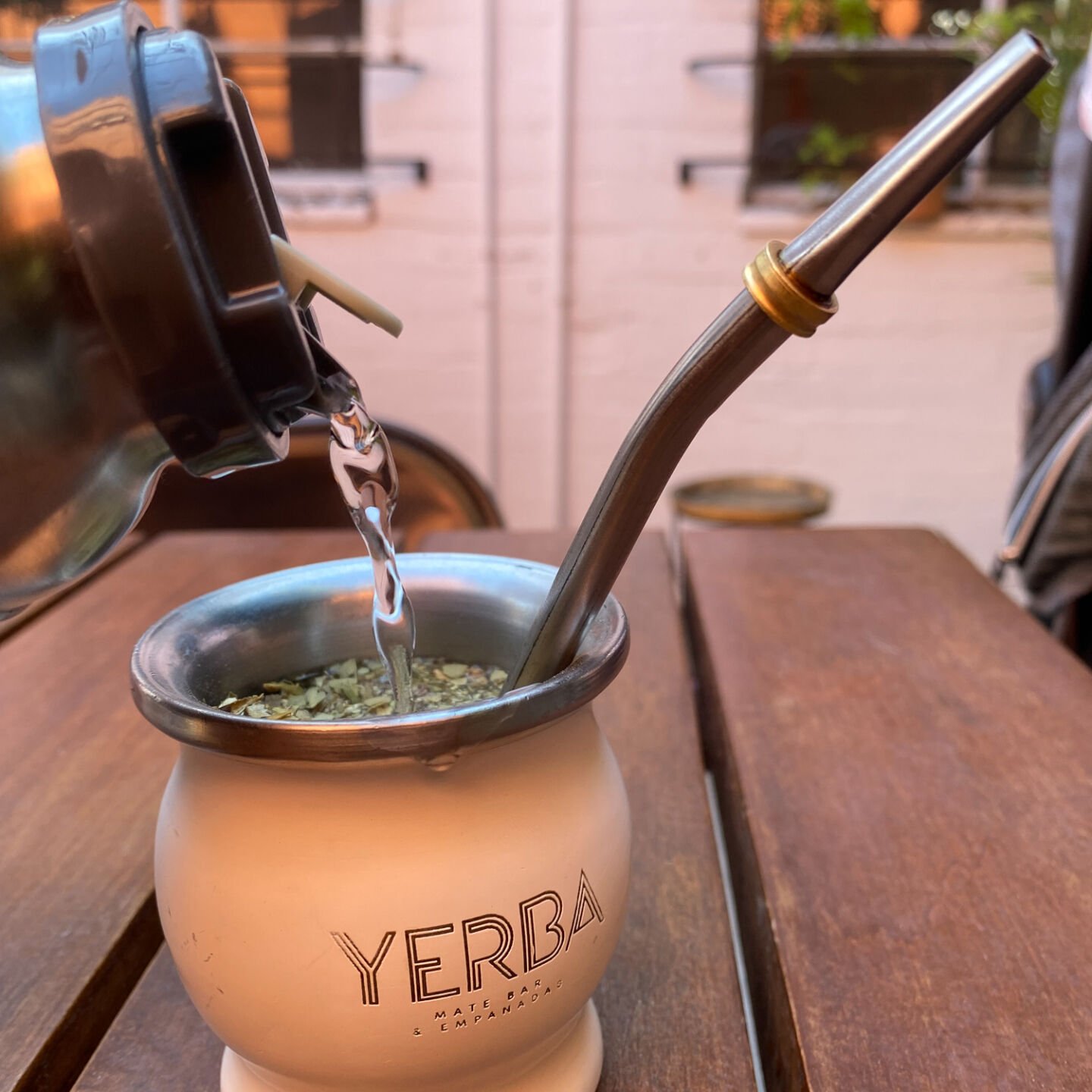 Yerba
Maté Ritual
As a lifelong daily maté drinker, I get overly excited each time I come across a café dedicated to the South American upper-delivery herb. Yerba in PB features a lovely, quiet, plant-heavy patio to enjoy a gourd full of maté with a house bombilla. Bring a magazine, why don't you. Empanadas on tap and the chocolate alfajores can get it too. –MH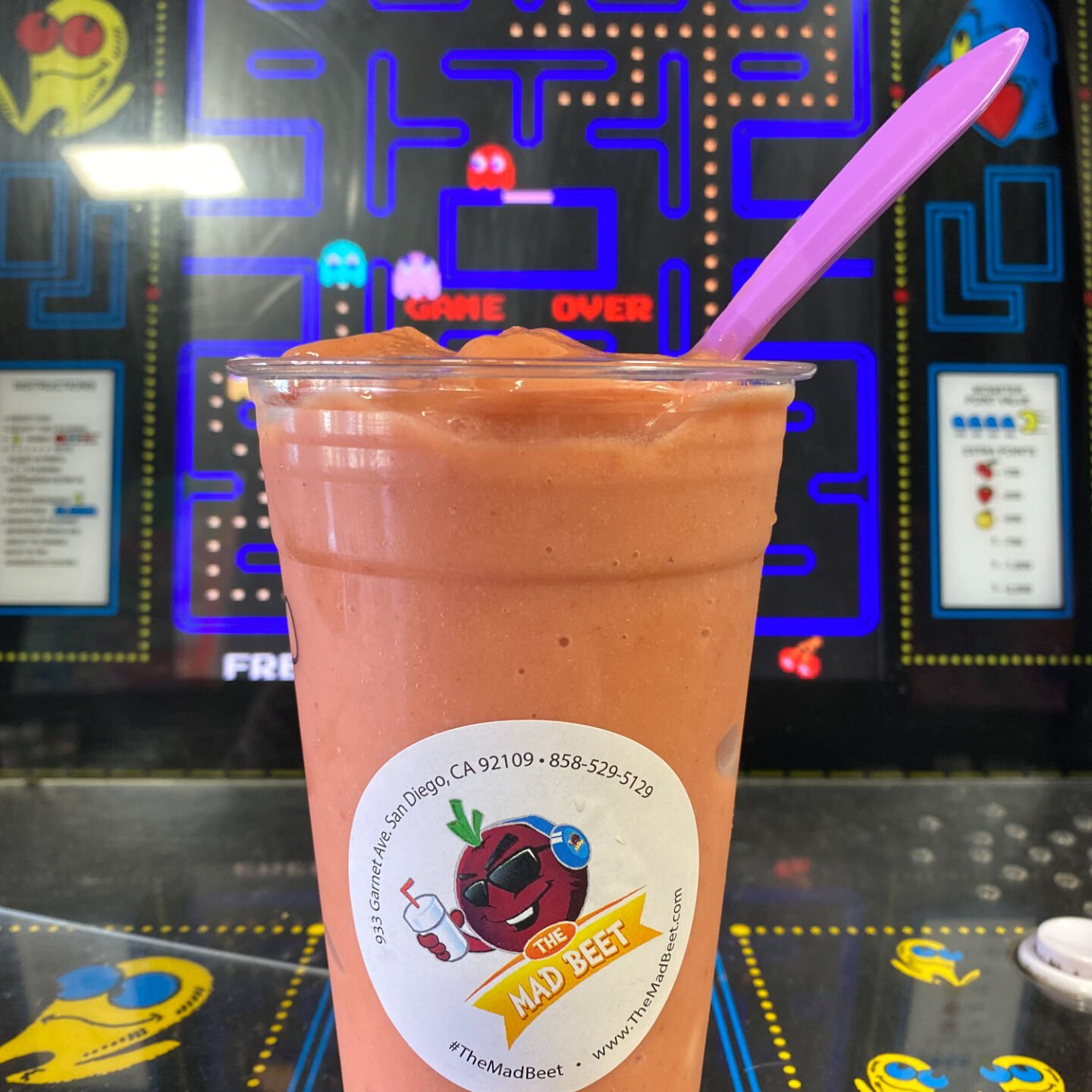 The Mad Beet
Lana Del Raspberry
The Mad Beet in PB offers a dizzying menu of smoothies, fruit bowls, juices, salads, and wraps, all with creative names and health-conscious ingredients. It can be overwhelming, but don't panic. The Katy Berry? Sure. They're all good. Skip Postmates; go in person. Sip your selection inside while playing old-school arcade games like Pacman, NBA Jam, TMNT, and Mortal Kombat. The Lana Del Raspberry smoothie is a crowd fav, but who can tell, really. –MH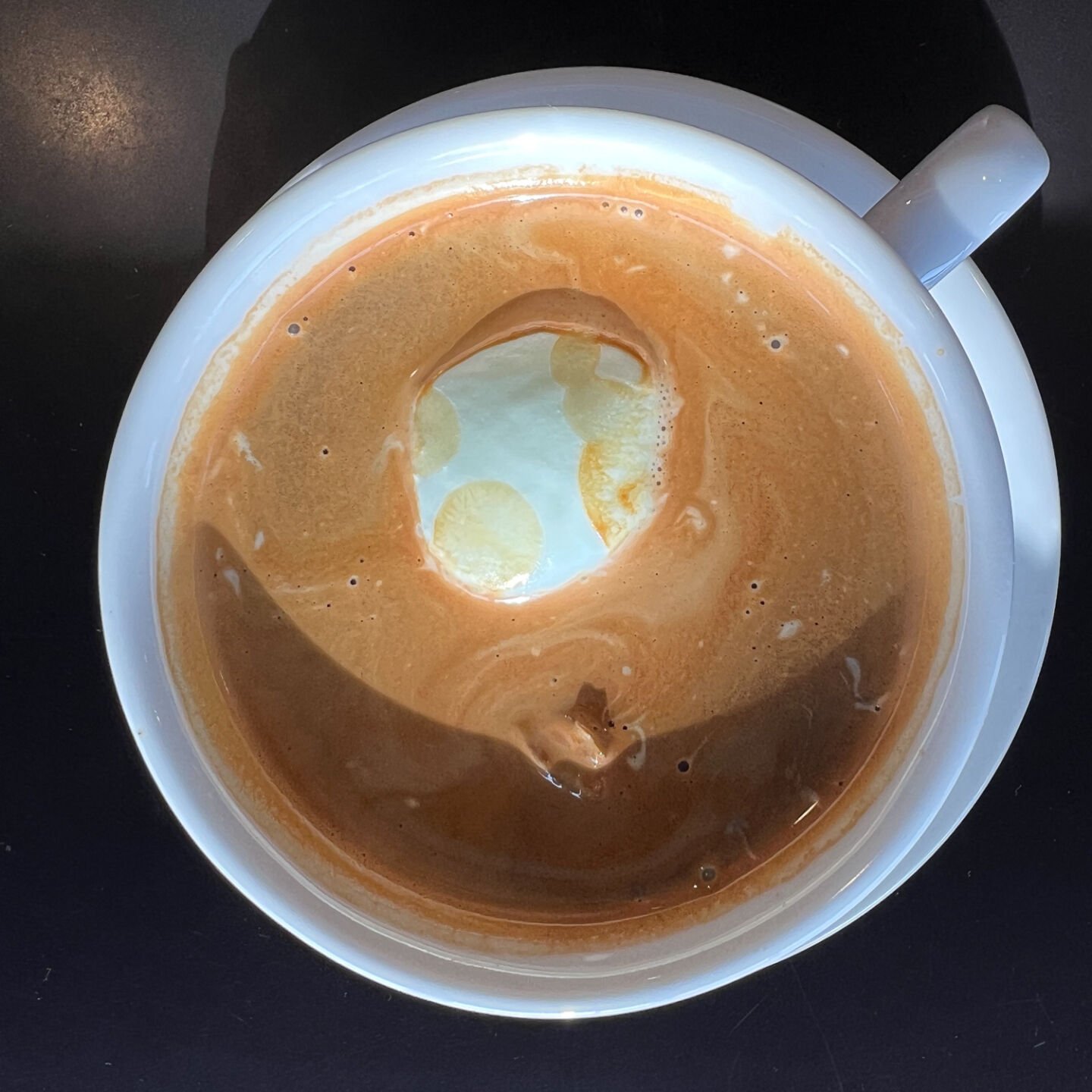 Gelato Vero Caffe
Pistachio Affogato
They used to cram indie rock bands in this classic, rickety beaut. It was not in any way permitted, and it was lovely. The corner gelato store in Middletown is an icon with a thin sliver downstairs and what feels like an enclosed rooftop room that someone's dad built with a hammer and cursing. Get a pistachio affogato (a scoop of gelato swimming in espresso from Caffè Calabria), and watch the planes land. –TJ
Costco
Izo Sotol
If this sentence is wacky, you know which bottle to blame. Izo Sotol has become SDM office water. Based in San Diego, Izo started with mezcal, expanding to tequila, sotol, and bacanora—all distilled in owner Gustavo Martinez's hometown of Durango, Mexico. The sotol won our hearts because it's imminently drinkable straight (like a well-aged bourbon) but also plays well in a spicy margarita situation. It's served at serious cocktail places (George's, Cantina Mayahuel), but also at everyone's favorite pandemic superstore for home use. –TJ
Bivouac Ciderworks
Pikes Peak Colada
From North Park's heroes of craft ciders… it's like a boat drink, on a boat lazily and dreamily anchored off the coast of the Philippines. It starts with pineapple-infused cognac, fresh pineapple juice, lime juice, and finally, the key—a jigger of ube coconut cream. Ube is a Filipino sweet potato, so Jimi Hendrix–hued that it makes Instagram seem invented simply to promote ube. It's purple. It's creamy. It's tart. It's dreamy. –TJ
Pure Project
Stoic Serenity Kombucha
Sometimes you need a little beer break, even if you're at a brewery birthday bash with your pals. Enter hard kombucha, part gut-health guardian, part afternoon buzz extender. Pure Project's Stoic Serenity is anything but sedate; its cranberry, lime, hibiscus profile is reminiscent of gummy bears in the best way, with none of that 'booch funk that can sometimes harsh your vibe. –SL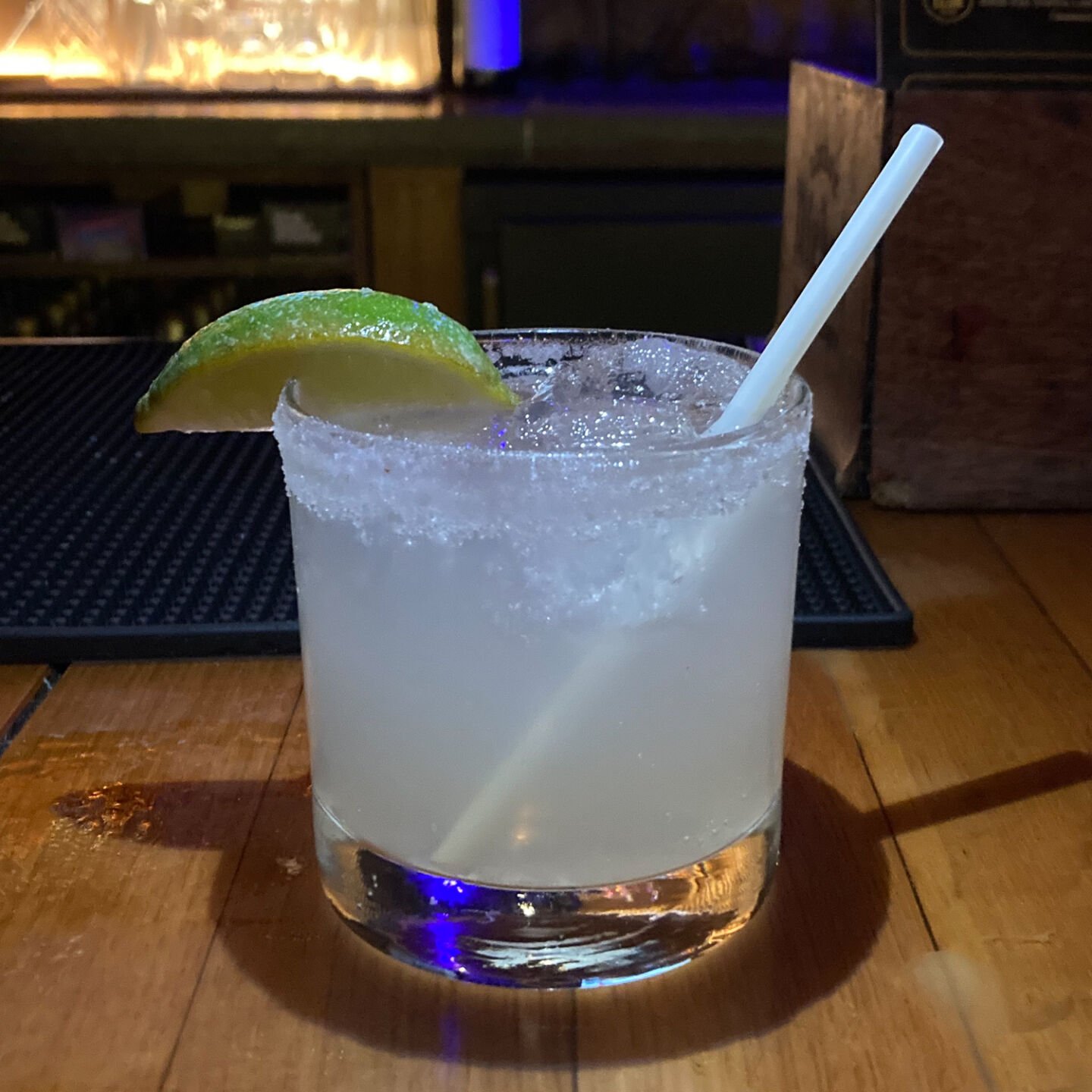 Sycamore Den
Syc Den Margarita
Deciding on a night-out destination is an internal war between my affection for cozy, no-frills locales and my devotion to really good craft cocktails. Syc's Patron-based drink checks many of my margarita-snob boxes—not blended (sorry), real agave, generous dusting of salt around the rim—in a laid-back habitat complete with bar games and free popcorn. Bonus: Many menu options utilize fellow SD businesses, including Lestat's Coffee and Cutwater Spirits. –AR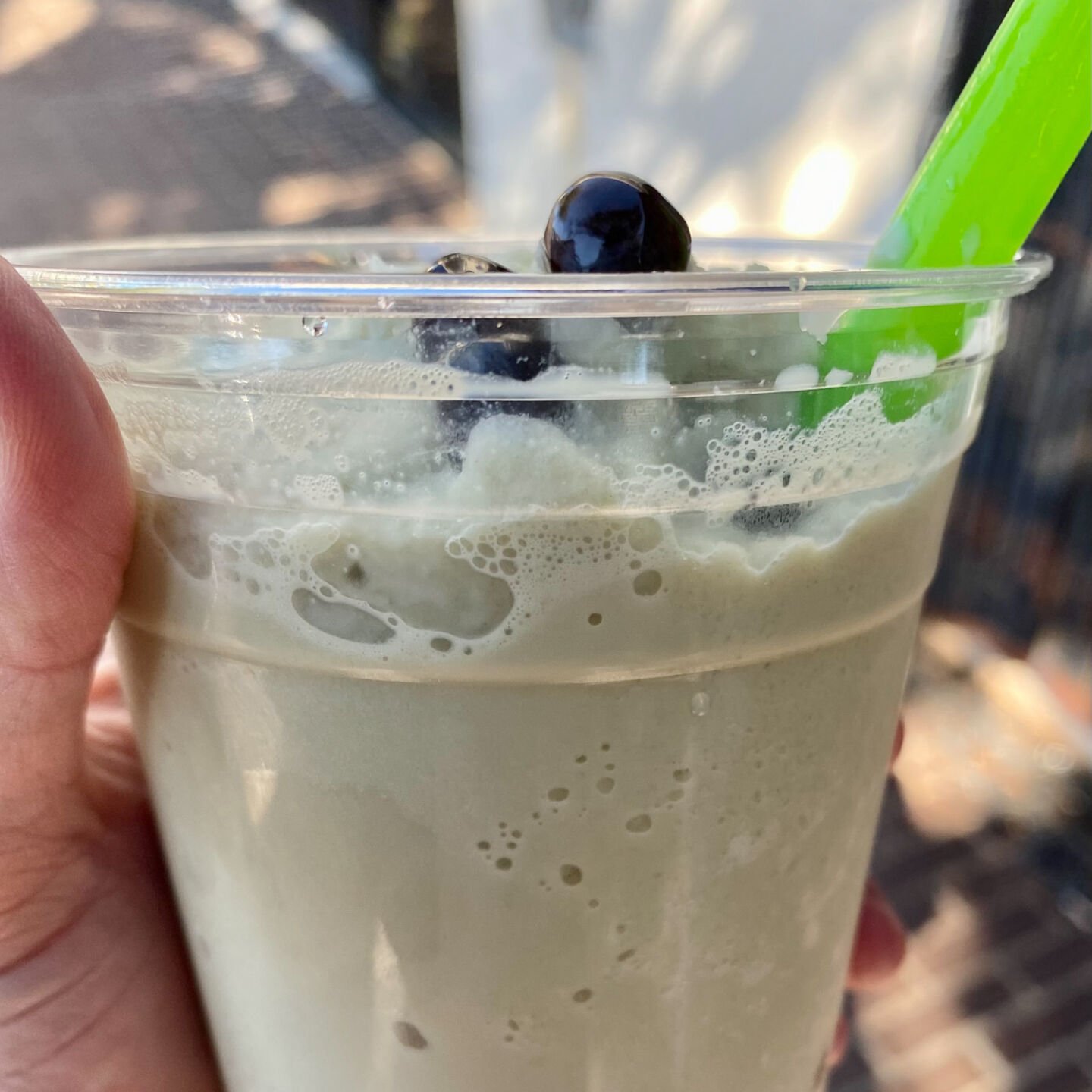 Fruittitude
Matcha Green Tea Slush
Boba is a treat. Made-to-order slushy boba? Even better. The Matcha Green Tea Slush at Fruittitude is a cold comfort on a hot day wandering La Jolla's endless boutiques. Across from the 70-year-old Ascot Shop and next to a designer pet store, the sleek, all-white interior juice joint fits right in. Bare, sure. But what the place lacks in décor it makes up for in options. Soup, salad, even rice bowls. –MH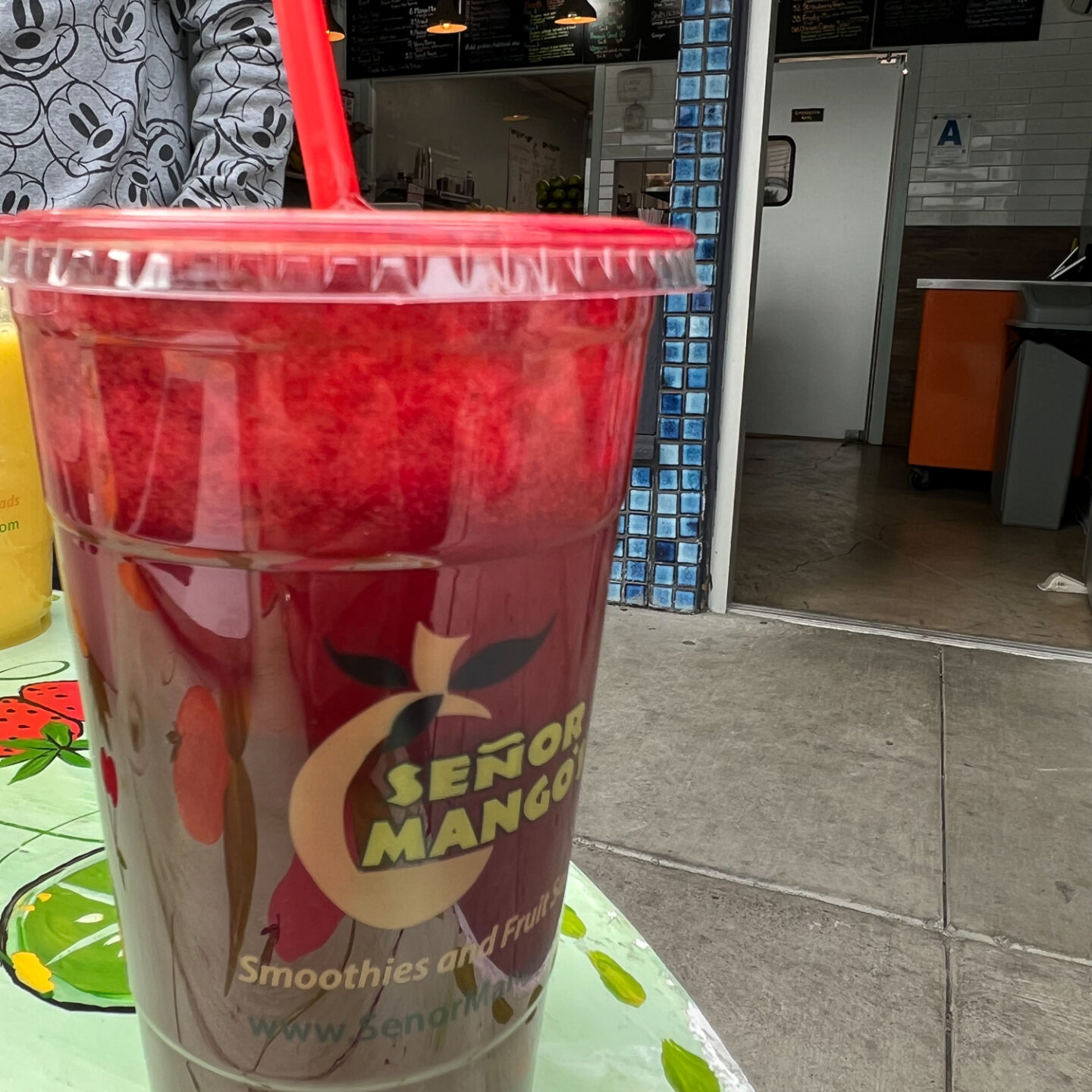 Señor Mangos
The Vampiro
The Leon family has been a cornerstone of North Park and City Heights for decades since its father, an ag worker in Mexico, moved all nine kids to San Diego. The kids sold bags of fruit on the streets. Now those kids own Señor Mangos (two locations), modest windows selling to-go smoothies, juices, and bowls—using the fruit that paved the way for their family. Try the Vampiro, a damn good cup of red beets and local lore. –TJ
J & Tony's
Tony's Negroni
Anthony "Tony" Schmidt was once an adjunct SDSU professor. Which explains why, as cocktail captain of CH Projects, he analyzes brix and dilution and surface area of ice and all sorts of other academic glass science that eventually leads to great drinks. Tony's Negroni is equal parts Sipsmith L. Dry Gin, Campari, and sweet, heavy, round Carpano Antica Formula vermouth to balance it all, finished with a quarter-ounce of fresh lime juice. Drink it and stare at the dinosaurs in this Jurassic Park-ian art house in East Village. –TJ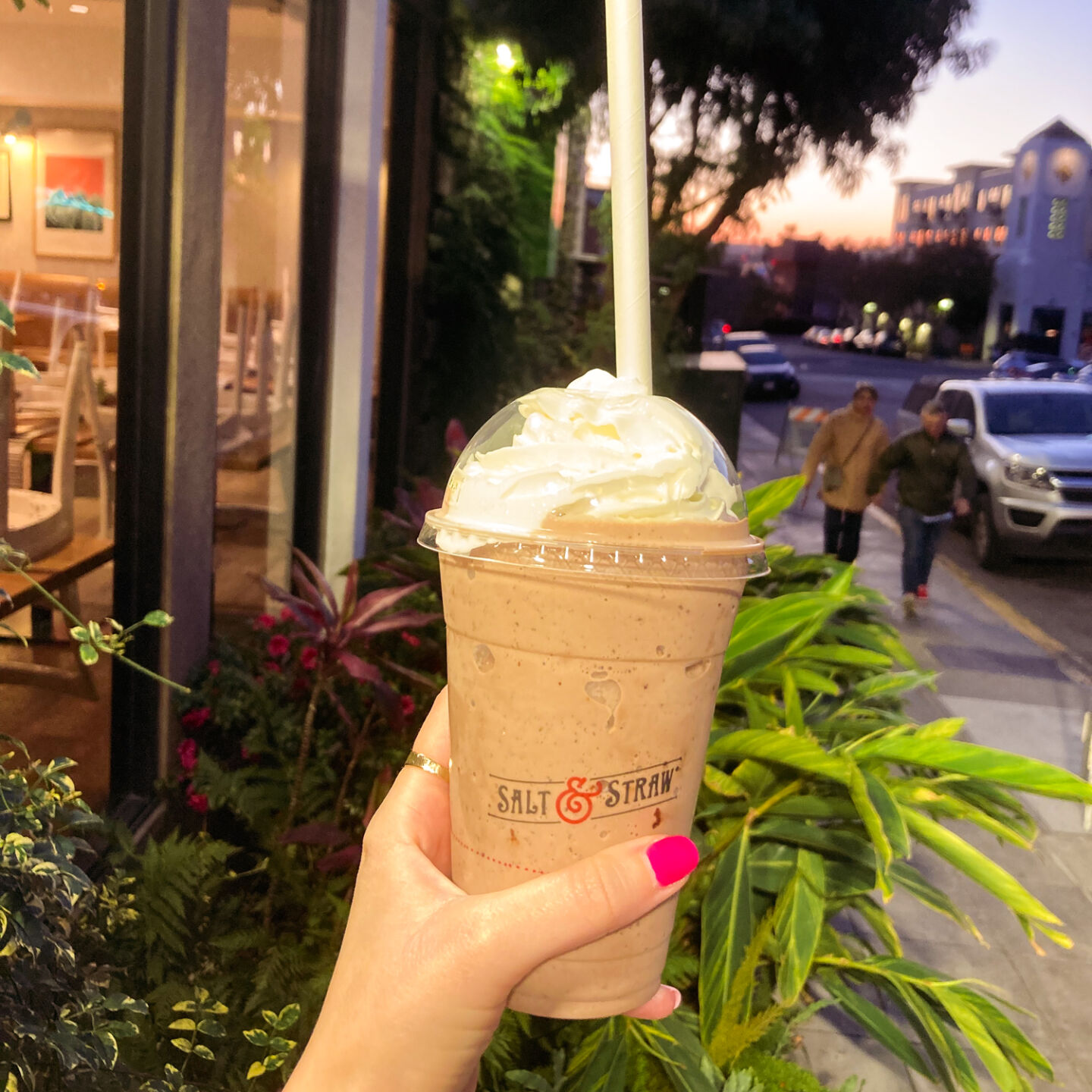 Salt & Straw
Brownie Olive Oil Milkshake
Easily one of the best parts of being an adult is the freedom to give into 5 p.m. milkshake cravings with impunity. Enter Salt & Straw's Little Italy location with its selection of boldly inventive ice cream flavors. Try a whipped cream–crowned blend of chocolate gooey brownie and Arbequina olive oil—rich, nuanced, studded with brownie bits, it's my new favorite way to spoil my dinner. –AR
---
Cocktail Kickoff Winner: Critic's Choice
Malahat Spirits Co.
Winter Solstice
At local craft distiller Malahat, spirit whisperer Ash Easterly got the inspiration for this cocktail while on a motorcycle trek through Southeast Asia and its sprawling natural tea fields. It starts with the subtly sweet Malahat Black Tea Rum, mixed with a housemade rosemary-orange syrup and citrus. The key is the top of warm spices (think autumn) and tiki bitters. Could've called it the Sweet Teaki. –TJ
Cocktail Kickoff Winner: People's Choice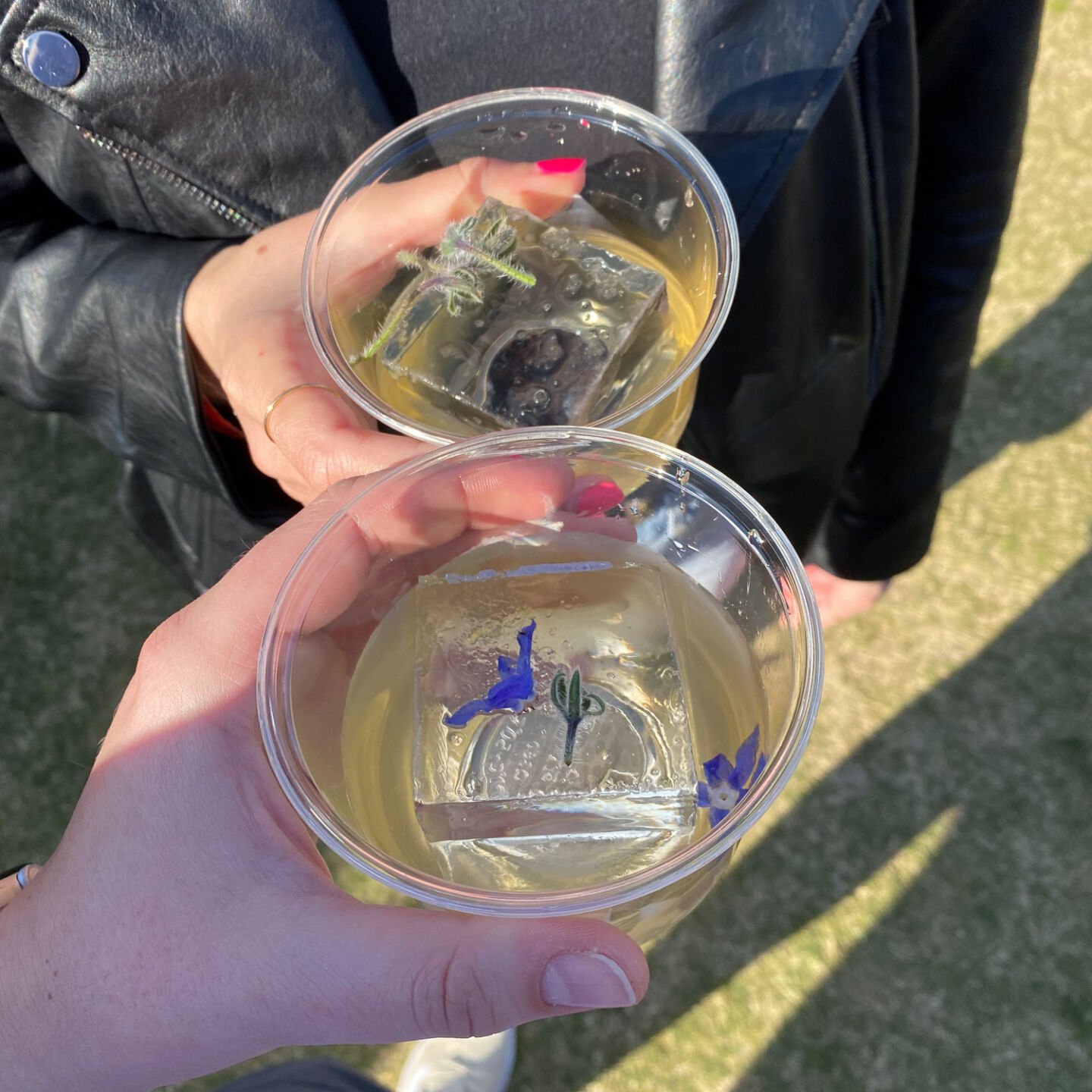 The Fishery
Milk Punch
Bar man Eddie Avila's milk punch starts with Don Fulano tequila (a favorite, from a family of agave farmers turned distillers). He takes mango skins and seeds leftover from the kitchen's weekly chutney to create an oleo sacchurum (syrup), adds both sweet and dry vermouth for balance, then fresh lemongrass and Sri Lankan lemongrass tea. It's all clarified with oat milk (an ancient bar magic trick), which makes a clear cocktail feel like silk. –TJ
---
Are you a restaurant or food- or drink-maker with something delicious that should be on SDM's Hit List? Send the editors an email at [email protected] and tell us what you think we should try! 
Goal is pretty simple—to find the best things to eat and drink in San Diego and tell everyone we know. From mom-and-pop neighborhood gems to the best restaurants in town. From food carts to farmers market stands to upstart food- and drink-makers and brands.