#1
Watch an All-Star Game MVP play in a Padres uniform
Hopes are high this season thanks to an eight-year, $144 million deal to sign first baseman Eric Hosmer, who formerly helped the Kansas City Royals win the World Series. In addition to Hosmer, the Padres have signed a slate of top-notch talent like closer Brad Hand and Kazuhisa Makita, a relief pitcher with a side-handed pitch you have to see to believe. In between innings, nosh on food from Lucha Libre Taco Shop, Baked Bear, and, new this season, Buona Forchetta. It all goes down at Petco Park, what USA Today calls the "undisputed best ballpark in baseball."
Insider Tip: Buona Forchetta at Petco is the only location serving thicker Roman-style street slices. Order up in section 104—first level behind home plate.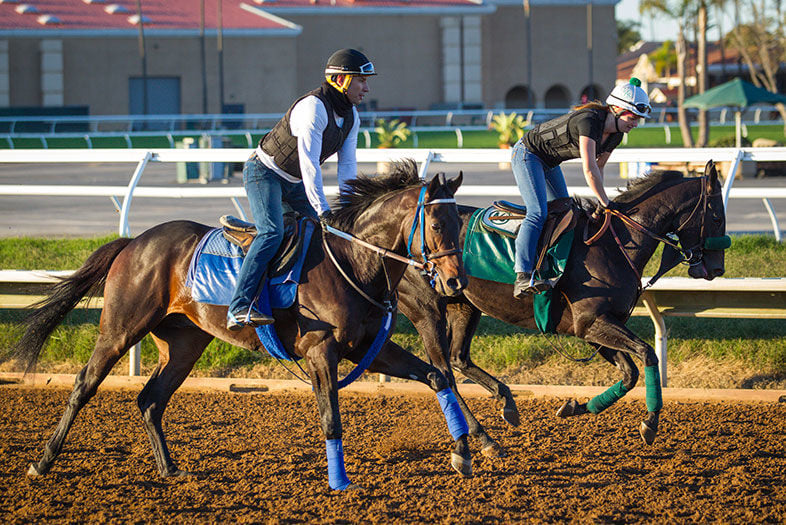 #2
Spy world-class thoroughbreds during their morning workout
We've all worn the hat on opening day at the races, but we secretly prefer the quiet of the early morning weekend workouts. Up to one thousand horses post up to exercise throughout the 7:30–9:30 a.m. session each Saturday and Sunday. Watch from the Clubhouse Terrace, where there's breakfast food for purchase, plus face painting and magic for the kids. Not a morning person? New this racing season (July 18–September 3), taco-themed Wednesdays spotlight favorite local taquerias, with specials on Mexican beers. August 4 marks the first Michelada Fest. There are concerts every Friday and, this year, every Saturday except during the August 18 Pacific Classic; concert tickets are free with track admission.
Insider Tip: Donut Days are July 28 and August 11 from 8 to 10 a.m. and include free donuts, coffee, and juice.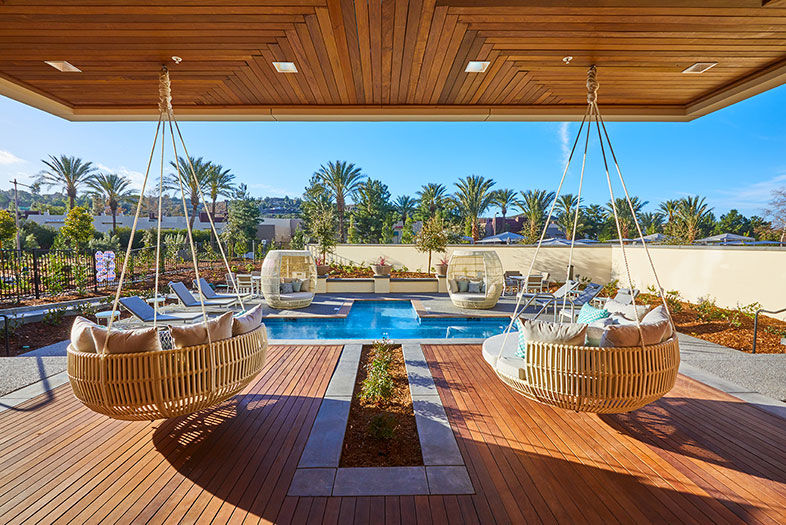 Willows Hotel at Viejas Casino
#3
Stay at a casino without going all the way to Vegas
When's the last time you visited one of San Diego County's casinos? We thought so. At Harrah's Resort Southern California, you can splash around in their Dive pool, known for its 400-foot lazy river and SoCal's only swim-up bar. Or, take an easy gamble on Viejas Casino's newest addition: Their luxury Willows Hotel features 159 adults-only suites and a full salon and spa. Enjoy the A/C indoors at the card table and slot machines, then head outside to float in the saltwater pool or book a massage in one of the spa's poolside cabanas.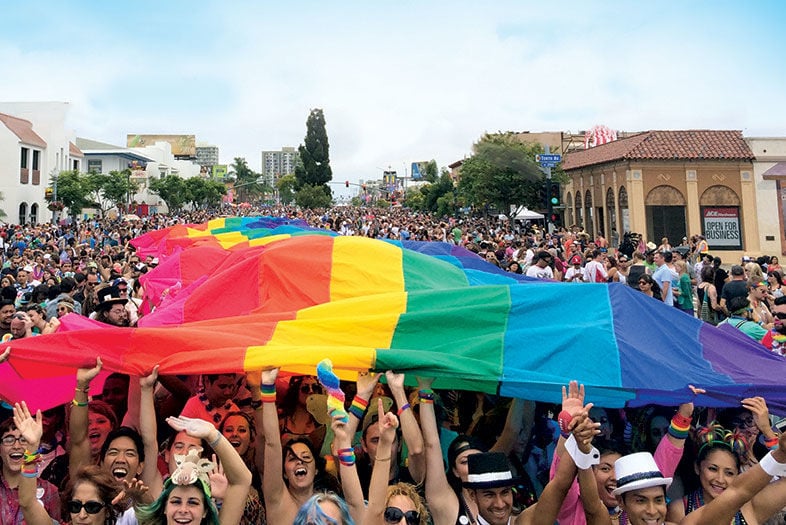 #4
Celebrate love with 200,000 of your closest friends at Pride
Since 1974, San Diego's most prominent LGBTQ organization has been waving that rainbow flag through community programs, volunteer outreach, and its annual Pride weekend. This year's festivities (July 14–15) put '90s nostalgia in full force, thanks to music headliner TLC and more than 90 other acts gracing four stages in Balboa Park. The theme for 2018, "Persist with Pride," encourages revelers to channel their energies into speaking against discrimination, volunteering in meaningful ways, and voting so their voices are heard.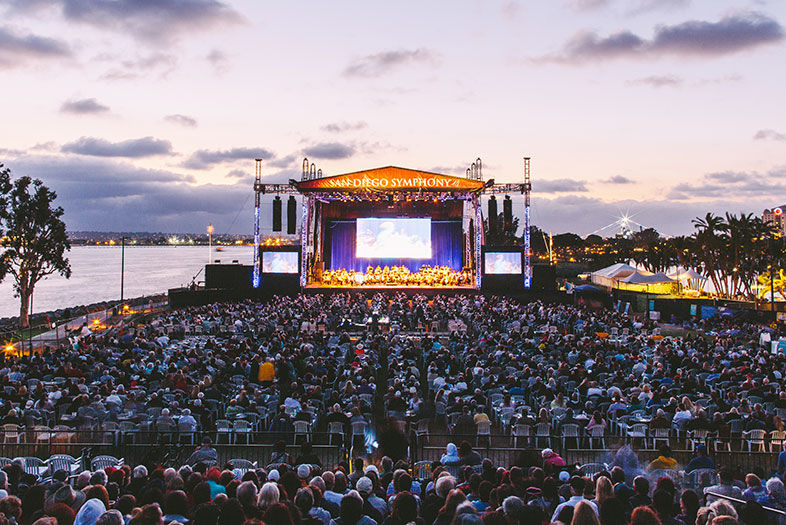 #5
Get to know the fun, drinky side of orchestral music
If you've never been to San Diego Symphony's Bayside Summer Nights at Embarcadero Marina Park South, you can't know that it's largely about friends, wine, and a great sunset. (And music, of course!) This year's lineup includes Patti LaBelle, Roger Daltrey with members of The Who, Megan Hilty, and live orchestral accompaniment to screenings of West Side Story and Harry Potter and the Goblet of Fire. It ends with the 1812 Tchaikovsky Spectacular concert, complete with cannons and fireworks.
Hey, Sports Fans!
A.S. Roma vs. Tottenham Hotspur F.C.
Catch an international football match—what we in the U.S. call soccer—when one of England's best goes up against Italy's beloved Roma.
July 25, SDCCU Stadium
Over the Line Tournament
The ironically named world championship of this local beach bat-and-ball game is a two-weekend event with a strict no babies, bad attitudes, or battles policy, where you can bring your own alcohol.
July 14–15 & 21–22, Fiesta Island
Imperial Beach Surf Dog Competition
See Spot shred in this beloved beach ritual. Solo dog surf, dog and human surf, and stand-up paddleboarding heats are all on the agenda.
July 29, Imperial Beach Pier
World Bodysurfing Championships
As many as 400 bodysurfers from around the globe gather for the 42nd annual showdown. Gain a whole new respect for the sport, the ocean, and these competitors who use nothing more than a pair of fins.
August 18–19, Oceanside Pier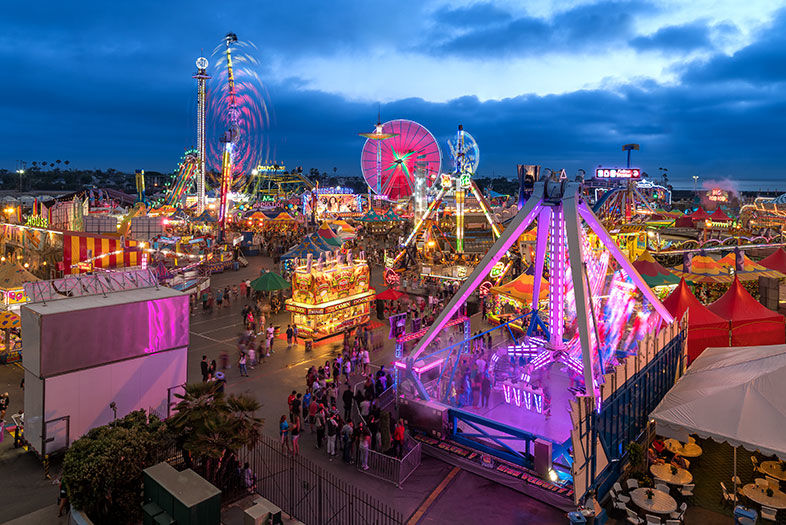 Photo by John Bahu
#6
Find the speakeasy at this year's fair
Ask around among San Diego County Fair employees for the secret location of the Cocoa Cabana. In line with the 2018 theme, "How Sweet It Is," the tropical oasis will be serving candy-infused cocktails. An exhibit called Sweet: A Tasty Journey will educate, fascinate, and maybe even nauseate—beware of the flavors at the Jelly Belly BeanBoozled Challenge. Vendors are all in on unicorn foods, from rainbow-colored grilled cheese sandwiches to unicorn cotton candy ice cream sandwiches. Also new this year: a "cashless" midway means no ride tickets, just reloadable cards. June 1–July 4
Insider Tip: Don't like crowds? Opening weekend is the least busy. Unlike opening day at the racetrack, the fair is best experienced early in the run. The gardens are fresh and the Fun Zone lines are shorter.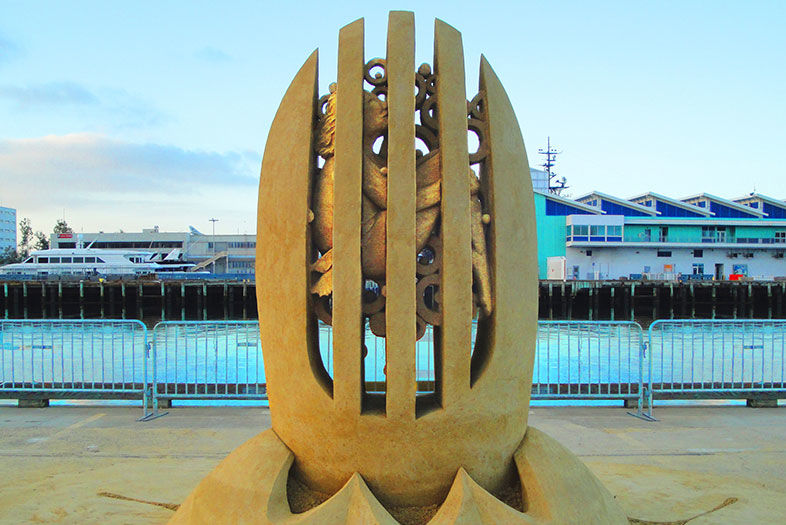 Photo by Sean & Joice Curry
#7
For the first time, see the sand sculptures after dark
This year, the U.S. Sand Sculpting Challenge is getting lit. After 300 tons of sand is transported to Broadway Pier and the Labor Day weekend event gets underway, the competition will continue into the evening, with the sculptures illuminated from top to bottom. Pick up bites from food trucks and drinks from the wine and beer garden while the kids play in a massive sandbox. And when you've washed all the sand off your feet, vote for the People's Choice Award winner.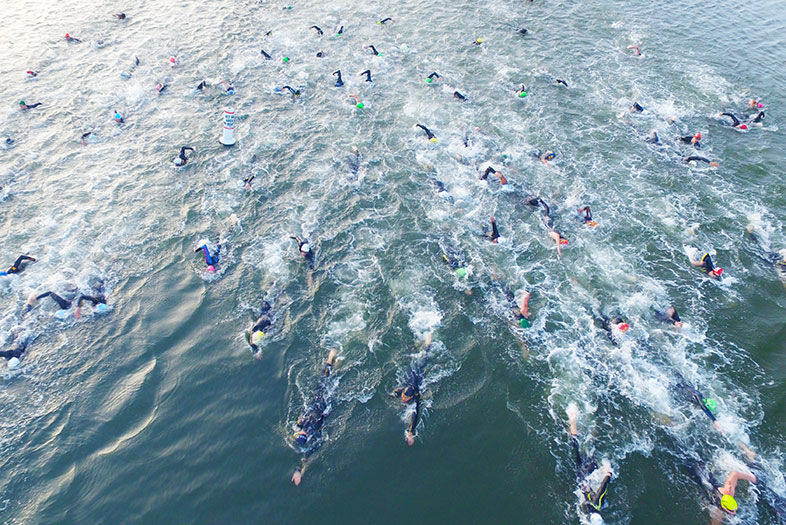 Photo by Chris Calderon
#8
Cross one of our iconic summer season finish lines
Embrace the season, the city, and your health goals by signing up for any one of San Diego's races, bikes, or swims. Top-billing events include the Synchrony Rock 'n' Roll Marathon on June 3, Carlsbad Triathlon on June 10, Solana Beach Triathlon & Duathlon on July 29, America's Finest City Half Marathon on August 19, and on August 26, Bike the Bay provides the unique opportunity to bike across the Coronado Bridge.
Insider Tip: Check out the Triathlon Club of San Diego for group swims and training rides, plus some group runs. Or join San Diego Track Club, which has specific training programs for Rock 'n' Roll.
#9
Watch a play under the stars
Get swept away in Shakespeare's "tragicomedy," The Tempest, performed June 17–July 22 at the outdoor Lowell Davies Festival Theatre in Balboa Park. Evenings in San Diego can get a little chilly, so rent a blanket before curtain call for only $2 (or opt for the Donald and Darlene Shiley indoor stage for Dr. Seuss's The Lorax, July 2–August 12). At Moonlight Amphitheatre in Vista, hum along to your favorite songs at Mamma Mia! (June 13–30) or Disney's Newsies (July 18–August 4). BYO sleeping bag.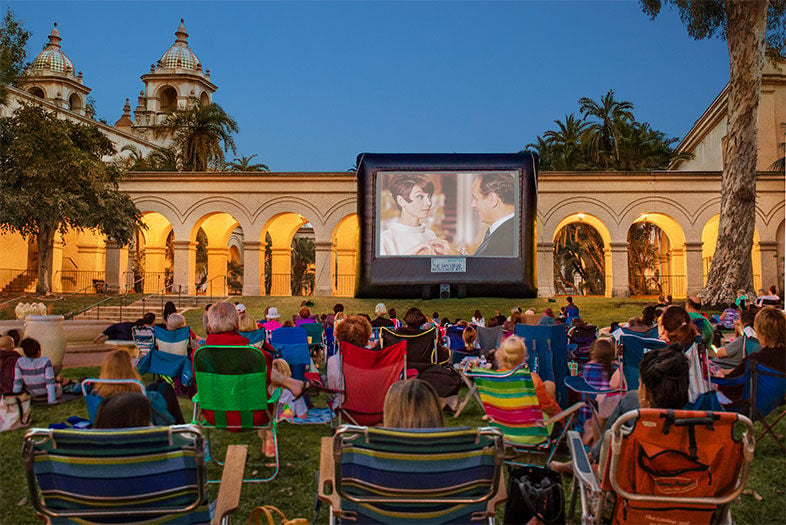 #10
Gather friends and family for an outdoor movie
Nothing says "summer night" like twinkly lights, a blanket in the grass (or sand), and a film alfresco. Thankfully, you can't go far in San Diego without finding an outdoor movie series. Check out Waterfront Park, Kensington's Ward Canyon Park, Carlsbad Village, the patio of the Athenaeum in La Jolla, and, new this year, the UK-based Rooftop Cinema Club lands at the Manchester Grand Hyatt. The San Diego Museum of Art hosts flicks on their Botanical Lawn that complement their exhibits, while Street Food Cinema brings food trucks to viewing parties in locations across the city. To combine a couple summertime pleasures at once, settle in on the sand for Hotel del Coronado's Movies on the Beach series.
Insider Tip: No time to pack a picnic? Have Paradise Pizza deliver a pie to your seat at Carlsbad's Flicks at the Fountain.
Calling All Foodies
Ocean Beach Street Fair & Chili Cook-Off Festival
Thirty-nine years of food, art, and entertainment has earned this tradition a cult-like following. If you've had your fill of chili, sign up for the Hodad's Burger-Eating Competition. Beach body, what?
June 23, Ocean Beach
The CADO
San Diego produces 40 percent of the state's avocados, so of course our city is the best place to debut The CADO, a museum dedicated to our patron fruit, housed in shipping containers with educational exhibits on the growing process and cultivation, tips on how to pick the best, and plenty of Insta-worthy moments. Yes, there will be avocado snacks, too!
Opening late summer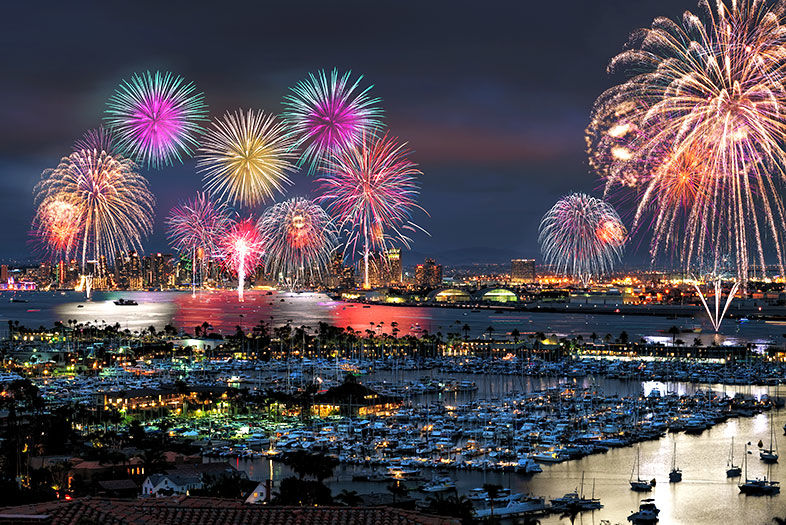 Photo by John Bahu
#11
Ditch the lawn chair—view the Big Bay Boom from a balcony
Guaranteeing yourself a seat for San Diego's favorite July 4 fireworks show doesn't have to be a schlep. Book a room at one of the surrounding hotels, like the Hilton San Diego Bayfront or Wyndham San Diego Bayside. Not feeling the staycation? Take public transportation—ride the trolley, or take the ferry to Coronado—to avoid the dreaded traffic after the sparks fly.
Insider Tip: Enjoy the fireworks from the Hilton's ballroom facing the bay during its July 4 bash—no room reservation required!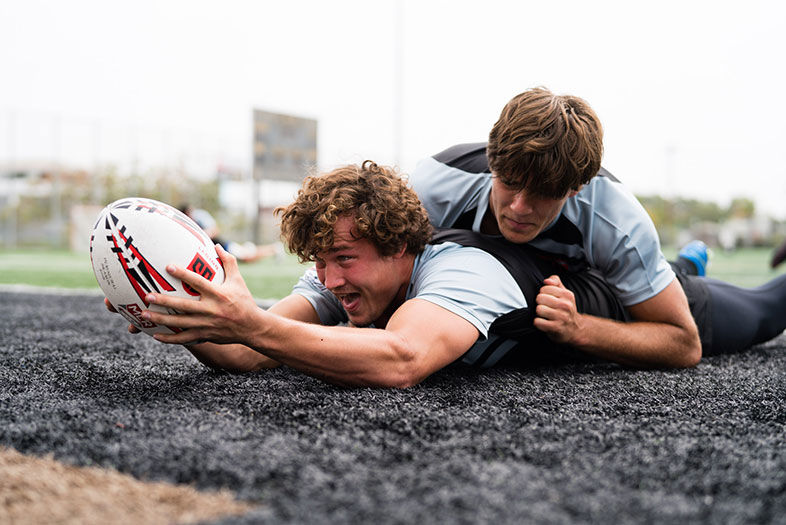 Photo by Jay Reilly
#12
Root for SD's professional rugby team
San Diego Legion's inaugural Major League Rugby season has begun! Watch the city's newest professional sports team play at USD's Torero Stadium through June 23, plus the MLR Championship Game, hosted here in San Diego on July 7. Each match features teams of 15 players running, passing, and tackling for a fast-paced, nonstop 90 minutes. It's sure to be a ruckus.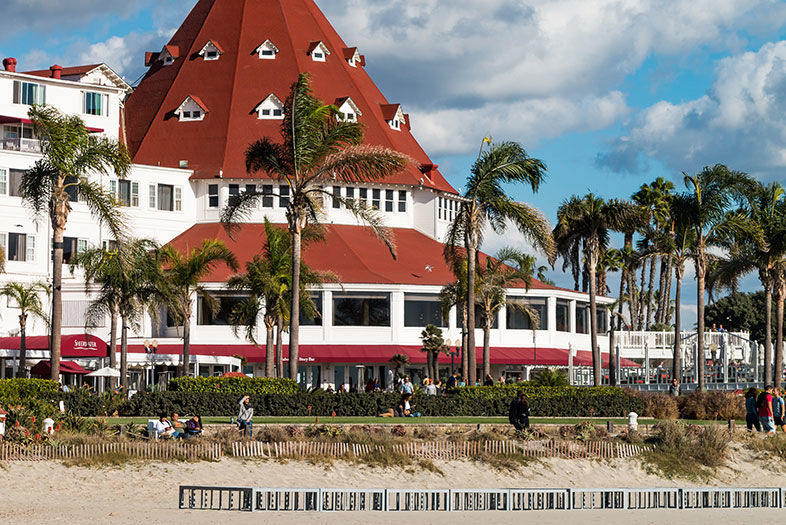 #13
Party with an icon for The Del's 130th summer
One of San Diego's most iconic landmarks celebrates its 130th anniversary this year with a slate of outdoor fun, including their California Clambake Series (June 16, July 28, August 18) and Father's Day Concert & BBQ (June 17) with Gary Sinise & the Lt. Dan Band. And nothing says sunny San Diego like a spin class on the beach, followed by bottomless bloody marys in the Crown Room and a nap in the hotel's chic beach cabana.
#14
Upgrade your summer pool party with jazz
Listen to top talent from Southern California on the rooftop of The Westgate Hotel downtown during their Sunset Poolside Jazz Series, including Erika Davies on June 14, soul jazz vocalist Steph Johnson on August 9, and jazz trumpeter Gilbert Castellanos on August 30. This year's series kicks off on June 7 and for the first time extends past Labor Day to September 13. Tables are first come, first served, with a $25 food and beverage minimum. Craft beer, cocktails, and gourmet appetizers under a sunset? That's music to our ears.
#15
Get rowdy at a tennis match
Top-notch talent meets loose spectator rules at World TeamTennis, a professional league combining male and female players. (We finished second in 2017!) Representing the San Diego Aviators this year are Great Britain's Naomi Broady and Marcus Willis, Poland's Marcin Matkowski, and Germany's Anna-Lena Groenefeld. Throw back a cocktail, dance to the DJ, and cheer as loud as you want. July 15–August 2, Omni La Costa Resort & Spa
Insider Tip: For young fans, there's a meet-and-greet with the athletes and an interactive kid zone.
Raise a Glass to Summer
Adult Coloring with Beer
Pair your craft beer with crayons during Iron Pig Ale House's Adult Coloring Nights every Wednesday of the summer in Pacific Beach.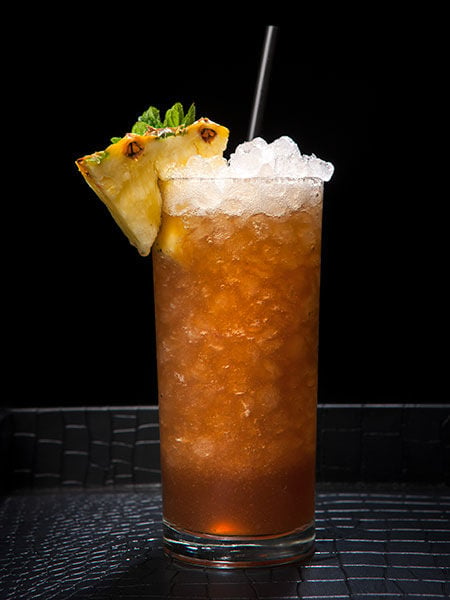 Photo by Paul Body
Best of San Diego Party
Yes, we throw this bash in partnership with Valley View Casino & Hotel, but this isn't just a shameless plug—it's a personal invitation to party with us and 2,000 of our closest friends. Come experience the 11th annual shindig, where San Diego's top restaurants, breweries, and businesses will be serving small plates, sips, and swag.
August 17, NTC Liberty Station
Tiki Oasis
Tropical drinks, island culture, and music come together at this festival hosted in various locations August 8–12, featuring mixology classes, over 100 vendors, and nightly bands and DJs. Bottoms up!
Photo by John Bahu