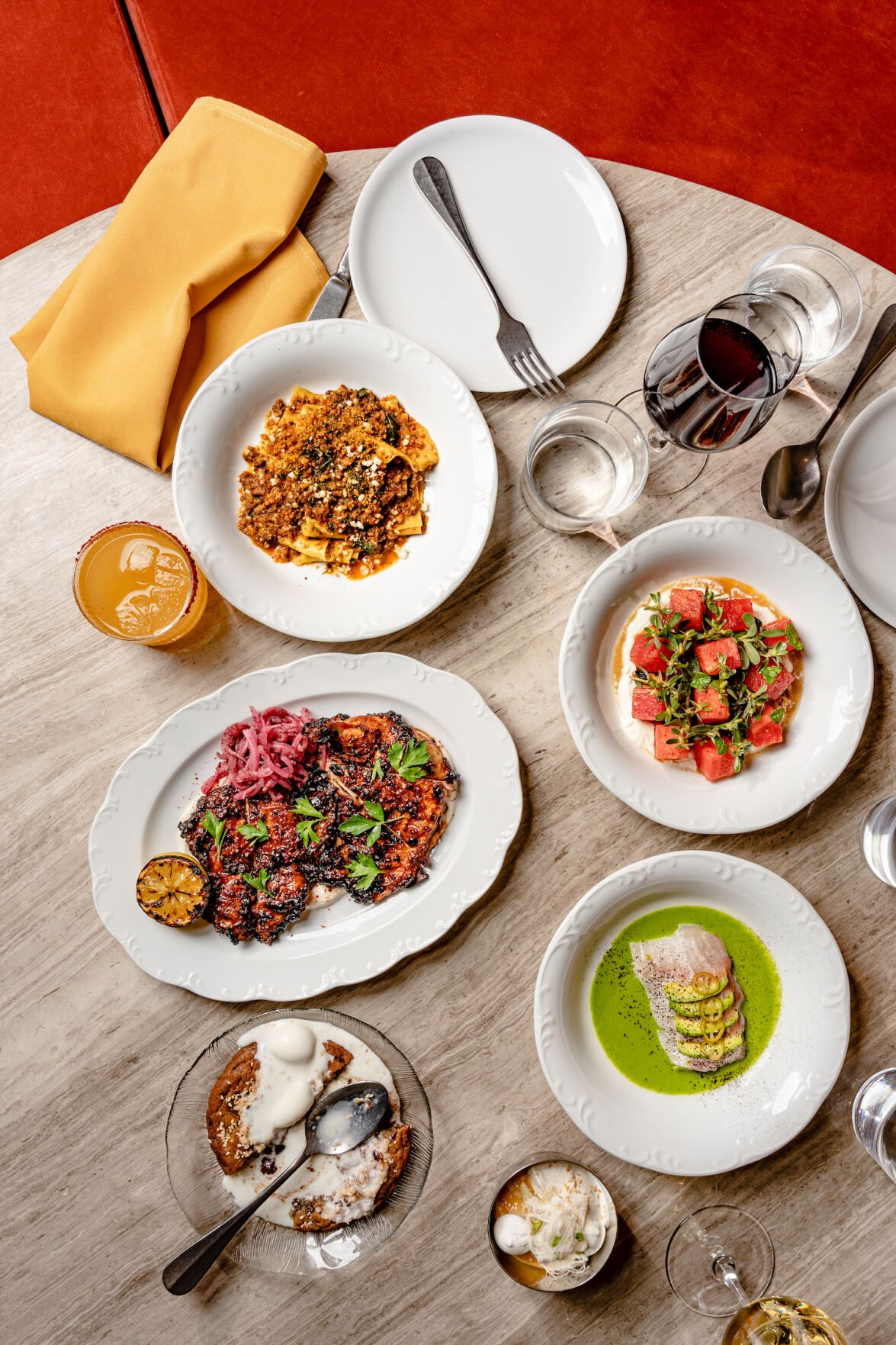 Nothing screams "Callie!" with such blunt eloquence as these carrots do. Just a singular mound of shavings, ribbon after ribbon heaped high on a small plate—like a tuft of Tang-colored pappardelle or a haystack from an old cartoon. No carrot has been sculpted into a rose. They're not charred and left in their gnarled whole state as they are in modern "ancient cookery" restaurants. They're not even garlanded with edible flowers.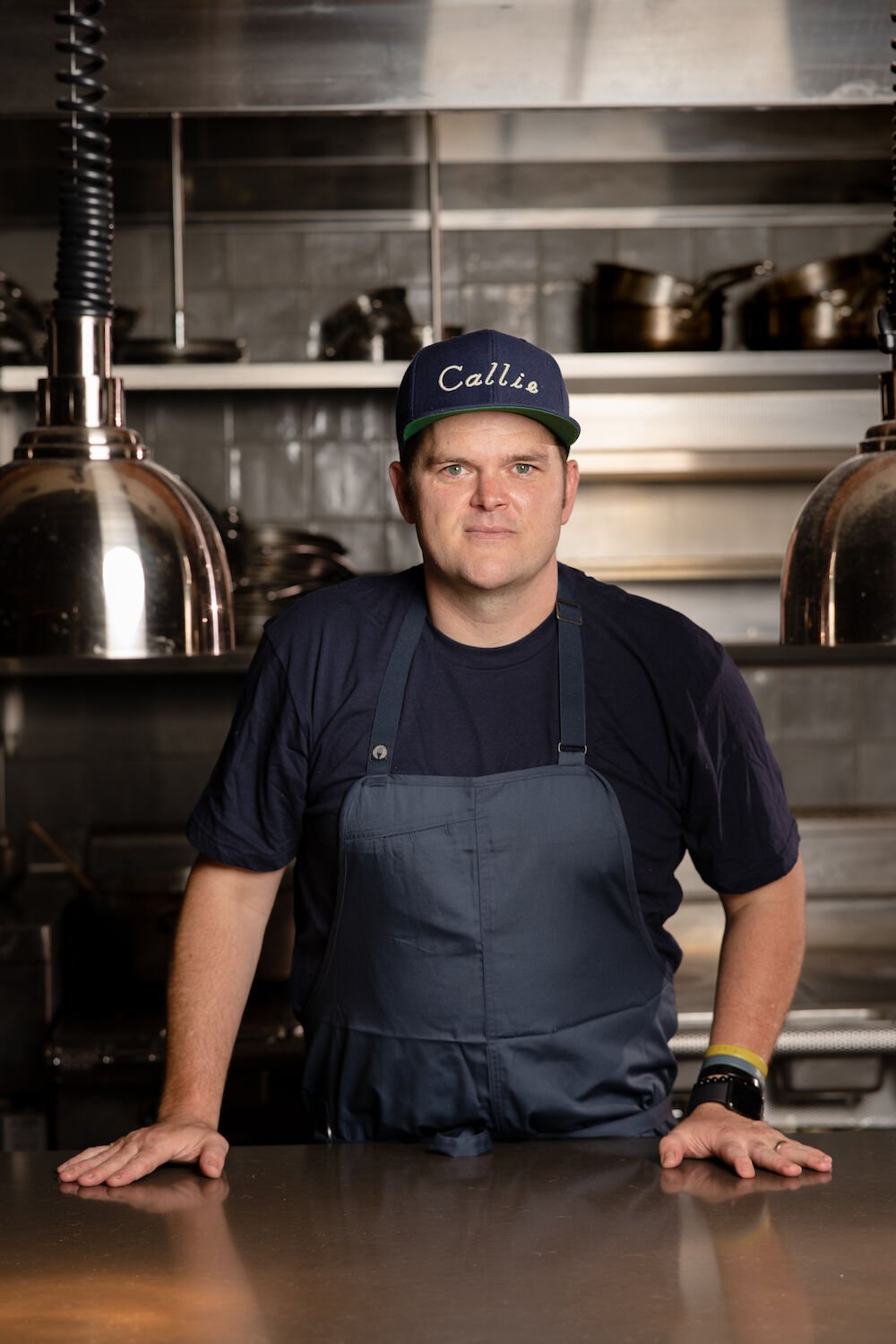 Nope. Chef Travis Swikard's lump is unadorned, very "pile of carrots"—fermented like bánh mì carrots, crunchy, and tossed in a burnt orange-habanero dressing with a cashew dukkah (a North African blend of toasted spices, cumin and sesame and coriander). The point, made well, is that Callie is—obsessively, completely, with all its newly hatched soul—dedicated to the gaudy edibles of the nearby.
Our hundred or so miles of fertile earth, with their perpetual growing seasons (sex-red strawberries for Christmas!), their local fishing families unloading every Saturday morning at Tuna Harbor. These hills and their soil-whisperers, growing impossibly ripe tomatoes that line the edges of Swikard's fattoush (a Mediterranean bread salad with fried pita). They are oh-dear-God tomatoes that—compared to out-of-season tomatoes, often grown in Florida sand, picked unripe, and turning red only when gassed—taste like candy, like magic.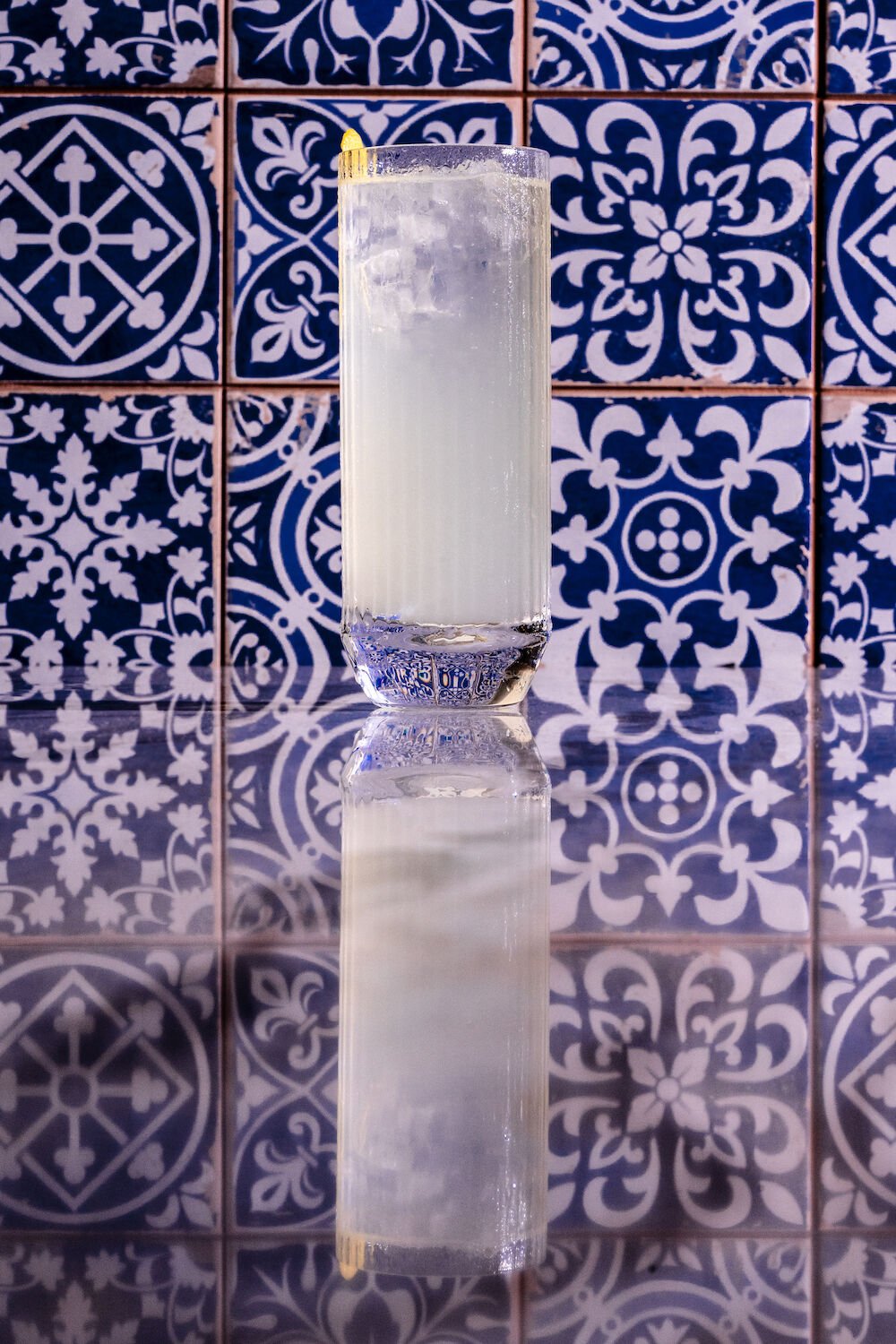 Every chef who moves to San Diego from somewhere else expresses the same thing: absolute dumbfoundedness, like sober-drunken joy. We have no idea how good we have it, they say, how many food miracles are growing wild next to our highways (like the patches of fennel Swikard picks in a field near his home, using its pollen).
Like the spot prawns the Saraspe family, a few generations of fisher-kin from Pacific Beach, catch off the coast. They deliver them alive to Swikard, who keeps them swimming in a tank in his kitchen until eventually they are cooked in spicy chile oil, garlic, parsley, and fresh lemon juice—a Spanish style known as gambas al ajillo. The meat is so fresh it tastes sous-vide, or massaged. Grab the warm baguette and lap up every last drop of prawn-spiked chile oil. Let the contentment sink in.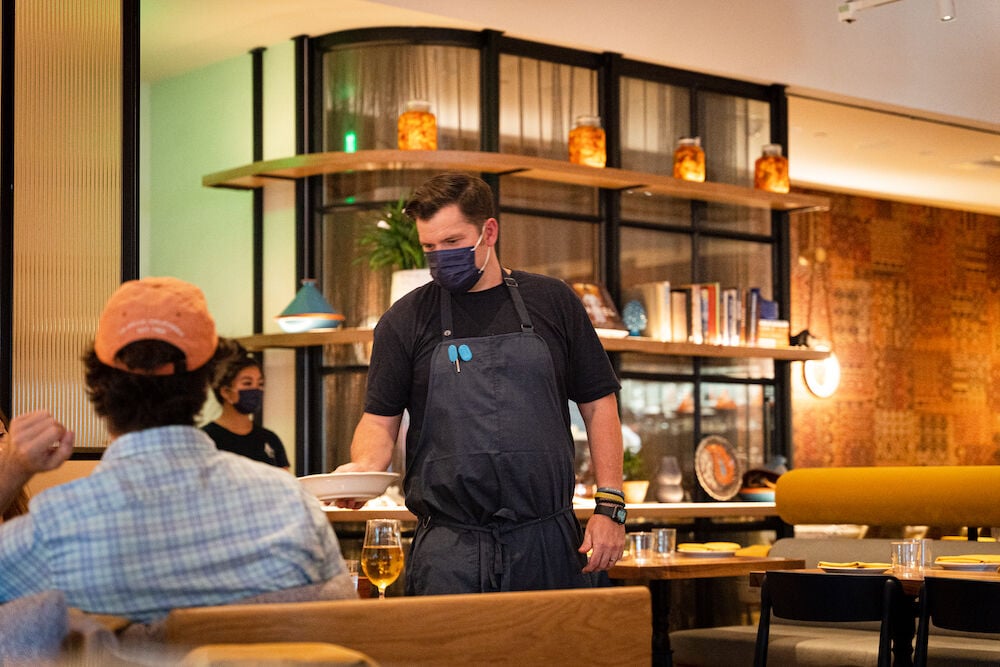 Look at Swikard—over there, in his Callie T-shirt (which proudly says "East Village") and his Callie trucker hat—running dishes out to diners, an inefficient food runner because he needs to explain each one in detail. The executive chef is running food partly because staffing a restaurant is the new boulder of Sisyphus—their impossible pandemic-era task—and partly because this is his baby, the lifelong dream of a San Diego native kid done good.
Born and raised in Santee, Swikard made the pilgrimage to the serious-young-cook places, honing crucial basics at a Marco Pierre White restaurant, mentoring for years under Gavin Kaysen, head down and rising through the ranks until he eventually served a decade as the right-hand man to one of the world's most famous French chefs, Daniel Boulud. It was local restaurateur David Cohn who went to New York, ate at Bar Sud where Swikard was executive chef, and convinced him to bring his young family home. (Note: Callie isn't part of the Cohn Restaurant Group, but the Cohns are the major investor).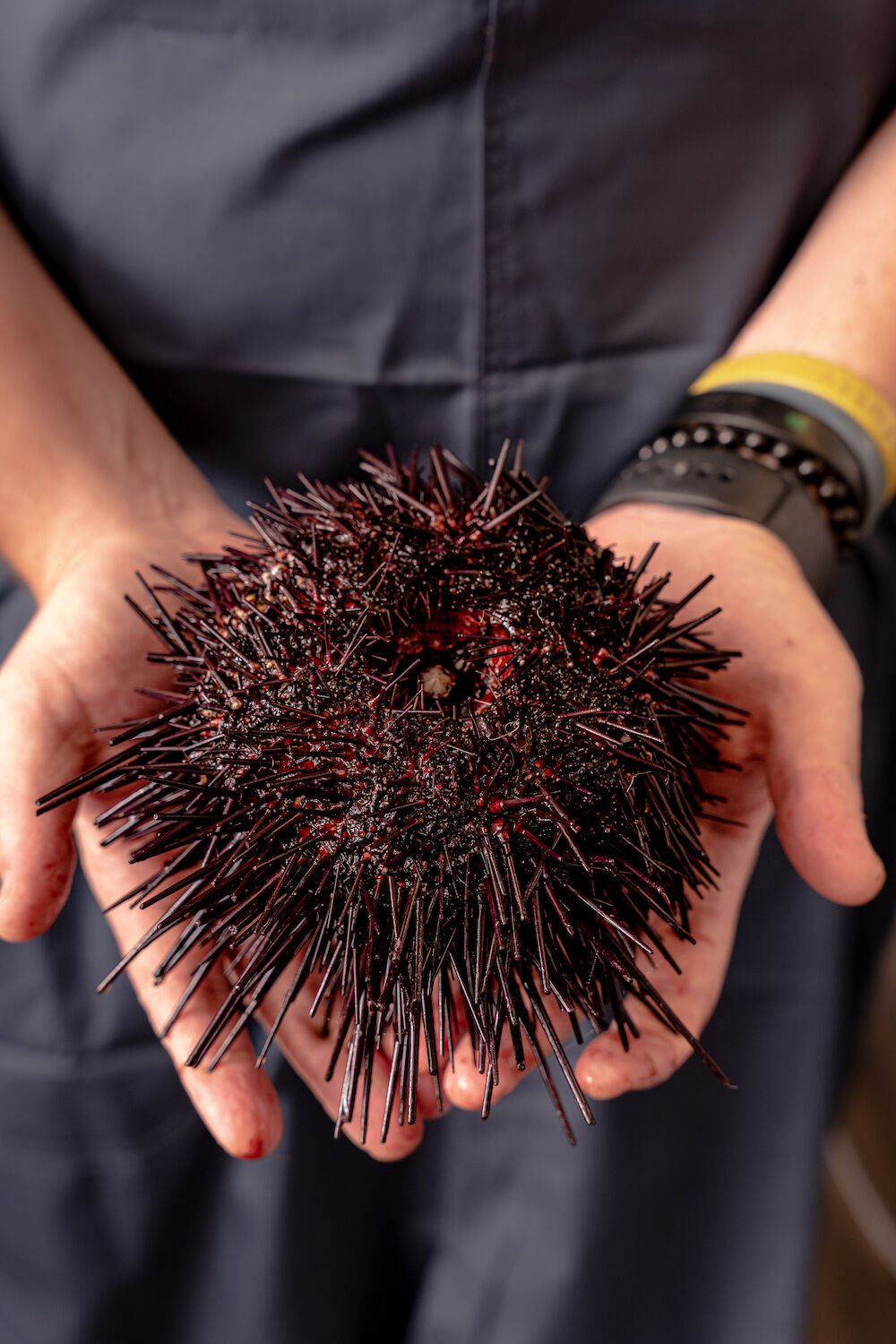 Callie is Swikard—part awe-inspiring skills, part dude. One foot squarely in the peak echelons of dining, the other in slide-on Vans. Anchoring the bottom floor of an office building at the corner of Park Boulevard and Island Avenue in East Village, it's a mood-lit neighborhood place for millionaires and hundredaires alike. There's a temperature-controlled wine vault with connoisseur juice, and there's a painting of Jeff Bridges in The Big Lebowski.
There are decorative jars filled with vibrant preserved fruits that will eventually become coulis or vinaigrettes, and there is a jar of green plastic skateboarder figurines. There's a private dining room where the walls are lined with Moroccan textiles (inspired by his trip to Salvador Dalí's house), and there's the come-as-you-are bar that is arced in the shape of a breaking wave (everyone sitting there is "getting barreled"), where bartenders can't make enough "Kook Juice" (mezcal joven, tequila blanco, passionfruit, Aleppo pepper, and lime).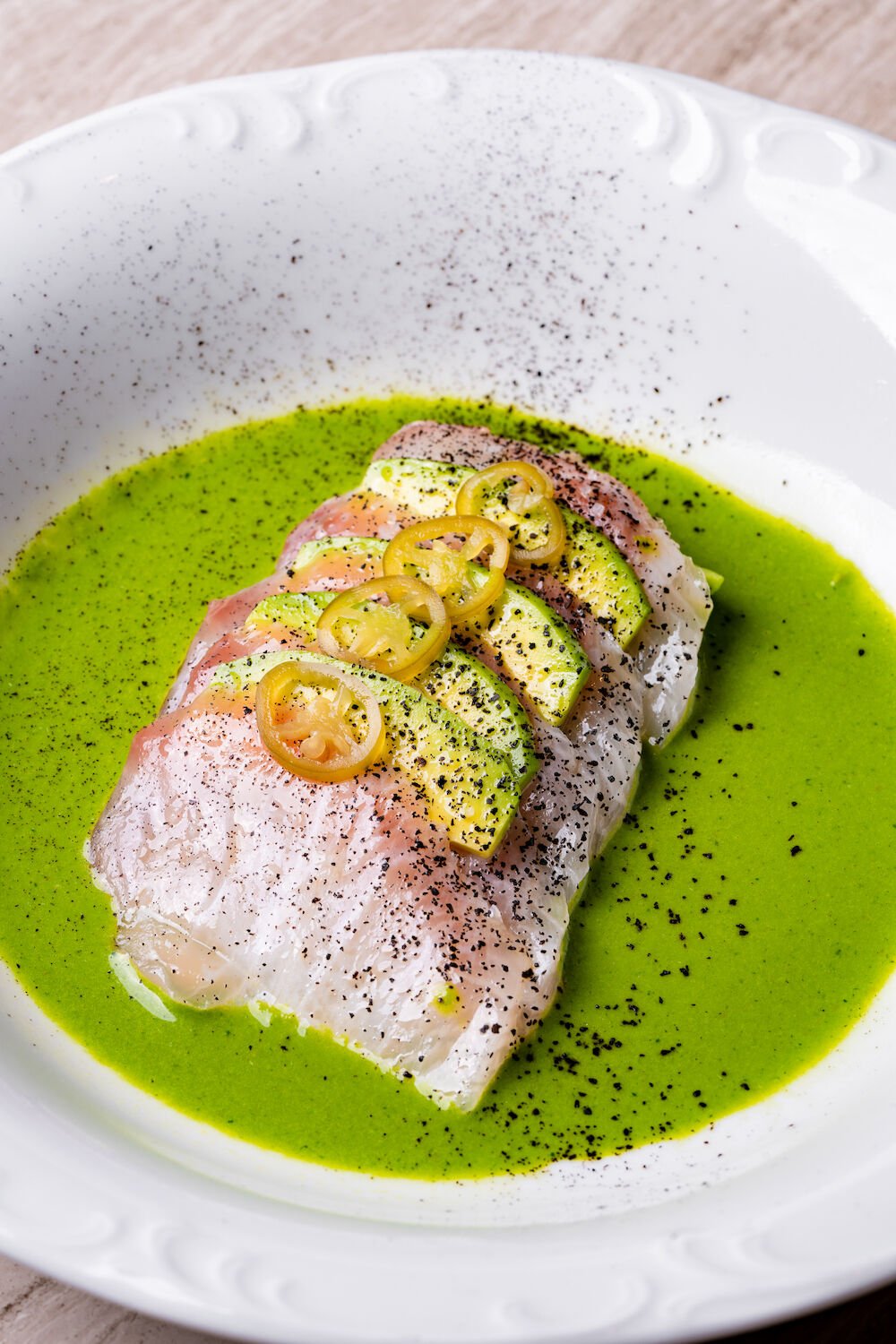 James Tran
The food comes from all the wildly different cultures that line the Mediterranean coasts, although most of the first courses lean toward North Africa and the Middle East. A meal here starts with the dips. Order them all. The hummus is made fresh each day with preserved limes and garlic and chickpeas, brightened and spiked with green zhoug (a Middle Eastern chimichurri). Tahini (sesame seed paste) is the LeBron James of any good hummus, and the difference between the brands available to us common grocery people and the one Callie uses is criminal.
The mainstream tahini world has been hoodwinking us all this time. The baba ghanoush (a mash of roasted eggplant) is given a SoCal spin with roasted poblanos, then blended with tahini, garlic aioli, and Greek yogurt, seasoned with dried green chile powder, caramelized onions, lemon juice and zest, and za'atar (a Middle Eastern spice blend with thyme, toasted sesame seeds, sumac, and salt).
Then a crudité of vegetables (raw, pickled, and fermented) from local farm J.R. Organics dipped in an avocado labneh made of cilantro and lime juice, topped with nigella seeds (aka black cumin, a spice so old it's name-dropped in the Bible), olive oil, and Aleppo pepper. The labneh is surprisingly nice but surprisingly tame; I expected more pop.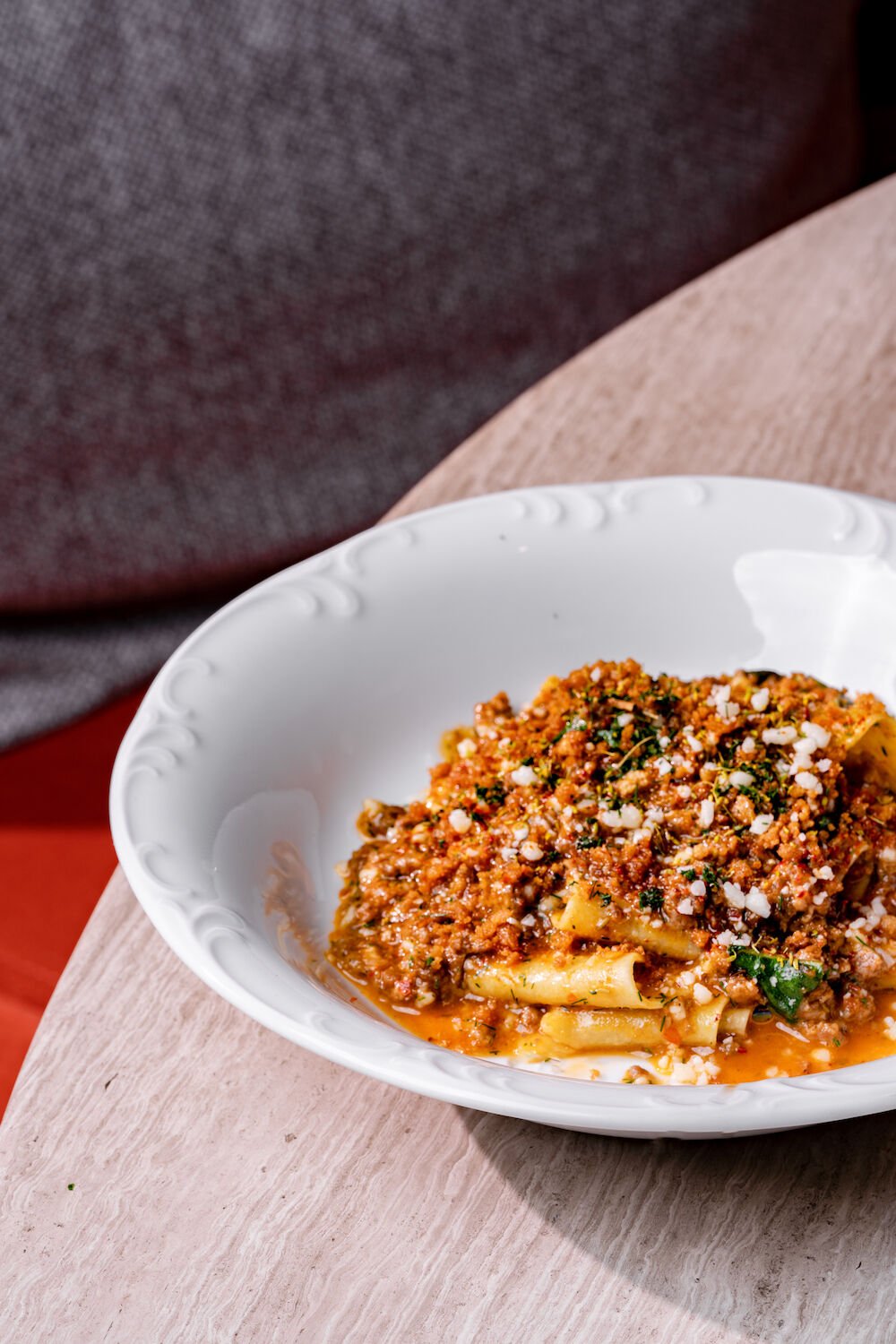 A multitude of infinitesimal details make a restaurant like Callie noteworthy, flush with excitement for people who spend an inordinate amount of their lives dreaming about food. The whole staff has spent cumulative decades finding the very best and often rare ingredients, and mastering the techniques to render them. But, world-class cooking is mostly defined by sauces (thanks, France) and exotic flavoring.
For instance, five pieces of Baja yellowtail (raw, lightly cured) rest in a shallow pool of Israeli sauce—an electric, stunning green color I'm calling "hunter rave party"—and are seasoned with avocado and black lime. Black lime is a Persian spice, made by drying out fresh limes until they're blackened and rock hard, then grinding them into a dust that has a citrus zestiness similar to sumac.
Also, the spicy, briny tomato water (mimicking the raw seafood and gelée that often start a Japanese meal) underneath raw slices of local bluefin. Swikard spent time in Sicily and Japan, where he'd visit fish markets in the morning and make this dish as soon as he returned home.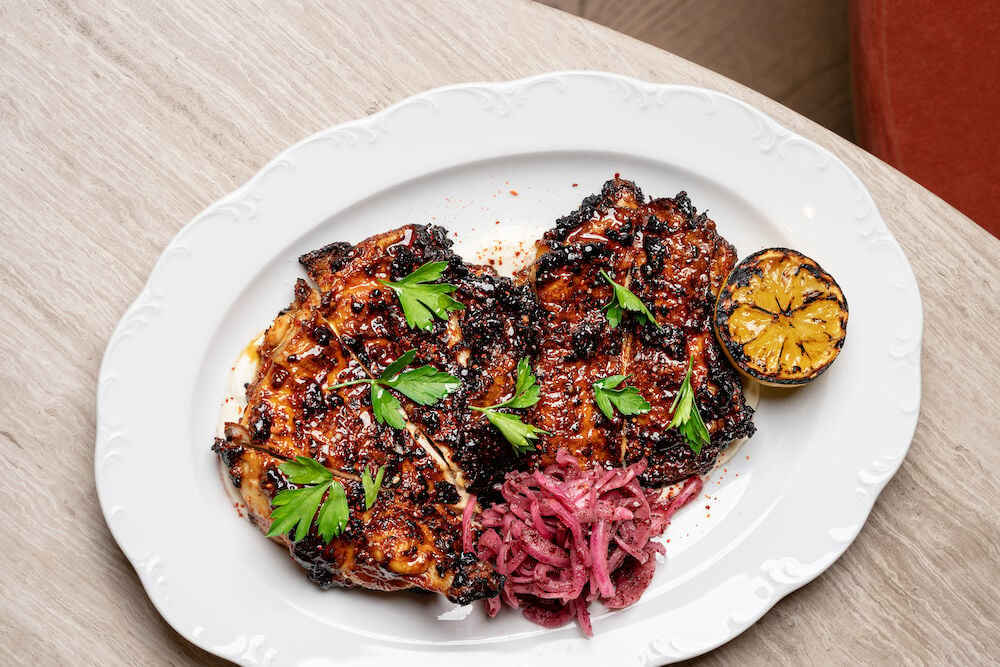 Callie's kitchen has a dedicated pasta station, using Japanese eggs and the perfect kind of Italian flour you learn about if you're Daniel Boulud or his people. A summer agnolotti is stuffed with burrata and lemon oil and tossed with fresh zucchini and a savory corn broth, basically the month of July on a plate.
The pappardelle is the star, though—using the fennel Swikard sources by pulling over his car and walking out into a random San Diego field. That seasons the spicy, Tuscan-style Kurobuta pork sausage that's caramelized and cooked with tomato paste, garlic, fresh tomatoes, and a bit of butter and pecorino romano.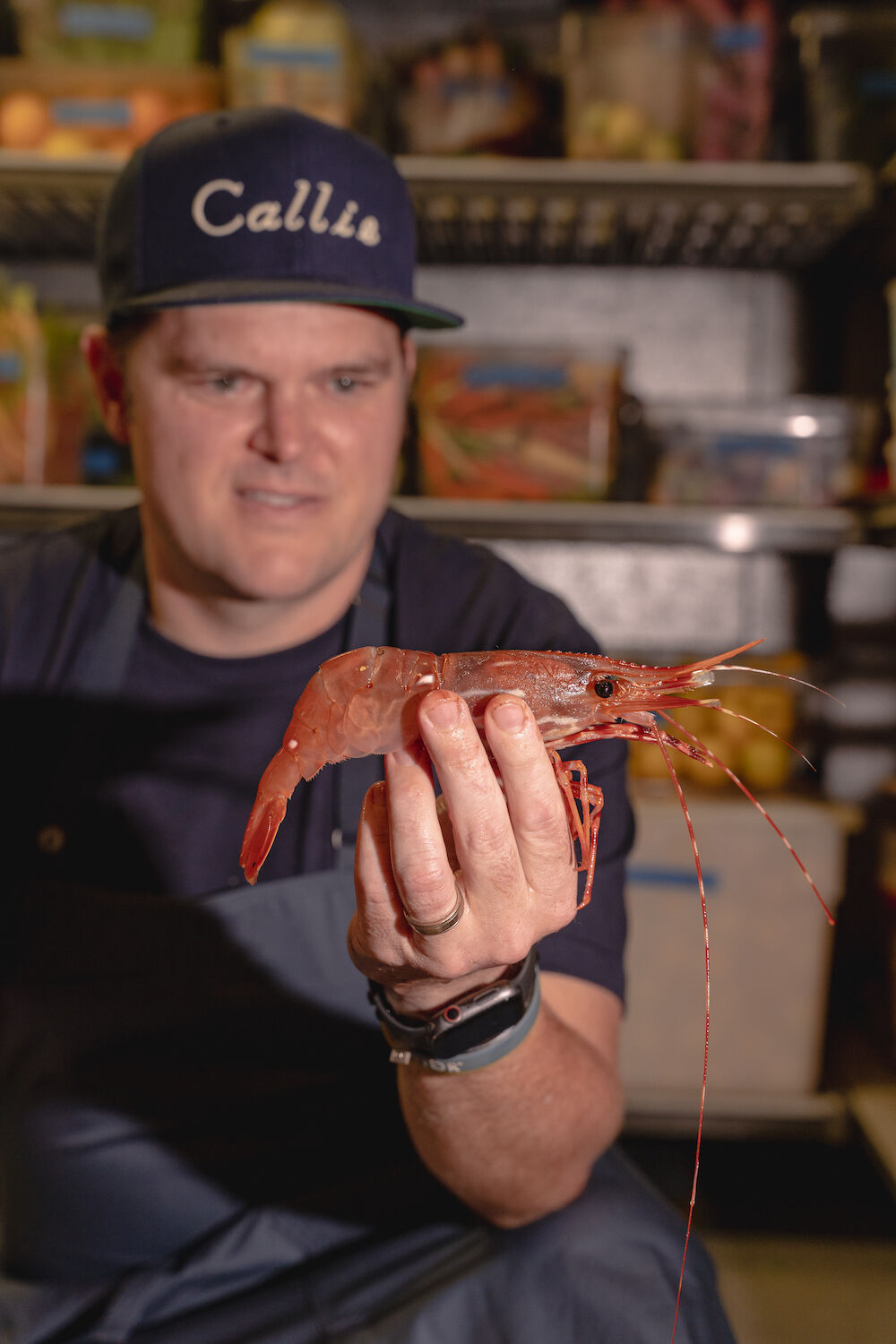 Callie isn't anti-steak, but it's close. Again, the reason: He's trying to be as regional as possible, and San Diego is no Montana (the cost of land and water make ranching here mostly a hobbyist's pursuit). The only red meat is a bit of duck sausage and some harissa-spiced lamb chops from New Zealand (where the meat is saltier due to the marine air), marinated in housemade dry harissa spice, grilled, and topped with tzatziki, mint, and lemon.
It's his concession to the "red meat means big night out" crowd, and it's a good one—lamb's distinct minor funk is offset by the acidity of yogurt and citrus. His Aleppo chicken is the star (free range and drug free, of course), grilled over charcoal and loaded with Indian spices—garlic yogurt, coriander honey, and sumac pickles.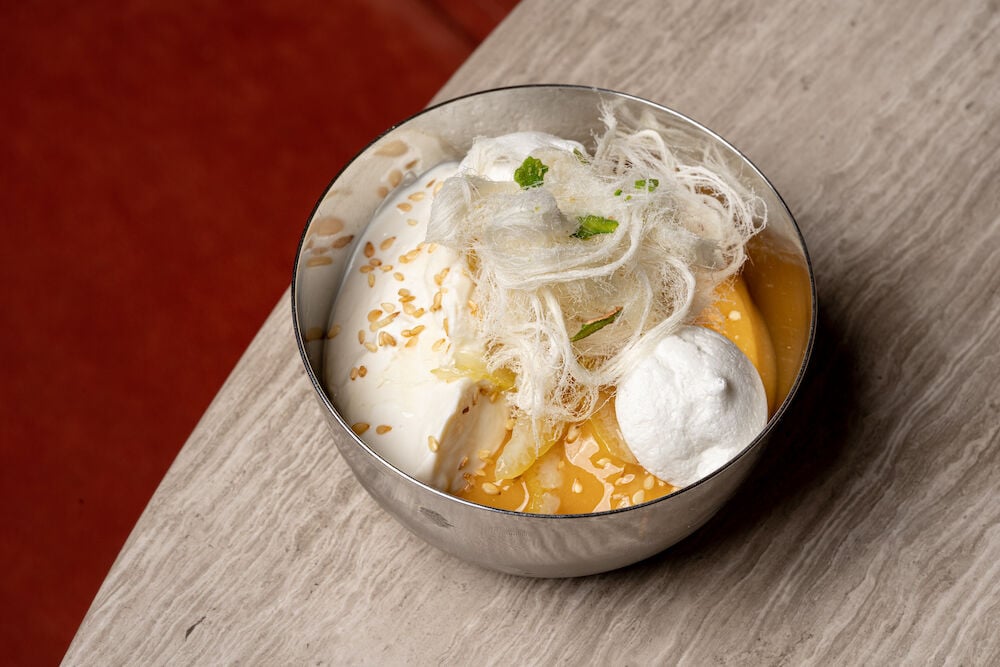 For dessert, ordering the Pavlova is a form of self-love. The bottom of a bowl is filled with chilled Meyer lemon curd and a honey-whipped labneh, then topped with poached lemons, sesame seeds, sesame halva "floss," and rose meringue. Bright, light, and a cleansing way to finish a meal.
We're all scavenging our current situations for silver linings. And for Callie and Swikard it may be this: He was supposed to open this right before the pandemic started. That was delayed over a year. And in that time the chef was able to go into tiny local markets (he constantly raves about Mid-East Market in City Heights), walk the farms, know the makers. And now Callie is their show.