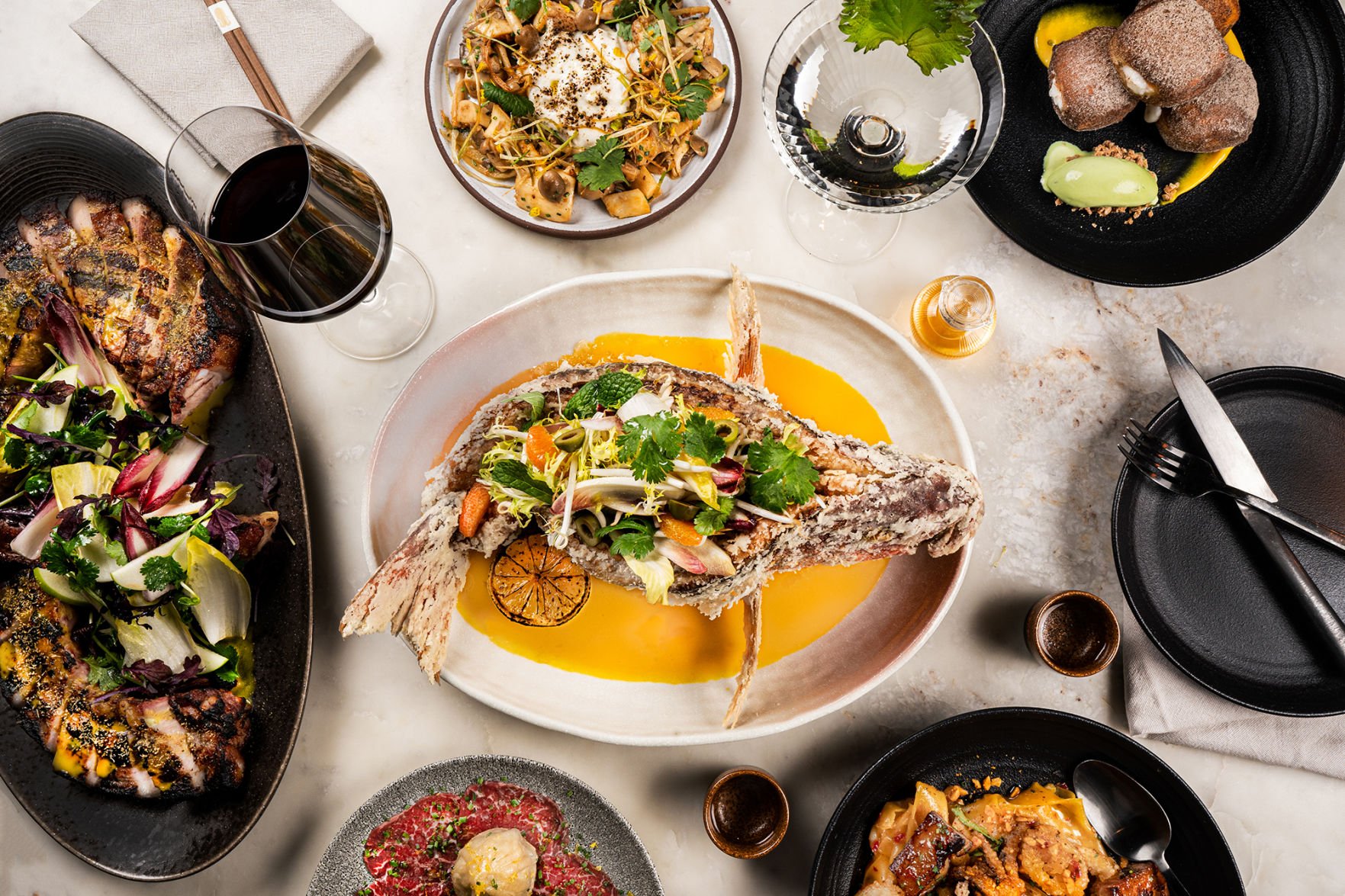 James Tran and Olivia Beall
I expected way more neon. Explosive Tokyo neon, the kind that looks really cool in the rain and causes migraines. I expected the highly stylized melodrama of Japanese cartoons. I expected gaudy fantasies, definitely a sense of prolonged adolescence, maybe even a little cosplay. And all I got was an elegant, beautiful restaurant with high-quality drapery and excellently weird food.
Sure, there's a 20-foot mural of a giant cartoon robot above the bar. He appears to be attempting flotation therapy, doing a lazy backstroke among naval ships and 400-foot koi fish. There are also a few colorful toys in a trophy case at the host's station. But when you name your restaurant "Animae"—in honor of the wildly inventive and occasionally disturbing tradition of Japanese animation—I don't think it's unreasonable to demand that I be overstimulated, amused, and terrified. Instead, I just felt sexy.
Well, at least the pork tomahawk is terrifying and phenomenal.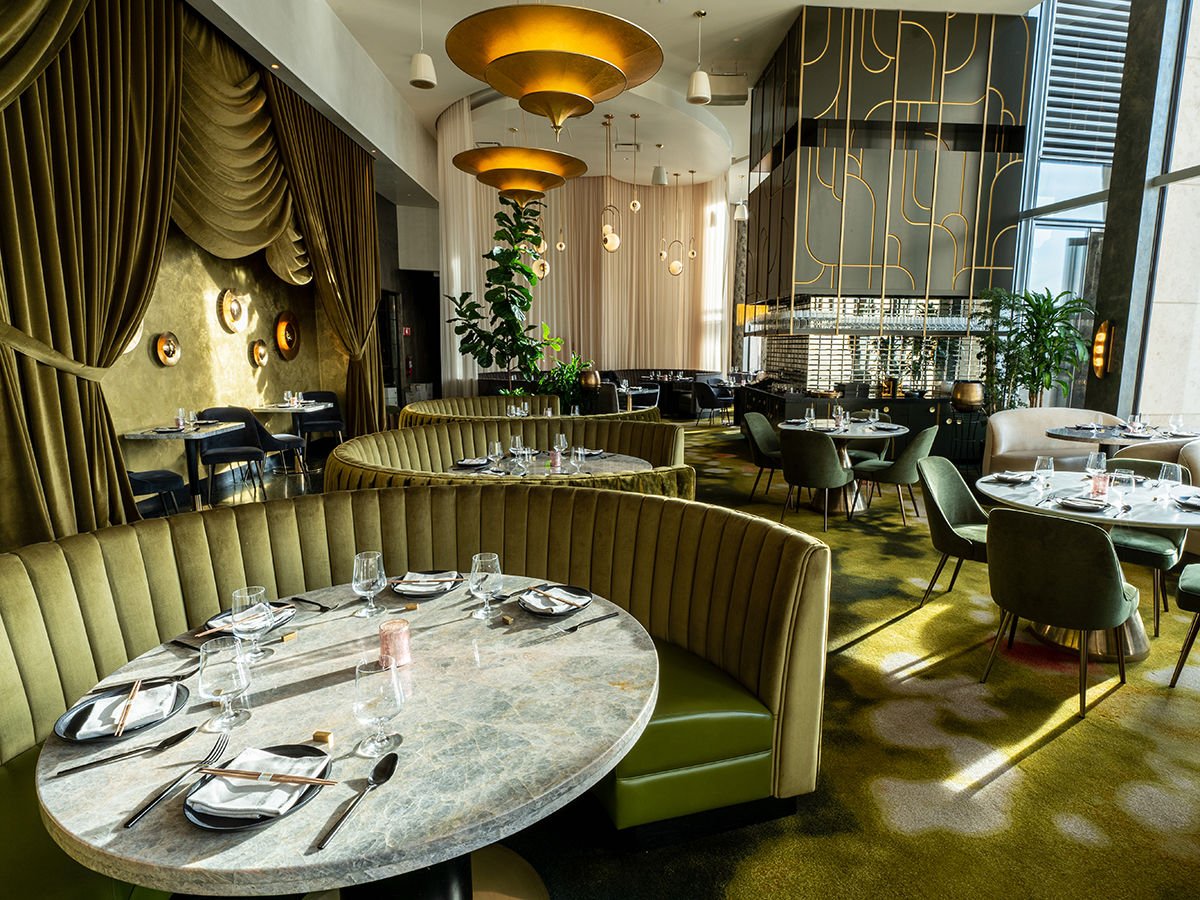 James Tran and Olivia Beall
Animae is the new $5.5 million project from Puffer Malarkey, the partnership of operations man and designer Chris Puffer and chef Brian Malarkey, the latter known nationally for his recurring role on Top Chef. After Malarkey's breakthrough restaurant Searsucker was sold to Hakkasan, he and Puffer put everything they had into the massive Herb & Wood in Little Italy and, well, it jackpotted. It's an excellent, grand thing, and continues to spit out coins for everyone involved. That spawned Farmer & the Seahorse, Herb & Sea, and now this.
Success draws talented people who also enjoy doing well in life. So longtime Cucina Urbana chef Joe Magnanelli defected to Animae, as did accomplished drinks man and GM Lucien Conner (formerly of Puesto). They're partners, not just employees. Everyone has a stake in this game, is incentivized to excel. You can feel it.
Your search for reasonable parking will be mocked by this corner of Broadway and Pacific Highway. A night's budget for dinner at Animae will not be small and will most likely include $12–$15 to the Ace Parking valet (before tip).
The restaurant is the ground-floor attraction of Pacific Gate by Bosa, the ultra-luxury condo development on the embarcadero. This part of downtown is where all the new pretty things are being built (including a $2 billion redevelopment of the waterfront), but much of it is still a ways off. Animae is an early adopter, with a well-known brand but little to no foot traffic. Judging by the jampacked Friday night crowd—all in advanced stages of wealth accumulation—Animae doesn't need it.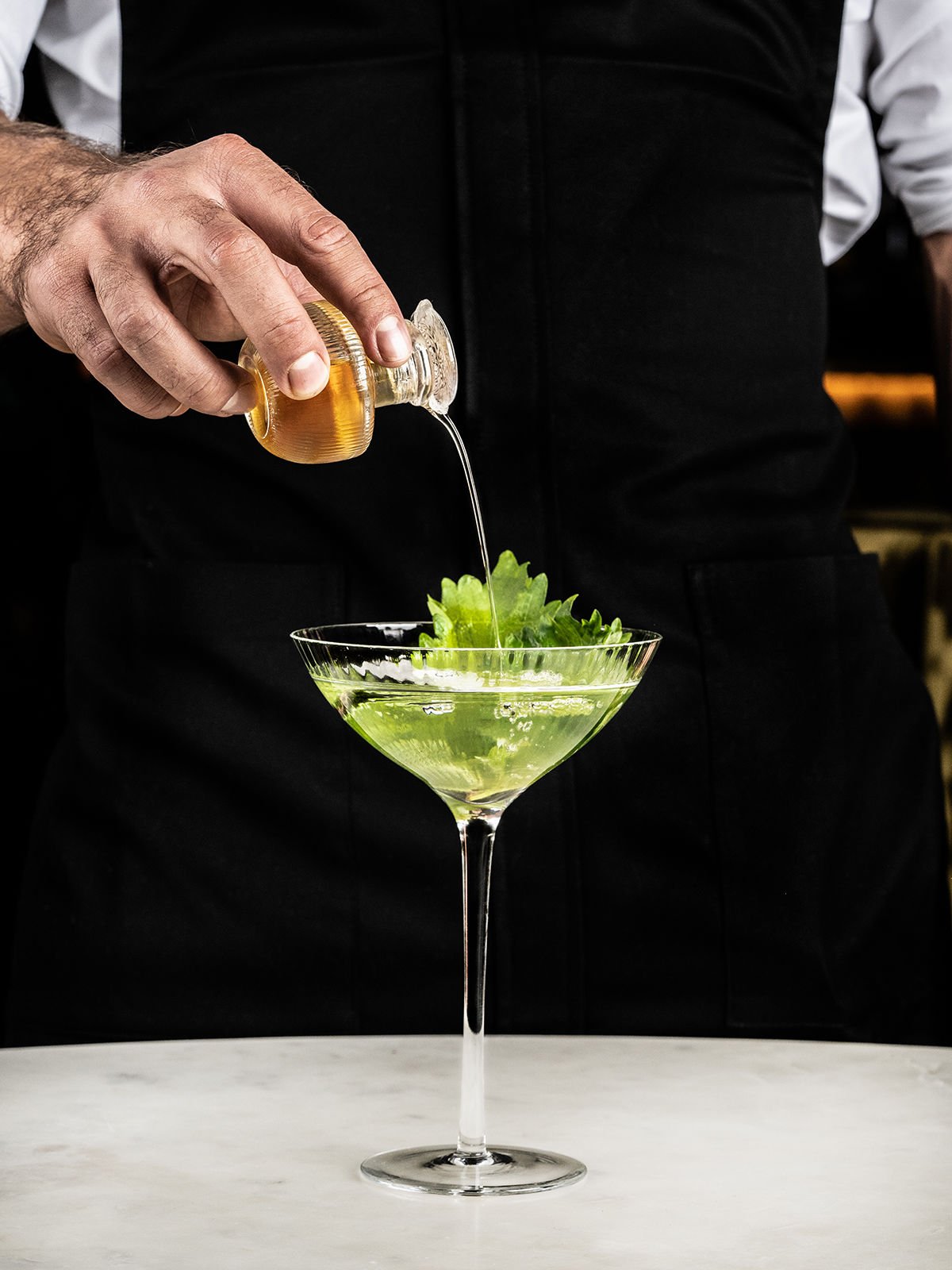 James Tran and Olivia Beall
Animae is fully self-aware, intentionally inauthentic Asian food. Before you think that's a bad thing, let me suggest that authenticity is one of the food world's dumber demands. The idea that two accomplished chefs named Joe and Brian shouldn't cook tom yum mushrooms (the major flavors of the Thai soup—lemongrass, lime leaf, onion, and garlic—sautéed and deliciously absorbed into hoji, king, and maitake mushrooms) is about as low-rent and insulting as suggesting a great Thai chef should not cook cioppino. One of the best cheeseburgers I've ever eaten was made by a Korean chef who'd never cooked a cheeseburger before.
So, at Animae you get creations like "butter dumplings," traditional Asian soup dumplings (xiao long bao) filled with escargot and browned butter over a Wagyu carpaccio and a frico (cheese crisp). It's French food in a Chinese handbag. Browned butter—cooked low and slow until the milk solids caramelize and develop an intoxicating nuttiness—would make mossy river rocks taste delicious. The dumpling is thicker and tougher than traditional bao (it eats like al dente pasta), and that's probably not their ideal result. But the flavors, abnormal bedfellows though they may be, really sing. You get elotes (Mexican street corn) tossed with housemade kimchi that's been pureed in aioli, using Japanese togarashi seasoning (chiles, orange peel, sesame seeds, ginger, seaweed) with pickled jicama and Cotija cheese. Be sure to mix it all up. We used to call this kind of thing "fusion," but in today's modern, globalized food culture we just call it food.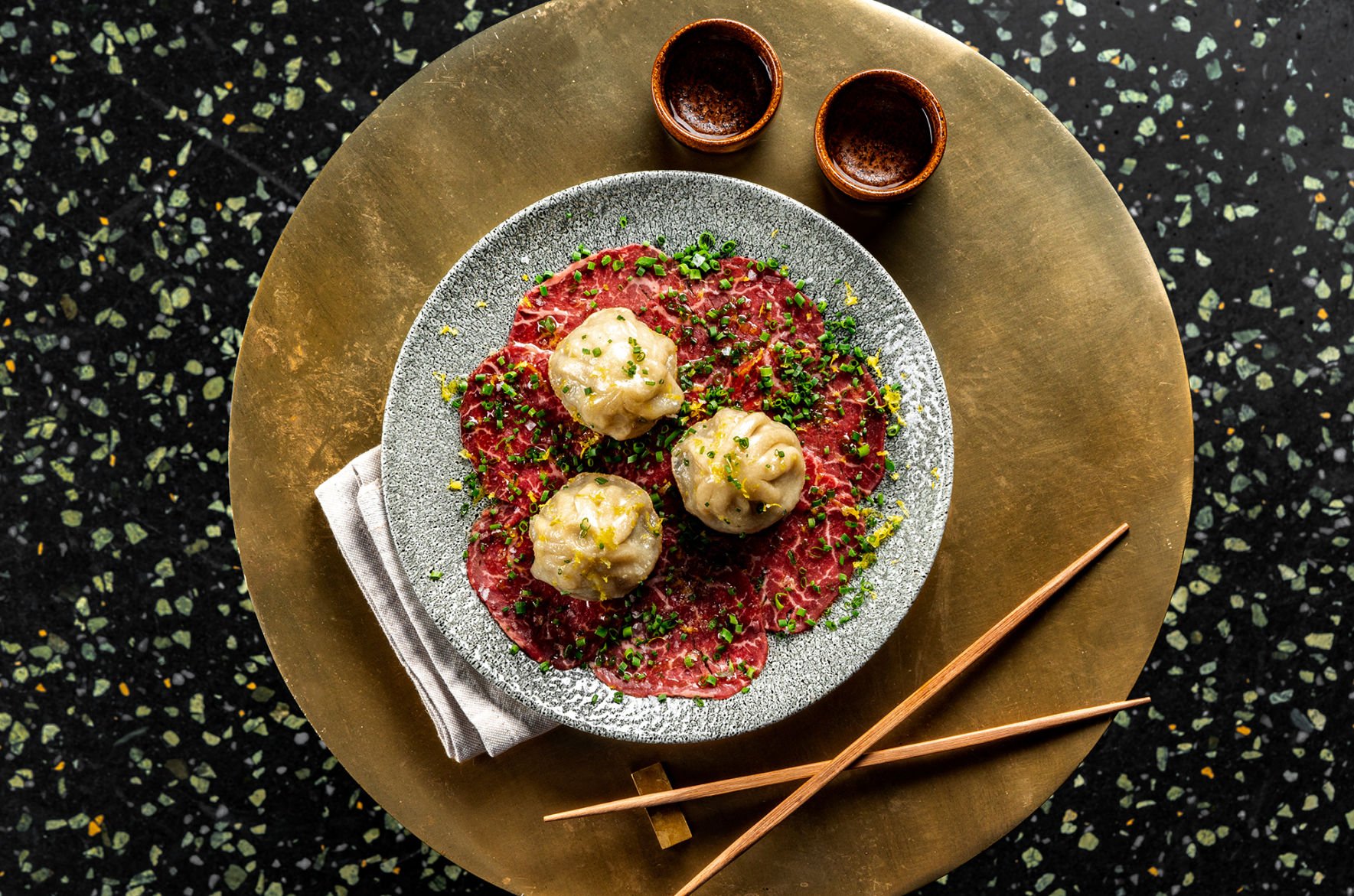 James Tran and Olivia Beall
Every detail in Animae seems obsessed over. Maybe it's because the restaurant was delayed so long. (Getting a restaurant finished on time has become a cliché joke, and I'm not going to point fingers… but it's the city's fault.) The dirty martini, for instance: Instead of plain old olive juice, they start with dry vermouth and add koji (fermented rice), miso, furikake, dried mushrooms, black pepper, soy sauce, and a touch of Laphroaig scotch for smokiness. The result is a more interesting and delicious cocktail, even if it's not a dirty martini.
The crab hand rolls are very good, tossed with Madras curry and Kewpie mayo (Japanese mayo, the chef's mayo, amazing, partially because of MSG), topped with uni, shiso leaves, radish, and crunchy garlic. But it's the chili garlic ponzu sauce that's real wizardry. Pour it everywhere, drink it, write it poems. Then order the roasted duck bao buns. You know these by now. The Chinese figured out how to make bread clouds, because they're Chinese and they've been baking bread longer than anyone. The buns are whiter than brand-new veneers. Eating them is a form of ASMR, and Animae makes theirs using duck fat, then adds maple-miso sauce, blue cheese, and persimmon.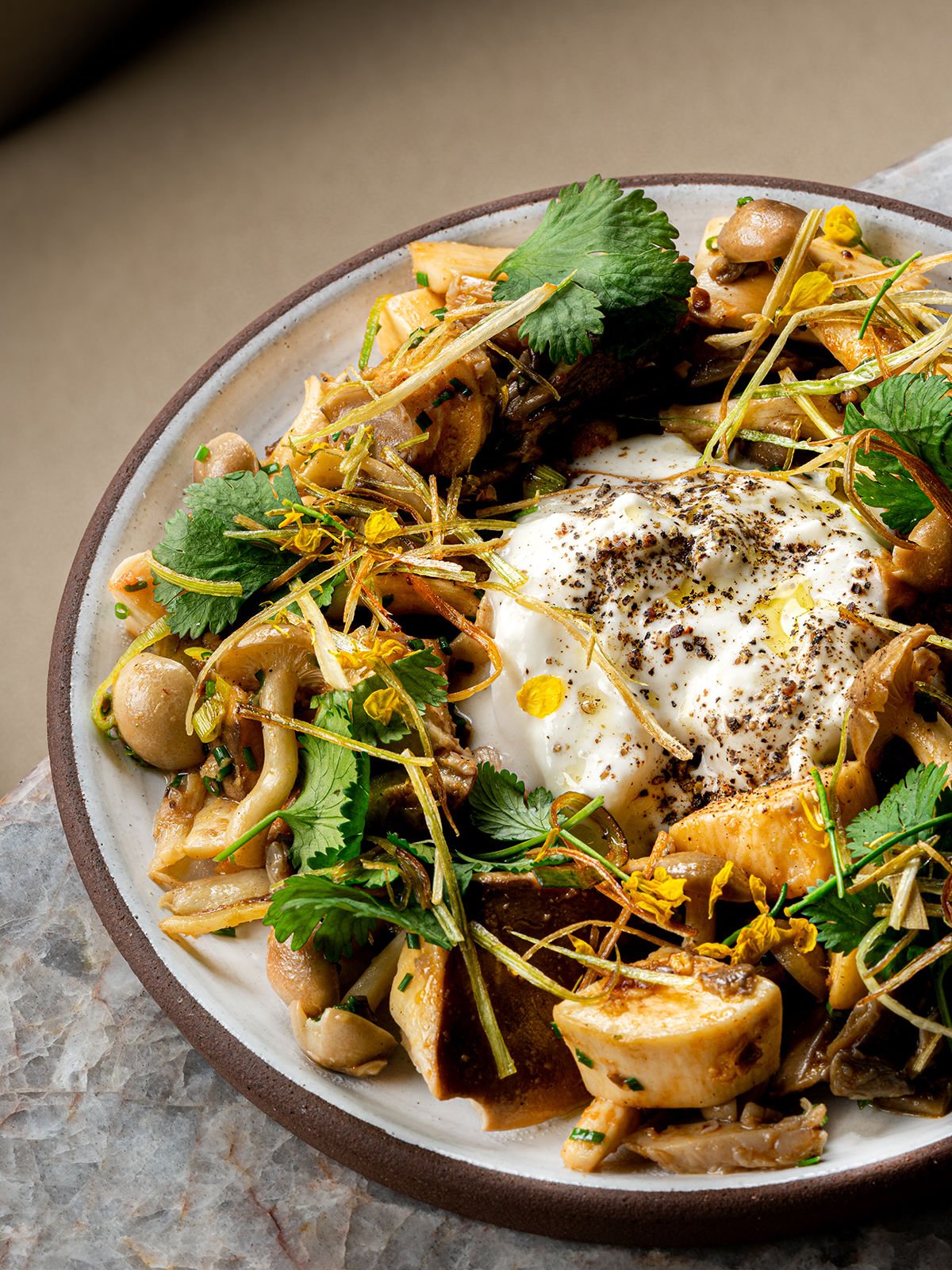 James Tran and Olivia Beall
The menu has high-end cuisine and dishes that taste like some of the best Asian takeout you've had. On the high end, the pork tomahawk is obscene. Juicy marinated pork cubes (loin and belly) are sliced, winding, serpentine, around the plate like some carnivorous hieroglyph. It's marinated in koji (which gives proteins a sweet, funky umami), drizzled with Madras curry sauce, and sprinkled with fennel pollen. Do not order this massive plate for yourself, unless you are struggling emotionally and need to put those feelings somewhere, or are an offensive lineman. It's a gaudy retort (really, enough meat for four people) to any plant-based resolutions you may have made in the new year. And it's worth it.
For more Asian takeout vibes, try the pork belly and calamari. The belly is cured and slow roasted, the calamari is both sautéed clean and deep fried, and it's rested on egg noodles with yuzu (Japanese citrus) in the dough. Or the fried rice, a Niigata meets Baton Rouge idea, loaded with ham hocks and mustard greens, the rice seasoned with tare (a thick Japanese sauce with miso, mirin, koji, ginger, soy), topped with a fried egg and crispy fried rice tossed with tender rice for texture.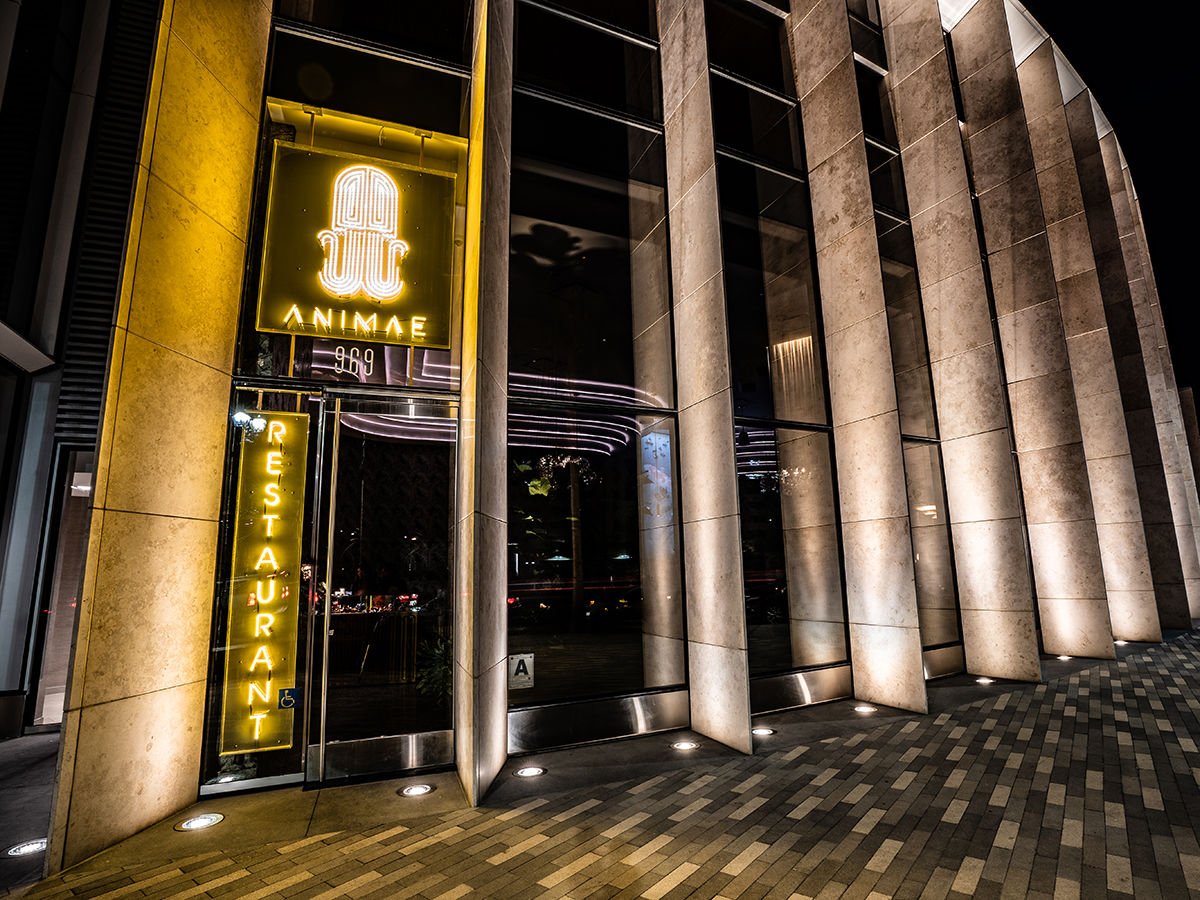 James Tran and Olivia Beall
The only dish we don't truly enjoy is the one that's generated the most buzz: the brothless ramen. Chef Magnanelli spent the last decade helming a successful Italian restaurant and this is ramen as a spartan pasta dish. The broth is reduced until there's nothing left, all the flavor absorbed into the noodles. The problem is the nori (seaweed). While jammed with umami, seaweed is, at the end of the day, ocean weed. If you truly love the taste of nori snacks (they sell them at Costco now, so many of us do), you may enjoy it. I personally love nori, but without a broth to spread its umami gospel (and tone it down), it bullies the other ingredients.
But honestly, that's the only real miss of our 15 dishes over two nights. And even if you don't enjoy eating it, anyone can be excited by the idea of a brothless ramen. And a major reason we dine at restaurants like Animae is to taste new ideas. We don't pay $15 to a restaurant valet to have our expectations met. We pay it to develop new ones.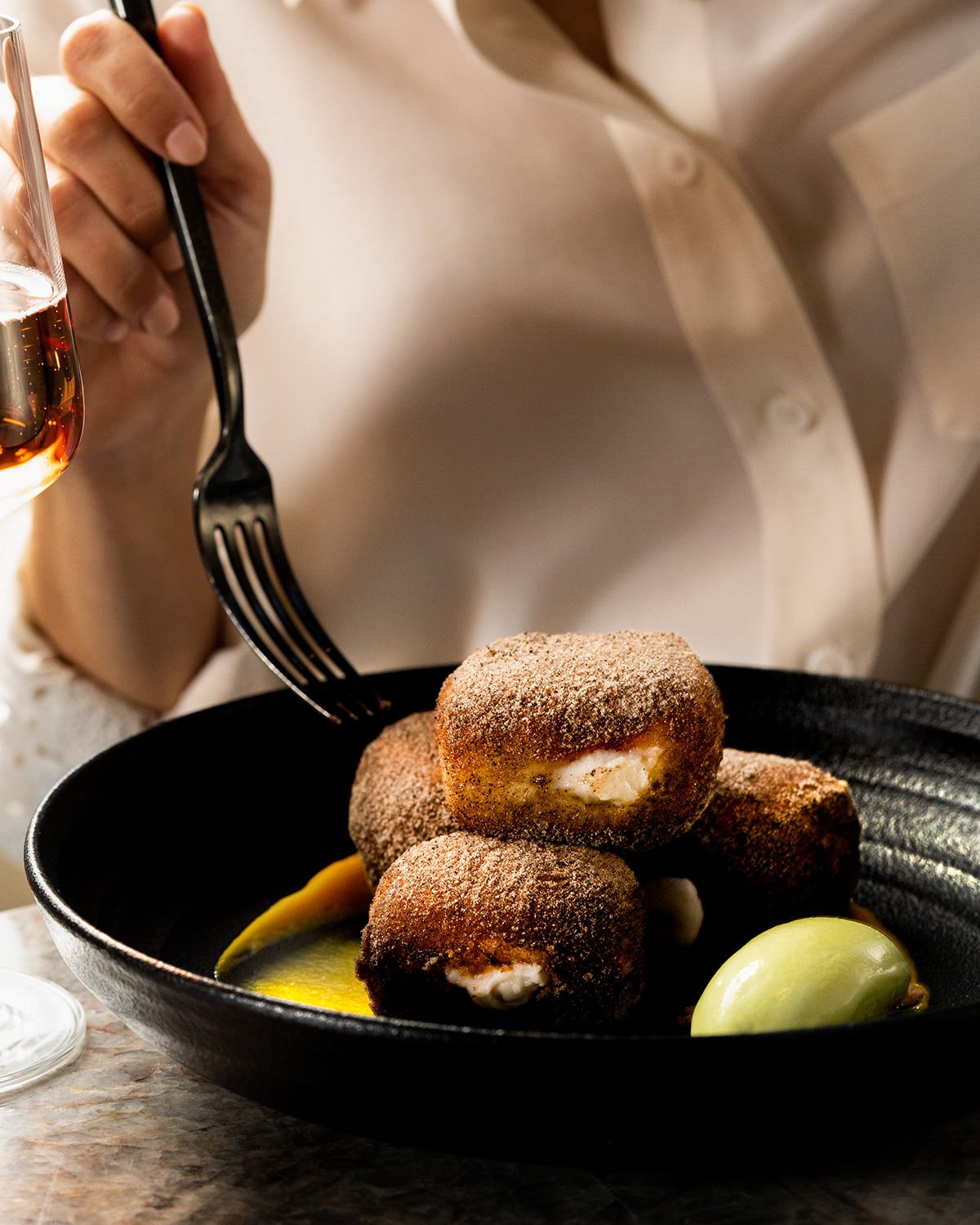 James Tran and Olivia Beall
Oh, and for dessert, order the malasadas, soft doughy donuts filled with coconut cream, tossed in a mixture of coffee grounds, sugar, and sea salt, and paired with green curry ice cream (yes, ice cream with lemongrass, lime leaf, galangal, and Thai chile—amazing).
I still want more neon and stunted adolescent weirdness in a restaurant named Animae, but it's a hell of a restaurant.